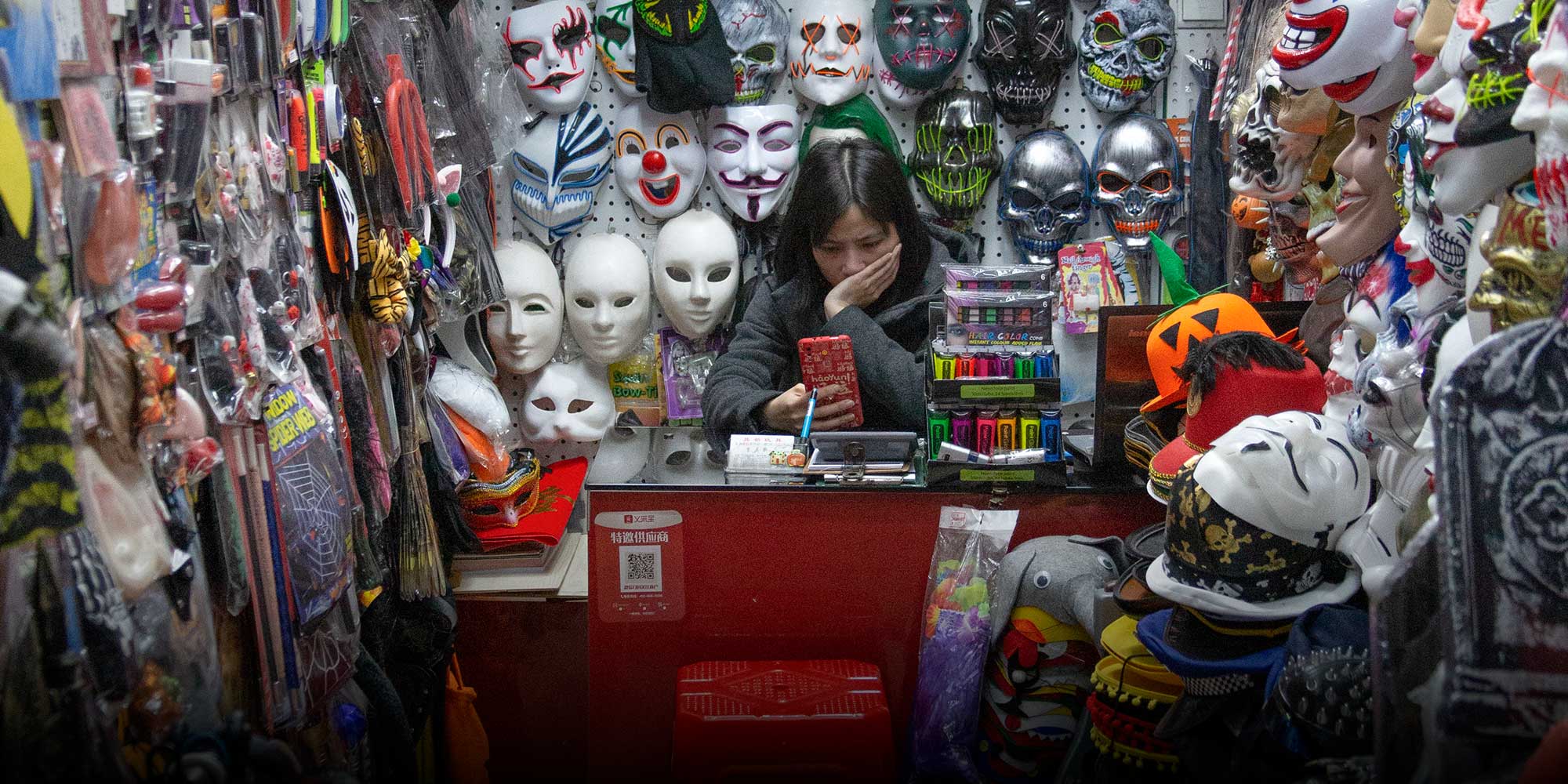 FEATURES
In China's Export Hubs, a Crackdown on Shady Banks Is Causing Chaos
Chinese traders have long relied on creative financial practices to serve buyers in the developing world. But these informal channels are now being choked off.
ZHEJIANG, East China — The train ride to Zhangjiajie in central China took 17 hours, but Hu Ting spent the entire journey tossing and turning on her bunk. She knew the next few days could determine her future.
"In the best scenario, I'll get exonerated and get all my money back," Hu recalls thinking as the train pulled into the station, in mid-November. "In the worst, I could end up in detention."
A few days previously, the 35-year-old trader had discovered her bank account containing over 3 million yuan ($460,000) had been frozen by police in Zhangjiajie — a city over 1,000 kilometers from her home in Yiwu, eastern China.
When she contacted the police station, she was told a payment she'd received from a client in Bangladesh had been linked to an illegal online gambling ring. Hu should immediately travel to Zhangjiajie, bringing her business documents with her, to assist with the investigation, the officers said.
Hu was stunned by the news. A specialist in exporting zippers, she had been working with buyers across South Asia, the Middle East, and Eastern Europe for over a decade, and had never encountered such an issue.
"I'd never thought a small loophole in my business practices could be taken advantage of by criminals," Hu tells Sixth Tone.
Many of Hu's competitors have run into the same problem. In recent months, thousands of traders in Yiwu — China's export hub for bargain-basement wholesale goods — have had their accounts frozen by Chinese authorities, plunging their businesses into chaos.
The wave of asset-freezes is part of China's "Card-Breaking Campaign" — a nationwide crackdown on illicit bank transfers to combat fraud and illegal cross-border gambling cases. But the cleanup operation poses a major challenge to Yiwu's business community, which has long relied on a range of creative financial practices to serve overseas clients — especially those in the developing world.
Hu made use of a common workaround to facilitate deals with overseas buyers. Rather than having clients make payments via an international bank transfer in U.S. dollars, she would often allow them to have a third party with a private bank account in China send her the equivalent amount in Chinese yuan.
The arrangement was beneficial to both parties. The clients preferred to avoid the red tape and currency exchange costs associated with cross-border payments — especially those in countries with exchange controls or acute dollar shortages. Hu, meanwhile, was able to avoid paying China's 10% tax on business payments, enabling her to maintain ultra-low prices.
This kind of informal payment method is used extensively in Yiwu, and has helped the city become a driving force in "low-end globalization" — connecting Chinese factories churning out cheap, mass-produced products with buyers from more than 200 countries and territories.
The Chinese export center has come to dominate trade in a number of goods. Around 80% of the world's Christmas decorations are shipped from Yiwu, as well as large chunks of global supplies of toys, socks, hair accessories, and plastic containers. In 2020, the city reported exports exceeding 300 billion yuan, though the real total is likely much higher, since many deals aren't included in official customs records.
For years, trade in the city ran through a freewheeling community of African, Arabic, and Chinese businesspeople, who were able to hash out deals with minimal government interference. But in late 2020, the rules of the game abruptly changed.
The traders have become collateral damage in a major campaign by China's Ministry of Public Security targeting organized crime, which was launched in response to an increase in activity from illegal gambling sites and internet and telecom fraudsters amid COVID-19.
"The two types of criminal organizations are linking up with each other, and the harm they are causing has become more severe," the ministry stated in an announcement released last April. "They must be resolutely punished."
Though the crackdown had no direct connection to Yiwu, it quickly began to affect large numbers of traders. This was because the campaign focused on choking off the criminal groups' sources of funding. Chinese police shut down more than 70 underground banks last year, seizing over 500 million yuan of assets.
Gangs often use stolen bank accounts and underground banks to distribute illicit funds and launder money scammed from victims, a police officer based in the eastern city of Hangzhou, who declined to be named as he wasn't authorized to speak with media, told Sixth Tone.
"Once we locate an illicit account, we'll freeze around 100 accounts that are directly or indirectly connected to it, so we can intercept the spread of illicit funds," the officer said. "People who are able to prove their transactions are legitimate with related business documents will be fine."
Yiwu businesses can easily get caught up in these chains of account-freezes, as the informal payment methods they use are so insecure. Many of the third-party accounts from which overseas clients transfer funds are not controlled by the registered cardholders, and were also used by those operating underground banks, according to the Hangzhou police officer.
Like Hu, thousands of traders have been forced to travel across China — to regions as far-flung as Inner Mongolia, Tibet, and Xinjiang — to hand over their business documents to local public security officials. Police in less developed areas tend to implement the campaign particularly vigorously, traders told Sixth Tone.
Though no official data on the number of people affected has been released, one trader — who requested anonymity for privacy reasons — told Sixth Tone he had added an estimated 5,000 traders whose accounts had been frozen to dedicated chat groups on the Chinese social app WeChat. Few have succeeded in regaining access to their accounts, the person added.
Local authorities in Yiwu have set up a help center to assist traders affected by the crackdown, connecting them with the relevant public security bureaus, helping them prepare their business documents, and coaching them to respond calmly during interrogations.
The Yiwu government, however, has no power to interfere with the work of police in other jurisdictions. When approached for comment, Yiwu municipal officials declined Sixth Tone's interview request.
Hu's trip to Zhangjiajie ended in failure. Though she avoided detention, the 3 million yuan in her account was confiscated. She considers the outcome unfair, arguing she had no knowledge the funds she received were linked to underground banks.
"The police shouldn't scapegoat traders for the fraudsters' crimes," says Hu. "It's money that I earned through my blood and sweat, not dirty money."
Now, the trader is attempting to start over. Fearful of another account freeze, she's pushing her clients to pay her in U.S. dollars from now on, she says. She's also continuing to petition authorities in Hunan — the province where Zhangjiajie is located — to give her back the 3 million yuan.
But moving on is easier said than done. Hu estimates she has lost half of her zipper orders, as buyers weren't willing or able to pay in U.S. dollars. She says making international payments from countries with exchange controls — such as India and Bangladesh — isn't easy. Clients in several African countries and war-torn nations like Yemen, meanwhile, struggle to access U.S. dollars, she adds.
For other merchants, the losses have been even more devastating. Without access to their assets, many are left mired in debt.
Ma Bushuang tells Sixth Tone he considered killing himself after police in the northern city of Xi'an froze his bank account last year.
The trader, who mainly exports tableware and sports equipment to North Africa and the Middle East, was plunged into a personal crisis, as the account contained 5 million yuan that he intended to use to repay his suppliers.
"Every day when I got home, there would be people from several manufacturers waiting outside my front door to collect the debt," says Ma. "I almost had a nervous breakdown."
Originally from rural Ningxia Hui Autonomous Region, an impoverished area in China's northwest, Ma moved to Yiwu in 2009 after learning Arabic via a remote language course. The account contained everything he'd earned over the subsequent decade.
"I didn't have money to pay for my next meal, let alone the tuition fees for my 3-year-old daughter to attend kindergarten," says Ma. "When my wife decided to divorce me because of that, I did think about death."
Eventually, after months of petitioning Chinese authorities, Ma was able to regain access to the account. But this year, he has had two more accounts frozen, though thankfully they only contained small amounts of money.
After these ordeals, Ma decided to reject any clients who requested to pay in yuan via third-party Chinese bank accounts. He estimates the decision has cost him around 30% of his business, but it's a situation he's willing to accept, he says.
"I've been through the lowest moment in my life," says Ma. "If trading doesn't work out, I'll go back to my hometown and do whatever I can there."
Traders stress it's difficult to change the way they do business. Clients, especially those based in developing countries, expect traders to help them reduce their costs by fiddling customs declarations and accepting payments through unauthorized channels. If the trader refuses, the client will find another one who'll say yes, Ma says.
"It's not that I don't want to be fully compliant — I'd be out of business if I didn't follow the unwritten agreements … to take advantage of loopholes in the financial system," says Ma. "I can't standardize my business on my own."
Jie Lu, another trader caught up in the financial crackdown, echoes this point. Yiwu is so competitive, each individual business has little leverage, she says.
"We don't have any bargaining chips," says Lu. "Following our clients' instructions and not making any trouble for them has been the only way to win orders."
Yet the Card-Breaking Campaign appears to be forcing a reckoning. As word of the crackdown has spread, several traders told Sixth Tone the majority of businesses in Yiwu have stopped accepting orders unless the client pays in U.S. dollars through regular banking channels.
Those receiving payments for past orders paid for in yuan now wait outside the bank, and withdraw the full amount in cash as soon as the money arrives, according to Hu. "Everyone becomes alarmed at the mention of yuan," she says.
It remains to be seen how long the clampdown will last, but Chinese authorities have an incentive to continue discouraging gray-market practices. The widespread avoidance of cross-border transactions is harming China's current account balance, says He Jun, vice chairman of the Yiwu Zipper Industry Association.
"Among so many goods exported each year, a huge amount of the payments are made in yuan rather than U.S. dollars," says He. "The real benefits all go to fraudsters and underground banks."
For He, change is coming to Yiwu, whether the traders like it or not. Officials have been pushing the "transformation and upgrading" of local industry in recent years, as the emergence of new, lower-cost manufacturing centers is undermining the city's competitiveness. Businesses will need to work out how to adapt to this new reality, he suggests.
"Many low-cost manufacturing countries like Vietnam, Mexico, and Turkey are vying to get a slice of the cake," says He. "The whole industry must come up with new ways to maintain a competitive edge."
Editor: Dominic Morgan.
(Header image: A vendor checks her phone at a booth inside Yiwu International Trade City, the wholesale market in Yiwu, Zhejiang province, March 14, 2021. Wu Peiyue for Sixth Tone)