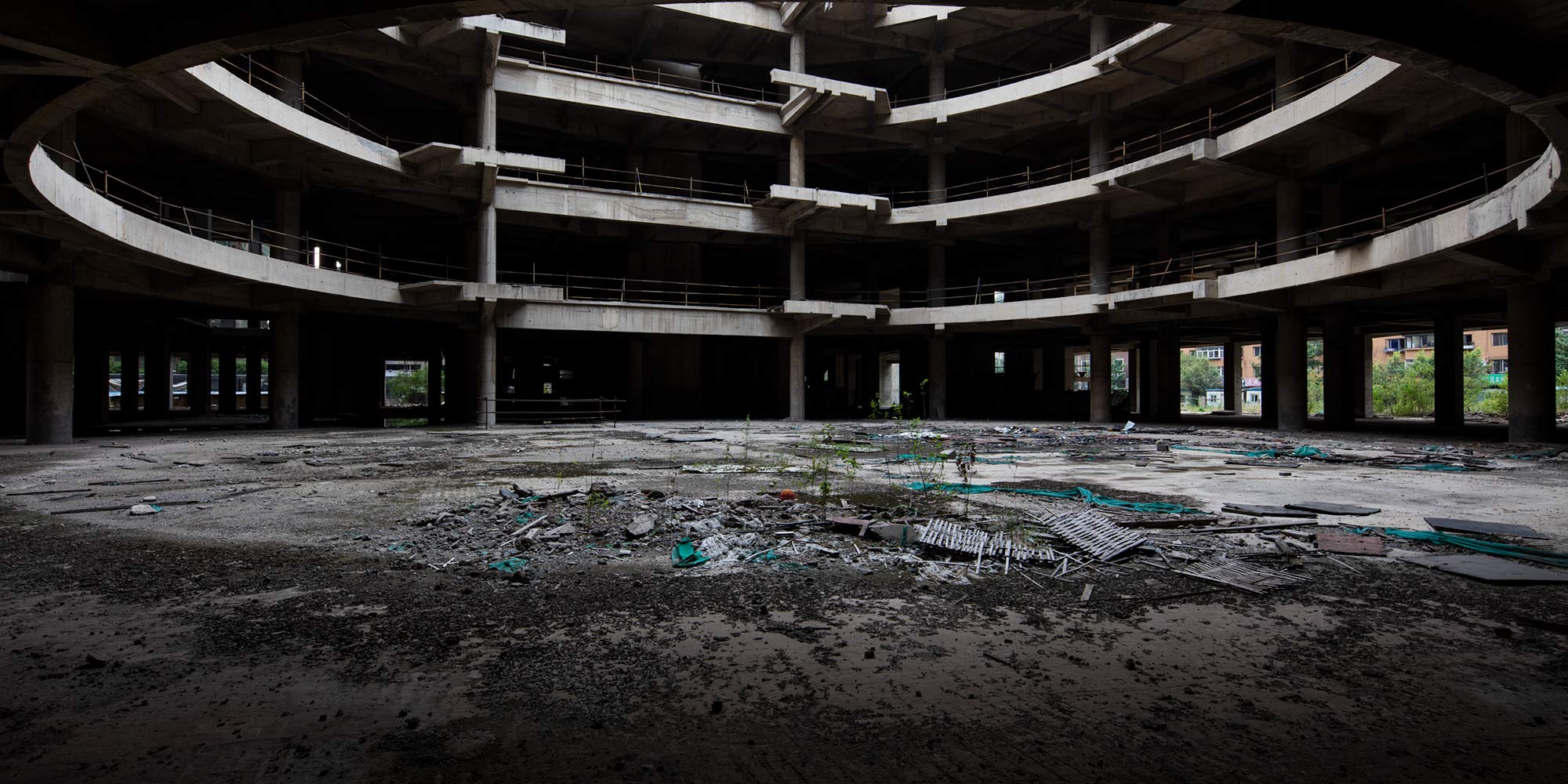 MULTIMEDIA
China, Unfinished: The Skeletal Cityscapes of Photographer Meng Wei
Photographer Meng Wei shares his obsession with the abandoned tower blocks littering the skylines of major Chinese cities.
My name is Meng Wei, and I'm a photographer. Since 2010, I've been traveling to cities across the country, taking pictures of unfinished and abandoned buildings. So far, I've photographed around 50 of these ghostly structures.
I've been fascinated by urban landscapes since I was a child. My family has been farming for generations, and I spent my early years almost entirely in my home village in the eastern Shandong province. But in the early '00s, I got the chance to go to high school in Shan County — a densely populated area with over 1 million people. I still remember the visceral shock I felt when I first saw the wide roads and high buildings.
Like many rural Chinese, I found it tough to adapt to urban life. My classmates who grew up downtown dressed well, listened to cool music, read fashion magazines, and generally had much more self-confidence than me. Even now, I still feel my true roots lie in my home village. This emotion colored my later artistic reflections on China's rapid urbanization.
At high school, I studied hard, and eventually I was offered a place at the Lu Xun Academy of Fine Arts in the northeastern city of Shenyang. Here, I was first inspired to explore urban photography. 
When I arrived in the late '00s, Shenyang was developing at a breakneck pace, with high-rises springing up everywhere. Wandering around the suburbs, I'd often encounter huge buildings left half-completed. In many cases, the developers had run into financial issues and called off construction while the projects were still concrete shells.
I was captivated by these abandoned structures. To me, they seemed to embody the waste and excess built into China's development model. Real estate had become the main driver of the economy, and a house in a big city cost an entire family's life savings. Yet cities' skylines were littered with empty, unfinished tower blocks. It's a shame.
For my graduation project, I decided to create a series focusing on this phenomenon, called "Unfinished Buildings." Ten years later, I'm still shooting it.
When I work, I shoot directly, objectively, and calmly, placing the main body of the building in the center of the picture. The style is inspired by a photographer couple named Bernd and Hilla Becher, who used large-format cameras to photograph industrial architecture across Europe and the United States during the late 20th century.
Photographing abandoned buildings, however, is often easier said than done. Many of them are patrolled by security guards. Sometimes, the only way to get a shot is to clamber over the perimeter wall. It can be quite dangerous entering the buildings, as they're often filled with holes in the floor and other hazards. I have to carry 15-20 kilograms of equipment, including cameras, lenses, drones, tripods, and laptops. So I have to be very careful. To get the best shooting angle, I sometimes have to climb up and down, and I'll often get cuts and bruises.
But I've also made friends with several security guards over the years. In 2016, there was a couple from the Northeast who looked after an unfinished project in Beijing. I used to go there a lot to take photos, and we'd sometimes have a drink together. They earned just 5,000 yuan (then $750) a month, which was barely enough to cover their living expenses. So they turned the rough ground near the abandoned building into a small vegetable plot. It felt like they were living an authentic rural life.
I hope my project can focus attention on some of the issues in today's society. Though China's urbanization drive has brought huge development and progress, I don't think it's healthy to only focus on the bright and beautiful side. We also need to acknowledge the problems and try to find solutions for them. Each unfinished building represents a lot of wasted resources.
Finding time for my photography has been difficult recently, because I work as a product manager at a smartphone company in the southern city of Shenzhen. It's a stressful day job. I also spend time with my family on weekends and holidays. Hopefully I can devote more time to the "Unfinished Buildings" series in the future.
In addition to this project, I'm still documenting the changes taking place in my hometown. My family's ancestral home, for example, has been demolished, and it'll be hard to find a trace of it in the future. But I don't think I'll ever move back to the countryside. The education and medical systems in the city are so much better. If I could find a space to grow flowers and vegetables here, that would be perfect.
Correction: An earlier version of this article incorrectly stated Meng carries 30-40 kilograms of equipment. The correct amount is 15-20 kilograms.
Meng Wei is a photographer based in Shenzhen, Guangdong province.
As told to Sixth Tone's Shi Yangkun.

Editor: Dominic Morgan.
(Header image: Shenyang, Liaoning province, 2017. Courtesy of Meng Wei)