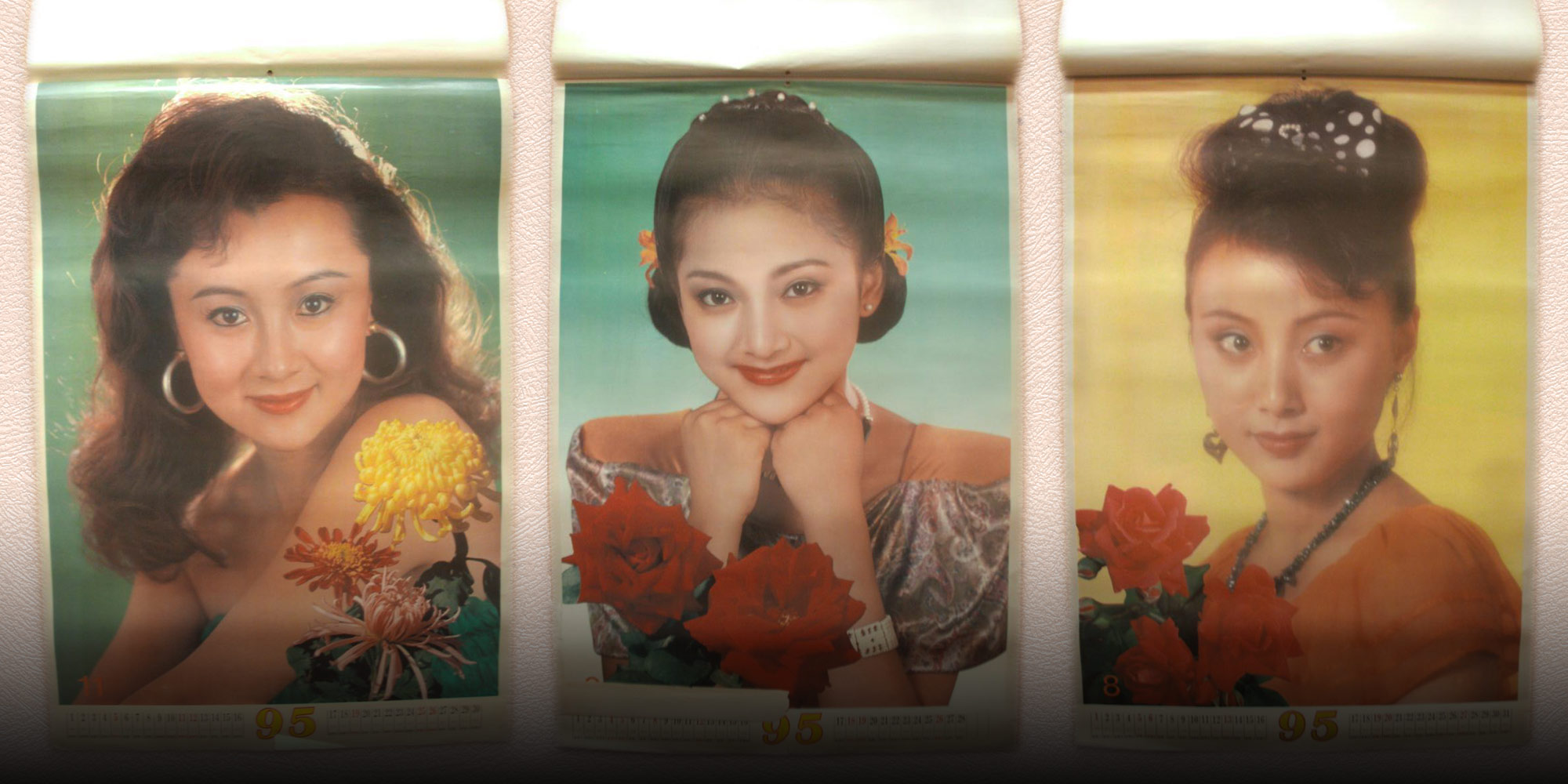 SIXTH TONE ×
How China's 'Beauty Calendars' Defined an Era's Aesthetics
The highly sought-after calendars taught a generation of Chinese new ideas about beauty.
One day in 1982, photographer Xi Tianying visited the home of actor Fang Shu. Fang had been Xi's friend for many years, and wanted him to take her portrait. It was, to the standards of a professional photographer, a bit of a haphazard job. To create a suitable backdrop, Xi searched the house and found a red quilt that he then nailed to the wall. Fang posed, looking over her shoulder, smiling, and Xi quickly pressed the shutter.
Though the result was more snapshot than showpiece, it would, counter to Xi and Fang's expectations, become part of a historic set of photos that would define aesthetics in China for over a decade.
Xi at the time worked for the Zheijang People's Fine Arts Publishing House, a publisher of art books in the eastern province. In early 1983, Xi met up with some friends from the Central Film and Television Company and suddenly realized everyone had a few portraits of famous actresses in their portfolio. He had an idea: Couldn't we put them together for a calendar?
The resulting "People in Movies" monthly calendar was the first of what would become known as "beauty calendars," wildly popular wall decorations that introduced China to a new aesthetic following the drab uniformity of the Mao era. They were symbolic of the 1980s, a time when people's curiosity for new forms of art and entertainment broke one taboo after another.
The roots of beauty calendars can be traced back to the "monthly cards" of the Republican era — posters that commonly featured drawings of women in qipao dresses. In the 1950s, these evolved into calendars that showed a full year's dates on one poster, which Shanghai export companies would send abroad as publicity for their businesses. Every year before Christmas, they would create new versions. Beautifully printed but not for sale, many Chinese families would nevertheless try to get their hands on them.
In the past, Xi would take photos of models dressed in traditional dress for such single-sheet calendars. A picture like the one he took of Fang would not have been considered calendar material. The only previous case was a small-sized calendar of movie stars published by the Shanghai People's Fine Arts Publishing House in 1978. Because the Cultural Revolution had only just ended two years earlier, the makers were unsure how such images would be received. They made only 20,000 copies, and when those sold out faster than expected, they did not dare print more.
As a photographer, Xi remembers how China's beauty standards and ethics changed in that era, away from the puritanical values of the '70s. He still recalls that when he was shooting magazine photos of female movie stars in 1981, he'd always struggle with what would be considered acceptable. In the end, he'd always decide against taking photos that would show their bodies, moving the camera up to just take portraits. In 1983, a movie was banned for seven years because, for not even one second, it showed an actress' shirt undone one button too low.
Publishing a 13-page calendar with slightly sexy pictures of movie stars thus presented a risk. During preparations, when the photos were projected on a huge screen, everyone was struck by the pictures' beauty and youthfulness. But there was also a kind of vague anxiety. After a few hours of viewing, the discussion still revolved around such trivial issues as "should the hair cover the ears?"
Proofs in hand, Xi went to see Liu Gao, the then-deputy director of the Communist Party's powerful National Press and Publication Administration. Xi remembers that Liu picked up the proofs of the negatives one by one, examining each one carefully in the sunlight without saying a word. Xi stood nervously to the side, not daring to say a word. Liu finally turned around and said to Xi, "These pictures of actors are decent, and I see nothing that can't be published!"
As soon as the calendar, titled "People in Movies," was placed on the roster that year, the orders kept coming in. "223,000 copies? Is that right?" Xi said in surprise. Previously, an ordinary calendar with a pre-order quantity of 20,000 to 30,000 was already a very good showing. "People in Movies" was a huge success. From the next year on, art publishers in other regions launched their own movie star calendars, kicking off a trend that would last for more than a decade.
Lou Delong, a graduate of the Central Academy of Fine Arts, did a special study of the aesthetics of Chinese calendars while he was there, collecting nearly 3,000 calendars. He tells China Newsweek the calendar fever that took off in the 1980s matched the sudden liberation of the mind after a long period in shackles. "The titles of the beauty calendars from that period were often 'Charm,' 'Purity,' and 'Truth,' all characteristics associated with beauty in traditional Chinese culture," he says. "But the eyes of their models were aflame. You could say that in an era when the flow of information was not yet fluid, these calendars became an important vehicle for aesthetic awakening as well as sexual awakening for Chinese people."
Qian Yuqiang, a photographer at Zhejiang People's Fine Arts Publishing House at that time, also felt this deeply. In the homes of rural villagers, he saw more than once that the calendars he shot would have the pages torn off one by one and pasted all over a wall. The calendars also reflected China's fashion revolution: thick padded shoulders, miniskirts, loose "batwing" shirts. These new trends imported from Hong Kong and Taiwan were popularized in the Chinese mainland by the calendar girls.
The strong demand made resources — photographers and models — extremely scarce. Photographer Jia Yuping recalls that his most prosperous year was 1993, when he shot a total of 47 calendars, earning him more than 1 million yuan (then $175,000). Photography critic Mei Sheng remembers that because of the large number of contracted publishers, many photographers used the "set cut" method of shooting. The term "set cut" is used in the clothing industry and refers to the method of cutting multiple pieces of clothing from a single piece of fabric. Calendars shot using the set cut method used multiple angles and compositions with a single model.
"But when it came to the pre-order meetings, the publishers were dumbfounded: The models and designs on the calendars that other publishers had come up with were more or less the same," Qian tells China Newsweek. In order to get exclusive photos, the pioneering Zhejiang People's Fine Arts Publishing House later gave Qian a full-time post as a calendar photographer. In a studio and darkroom of less than 50 square meters, he shot beauty calendars for 30 years. At that time, getting the photos right relied entirely on metering accuracy and a precise grasp of image texture. A small imperfection on the face would have a great impact on a picture, so the photographer and the makeup artist had to work closely together.
One day in 1989, in an obscure corner of the Zhejiang Daily newspaper, there was an advertisement calling for "beauties" — Zhejiang People's Fine Arts Publishing House was looking for calendar models. At that time, beauty calendars were already receiving some conservative criticism, and Xi, who was the publishing house's deputy editor-in-chief at that time, didn't have high hopes for the ad. But the result was surprising. On the day of the audition, more than 600 young women filled their appointed venue, the Hangzhou Children's Palace, to the brim.
Similar to how some people can become stars overnight today, calendars were a gateway to fame and fortune. According to Xi, "Just like the current TV competitions, for the girls of that era the calendar might be the only thing separating them from being a commoner or a star." Calendar photographers had the power to make careers. Every admissions season, Qian would receive calls from the Central Academy of Drama, the Beijing Film Academy, and other art schools, asking him to recommend students.
Zhou Xun, the famous Chinese actress, once mentioned in a TV program that she had five people to thank for her entry into acting — the first one being Qian. In 1990, Qian went to the Zhejiang Academy of Art to select models, and bumped into Zhou at the entrance of a dance classroom. "She was practicing her dance moves while talking with other girls. Her eyes were full of stories; they were very lively. She was glowing," he says. On her calendar photo, Zhou shows her unique presence: creamy skin, clothing wrapped to reveal her collarbone, exaggerated double-hoop earrings to hide a slightly wide face, clear eyes, and a brave shyness. According to Zhou, Xie Tieli saw this photo, and chose her for her first film.
Throughout the '90s, "calendar wars" would be fought. Every year, most of the calendars in the state-run Xinhua bookstores were sold out by mid-December, and publishing houses' stockpiles were soon gone as well. The presses would always print an extra 100,000 copies, the prices always rose, and nobody worried about unsold copies. For high-grade calendars with imported paper in 1995, the highest price was 288 yuan — about three-fifths of the national average monthly salary.
Interest in these calendars also gave birth to a flourishing black market in unapproved or copycat products. At that time, the publication and sale of wall calendars required a book number issued by the National Press and Publication Administration, so those who could not get book numbers had to take risks and publish illegally. There were many channels for pirated printing, such as colluding with a printing house without the permission of the publishing house, or buying calendar samples directly from other printing houses. Those with more resources would also take photos themselves — of women in more revealing clothing — in order to expand sales.
"It was a time when fashion was expanding like crazy, just like the economy was growing so quickly and the arts were taking a big leap forward — so it was inevitable that there would be quality issues," according to Qian. "But I wasn't willing to shoot that kind of subject matter." After the criticism of the calendars' aesthetics appeared in the media, the National Press and Publication Administration also introduced a regulation that photos of women wearing bikinis must be taken within the confines of sports stadiums.
Eventually, however, the beauty calendars became so desirable, they became problematic, contributing to their downfall. In 1996, the Beijing municipal government banned the purchase of calendars with public money, making it impossible for the city's state companies and government officials to buy the calendars as gifts.
During the same period, the internet also emerged. Glamor shots were no longer the sole privilege of publications such as calendars or magazines. The time-telling functions wall and desk calendars provided also weakened with the coming of cellphones and computers.
More importantly, Chinese were being fed a dazzling array of increasingly risqué photos. The comparatively conservative calendar photos had fulfilled their mission of aesthetic and sexual awakening. In 1998, the number of wholesale and retail bookstores registered to sell calendars with the Beijing Municipal Bureau of Press and Publications shrank from more than 150 to only 32.
Qian shot his last beauty calendar in 2006. His last chosen models were actors from the Zhejiang Armed Police Cultural Troupe and the Hangzhou Song and Dance Troupe. To meet the aesthetics of the time, the models wore relatively revealing clothing. Only 10,000 copies of this calendar were printed. It was the only beauty calendar Zhejiang People's Fine Arts Publishing House published in all of 2007.
Zhejiang's Cangnan County was once called China's production center for desk and wall calendars, with more than 200 producers and an over 80% market share at its peak. But in 2013, the government once more issued a notice banning the giving and receiving of calendars with state money, and imposed a maximum price limit. With more than half of their orders coming from government departments and finance companies, the industry cratered.
Cangnan County's calendar-makers have since pivoted to producing for Chinese diaspora customers abroad, using imagery of traditional Chinese culture and rural vistas. The term "beauty calendar" has become associated with simpler, less sophisticated times, and is rarely used anymore.
This article was originally published by China Newsweek. It has been translated and edited for length and clarity, and is republished here with permission.

Translator: Matt Turner; editors: Cai Xuejiao and Kevin Schoenmakers.
(Header image: Pages from a monthly calendar in 1995. Visual elements from Kongfz.com, reedited by Ding Yining/Sixth Tone)