SHANGHAI — The COVID-19 pandemic has caused explosive growth in the country's elderly entertainment sector, industry experts told Sixth Tone at China's Aging Marketing Innovation Conference, held Thursday in Shanghai.
Forced to stay indoors, Chinese elderly have gone online in droves, said Duan Mingjie, founder of AgeClub, a Beijing-based consulting firm that advises brands on how to target elderly customers.
"The pandemic has forced the aging population to use various apps, which in turn promotes the growth of the market for elderly entertainment," Duan, whose company organized the conference, told Sixth Tone. According to the China Statistical Report on Internet Development released in February, the proportion of internet users over 50 climbed from about 17% in March 2020 to nearly 27% by the end of 2020.
China's aging society also means there are more and more potential elderly customers. At present, there are 254 million people aged 60 or above in China. Among them are nearly 118 million people who live alone or whose children have moved out. "This group requires a lot of entertainment," Duan said.
Xie Lulu, founder of Shanghai-based Robkoo, the developer of an app for music creation, said at the conference that the elderly are spending an increasing proportion of their money on entertainment. "Music, calligraphy, and painting are the major interests of the silver generation," he said.
Established in 2019, Robkoo views targeting the "silver music economy" as its core development strategy. They are more willing to pay for content than younger people, Xie said. "When the product attracts them, cost is not an issue, and middle-aged and elderly people spend much more than white-collar workers and other groups."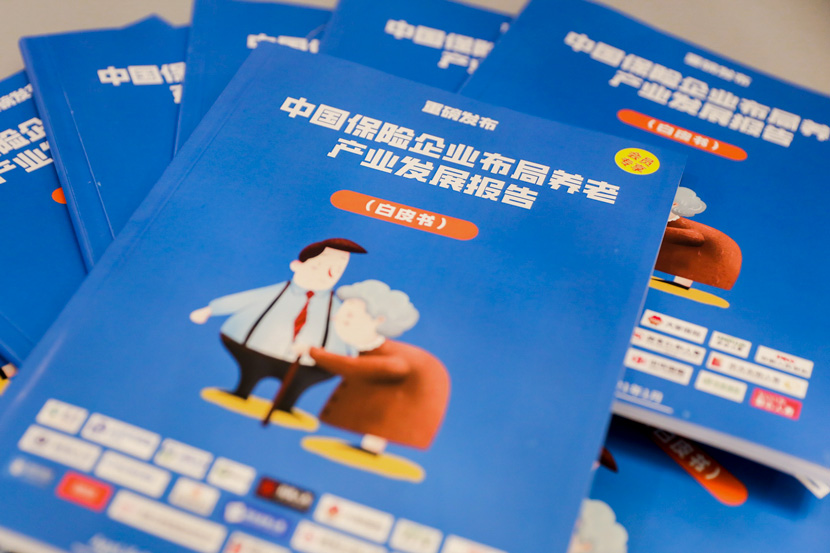 Reports on the elderly entertainment industry are displayed at the Aging Marketing Innovation Conference in Shanghai, March 25, 2021. Courtesy of the conference
Short-video platforms have become the most popular form of content among China's middle-aged and elderly people. On Douyin, the Chinese version of TikTok, videos posted by users over the age of 60 have more interactions, including likes, comments, and shares, than those posted by younger users, according to Chinese media.
Douyin on Wednesday announced its "Senior Friends Plan," saying it will recruit 10 users over 60 years old to act as a think tank to make the app more elderly-friendly, including creating video effects and templates aimed at senior users.
Renren Jiang, a live video teaching platform, has decided to switch its business focus to elderly customers after witnessing a sharp increase in users from this group since 2020. "We had users of different ages without a marked difference, but the users aged over 50 took up more than 60% of our platform last year, and that number is still growing," Zhang Ming, the company's COO, told Sixth Tone. To better serve seniors, Renren Jiang has adapted its course content and instructed lecturers to speak slower.
The company holds online lectures on topics from music and art to yoga and dance. But singing classes are the most popular among the elderly. Zhang said that when Liu Hegang, a well-known Chinese vocalist who often performs during China's annual Spring Festival Gala, launched his lectures on Renren Jiang last year, his popularity among elderly users meant his course quickly sold out.
Zhang said the COVID-19 pandemic has boosted the use of smartphones and apps among the elderly. "Our data has shown that the high repurchase rate is basically generated by the elderly," he said.
Duan, AgeClub's founder, said the older generations of today, after having spent their lives caring for their families, are now paying more attention to themselves. "They pursue their dreams, pursue what they didn't learn when they were young, and dare to take risks," he said.
Editor: Kevin Schoenmakers.
(Header image: Elderly people teach each other how to use smartphones in Sanya, Hainan province, Jan. 6, 2021. Sha Xiaofeng/People Visual)