Authorities in the southwestern Sichuan province are partnering with regional conservation bureaus to protect giant pandas from extinction risks through greater collaboration.
The alliance will focus on building ecological corridors and restoring the habitats of pandas living in isolated communities such as the mountainous Jiuding Shan area, local news outlet Sichuan Daily reported Wednesday. Jiuding Shan is a panda base in the province that is home to 75% of the country's panda population.
China's latest national survey on pandas indicates that there were 1,864 wild giant pandas at the end of 2013, up from nearly 1,600 the previous decade. Experts say this is a result of the country's conservation efforts to build panda reserves. In 2016, the International Union for Conservation of Nature downgraded the threat level of giant pandas from "endangered" to "vulnerable."
"Despite the overall increase in the wild giant panda population, small and isolated communities face obstacles with interaction, which impacts reproductive health and genetic diversity within the population," Ni Jiubin, the head of a Sichuan conservation project at The Nature Conservancy in China, told Sixth Tone.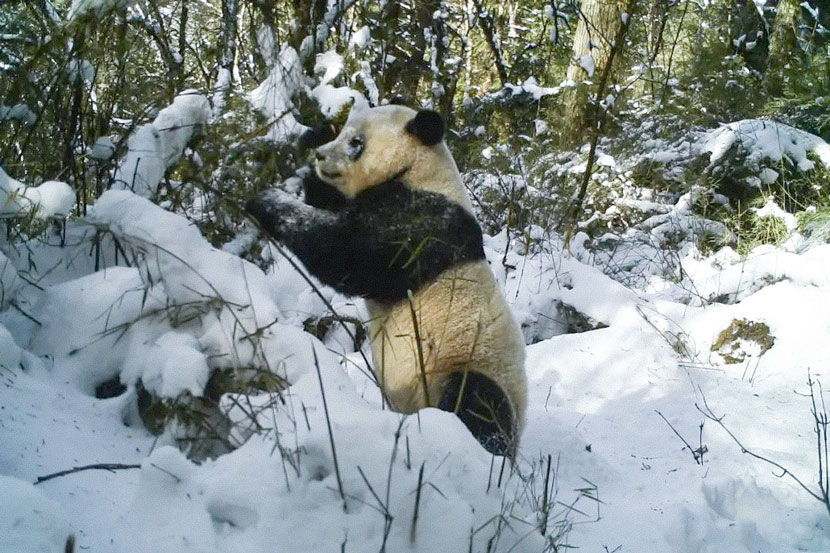 A wild panda plays in the snow at the Sichuan Wujiao Nature Reserve, Sichuan province, Dec. 24, 2020. From 勿角大熊猫自然保护区 on WeChat
Giant pandas are only found in a few locations, including Sichuan and the northwestern Gansu and Shaanxi provinces. The animals are divided into 33 local communities. Twenty-two of these have fewer than 30 pandas, and 18 have fewer than 10 pandas.
In 2017, China established a giant panda national park system encompassing the species' habitats in Sichuan, Shaanxi, and Gansu provinces. Meanwhile, Chinese scientists have sought to release captive pandas into the wild to supplement small, isolated wild panda populations.
According to the 2013 survey, Jiuding Shan is currently home to an estimated 35 pandas. Their habitat was severely affected by the devastating magnitude-7.9 Wenchuan earthquake in 2008, which altered the area's water sources.
"From a population perspective, the Jiuding Shan panda population is not the smallest," Ni said. "There are other small populations at higher risk. But the Jiuding Shan population is significant because of its geographic location, as it is connected to other isolated communities."
Climate change and human activity in the province, including hydropower projects and road construction, have affected several panda habitats and will ultimately impact the local population, Ni said. According to the IUCN, climate change could wipe out one-third of the bamboo habitat of giant pandas in the next 80 years.
"Interaction barriers led to the fragmentation of (panda) populations," Ni said. "We hope to lower the barriers, so as to sustain the genetic diversity of the pandas. If a small population vanishes, that part of the gene pool will be lost."
Conservationists hope the new alliance can improve cooperation between local national park administrations, with support from scientific institutions and conservation groups, to protect the country's most beloved wild animal.
Editor: Bibek Bhandari.
(Header image: A wild panda plays in the snow at the Sichuan Wujiao Nature Reserve, Sichuan province, Dec. 23, 2020. From 勿角大熊猫自然保护区 on WeChat)