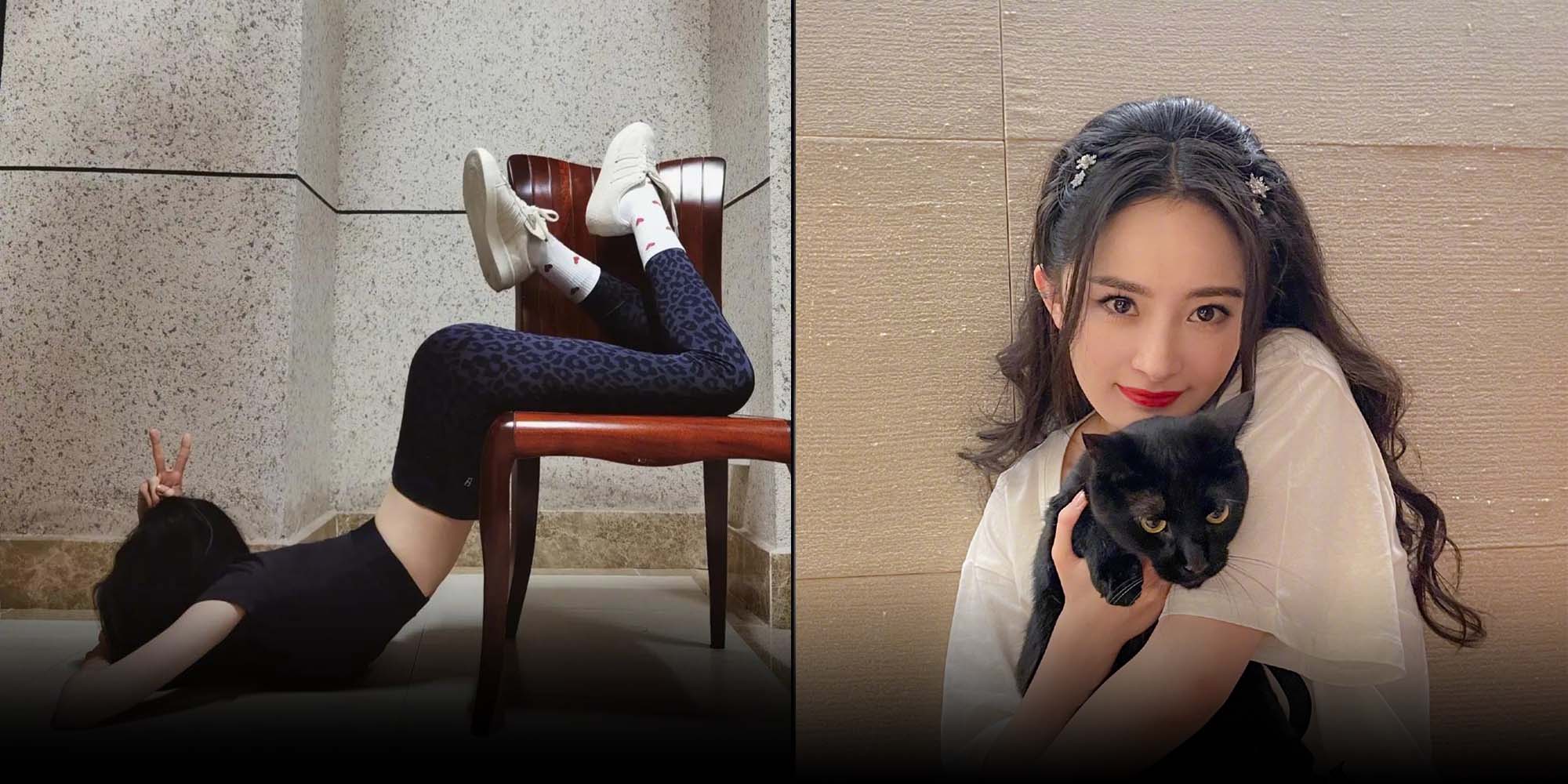 NEWS
Bendy Pose Social Media Challenge Meets Feminist Backlash
Loud opposition to the latest body competition fad reflects increasing awareness of gender issues among Chinese social media users.
Challenges in which women compete with their bodies — Am I slim enough to fit behind a piece of paper, or wear a child-sized T-shirt? — are nothing new on Chinese social media. But the latest "manga waist" trend is receiving more than the usual amount of criticism, as users are increasingly aware of how such memes detract from body positivity.
"Raising my hand for the 'manga waist challenge.' It's a little difficult," actor Yang Mi, a household name with over 100 million followers on microblogging site Weibo, wrote in a post Sunday.
In an accompanying photo, the 34-year-old showed how limber she is, lying with her chest on the floor and her thighs on a chair, her back arched 90 degrees. Several hours later, 21-year-old idol group member Zhang Yifan repeated Yang's feat, and the "manga waist challenge" — so named because the pose imitates a manga drawing — took off.
Body challenges were popularized on Chinese social media around 2016, when countless women posted photos of how they could hide their waists behind a vertical piece of A4 paper. In other variations, users have shown off wrists just four centimeters thick, collarbones capable of holding eggs, and stomachs small enough to wrap their own hands around. Often, female celebrities win praise by joining in.
But growing awareness of gender issues among Chinese social media users has led to more opposition to such challenges. Many pointed out how the manga waist challenge once more fed into an unhealthy beauty standard for women. This time, doctors also warned that such an over-stretched posture could easily cause injuries.
Both Yang's and Zhang's manga waist challenge posts had been removed by Monday. Yang apologized, saying she had been inconsiderate in sharing the photo. "I was just informed that, without guidance from professional coaches, such postures can be harmful to one's health," she wrote. "I'm very, very sorry that my unthoughtful post has caused such misunderstandings."
Bai Meidaijia, a lecturer specializing in gender and media studies from Liaoning University in northeastern China, told Sixth Tone that the backlash against the manga waist challenge is the result of what she calls the "digital feminist movement."
"Online campaigns such as #MeToo have brought wider discussion to feminist topics, leading to a rising number of gender-aware internet users," she said.
On the other hand, this change in the online atmosphere is making female celebrities promote themselves as fit and confident, Bai said — something she warns also should not become a new norm for women. "It might well be adding another layer of burden for ordinary people to 'manage their bodies,' on top of their daily work and chores." she said.
Chen Yingwei, a 22-year-old Shanghai resident who participated in the manga waist challenge earlier this month, told Sixth Tone that she had simply thought of such challenges as entertainment. "I work out a lot, so I just saw this pose as an interesting and challenging way to stretch," she said.
Though she was at first surprised to see the opposition to manga waists, the critics ultimately won her over. "It led me to realize that such challenges are actually inappropriate standards for evaluating women," she said.
By Tuesday, the manga waist challenge was still going strong. Two related Weibo hashtags have together been viewed over 1 billion times, and the users sharing photos and videos bending themselves like the manga drawing even include pregnant women.
Many online have lamented the meme's continued popularity. "Whenever there's a standard for waists, collarbones, or legs, women will compare how far off they are from such standards," media commentator Luo Beibei wrote on Weibo. "It's really, really unnecessary."
Additional reporting: Zhang Shiyu; editor: Kevin Schoenmakers.
(Header image: Chinese actor Yang Mi participates in the "manga waist challenge." From Weibo)