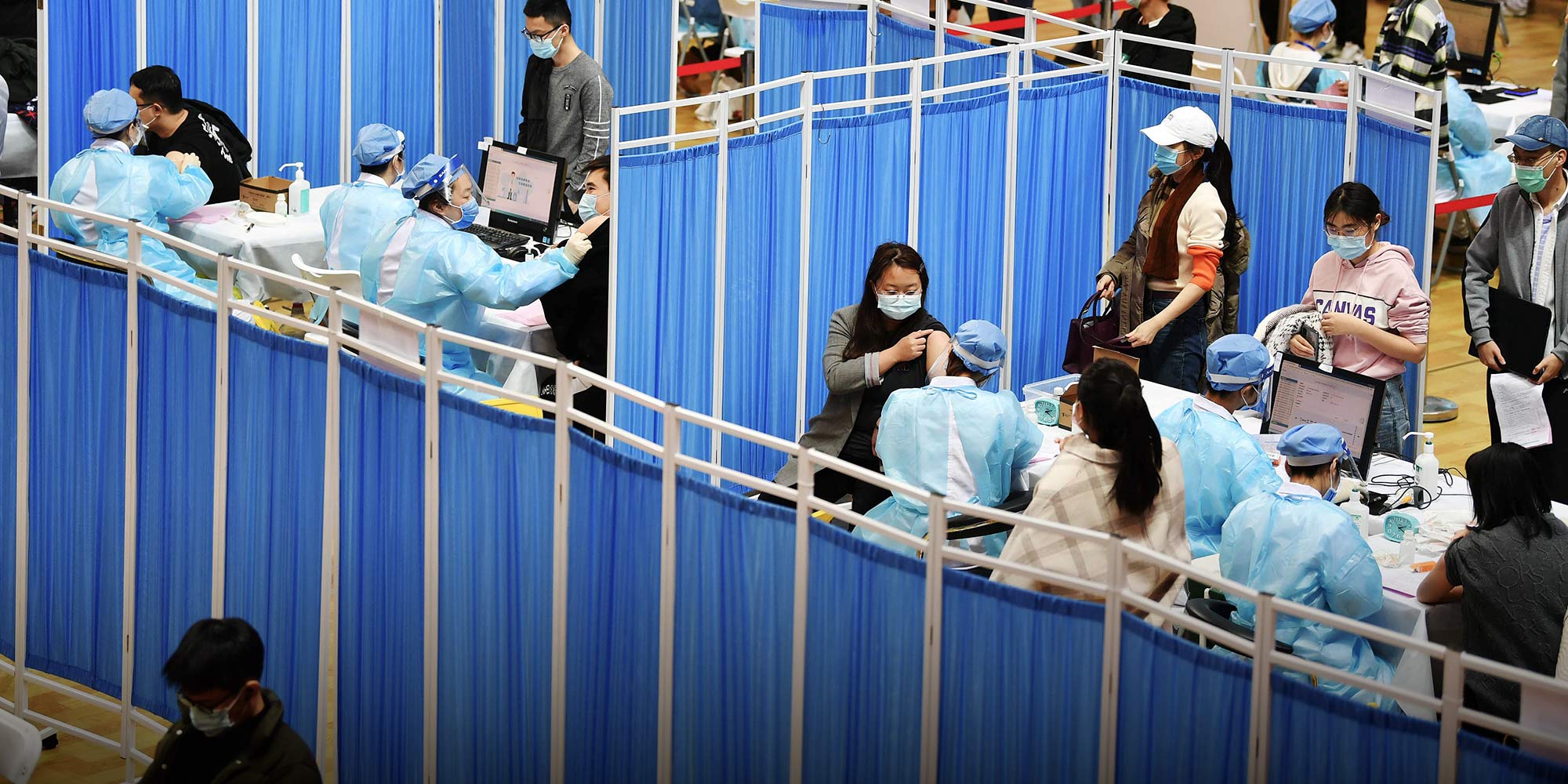 NEWS
Vaccinations Only Way Out of Pandemic, China Tells Reluctant Public
Officials say getting inoculated needs to be a priority even for people who don't feel they're at risk of catching the coronavirus.
With a flurry of announcements over the weekend, Chinese authorities affirmed the government's determination to press on with a national vaccination drive, assuring the public that getting inoculated against COVID-19 is both safe and necessary, despite there being no current outbreaks in the country.
"The COVID-19 pandemic is still ongoing, and people should not think only of themselves," He Qinghua, an official with the National Health Commission, China's top public health agency, said during a press conference Sunday. "Vaccination is the most effective means of preventing and controlling COVID-19, so it is hoped that everyone will be proactive in getting inoculated."
While no official data is available, a January survey from French market research company Ipsos, in partnership with the World Economic Forum, found that less than half of Chinese people planned to get vaccinated against the coronavirus at their earliest opportunity.
During a municipal government meeting last week, Beijing officials asked district authorities to make vaccination their "No. 1 task" and develop plans for encouraging vaccine uptake by the public.
Concurrently over the weekend, several provincial and city governments announced their own vaccine coverage goals. Authorities in Guangzhou said they planned to inoculate all 11 million of the southern city's residents aged 18 to 59 in the first half of this year. Meanwhile, the central Hunan province pledged to vaccinate vulnerable groups, including seniors and people with preexisting health conditions, by the end of the year.
In addition to the Chinese public's general reluctance to get vaccinated immediately, the country's inoculation rate is also low because of its large population. As of Sunday, China had administered nearly 75 million doses of COVID-19 vaccines, most of which call for a two-shot course. That number is far from what's needed to reach herd immunity, which would require upward of 1 billion people vaccinated to curb the future spread of the coronavirus.
Many experts including Zhang Wenhong, the infectious disease specialist heading up Shanghai's coronavirus response, have expressed concerns about the country's slow vaccine rollout. "If China's inoculation drive isn't fast enough, then we should expect an increase in infection rates among our population," he said during a presentation Saturday.
The coronavirus is likely to coexist with humans similar to the way influenza does, Gao Fu, the head of the Chinese Center for Disease Control and Prevention, said during a forum Saturday.
"Humans need to be prepared," he said. "The relationship between us and the virus is a cat-and-mouse game," like Tom and Jerry.
Editor: David Paulk.
(Header image: Students are injected with a COVID-19 vaccine at a university in Beijing, March 20, 2021. Yuan Yi/Beijing Youth Daily/People Visual)