Zhang Lingli hasn't had a good night's sleep in 25 years. Since she was 9 years old, her life has had one singular purpose: to find the man who killed her father.
According to court documents and Zhang Lingli's own testimony, the crime happened in Cili County, a rural part of central China's Hunan province, in 1994. There was an argument between Zhang's father and his neighbor, Zhang Guoheng — no relation — over the rights to a nearby water source for their farms. Words escalated to actions, and Zhang Guoheng's son, Zhang Dengfan, who was then just 16 years old, retrieved a knife and stabbed Zhang Lingli's father several times. He died before arriving at the hospital.
"It was the second day of summer vacation. When I saw my father being carried to our house, his white tank top stained red with blood, I thought it was the end of the world," Zhang tells Sixth Tone, sobbing over a phone call. "I shook his head and said, 'Dad, one day I will avenge you.'"
This vow consumed the lives of Zhang Lingli and her elder sister, Zhang Ali. After the deadly attack, Zhang Dengfan fled the county, never to return. The police finally caught up to him 25 years later, in 2019. He was arrested in Yunfu, a city in the southern Guangdong province some 900 kilometers away, and charged with intentional homicide. Last week, he was sentenced to life in prison and ordered to pay 36,000 yuan ($5,500) in compensation to his victim's surviving family.
According to the two sisters' lawyer, the life sentence was the most severe penalty Zhang Dengfan could receive under China's criminal law, since he was a minor when he committed the crime. The Hunan court also sentenced Zhang Dengfan's sister to three years in prison for knowingly harboring a criminal.
Though justice appears to have finally been served, Zhang Lingli says her and her sister's lost years can never be recovered. Two years after their father's death, their mother died in a car crash, so the sisters went to live with one of their uncles. He treated them badly, Zhang Lingli says, and refused to pay for them to attend high school even though the girls' grades were exemplary. So the sisters left their village in 2001, undereducated, and began traveling across the country searching for the man who killed their father, taking up temporary work when they could find it. They set off on the trail of clues provided by relatives.
These years as itinerants were hard. The sisters did laundry and housekeeping for a hotel, served food at restaurants, and slept in public parks or under bridges. When they would ask around about which construction site Zhang Dengfan might be working at, sometimes men harassed them with insults and crude jokes.
While the sisters have received much attention on Chinese social media for their dogged pursuit of justice, their plight reflects common problems with China's cold-case crimes.
For one, Zhang Lingli doesn't feel that the authorities were diligent in searching for Zhang Dengfan over the 25 years, and instead relied on her and her sister for tips. Only after the two women began seeking media attention did the police start taking the case more seriously, Zhang Lingli says.
"They (the police) told me, 'Even if Zhang Dengfan didn't run away and still lived in this county, there are 7 million residents here — we wouldn't be able to find him for you,'" says Zhang Lingli. But just 40 days after a 2019 report by Sixth Tone's sister publication The Paper, find him they did.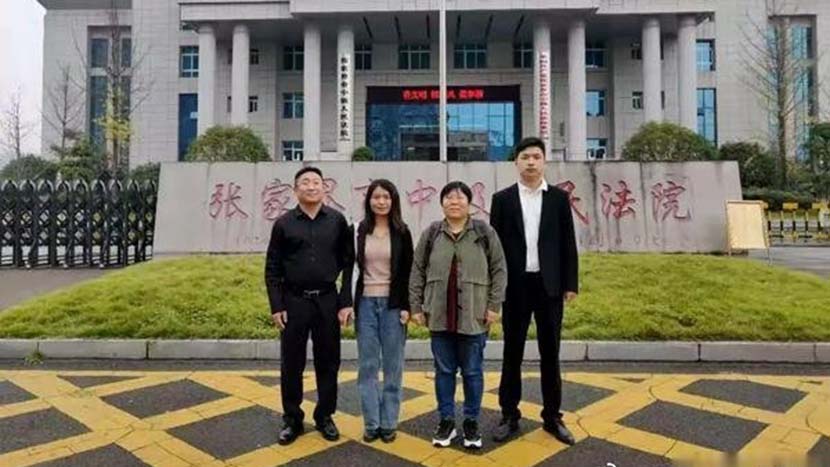 The Zhang sisters pose for a photo with their lawyers outside the Zhangjiajie Intermediate People's Court in Hunan province, Nov. 18, 2020. From The Paper
The Zhangs' situation isn't an isolated case in China. In another high-profile incident, a woman in the central Henan province spent 17 years looking for the people who murdered her husband in 1997. Police finally arrested five suspects in 2015, just 17 days after the widow's plea for help made national headlines. In an unusual move, the local government overseeing the case said the officers leading the investigation had been punished for negligence.
"It is the responsibility of public security authorities to find criminals. But when the system doesn't lead to prosecution, sometimes victims' family members pursue justice on their own," Fu Jian, a criminal lawyer who represented the Zhang sisters as well as the widow in the Henan case, tells Sixth Tone.
According to Fu, apart from stagnant police investigations, the challenge of solving criminal cold cases stems from the fact that Chinese authorities haven't always had the same unfettered access to big data that they enjoy today, making it harder to track down people who perpetrated crimes long ago.
Zhang Lingli, now 37, finally feels some closure now that Zhang Dengfan has been caught and punished, but she knows she'll never get back the 25 years she spent searching for him. For now, her next move will be to appeal the court's verdict on the grounds that 36,000 yuan in compensation isn't nearly enough to make up for her lost years. According to Fu, the lawyer, the court did not agree to the sisters' request for over 1 million yuan due to a lack of evidence to justify the sum.
"The trauma the sisters suffered from losing their father at such an early age was severe and irreversible," Fu says. "While pursuing the killer, they spent an incalculable amount of time and money. It's unacceptable that the court didn't set more reasonable compensation terms."
Despite the appeal, the case will soon be over. Zhang Lingli, who now runs an online shop with her husband in Guangzhou, says regardless of how much compensation she and her sister get, they have fulfilled their duties to their deceased parents. After the case is concluded once and for all, Zhang Lingli says, she hopes to return to her hometown in Hunan and sell local speciality foods from her online shop.
"I don't want to live in the past. Life needs hope," she says. "We've tried our best to seek justice for our family. Now it's time to let go of the past and get on with my life."
Editor: David Paulk.
(Header image, left: An undated photo of the Zhang sisters when they were children. | Right: The sisters give an interview in Cili County, Hunan province, Aug. 13, 2019. From The Paper)