The China office of American tech giant Intel has severed ties with one of its brand ambassadors following an online uproar led by men with hurt feelings.
The ambassador in question is Yang Li, a television personality known for taking sharp jabs at men in her stand-up comedy. Yang's critics resurfaced after Intel China released its ad Thursday to complain, again, of being offended.
"Intel has a taste for laptops that is higher than my taste for men," Yang said in the ad promoting the company's Evo platform-based laptops.
Known as the "punchline queen" in the male-dominated Chinese stand-up comedy circuit, Yang has often been accused of discriminating against men with piercing humor. Some have gone as far as saying that she has created "gender opposition" through her divisive performances slamming men.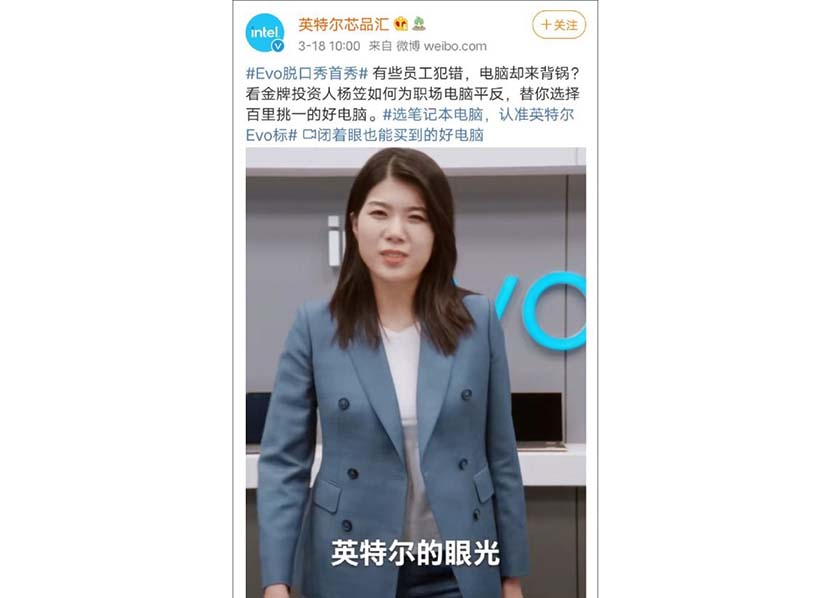 A screenshot from Intel China's ad featuring Yang Li. From Weibo
Thursday's ad rekindled resentment among men already bruised from her previous remarks. Some took to their keyboards to vent their frustrations on Intel China's Weibo microblog account, where the ad was posted, and called to boycott the brand.
"How dumb is Intel's advertising team for endorsing this feminazi Yang Li?" read one comment. "Most laptop and computer customers are men." (Research suggests this claim is false, and that women do not lag behind men in adopting new tech.)
Following the online furor, Intel China said it was surprised by the online reaction. The company removed the ad featuring Yang from its official Weibo account as well as its shop on e-commerce site Taobao.
"Diversity and inclusivity mean a great deal here at Intel," an Intel China spokesperson told Sixth Tone's sister publication The Paper on Monday, without elaborating.
Meanwhile, many of Yang's supporters slammed Intel China for curtailing the voices of women and demanded further clarification. On Monday, rapper Xia Zhiyu started a Weibo hashtag — "I'm a man and I support Yang Li" — that has been viewed over 3.5 million times.
"If Yang Li's business can be sniped like this, how much space is there left for women?" wrote a social media influencer who frequently comments on gender issues.
When reached by Sixth Tone, Yang's team declined to comment on the withdrawal of her advertisement.
This is not the first time Yang has faced backlash over her associations with prominent brands. Earlier this year, Yang's cooperation with the fashion brand Heilan Home, which mainly sells men's clothing, ignited the same firestorm over her perceived attitudes toward men, while a subsidiary of Chinese automobile company Great Wall Motors was also criticized for its recent advertisement featuring Yang, though it remains online.
Chen Yaya, a gender researcher at the Shanghai Academy of Social Sciences, told Sixth Tone that, while retracting Yang's endorsement does not necessarily indicate that women's voices are being silenced, Intel China's decision points to the difficulty of countering stigma against feminism.
"Inviting Yang to be an ambassador was purely a business decision the company used to sell its products under the guise of endorsing feminism," Chen said. "It is Intel's opportunism that needs to be boycotted."
Editor: Bibek Bhandari.
(Header image: Yang Li performs during a talk show. From Weibo)