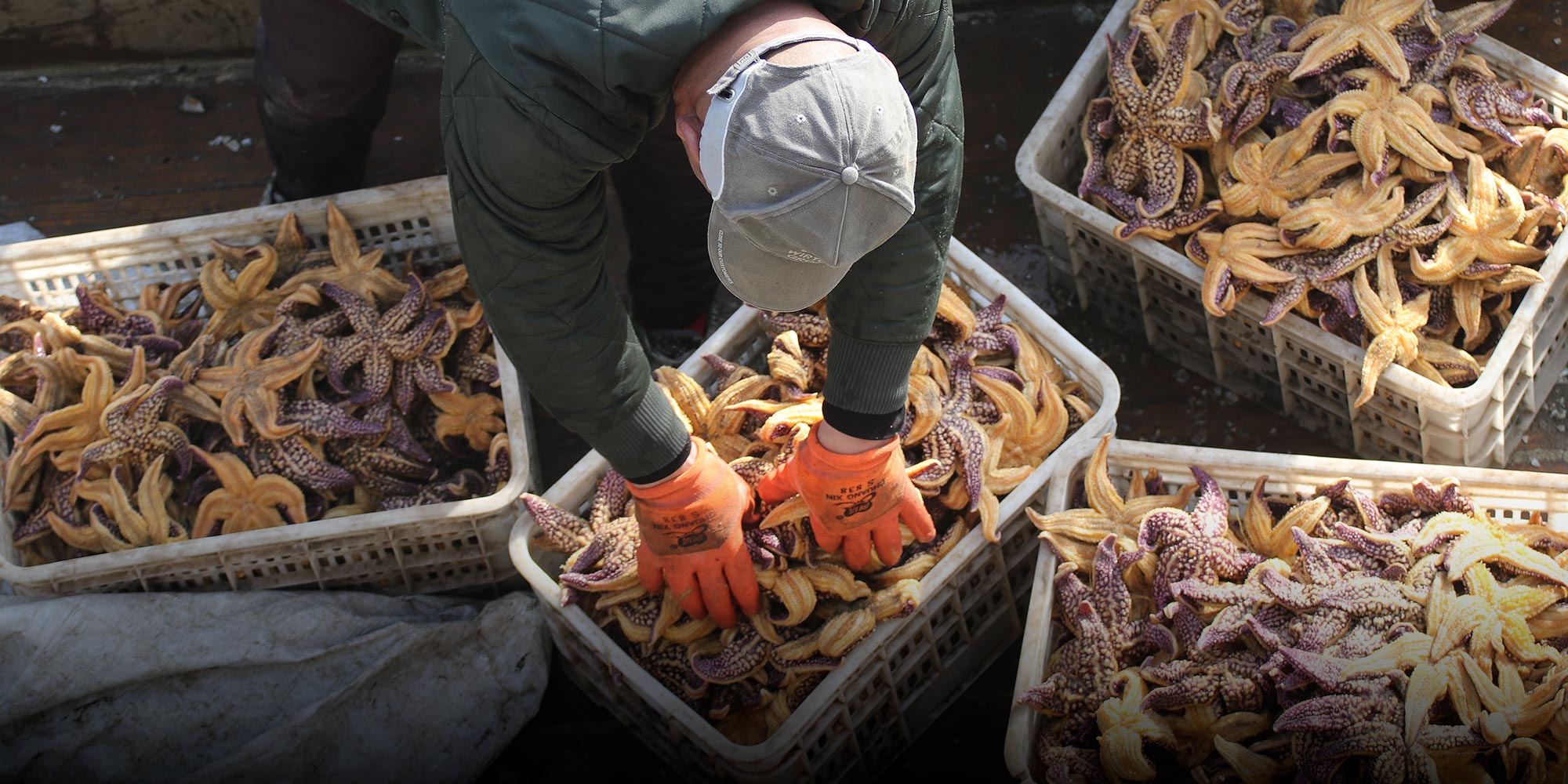 NEWS
Sea Star Explosion in Qingdao Baffles Farmers, Affects Businesses
Experts have likened the periodic outburst to the desert locust invasion, which affected farmlands in several parts of the world.
A sea creature admired for its beauty is wreaking havoc in the coastal city of Qingdao after millions of sea stars were found encroaching on local aquaculture.
Xu Yunxiang, the head of an aquaculture co-op in Qingdao, told Sixth Tone that the explosive number of the sea creatures is devouring farmed mollusks like clams and oysters in the waters of Jiaozhou Bay, an inlet of the Yellow Sea. He said there hasn't been an outbreak of sea stars, commonly known as starfish, at this scale since he started the co-op in 2013.
The outburst — mainly of North Pacific sea stars, usually found in coastal waters — has baffled the farmers cultivating them and also impacted local businesses as certain seafood supplies dwindle. The unusual event has impacted over 100,000 mu (about 16,500 acres) of farms, resulting in 100 million yuan ($15 million) in losses, according to domestic media.
"These sea stars eat so much," Xu said. "Farmers have been running out of clams to sell for days."
Local fishers have sent divers to haul up the sea stars to clear the invaders and save their farms. As of Monday, about 450,000 jin (225,000 kilograms) of sea stars were captured, according to the media report.
The coastal areas in eastern China have seen similar events in the 2000s, when large numbers of sea stars encroached local abalone and clam farms. The exact cause for the recent outbreak in Qingdao, however, remains unclear.
Wang Yamin, a marine conservation and fisheries management expert at Shandong University, likened the explosion of sea stars to desert locust outbreaks, which devastated large swaths of farms in East Africa and South Asia last year in particular. He said some of the area's natural conditions this year, like its temperatures and salinity, may be optimal for higher sea star larvae survival.
"We haven't done scientific research on it, so I can't say exactly why it happens," he told Sixth Tone.
Apart from favorable environmental conditions, experts say a lack of predators may also have played a role in the sea star outburst.
"In the past 15 years, we have seen an obvious reduction in the number and diversity of predatory fish in the area," Zeng Xiaoqi, a starfish expert at Qingdao's Ocean University of China, told Sixth Tone, adding that more research was needed to establish a direct link between the sea star outbreak and the decrease of large fish. "But for sure, an eruption of a single species is a sign that an ecosystem is out of balance."
Editor: Bibek Bhandari.
(Header image: A fisher sorts sea stars at a port in Qingdao, Shandong province, March 17, 2021. Huang Shaoxian/People Visual)