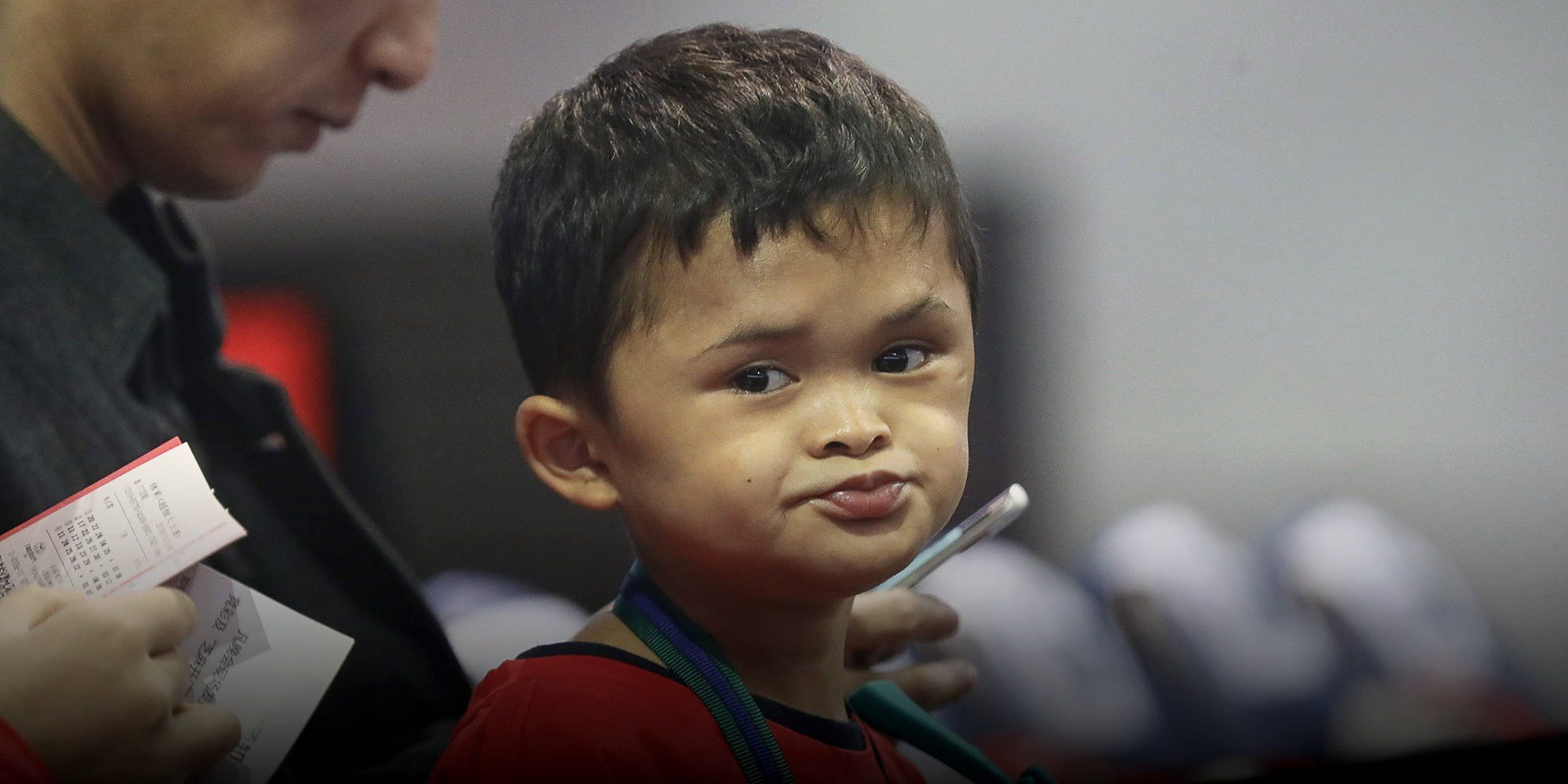 FEATURES
The Unbearable Likeness of Being: The Story of 'Little Jack Ma'
Fan Xiaoqin became an instant online child star for looking like Jack Ma. Now, that fame has faded and so has the wealth it once promised. What's left is an innocence lost and a childhood compromised.
Editor's note:

Six years ago, 7-year-old Fan Xiaoqin shot to fame online simply because of his uncanny resemblance to Jack Ma — the founder of Alibaba, China's tech giant. From his poverty-stricken village deep in the eastern Jiangxi province, Xiaoqin, dubbed "Little Jack Ma," was whisked away to the big city by China's hungry online entertainment industry, and offered fame, wealth, and success.

For a while, it lasted. At the peak of his popularity, Xiaoqin made regular television appearances, lived in a plush apartment, and had a nanny who took care of his every need. His family even renovated their home using his earnings. But all that came to an abrupt end when local media reported last month that the company that once promised him the moon canceled his contract.

Little Jack Ma found himself back in his village.
But can Little Jack Ma now go back to being Fan Xiaoqin? The answer can only be found by taking a closer look at his life shortly before that fame faded — when local media reported that he'd lost almost all communication with his family, that he'd been absent from school, and that he was lagging behind his classmates. There were also allegations that Xiaoqin was injected with growth-inhibiting hormones.

The following article, published last December by Sixth Tone's sister publication The Paper, offers a troubling glimpse into how cutthroat entertainment firms play with children's lives, with little regard for their development or well-being.

This is the story of Little Jack Ma, reported by The Paper. It has been edited for brevity and clarity. The original can be found here.
Fan Jiafa had never heard of Jack Ma or Alibaba. A farmer barely eking out a living in Yanhui Village deep in Jiangxi province, Fan hadn't even used the internet. Then six years ago, his 7-year-old son went viral.
It happened in 2015, when a visiting relative posted an innocuous photograph of his son Fan Xiaoqin on Chinese social network QQ and remarked that he looked just like one of China's richest men and the founder of Alibaba. Soon, there was a torrent of comments saying Xiaoqin bore a striking resemblance to Jack Ma. And weeks later, Jack Ma himself reposted Xiaoqin's picture on microblogging site Weibo, writing: "It feels like I'm looking in the mirror."
That's all it took. The boy from rural China was soon dubbed "Little Jack Ma," and he became an instant online celebrity. Over the next few years, he and his family would live under the white-hot glare of China's entertainment industry — watched, consumed, and exploited both online and in the real world.
At the height of this new fame, Xiaoqin's publicity was managed by a company, owned by a man named Liu Changjiang. Xiaoqin's father only refers to Liu as "Boss" — the man who offered the family a new world with a contract to promote Xiaoqin online, and offer monthly wages and a better education for Xiaoqin.  
The company also ensured new videos of Little Jack Ma were posted online every day. On Douyin, the Chinese version of TikTok, he had four related accounts alone: "Little CEO Ma Cuisine," "Little Jack Ma's Nanny," "Little Jack Ma's Daily Life," and "Little Jack Ma CEO." They each had thousands of followers and primarily featured Xiaoqin as he ate, got haircuts, or went shopping. 
In the fall of 2017, the same company took Xiaoqin — then a 9-year-old — to Shijiazhuang in the northern Hebei province over 1,000 kilometers away to enter first grade at Nanli Elementary School.
While he was under contract, Xiaoqin — fashionably dressed and donning a baseball cap — would always stand at the head of the line while leaving school. When parents came to pick up their children, they'd sometimes take a selfie with him, many even asking him about the "real" Jack Ma.
That contract ended abruptly last month. Little Jack Ma's internet fame proved short-lived, and his and his family's lives began to unravel quicker than his rise to fame. In the months before the company cast Xiaoqin aside, his grades had begun to dip, and local media reported he was suffering from achondroplasia, a bone growth genetic disorder that causes dwarfism. All his videos now stand deleted. He returned to his village in Jiangxi earlier this year.
A little star rises
In November 2020, students at Nanli Elementary School said they hadn't seen Xiaoqin for a year. They always knew he was different.
He sat at the back of the class, paid little attention, and often wandered about with his hands behind his back, "like a (teacher) checking on cleanliness." Xiaoqin rarely took exams, and when he did, he just drew circles on the answer sheet. He had few friends: His classmates didn't understand what he said, and he didn't understand them.
However, older students liked to crowd around him and ask why he looked like Jack Ma. Xiaoqin would just smirk at them, leaving his inquisitors unsure about whether he didn't understand them or was ignoring them.
Xiaoqin lived in a community near his school where apartments cost more than 20,000 yuan ($3,000) per square meter — the most expensive neighborhood in the area. The living room was bright and spacious, with a TV, air conditioning, and a baroque-style sofa. He also had a nanny to take care of him. According to Xiaoqin's father, the nanny Wang Yunhui cared for his daily needs and was sent by Boss Liu. They took Xiaoqin from Jiangxi to Hebei province. 
According to a report by White Night Workshop, a domestic media outlet, Liu describes himself as the "world's best Chinese hypnotist," teaching Mandarin, interpersonal communication, and logical thinking to Xiaoqin outside his regular classes, alongside helping him communicate with the media. He wanted to build Xiaoqin's public image as "Little Jack Ma, a caring child star."
Once he'd moved to Shijiazhuang, Xiaoqin's family saw and heard little of him. He returned home only once a year for around 10 days during Lunar New Year. Every fall, Liu took Fan to Shijiazhuang for a few days. But he didn't make it last year "because of the outbreak."
Fan did call Wang every two or three months for a few minutes each time, and Xiaoqin would occasionally say hi. 
Xiaoqin is 13 years old this year. Currently a fourth grader, he's one of the oldest students in his class, but probably also the shortest. In recent years, Fan also noticed that his son "didn't seem to be growing" and his height was the same as before, around 1.25 meters. He was worried that Xiaoqin wasn't getting enough to eat at school but didn't dare ask Wang.
The way Fan saw it, Liu was like a "nobleman," not only helping raise Xiaoqin but also paying to renovate his house; he seemed keen to help their family financially. "Before him," Fan says, "a lot of people came just to promote themselves." But he is reluctant to talk about Boss and the nanny: "If I don't say good things, he won't be happy."
At school, Xiaoqin ate lunch at a small table near the entrance, often sitting at the end of the second row. His teacher remembers that he had a big appetite. The other kids were full after one bowl of rice, but Xiaoqin would eat two bowls and still want more. He wasn't picky about what he ate, either.
A week after Xiaoqin started school, Wang picked him up. She told his class teacher that he wasn't very healthy and would get stomachaches if he ate too much. So they started controlling how much he ate, giving him the same amount as the other children.
Usually, after school finished at 3:30 p.m., Xiaoqin would go to a small table and draw quietly while waiting for Wang to come pick him up. Then, the two of them would walk home. His teacher recalls that Xiaoqin rarely came to school in the second half of 2019 .
When classes moved online following the outbreak, his classmates said they didn't see him taking part. A teacher at Nanli Elementary School explains that they'd informed Xiaoqin's father of this through the local education bureau. In late October, with schools reopened, Fan got in touch with the nanny. She told him Xiaoqin wasn't feeling well and was concerned about the pandemic, so he wasn't taken to Nanli Elementary School. Fan didn't ask more questions.
On Nov. 5, 2020, The Paper visited Nanli Elementary School and found Xiaoqin still hadn't returned to class. Fan was confused about where his son was, why he hadn't been going to school, and how he'd get in touch with Wang.
At the time, The Paper tried contacting Wang several times, but didn't receive a reply. Liu's phone, meanwhile, was always switched off.
Before he stopped attending school, Zhang Min, one of Xiaoqin's classmates, often watched him selling seaweed for more than 60 yuan per box via livestreams. Min wanted to buy some but didn't have the money. She was envious of Xiaoqin, who didn't need to study, and could eat and drink to his heart's content with a beautiful woman like his nanny Wang.
"Where's Little Jack Ma gone?" she asks. "I really miss him."
Humble origins
Xiaoqin's father Fan was born in 1958 and left elementary school in second grade. When he was young, he was smart and handsome, and worked as a bamboo craftsman, carpenter, and tailor.
But at age 20, his right leg was amputated at the base of his thigh after he was bitten by a venomous snake. Then, he lived in an earthen house at the foot of a mountain and made a living weaving bamboo baskets.
Because of his disability and economic hardships, Fan struggled to find someone to marry. Fourteen years ago, he met his wife, Zhang Li, through a matchmaker. Zhang is 20 years younger than him, and has eye problems and an intellectual disability.
The couple's first child, Xiaoyong, was born in January 2007, and his younger brother, Xiaoqin, was born in April the following year. Soon after, Fan's father died and his mother was diagnosed with Alzheimer's disease. Since then, the family has depended solely on Fan for all their needs. 
Yanhui Village is 4 or 5 kilometers from the town of Shima, and the Fan family home is in the deepest part of the village. Several years ago, they built their current two-story house with a government subsidy of 16,000 yuan. The exterior walls are made of cement, while Boss Liu paid for the interior to be decorated with floor tiles and painted walls.
In the main room, a landscape picture of China hangs next to an image of the God of Wealth. Xiaoqin's mother Zhang waves and says hello when she sees a stranger coming in, while Fan, with his right pant leg tied into his belt, makes his way around the house on his single leg.
Around November last year, the village was building a new cement road, and each family was responsible for the section outside their own home. In front of Fan's house was a steep slope. He spent a month going back and forth on one leg, moving hundreds of kilograms of stone, before it was finally complete.
Yanhui Village is home to around 2,500 people, and few paid attention to Xiaoqin. Fewer still knew what he looked like.
Before his rise to fame, Xiaoqin would wander around the village with his older brother Xiaoyong chasing frogs, mice, and rabbits. The boys wore different-colored shoes on each foot usually a few sizes too big.
Fan is always busy. He works one-legged in the fields plowing the land, planting rice seedlings, and harvesting rice. He remembers that his two sons were often picked on because of their dirty clothes. The local kindergarten wouldn't accept them, and other villagers looked down on the family.
Li Xiaohua, an aunt, recalls that her nephew was "dark-skinned and thin, with a big face and sharp features." It never crossed her mind that one day he would be associated with someone like billionaire Jack Ma.
Fighting over Little Jack Ma
By 2016's "Double Eleven" online shopping bonanza initiated by Alibaba, Xiaoqin was no longer an unknown village kid.
So many visitors from across the country were drawn to the Fan family that the travelers damaged the road to the house by constantly trampling on it. They crowded the family's run-down red brick house, stepping in chicken droppings to see the messy room and the unkempt Xiaoqin.
Faced with so many strangers, Xiaoqin was expressionless and silent, completely ignoring everyone as wave after wave came and went. They taught him how to pose, make facial expressions, and speak on-camera. In no time, he started calling himself "Little Brother Ma," posing for pictures, and shouting, "OK! OK! OK!"
"Of course I was happy that so many people came to see Xiaoqin," Fan recalls. He says media, livestreamers, and businesspeople came from all over, sending gifts to their home such as rice, oil, schoolbags, and even a color TV.
Soon, Jack Ma himself was being pressured into donating money, and there were even rumors that he might fund his doppleganger's studies. Alibaba then issued an official response: "This should not be a joke or a skit. Behind 'Little Jack Ma' is a serious reality: There are still many people in our society who have not escaped poverty, and issues around the education and growth of 'left-behind children' in the countryside. It makes you think and worry."
But others saw a business opportunity. A milk powder shop wanted Xiaoqin to endorse them; the boss of a company in the southern city Shenzhen wanted to trademark his face; and others wanted to hire Little Jack Ma for their livestreams, promising millions of yuan a year.
Villagers still remember Zhang Chengliang — the owner of a noodle restaurant in the eastern city of Hangzhou who is not related to Xiaoqin's mother Zhang Li — pulling up to the family's shabby home in a silver and white mobile home. He gave the two sons schoolbags, educational learning devices, desks, and other school supplies, and even presented them with a large red envelope of money. In addition, many offered to renovate their house or put Xiaoqin in a movie.
But with great popularity, comes great controversy. Liu once posted an article online to raise money for Little Jack Ma and his family, even including his own bank account details. Amid public criticism, however, he later returned part of the donations.
At the same time, educator Zhang Zhiyong, who is unrelated to Zhang Chengliang or Zhang Li, saw a report on Xiaoqin and wanted to teach him to read and impart daily life skills for free at a private school he set up in Yueyang, central Hunan province, for special-needs children. He called Fan, aware of Xiaoqin's slower intellectual development, believing a private school would better suit him.
Zhang Zhiyong met Fan and his two sons in 2017. Fan asked the village cadre about Zhang's proposal, but they didn't agree. Finally, Zhang took the other son Xiaoyong.
Life for the Fan family had changed. The constant attention meant no one in the village dared pick on them again, while county and town leaders visited their home to offer support. Fan says that despite never having met Jack Ma, he's very grateful to him.
While his brother left to study at Zhang's school, Xiaoqin continued at Nanli Elementary School in Hebei, sponsored by Liu's company. Every winter holiday, when Xiaoqin traveled back to his village, he always bought his older brother Xiaoyong a present — perhaps a Lego set or an Ultraman action figure. Xiaoyong recalls his brother having learned Mandarin and often "coming by plane, going by plane." He was unable to hide his envy.
But what Xiaoyong didn't know was that his brother was often lonely in the elementary school in Shijiazhuang. Moreover, for three years, Fan never asked Xiaoqin how he was doing away from home, where he'd been, or who he'd met. He didn't even know about his studies. It was enough that he had a school to attend and food to eat.
Xiaoqin appeared at the star-studded Double Eleven festival gala in November 2017. When Jack Ma appeared onstage, Xiaoqin, who was in the audience, shouted: "Daddy Ma is here! Daddy Ma is here!" That same year, Xiaoqin participated in another TV show, waving and shouting loudly: "Hello everyone. I'm Little Jack Ma. I love you!"
In an interview with White Night Workshop, Liu said that the process of training Xiaoqin was not easy, but the dream that kept him going was that "Little CEO Ma" would one day become a famous brand like Alibaba.
According to corporate database Tianyancha, "Xiao Mazong Beijing Trading Co. Ltd." and "Jiangxi Xiao Mazong Culture Co. Ltd." were established in October 2018 and January 2019, respectively. "Xiao Mazong" can be loosely translated to mean "Little Boss Jack Ma." 
The companies mainly deal in office equipment, stationery, and plans for cultural and artistic exchange events. Liu is the controlling shareholder of one of the companies.
Fan Jiafa remembers that Wang gave him two documents to sign in 2019, telling him that he'd be the legal representative of the same two companies in the future. Other than that, he doesn't know anything about them. One time, he told reporters that the companies paid out more than 10,000 yuan a year in dividends, and another time said that this money wasn't dividends, but rather a living allowance for his family.
The Paper was unable to find the two "Xiao Mazong" companies, according to the addresses registered on Tianyancha.
The beginning of the end
Toward the end of 2019, villagers noticed that Xiaoqin had gained weight and his skin was somewhat reddish, unlike Jack Ma. They teased him, asking which celebrities he'd met and whether he'd even met the real Jack Ma.
But no matter what anyone said or asked, he'd simply reply "Yes." He didn't seem to know what he'd been doing: "He just did whatever he was asked to and said whatever he was told to say," said his father.
Online, some have criticized him for taking advantage of his son to make money. But others wondered, "If you were Fan Jiafa — a disabled father — wouldn't you let him become an online celebrity?"
Before Little Jack Ma became famous, his family owned less than an acre of land, which Fan cultivated on his own, earning just a few hundred yuan a month. But at the peak of Xiaoqin's fame, Liu gave the family several thousand yuan a year.
From the outset, Fan knew that Liu wouldn't raise his son for nothing. But the family proved to be a heavy burden and Fan felt his son would be better off away from the village "where he'd be ruined."
Fan said that he couldn't take care of the children on his own, and his wife had her own struggles, so it'd be better to let others look after them. "If my family conditions weren't like this, do you think I'd send my son so far away?" he says.
In one TV program featuring Xiaoqin, Fan appeared via video to encourage his son. He said: "It's not easy for you to support a family of five at such a young age, paying for your brother to go to school, and for your mom, dad, and grandmother to see the doctor. The new family home is also being decorated. You have to learn some talents and contribute to the country when you grow up, to thank all the people who've helped you. Son, you can do it!"
Some in the village said Fan had received all kinds of donations, rewards, and advertising fees after Xiaoqin became famous. Fan said, however, he'd saved a total of 80,000 yuan — which Xiaoqin had raised — and he was saving it for Xiaoqin.
Fan realized early on that only education can change one's destiny, and he'd hoped Xiaoqin could go to school in the city.
Xiaoyong's class teacher Lou is worried about both brothers. He feels they need a quiet environment where they can change their lives through their own efforts. "That way, they wouldn't always have people focusing on them," he says.
But Fan doesn't have the energy to deal with that anymore. He's more worried about how the family would survive if anything were to happen to him.
Already in his 60s, he had his hopes pinned on Boss Liu. He still remembers when Liu came to pick up Xiaoqin three years ago: Liu said that if Xiaoqin was admitted to university, he'd pay for him to finish college. And that if he didn't get into college, he'd offer him a job in his company.
"He said that he wouldn't go back on his word," says Fan Jiafa. Far from that promise, Fan said that Liu had stopped giving them money, and he would not be giving them any more.
It's now been three years since that promise. And while the debate still rages on about the exploitation of children in the entertainment industry, the future of Xiaoqin and his family seems even more uncertain than it was before the Little Jack Ma phenomenon.
Correction: A previous version of this article incorrectly stated that the business database Tianyancha belongs to The Paper. It also stated that Fan Xiaoqin was a pseudonym. In fact, the names of Fan's classmates are pseudonyms. The text has been updated to correct these errors.
Song Jiangyun, a reporter at The Paper, also contributed to this article. Zhang Li, Li Xiaohua, and the names of Fan Xiaoqin's classmates are all pseudonyms.
Translator: David Ball; editor: Zhang Wanqing.
(Header image: Fan Xiaoqin makes an appearance at an event in 2017. Ren Yuming/IC)