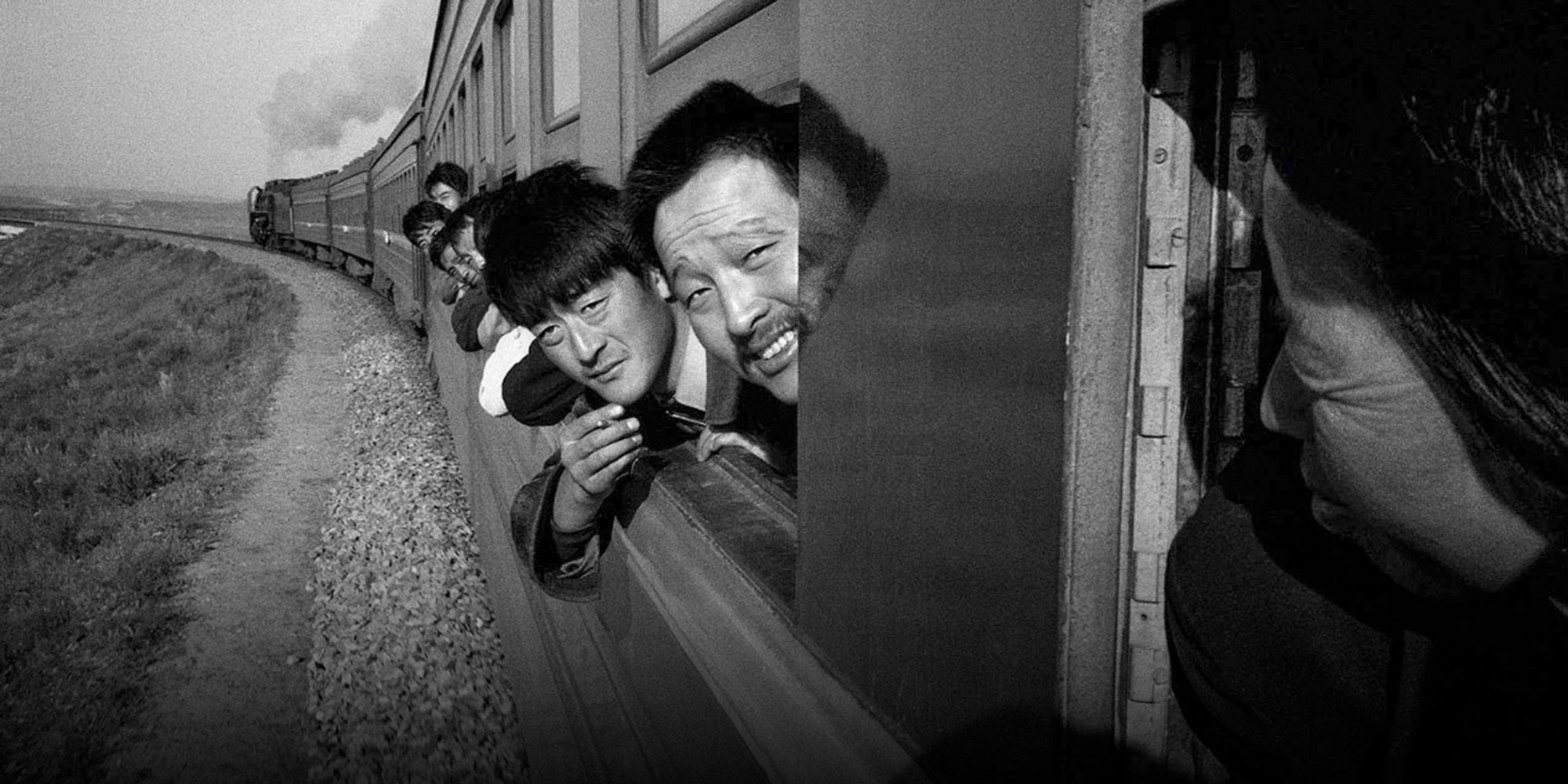 MULTIMEDIA
The Long, Winding Journey of China's Train-Riding Photographer
Wang Fuchun spent over 40 years capturing life on China's railways. Now, the renowned photographer's epic ride has come to an end.
Wang Fuchun, the award-winning photographer best known for his candid shots of Chinese people riding the train, has died at the age of 79, according to a statement released by the China Photographers Association March 13.
Born in the city of Suihua in China's northeastern Heilongjiang province in 1943, Wang rose from a blue-collar background to become one of the leading figures in Chinese photography, winning the prestigious Golden Statue Award for China Photography in 1996. 
Throughout his long career, Wang published several photo series focusing on life in China's frigid Northeast, including "Black Soil," "Northeasterners," and "Siberian Tigers." But his most-acclaimed work was what he produced while riding China's railways.
Wang's links to the Chinese rail system date back to the 1960s, when he studied at a college run by the local railway bureau in Harbin, capital of Heilongjiang province. After graduating, he worked for the city's railway workers' union.
Wang found his vocation there. One day, his boss asked him to take some photos of a group of model workers at the union. The young man soon became obsessed with recording snippets of life on his Chinese-made Seagull camera.
For the next four decades, Wang would spend much of his time crossing the country by rail, snapping photos of his fellow passengers. He amassed so many rolls of film during this period, they filled his home and left him little room for any other possessions, Wang said in an interview published by China Photo Press in 2020.
"I shot more than 200,000 photographs," Wang said. "At one point, I was taking the train more than 150 times a year. I'd basically ridden every railway in the country."
Wang was often an unpopular figure on the crowded trains he frequented, with many passengers objecting to his intrusive gaze. But his frank portraits of fellow travelers offer a unique window into a momentous period in Chinese history, as the country recovered from the decadelong Cultural Revolution and began to integrate into the global economy.
They also won Wang legions of admirers. In 2014, he was selected as one of the 30 most influential photographers in Asia by Invisible Photographer Asia. Among those inspired by his work was an electrician named Qian Haifeng, who began his own epic journey documenting China's "green trains" in 2008.
"I am so sad today," Qian wrote on social app WeChat March 13. "I started to document the green trains after seeing Wang's work. Farewell."
"I've known Wang for nearly 30 years. His works are full of gratitude for life and praise for human kindness," photographer and critic Na Risong wrote in an article for Inter Gallery's WeChat account published the same day.
"I hope he can continue shooting happily on the train to heaven," Na added.
In an article published in Chinese Photography magazine in 1999, Wang described his life and career as a photographer. Below, Sixth Tone is republishing the piece, translated and edited for brevity, with permission.
I'm a photographer based in the rail transportation system. After graduating from a rail bureau school, I worked on the trains. So I had a special connection with life on the railways. Since becoming a photographer, my lens has never strayed from the rail network. I often submitted photographs to railway newspapers, mostly recording workers' lives in the rail system. At that time, I wasn't shooting with a clear purpose.
By the end of the '80s, as my skills developed, I became especially interested in the train passengers. I began consciously and systematically shooting the "Chinese on the Train" series. As a railway worker, I took every opportunity to travel, going as far north as Mohe, as far south as Guangzhou, to Shanghai in the east, and Golmud in the west. I rode the train thousands of times and traveled over 100,000 kilometers, photographing people on the train.
Every time I took the train, it was like wandering the streets of Harbin, the hutong of Beijing, or the lanes of Shanghai, making me fall into a daydream. Trains are where time and space are intertwined. When a journey begins, there's snow outside. When you wake up, you find yourself in spring, with views of green mountains and clear waters.
When I photographed a student studying on the train, there was the sound of people playing mahjong behind me. Next to me was a young girl, staring out the window. These seemingly unrelated scenes were brought together by the moving train, where people's lives collided in an intense and vivid way.
To photograph on the train, I had to overcome some unfavorable conditions, such as the dark light and shaking carriage, as well as people's misunderstandings. Each of these photos is soaked in my sweat. There's an endless story to tell. As time goes by, when we look back at these photographs, I believe there will be all sorts of feelings. After all, it records the traces of an era in our history.
Editor: Dominic Morgan.
(Header image: Passengers lean out of a carriage window on a train from Tongliao to Jining in northern China, 1998. Courtesy of Chinese Photography)