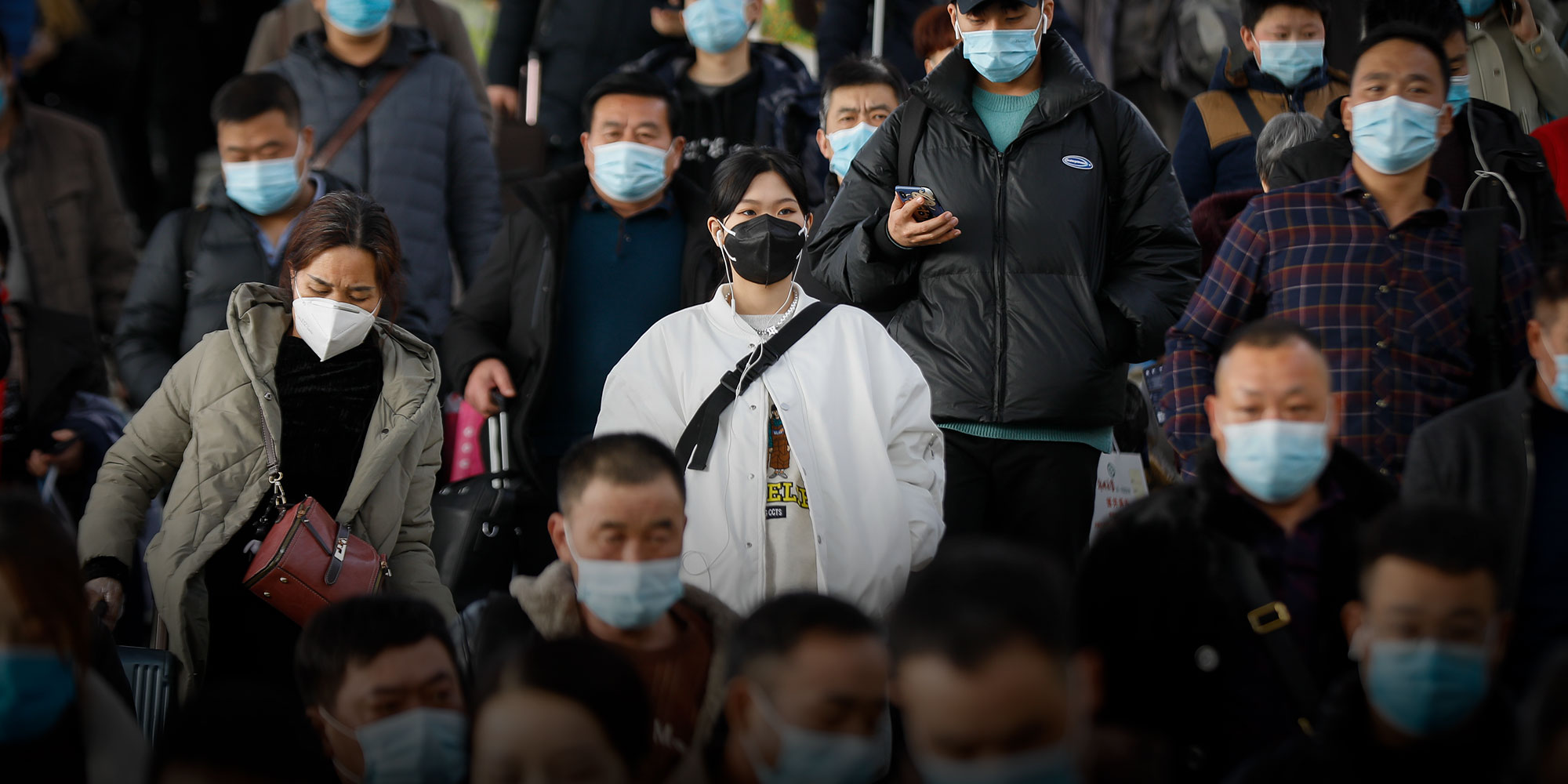 NEWS
China Faces Long March to Herd Immunity
The country's massive population, moderately effective vaccines, and success in controlling outbreaks all strain its national inoculation drive.
In March 2020, two weeks after the World Health Organization declared COVID-19 a pandemic, China closed its borders to noncitizens. Business exchanges ground to a halt, international flights dwindled, and Chinese people living abroad struggled to return home.
Now nearly a year later, with many of China's travel restrictions still in place, the availability of vaccines presents a light at the end of the tunnel. Once a large enough part of a population becomes immune, the coronavirus should no longer cause large outbreaks, a situation called herd immunity.
"If a lot of people are immunized, then every time the virus tries to spread from one person to another, there will be a wall that stops it," Xie Youhua, a virologist at Fudan University in Shanghai, told Sixth Tone.
But China faces many hurdles before it can reach herd immunity, experts tell Sixth Tone, meaning the country may be looking at a lengthy path out of isolation.
They point to China's inoculation drive having been slow to ramp up to the speeds needed to match its massive population; the fact that the country's success in controlling outbreaks means, according to official figures, only about 85,000 of its citizens built up immunity after recovering from COVID-19; and its vaccines' relatively lower efficacy rates, which may be further compromised by new mutations of the virus.
Scientists estimate that somewhere between 60% and 90% of a population will need to be immunized to reach herd immunity against COVID-19. In China, that means a minimum of 840 million people. Already a staggering number, the figure rises considerably when factoring in vaccine effectiveness.
Benjamin Cowling, an epidemiologist and disease modeler at Hong Kong University, told Sixth Tone that the immunity level of a population can be calculated by multiplying the vaccine's effectiveness by the proportion of people receiving the shot. For example, if 70% of the population receives a 95% effective vaccine, like those developed by U.S.-based Moderna and Germany's BioNTech, then the population reaches an immunity level of 66%, above the lowest estimated threshold for herd immunity.
Chinese authorities have approved four vaccines, all made domestically, for use by the general public. Their efficacies range from 50% to 79%, according to their manufacturers. Even if the country only used its strongest vaccine, 76% of the population — or more than 1 billion people — would need to be inoculated to reach herd immunity. Because the country is also using less effective vaccines, the actual number will be higher still.
As of Monday, China had administered nearly 65 million doses of its COVID-19 vaccines, most of which require two doses per person. Zhong Nanshan, China's top health advisor, said during an interview earlier this month that the country is planning to inoculate 40% of its population — about 560 million people — by June.
That goal is extremely ambitious given the current pace of the country's vaccine rollout, Huang Yanzhong, an expert on public health in China at the Council on Foreign Relations in New York, told Sixth Tone. "It will be fairly long until China reaches herd immunity."
China's vaccine manufacturers are still ramping up production. An executive at Sinopharm, maker of two COVID-19 vaccines approved in China, said the company could make over 1 billion doses in 2021 to fulfill domestic demand. Sinovac, another vaccine maker, is also reported by state-backed media to be increasing its output to 2 billion doses annually by June.
But new mutations of the coronavirus identified in several countries around the world threaten the vaccines' effectiveness. Preliminary data has shown that some variants could lower the efficacies of several Western vaccines, with some products even dropping below the World Health Organization's approval threshold of 50% efficacy. Moderna said it plans to tweak its COVID-19 shot in an attempt to boost protection levels in populations.
Experts are also worried about the Chinese public's willingness to get inoculated. "We (China) rarely have local cases, mostly ones imported from abroad. So ordinary people may not feel an urgent need to get the vaccine," said Xie of Fudan University.
According to a January survey conducted in partnership with the World Economic Forum, about 85% of Chinese are willing to get the COVID-19 vaccine, but less than half said they would get it as soon as vaccines become available. This represents a drop from last summer, when 95% of Chinese surveyed said they were willing to get vaccinated.
As for reaching herd immunity, a lower willingness to get vaccinated won't matter at first, said Cowling. "It matters when you finish the 1 billionth person, because at that point is when you can go back to normal." He expects many of the current public health measures and policies, such as quarantines and travel bans, to remain in place for another year or two.
Cowling suggested that, if the Chinese government wanted to encourage people to get inoculated, it could incorporate an individual's vaccination status into the country's health code system — an assortment of health-tracking apps that people use to get into restaurants, train stations, and other venues— and only give green codes to inoculated people. A "vaccine passport" has also been under discussion recently to facilitate international travel, although the World Health Organization has yet to endorse the idea.
China could also opt to loosen restrictions even before herd immunity is reached. Wang Jun, a pharmacologist at the University of Arizona, said China's vaccines, though relatively less effective at preventing COVID-19 outright, are "still very effective in preventing severe infections and death."
Both Sinovac and Sinopharm, China's two main COVID-19 vaccine makers, say their vaccines can prevent 100% of severe symptoms. "If you can stop people from going into the ICUs and not taking up the already-limited medical resources in China, that's what matters," Wang told Sixth Tone.
In most parts of the world, the death rate of COVID-19 has been dropping. Scientists mostly agree that the COVID-19 pandemic will start acting like the flu in at least the next couple of years, with low mortality, seasonal spikes, and yearly mutations.
A COVID-19 vaccine will then become a recurring inoculation, like the flu shot. What needs to be reconsidered, experts argue, is how governments and the public respond to local cases.
China has been adhering to a "zero-tolerance policy" for COVID-19 cases. In the past year, authorities have been applying all-out measures to limit the spread of the virus, including citywide lockdowns and mass testing.
Wang said that once COVID-19's mortality rate drops to a level comparable to that of the flu — because of built-up immunity or less deadly mutants — there will no longer be a need to treat the coronavirus like a "number one enemy."
"The 'by all means, at all cost' approach China has right now is not sustainable," said Huang, the China health policy expert. With more and more people becoming vaccinated, China should focus on an "exit strategy" from the current policy, he added. Part of the plan would rely on educating the public so they become less afraid to coexist with the virus.
"Once you've reached a high level of population immunity, then there's no need to be drastic anymore, because (the outbreak) is not going to get bigger and bigger and bigger. It's going to naturally end, like the flu does," Cowling said.
So far, however, there are few signs that the Chinese government is considering such scenarios. Gao Fu, the head of the Chinese Center for Disease Control and Prevention, said during a recent interview with state media that the country aims to vaccinate 70% to 80% of its population by the middle of next year.
"On a global scale, we hope China can be a leader in achieving herd immunity," he said.
Contribution: Chen Qi'an; editor: Kevin Schoenmakers.
(Header image: Passengers at a railway station in Zhengzhou, Henan province, Jan. 29, 2021.He Zhiquan/People Visual)