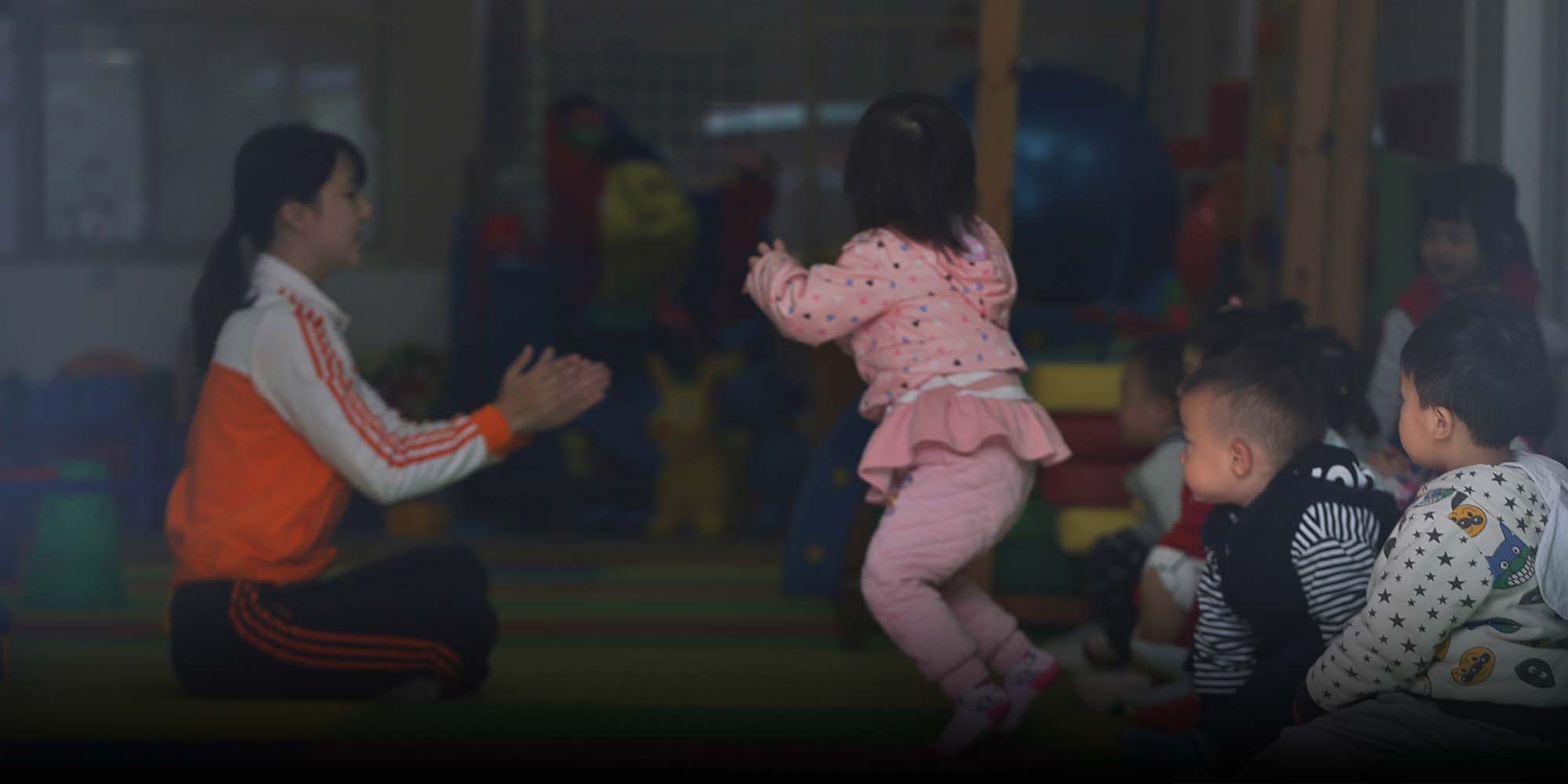 NEWS
China Hopes More Day Care Will Reduce Cost of Having Kids
Couples say lack of access to affordable and convenient child care options is one reason they aren't having more children.
SHANGHAI — Yan Ling is paying a little over 10,000 yuan ($1,540) to send her 2-year-old son to day care. That's more than the average monthly salary for white-collar workers in China, yet the mother feels she's lucky.
"Six years ago, when I was looking for such services for my daughter, I only found one facility 7 kilometers from our home. But the one I'm using now is just a three-minute walk away," Yan, who lives in Shanghai's Pudong New Area, told Sixth Tone.
The private day care Yan's son attends is one of 90-plus new facilities built in Shanghai in 2018, increasing the day care service capacity for kids under 3 to 14,600 seats the same year. That's still not nearly enough, however, as around 200,000 babies are born in Shanghai every year.
The shortage of child care services isn't unique to Shanghai. State news agency Xinhua reported in December that there are over 47 million children under 3 years old in China, and only around 5% of them use day care services. In addition to low accessibility, the report said less than 20% of day care services have government-guided pricing. The result is that many families in need of day care services can't afford the exorbitant fees charged by in-demand private facilities.
In a news briefing last week, an official from the research office of the State Council, China's Cabinet, said that under the country's 14th Five-Year Plan (2021-2025), the availability of child care services will increase by 150% so that there will be 4.5 day care spots for every 1,000 people, or 6.3 million spots nationwide.
"The government has been expanding child care coverage primarily in response to high demand," said He Shanshan, an associate professor at East China Normal University's School of Social Development.
The general aim, He said, is to create more services with government-guided pricing, in order to reduce the human and economic costs for parents. "But centers can't just be built overnight — it takes time to plan," she said, adding that the needs of the public are "diverse."
Prior to the latest five-year plan, Shanghai had announced a goal of building at least 50 new child care centers every year for the next three years — with enrollment fees in line with the government's recommendation of 3,000 yuan per month. Last year, 53 such facilities were constructed in the city. But it's unclear how local authorities plan to continue to attract staff for these centers, as young, highly qualified teachers are more likely to favor private day cares charging as much as the market is willing to pay, where they can command higher salaries.
Shanghai is hoping that by 2022, more than half of its public kindergartens will be offering services for children under 3. At present, however, Chinese kindergartens typically accommodate children aged 3 to 6, meaning there are almost no care services available for younger toddlers.
In the 1980s, when the domestic economy was heavily influenced by the government and "iron rice bowl" jobs at state-owned enterprises were plentiful, many employers provided day care services for their employees' young children. "I was put in one of these day care centers when I was just 4 months old, as my mother had to get back to work," Yan recalled. "It was convenient and fully funded by the company."
In the decades since, employer-provided child care services have all but vanished.
Although Yan's parents have offered to help raise her children, Yan feels that "kids should spend more time with their peers and learn to get along with others in a group."
When reached by Sixth Tone, the day care Yan's son attends said its 60 enrollment spots are currently all taken. "With less than six months to go before many kids will begin kindergarten, day care services have become an imperative for families hoping to better prepare their children," said a teacher at the center surnamed Wang.
Many child care providers in China suffered a major blow in the first half of 2020, having to suspend operations due to the coronavirus pandemic. Although some local governments offered policy support, including doling out subsidies to employees and encouraging property owners to temporarily reduce rent, Wang said her center struggled to survive.
"We charge based on attendance," she said. "If the kids aren't coming, we aren't making money."
While public kindergartens are funded by the government, child care service providers targeting the under 3 group are dominated by private players that can't rely on regular subsidies to pay rent, employees' salaries, and other expenses.
Pan Xiuyan used to work at a private child care center with government-guided pricing in Shanghai's Changning District, but she quit the job early last year.
"Before the pandemic, I was earning 3,000 to 4,000 yuan a month," the 56-year-old told Sixth Tone. "But after the virus took hold, the center had no income and wasn't able to pay us. Considering my age, I figured it was time to quit working and enjoy retired life."
With few realistic child care options available, many Chinese couples have had to rely on their own elderly parents to look after their children, or hire expensive nannies.
The lack of care services for extremely young children in particular is seen as a key reason young people aren't having more kids. In a recent survey conducted by China Youth Daily of nearly 2,000 couples in their 20s or 30s, over 75% of respondents said there is an urgent need for more accessible child care services.
Liang Jianzhang, a professor of applied economics at Peking University's Guanghua School of Management, told Sixth Tone that although increasing day care spots would be a step in the right direction, more must be done.
"Greater access to such services could lower the cost of child care. If the government addresses the cost issue properly, it could lead to a higher fertility rate," said Liang, who is also a co-founder of Trip.com Group, the world's second-largest online travel company.
China's current birthrate has plummeted to its lowest point in over 70 years, with parents citing the high cost of raising children and stress of ensuring their success in a hyper-competitive education system as major deterrents. Even months of home-isolation orders during the peak of the country's COVID-19 outbreak didn't result in a baby boom. Northeast China — one of the country's most depopulated regions, comprising the provinces of Heilongjiang, Jilin, and Liaoning — was recently encouraged to rethink local family planning policies, which could include abolishing childbirth limits altogether.
According to Liang, countries typically try to mitigate low birthrates by providing tax rebates and cash handouts to couples who have more children, as well as subsidizing nurseries, but in China such support doesn't go far enough. "China needs to ramp up this spending tremendously," he said.
Until then, people desperate for child care services are learning to deal with risks. One Beijing mother who has no intention of living with her in-laws enrolled her 18-month-old daughter at a care facility based in a residential compound. "There weren't any other options near my home," the woman, surnamed Tang, told Sixth Tone.
The facility charged a little over 3,000 yuan a month — a relative bargain — but didn't have an outdoor playground and wasn't an officially registered business, all things Tang knew going in. "It definitely wasn't ideal, but it was the only convenient and affordable option I found," she said.
The neighborhood day care was shut down during a 2018 campaign to crack down on unlicensed schools. "My child was out of school overnight," Tang said. "That caused me a big headache. I had to ask for leave from work to take care of her at home."
Less than two weeks later, however, she found another residential compound center and enrolled her daughter there. Last year, the child was finally old enough to start kindergarten.
"As long as there's a need, they will continue to exist," Tang said, reflecting on unlicensed child care services. "It's just a matter of whether parents can find them. Personally, I'm grateful to have this option."
Contributions: Zhang Shiyu; editor: David Paulk.
(Header image: A teacher asks her class to sit nicely at a day care center in Guangzhou, Guangdong province, March 1, 2019. People Visual)