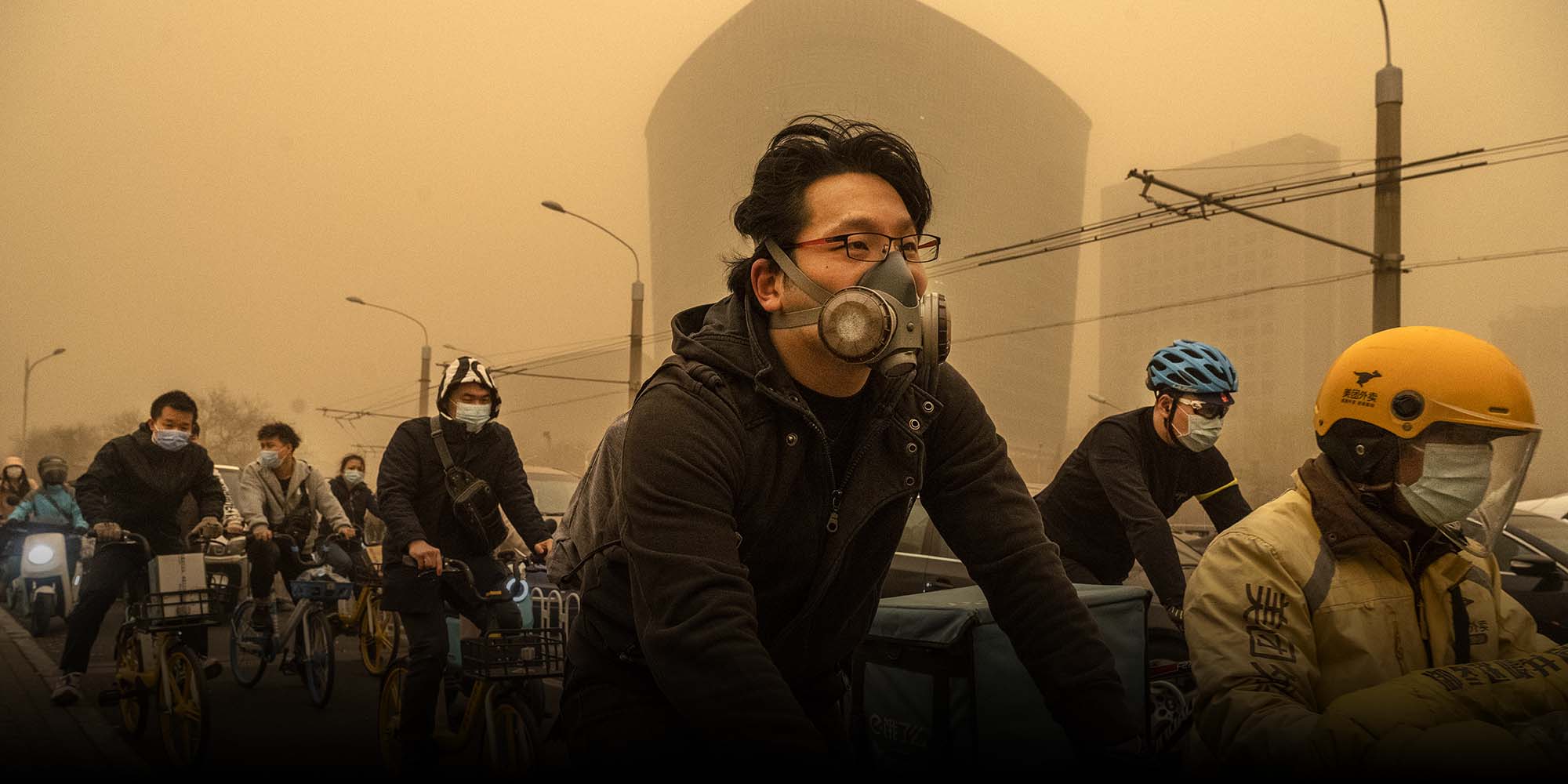 NEWS
Northern China Hit by Worst Sandstorm in 10 Years
Six people are dead and dozens remain missing in neighboring Mongolia.
A giant sandstorm hit northern China on Sunday and Monday, covering cities in thick clouds of yellow dust and leading to canceled flights and school classes.
The storm was the largest and most intense in a decade, impacting 12 province-level regions including the capital Beijing, according to the National Meteorological Center.
Many cities recorded a drastic increase in air pollutants known as PM10 — particles up to 10 micrometers in diameter that can cause respiratory diseases. In Beijing, concentrations exceeded 8,000 micrograms per cubic meter at some measuring stations, or about 100 times the city's average reading.
In the hardest-hit areas of Hebei province and the Inner Mongolia Autonomous Region, authorities reported PM10 concentrations above 10,000 micrograms per cubic meter.
Zhang Bihui, an official at the China Meteorological Administration, said during a press conference Monday that the storm is the result of warm and dry weather in the region, combined with strong winds from Mongolia.
State broadcaster CCTV reported that six people died and more than 80 went missing in Mongolia during sandstorms on Saturday and Sunday.

Yang Qian, a resident of the city of Baotou in Inner Mongolia, told Sixth Tone that the sandstorm was so strong on Sunday night that traffic lights were barely visible. On Monday, she woke up with sand and dust all over the floor of her home
"The visibility outside this morning was only about 20 meters," she said. The city ended up canceling kindergarten, primary school, and middle school classes.
In recent years, sandstorms haven't been as common in northern China as they were in earlier decades due to climate change-related reductions in wind speeds and efforts to stop desertification, Liu Lianyou, a professor of geographical science at Beijing Normal University, told Sixth Tone.
"But this year is special," Liu said. "There has been little rainfall so far this spring and temperatures are rising, with vegetation failing to keep up — it's still withered. Now is a particularly sensitive period for sandstorms."
Editor: Kevin Schoenmakers.
(Header image: Commuters wear protective face masks during a sandstorm in Beijing, March 15, 2021. Kevin Frayer/Getty Images/People Visual)