"Data stars" — celebrities who have built up enormous followings through fan engagement, even if their bodies of work are relatively modest — dominate social media and daily discussions for millions of people in China. Now it seems they're even starting to hog the spotlight in schools' teaching materials.
The names of several young celebrities, including actors-singers Xiao Zhan and Wang Yibo, have started appearing on exams and in literature, English, and politics textbooks for young students, domestic outlet Red Star News reported Thursday.
The report followed posts on microblogging platform Weibo that included photos of exam questions such as, "Xiao Zhan is your favorite actor; please describe him in English according to the prompts below," and "You're Xiao Zhan, and Zhong Nanshan (China's leading coronavirus expert) is your new friend; please write him a letter introducing yourself."
One person who claimed to be seeking her teaching qualification told Red Star News that while she was preparing for the exam, she came across a practice question that referenced Xiao and his popular drama series "The Untamed."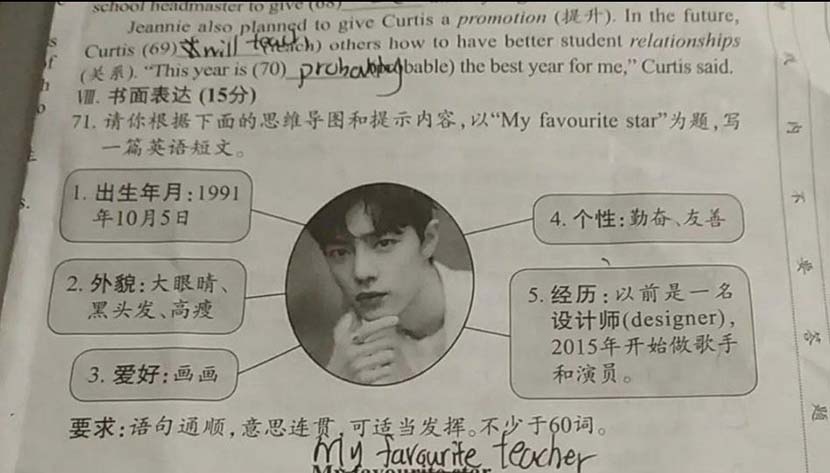 A photo of an English exam's question referencing Chinese "data star" Xiao Zhan. From Weibo
The phenomenon has led to heated discussion on Weibo, with many users expressing doubts about whether celebrities should be referenced in teaching materials. Xiao stans specifically were offended that, once again, their idol seemed to have been singled out and taken flack for something beyond his control.
Plenty of other celebrities get mentioned in textbooks too, they argued, so where's the backlash against them? In 2014, Taiwanese pop star Jay Chou had one of his songs written into a literature textbook's lesson for elementary schoolers. And last year, the massively popular internet celebrity Li Ziqi was immortalized on an exam given to students in the eastern Zhejiang province.
Last year, the 29-year-old Xiao was at the center of controversy after his fans complained that their beloved idol was being portrayed as a libidinous young woman in an online novel series. In response to this wave of backlash, Archive of Our Own, the renowned fan fiction site where the web novel was published, became inaccessible in China, and Xiao's name has carried negative connotations ever since.
"In textbooks and on exams, there can be artists and celebrities who have actually contributed to their industries," one Weibo user commented, adding that Xiao's fame is largely dependent on the die-hard fans working diligently to ensure that he remains on trending topics lists. "How can people like him be paragons of virtue?"
Liu Tingting, an associate professor of journalism and communications at Jinan University in Guangzhou, told Sixth Tone it's unnecessary to criticize something as trivial as whose names appear in educational materials.
"Textbooks are teaching tools, so it's important that they reach students and make them want to read," Liu said. "After all, what kind of content isn't guilty of occasional self-indulgence?"
Editor: David Paulk.
(Header image: Chinese megastars Xiao Zhan (right) and Wang Yibo appear during an event in Nanjing, Jiangsu province, Jan. 2, 2019. IC)