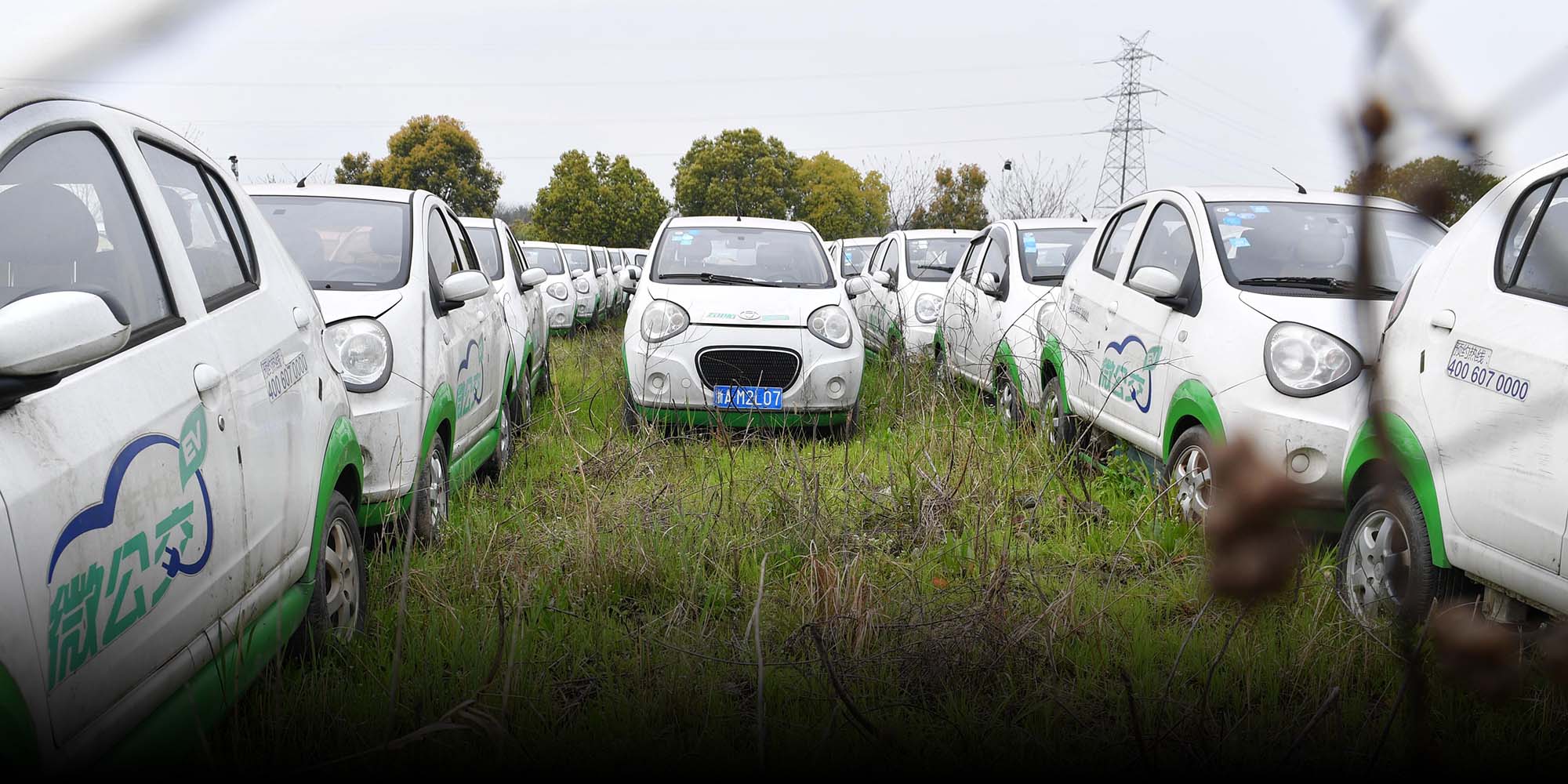 NEWS
After China's Bike-Sharing Fad Flopped, Car-Sharing Is Next, Insider Says
A "high investment, low profit" business model isn't tenable for car-sharing either, according to a source close to embattled firm GoFun.
Chinese car-sharing platform GoFun, which once attracted investment from Volkswagen, has quietly withdrawn from many cities due to a failing revenue model shared by the country's once-surging bike-sharing industry.
"It can be foreseen that GoFun will continue to shrink this year and may even shut down," a person close to the Beijing-based firm's investment, financing, and operations department told Yicai Global.
"The car-sharing industry is likely to become the next bike-sharing industry," the source said, referring to the swift rise and fall of China's shared-bike companies. "The profit model is not sound, capital investment enthusiasm is gone, and the sector has entered a vicious cycle. There's a mess waiting at the end."
There are still almost 120 car-sharing platforms operating in China, although many have reportedly been dealing with cash squeezes since last year. The number of domestic operators used to be as high as 300.
Since the second half of last year, GoFun's fleet appears to have dwindled, one user said. On Monday, Yicai Global could only spot a few GoFun cars in popular locations in downtown Beijing. After the firm's rapid expansion a few years ago, it had over 28,000 cars in China's major cities as of March 2019.
Founded in February 2016, GoFun is a joint venture between tour bus operator Shouqi Group and Beijing Tourism Group, both state-owned enterprises. In November 2017, GoFun bagged 241 million yuan (then $36 million) in its Series A financing round from Volkswagen and others. Last October, it finished its Series B round, receiving hundreds of millions of yuan from investors, mainly state-backed industrial investment funds.
The business model of high investment and low prices is unbalanced, an industry insider said. On a good day, GoFun earns about 60 yuan ($9.20) per car and as little as 30 yuan during the low season, the person added — but earnings should be above 120 yuan to make a profit.
GoFun's Tan Yi resigned as CEO in late January, several current and former executives told Yicai Global. The firm has also withdrawn from a number of projects across China, they added.
With employees constantly leaving and no replacements in sight, GoFun has become stagnant, and even salaries for staff working at the company's headquarters are being delayed, according to an executive who recently resigned.
GoFun began withdrawing from some cities in the second half of 2019, and the number of cars in the remaining cities has been significantly cut, the former executive added, speaking on condition of anonymity.
As with China's bike-sharing industry, GoFun users unable to recover their deposits have been filing complaints. Sina's complaint platform Heimao has logged almost 8,000 entries about the firm.
This is an original article written by Zhang Yushuo of Yicai Global, and has been republished with permission. The article can be found on Yicai's website here.
(Header image: Vehicles are seen in a shared-car "graveyard" in Hangzhou, March 28, 2019. People Visual)