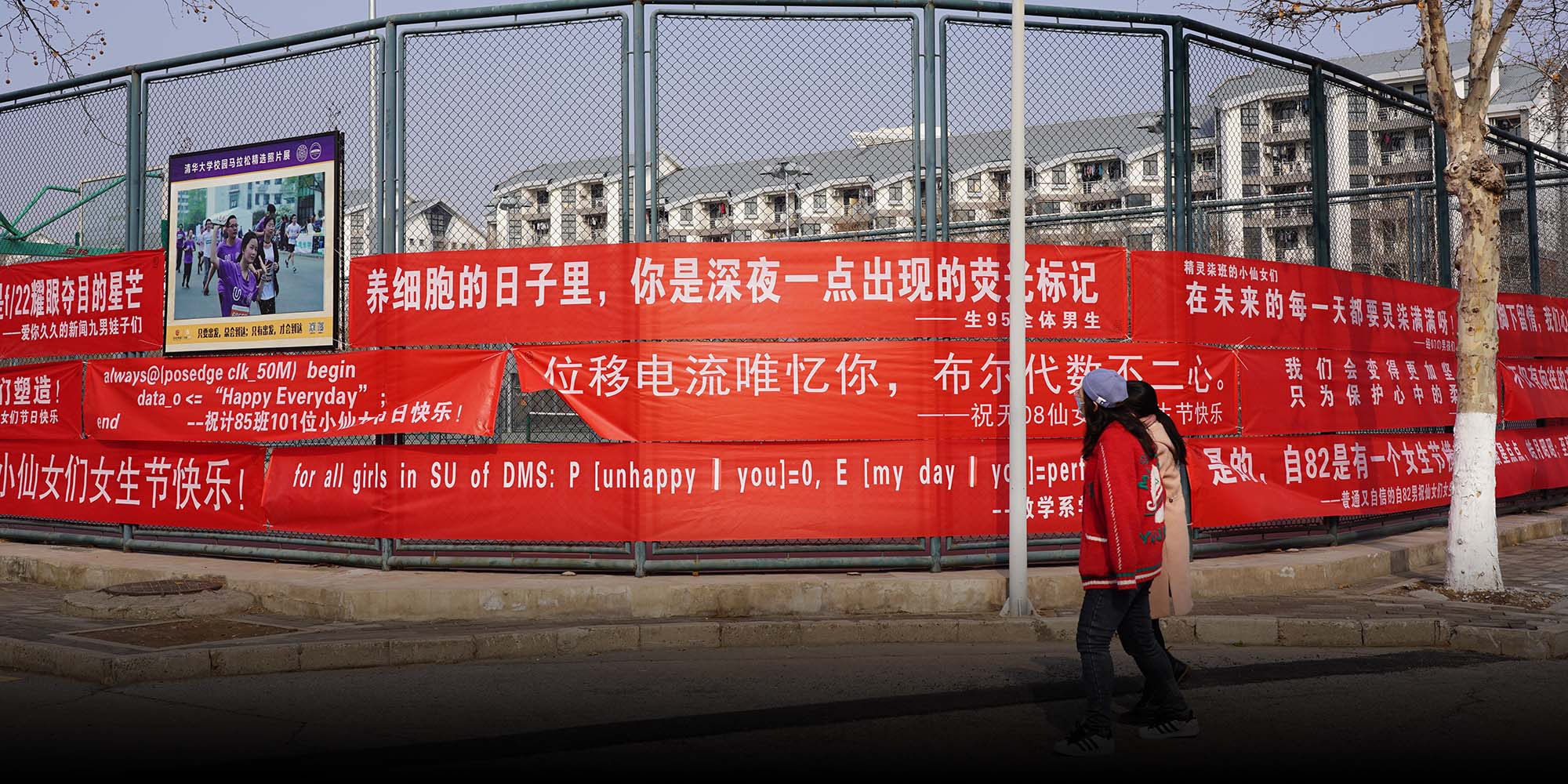 NEWS
China's Female Students Want to Abolish Girls' Day
Fed up with sexist, paternalistic "well-wishes" on Girls' Day, young women on college campuses are fighting to reclaim International Women's Day and the feminist values it was founded on.
As the world celebrated International Women's Day on Monday, China's female students were leading a campaign to abolish the problematic day that precedes it.
Joanne, a 21-year-old studying at an elite university in Beijing, is sick and tired of Girls' Day, an unofficial holiday that in China is observed every year on March 7. Girls' Day is said to have started at Shandong University in the 1990s after female students there objected to being referred to as funü, or women, a term they thought made them sound old.
Girls' Day caught on at other domestic campuses, and today it's arguably a bigger event in China than International Women's Day. As March 7 rolls around, Chinese universities are bedecked with red banners from groups of male students attempting to express appreciation for — or make sexist jokes at the expense of — their female classmates.
This national phenomenon has provided fertile ground for backlash from fed-up female students, who see the made-up holiday as being less about safeguarding women's rights and more about celebrating gender stereotypes — or even glorifying sexual harassment.
"Today, my big chest muscle will be ready for you." "Your daughter has 26 or 27 godfathers (among her male classmates)." "Now we are celebrating Girls' Day, but soon it will be your turn to celebrate Father's Day for us." In recent years, numerous banners with messages like these have raised eyebrows.
In 2019, a female student at China University of Political Science and Law burned a Girls' Day banner displayed on campus as an act of protest. The year before, several female students at Shandong University had stood in front of some of the more problematic banners with their own marquee that read: "This is sexual harassment."
The backlash continued this year. Joanne, the Beijing student, designed two posters that read "Instead of perfume and lipstick, we prefer equality, freedom, independence, and respect" and "Refuse the trap of consumerism, say no to age discrimination, and give this day back to women." She shared them on microblogging platform Weibo in a post that has since gone viral.
Joanne told Sixth Tone that, after enduring years of offensive banners made by men, she and her peers from other universities had been preparing their own banners promoting feminist values. Their slogans — such as "We are our own masters" and "We want to celebrate Women's Day, not Girls' Day" — are a stark contrast to the sexist, paternalistic tripe they've become accustomed to.
As of Monday, a Weibo post with photos of the female students' banners had been shared over 34,000 times.
According to Joanne, who would not agree to use her full name for fear of reprisals from her university, the goal of the campaign is to fight against the stigmatization of Women's Day, which — according to one spurious origin story — came into being as a matter of necessity for the female students who lose their virginity on Girls' Day.
"Many people think those of us who oppose Girls' Day are too extreme, and that the original intention of Girls' Day is good — but is it really?" Joanne said. "This kind of deviation from the real Women's Day isn't just about age-shaming. It's also an insult to the women's rights pioneers who fought hard for equal pay, equal work, and abortion rights."
The usual banners portray women as sexual objects, Joanne said, or as inherently dependent on men. "Honestly, we don't feel moved (by the man-made banners), we just feel offended," she said.
Together with Joanne, many other young women from domestic universities have joined the campaign to reclaim Women's Day in China. On social platform Douban, a female student shared a picture of an artificial "graffiti wall" on campus that had been covered in slogans decrying the country's patriarchal order. Another student said several sexist banners at a different school had been reported to administrators and replaced with a more suitable message.
"We aren't provoking trouble, we just hope more men will realize that some of the jokes they take for granted only make women uncomfortable," the new poster read.
The two students who posted on Douban declined to be interviewed for this article, citing the likelihood that they would face pressure from their institutions.
Zhang Yinhan, a Ph.D. candidate studying photography at China's elite Tsinghua University, which posted a selection of Girls' Day banners on Weibo, told Sixth Tone that the day typically entails male students giving their female classmates small gifts such as flowers and snacks.
"I think it's a beautiful thing for our society to recognize the contributions of women," Zhang said. "However, when male students use inappropriate language in these banners, it shows us that we still have a long way to go toward achieving gender equality."
Editor: David Paulk.
(Header image: Girls' Day banners are displayed on the campus of Tsinghua University in Beijing, March 7, 2021. From @清华大学 on Weibo)