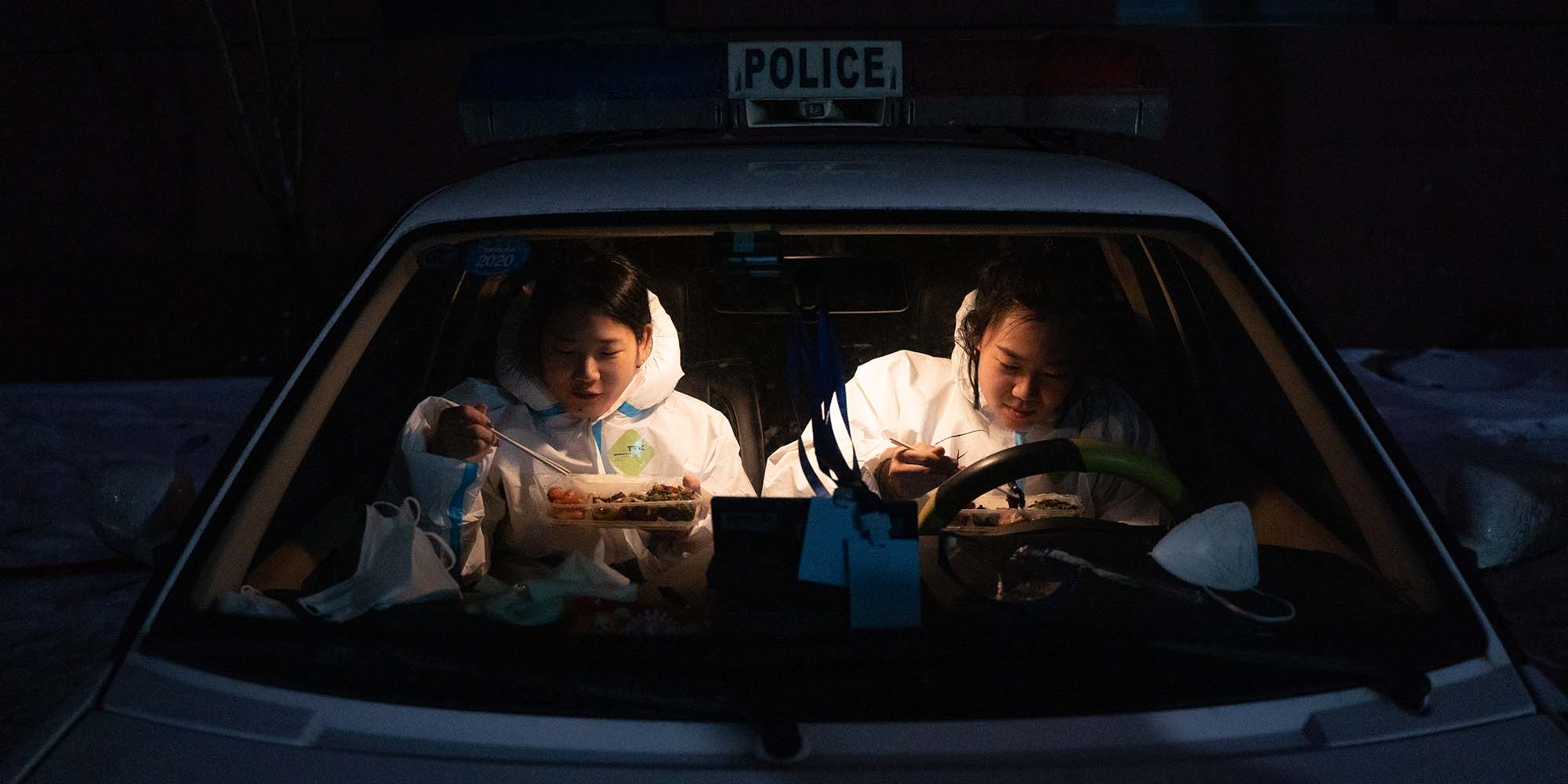 MULTIMEDIA
When My Hometown Went Into Lockdown, It Changed Me
A documentary student captures her experience in Tonghua, when the small city was hit by COVID-19 and became national news for its residents running out of food.
In January, the coronavirus came for my city.
I was in Shanghai planning to head back and see my family for Lunar New Year when 12 cases were reported in my hometown, Tonghua, which sits on the North Korean border in northeastern China's Jilin province. After citywide testing, that number approached 300.
Shanghai, at the time, was coronavirus-free and thus designated a low-risk area, allowing me to travel to Tonghua. But on the phone, I sensed my parents were hesitant about me coming home. They probably had a better understanding of what was going on than most, as they both work in the government and had been deployed as frontline workers, each assigned to a neighborhood to help with testing and enforcing stay-at-home orders.
But I'd spent the last few years studying abroad, and hadn't had an opportunity to be home for Spring Festival. I desperately wanted to welcome the Year of the Ox with my family. And so, on Jan. 21, I arrived in Tonghua and moved in to an empty apartment. Until I received a negative test result, I had to quarantine.
Around midnight, my mom made a surprise visit. She brought me almost all the microwaveable food from her fridge, leaving it by my door and absconding without explanation. I later learned that on that night, all government workers, including both of my parents, were tasked with an "emergency duty": to put a seal on all storefronts, public buildings, and every home. Tonghua was going into lockdown, and no one was going to be allowed outside.
By that time, the city was already four days into a stay-at-home order, during which people were still allowed to go outside but couldn't leave their gated communities. Most households had already run out of fresh food, and now their doors had been taped shut. In a way, this was all the more reason for the Tonghua government to enforce a stricter lockdown without prior notice. Surely, lots of people would have otherwise gone for last-minute panic shopping, increasing the risk of infections.
To the people in charge of Tonghua, the pandemic is the biggest event of their careers. At a loss for what to do, they understandably chose a safe route: They were willing to go to any lengths to stop the number of cases from increasing, even if that meant putting people's lives on pause.
My mom told me the night she and her colleagues were sealing people's homes, she heard a dog barking behind a locked door. She knew that without food or water, the odds of the animal surviving the lockdown would be low. As much as I tried to convince her there was nothing she could have done to save the dog, she is haunted by the incident to this day.
I've always struggled to explain to people where I'm from, as Tonghua doesn't have quite the same name recognition as Beijing or Shanghai. But on the fifth day of the lockdown, as my ramen supplies dwindled, everyone suddenly seemed to know about my hometown. My phone was buzzing with notifications from my friends asking if I was OK. "You're from this place in the Northeast, right?" one friend asked. I soon realized that "Tonghua COVID-19" had been trending on microblogging site Weibo.
Scrolling through the site, I saw mothers running out of baby formula and diabetics splitting their daily insulin doses into seven parts. Although I was physically at the center of this epidemic, I was separated from the rest of Tonghua by the four walls around me. I could only see a vacant street outside my window. The city seemed completely silent, and I'm not connected with most of my Tonghua relatives on social media. It shook me how I had to learn what was happening to the people around me from a public Weibo page.
Maybe it was the quarantine anxiety kicking in, but I suddenly had to confront the fact that I had been dissociating — both physically and emotionally — from my hometown for years. To my relatives in Tonghua, I was brainwashed by "capitalist values" and was "too ambitious for a girl." No one understood why my parents, sacrificing a potentially well-off lifestyle, chose to empty their bank accounts and take out loans for me to pursue my dream as a documentary film student in New York City. And when I came home for visits, I would always bring back questions that were either "too sensitive" or "not appropriate" for family gatherings. My Tonghua childhood friends and I had grown more distant after every instance of me getting upset over their racist or misogynistic comments. And so, during my holiday visits to Tonghua, I seldom left the house.
But when a disaster like this hit, the ideological differences that I'd been holding against Tonghua suddenly seemed minor — if not entirely pointless.
Venturing Out
In China's major cities, food-delivery apps employ a small army of drivers who can transport your take-out anywhere. However, in smaller Tonghua, the sudden demand from 300,000 people needing their daily necessities overwhelmed them. So, starting on Jan. 23, the Tonghua Youth Volunteers Association began recruiting volunteers to work alongside government workers to help distribute free "grocery packages" to every household.
As a young person with no preexisting conditions, I felt I had to go out and help. I signed up to be a volunteer knowing that even if I got infected, I wouldn't regret my decision.
On Jan. 27, I stepped outside for the first time, a volunteer pass in hand. Although I had expected to witness doom and gloom, what I saw was a lot harder to take in. The otherwise emptied-out streets made way for one ambulance after another, their sirens splitting the air. From afar, police cars could be heard playing public service announcements: "...in accordance with the anti-coronavirus regulations, anyone who is outside without permission will be arrested..." The snowflakes kept fluttering down, blurring my vision and creating a dark but dreamlike atmosphere. For a moment it all felt like a cruel nightmare, which, I worried, this impoverished northeastern city would struggle to wake up from.
Because I had no vehicle, I was assigned to unload trucks and make sure the thousands of boxes with protective gear — some of which donated from around the country — were divided up between some 3,000 volunteers in the city. I had 11 colleagues: The youngest was a college freshman, the oldest twice his age. Among us, there was a farmer, a hardware store owner, tutoring center owners, and even a skiing coach.
One of them was a close family friend. Although he never spoke about it, I had heard about his grandmother being hospitalized due to COVID-19. One night, we heard rumors of a positive case found among the volunteers, which put us at risk of quarantine. "Everyone, if we end up having to quarantine, make sure that you wear protective gear when you're being transferred to a quarantine center," he said, breaking the anxious silence between us. "My grandmother was infected when she was being transported to a quarantine center by others who'd been in close contact with infected people," he said, his voice quivering a little at the end of his sentence. I understood why he didn't want to speak about his grandmother, because the matter was too emotional for him to deal with when he needed to face a fight of his own.
Because we worked directly with volunteers from all around the city, we were at high risk of infection. I was privileged to have an apartment to myself, unlike some of our team members. The hardware store owner had sent his wife and son away to protect them from being infected. He is your typical "northeastern man," who talks with a low voice, went to juvenile detention centers for picking fights in school, and has a giant tattoo. But every time we were on a break, he'd video-call his wife. One time, when his wife was dealing with appendicitis, he just started crying the second he hung up. "This is the longest that we've been away from each other," he told me, "I miss her like crazy." After he composed himself, he told me to delete the picture I had taken. "Don't take photos when I'm crying," he said.
At first, I didn't understand why thousands of volunteers had come out risking their lives. My teammates all gave the same answer: "I wanted to do my part for the city of Tonghua." One teammate said that, for someone who will never leave Tonghua, this outbreak might be the biggest event that'll ever happen to him. Being part of the volunteer effort gave him a sense of purpose. But if he was following the collectivist doctrine of "contributing to the greater good," what were my motives?
Growing up, I had always been on my own, individual path: I was the one who went away for boarding school, and who didn't take the national college-entrance exams. I had forgotten the joys of being part of a collective. I've lost count of the times my teammates took off their winter coats and gloves for me to put on while it snowed and was minus 30 degrees Celsius outside. In a matter of days, we 12 strangers built a strange but magical rapport because we all had only one goal: to ensure that every person who risked their lives on the front lines would be protected.
While sitting on boxes of N95 masks and sweating under our protective suits, I chatted with my teammates and learned their life stories were drastically different from mine and the protective bubble that my parents had built around me. I began to understand why they are the way they are and why it's hard for them to accept the liberal ideologies that I had absorbed from my surroundings. Although I'm a steadfast feminist who despises the sexism and machismo of northeastern culture, the volunteering experience taught me not to fixate on our differences but focus on our commonalities.
A week before Lunar New Year, we decided to become sworn brothers and sisters. Someone proposed that the 12 of us should each take one of the 12 animals in the Chinese zodiac as our nicknames. Being the second-youngest, I became the dog, the second-to-last sign. In the Northeast, to become someone's sworn brother or sister, you first have to go through a life-or-death experience with the person. After what we've been through, that is something I can confidently say we did. But above all, I now have a community to come back to the next time I return to Tonghua.
New Year's Eve
When I was little, the months before and after Spring Festival used to be the liveliest times in Tonghua. Migrant workers and college students would come back, filling up the otherwise somewhat empty city. Street vendors selling couplets, firecrackers, and popsicles would pop up on every corner of every street. At home, I remember the sound of relatives playing mahjong and the smell of fresh tangerines, one of the few fruits in season during the harsh northeastern winter.
As the days crept closer to this year's Lunar New Year's Eve, the liveliness was nowhere to be seen. Even though the government now allowed one person from every household to go out for an hour once every two days, cars were still rare. With public transportation also suspended, people were mostly scurrying along, their faces covered with several masks and sometimes even swimming goggles, their arms weighed down by huge bags of groceries. The only other people about were sanitation workers, who never stopped working. Even during the lockdown, snowy conditions still meant they'd have to get up at 4 a.m. to clear the streets.
Two days before Spring Festival, my father, who had been deployed to the front lines at another district, called and said he heard he might be able to come back for New Year's Eve — a sign that a ban on cross-district traffic might soon be lifted. Throughout the outbreak, the city government imposed and canceled restrictions on travel based on considerations they did not make public, meaning that, if you're not "connected," all you could do was wait at home before being told when you could move about freely again.
Among the volunteers, a few people decided to stay on duty on New Year's Eve so the rest of us could go home to our families. My request to stay was denied. As such, although it had seemed impossible even a week ago, I was going to have the New Year's Eve family reunion that I'd longed for. After my last COVID-19 test came back negative, I finally returned home. From Jan. 21, the day I arrived in Tonghua, to Feb. 11, New Year's Eve, my journey home took three weeks.
I was finally going to see my grandmother, who had lived with us since I was born. She had not stepped out of our home for two months. When I finally met her, I was unsure of which to do first: share my volunteering stories, or hear about her quarantine stories. My grandma, who lived through the Korean War when she was young, told me that when our door was taped shut and all she could hear all day were police cars patrolling the empty streets and playing announcements into the night, it reminded her of her childhood. Then, too, there was a constant tension of disaster being just moments away.
Tonghua sits along the border between China and the Korean Peninsula, and is therefore home to many ethnic Koreans. My grandmother found out later that her Korean friends had shared her feeling of impending doom, of "not knowing what food you'll have on the table tomorrow" while "worrying about your family's safety."
I wonder how long my experience during the pandemic will impact my lifetime. This time last year, Wuhan was going through the chaos of its early COVID-19 outbreak. Fast-forward to March, and the same was happening in the United States, where former President Trump went on television to discourage mask-wearing. I was forced to pause school and come back to China while the virus raged in the States. When I thought that the pandemic had finally run its course, and that things were coming back to normal, my hometown was on the national news asking for aid and support.
On the night of New Year's Eve, my dad replaced the seal on our door with the Spring Festival couplets he had bought before the lockdown. We took some meat and some leftover dough from our refrigerator, which was fortunately just enough for four servings of dumplings. The four of us sat in front of the TV, each with our masks on and social distancing, and watched the Spring Festival Gala. On TV, people with happy faces were celebrating the provisional victory in the fight against the coronavirus. We sat and watched, but barely spoke a word.
Pan Yi is a pen name.
Editors: Kevin Schoenmakers and Qi Ya
(Header image: Two volunteers eat boxed meals in a police car in Tonghua, Jilin province, Feb. 27, 2021. Pan Yi for Sixth Tone)