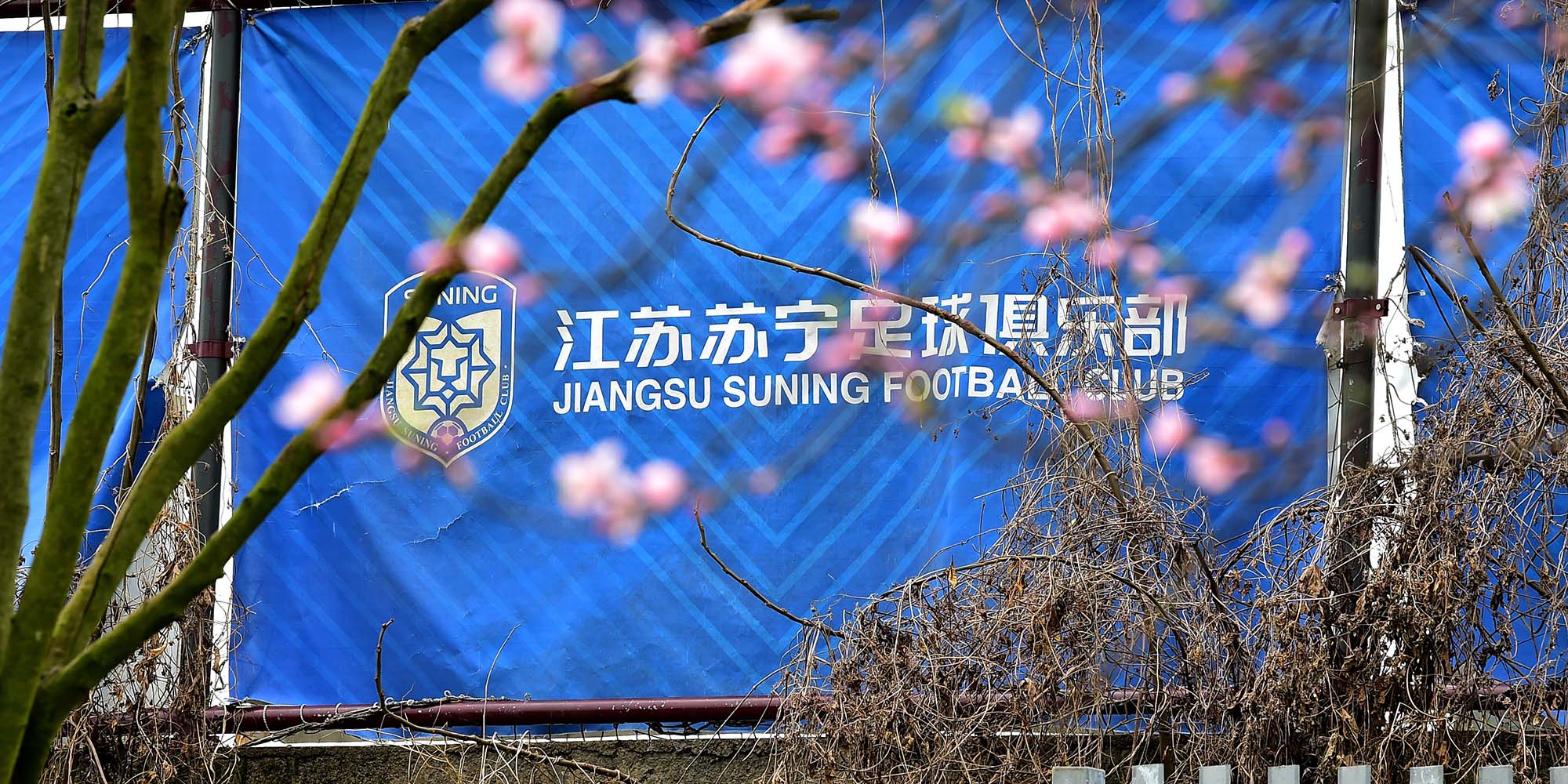 NEWS
Chinese Soccer Rocked by League Champion's Sudden Demise
Mere months after winning its first Super League league title, Jiangsu F.C. has announced it will cease all operations, again highlighting the woeful financial situation facing Chinese soccer.
Last November, Jiangsu Suning F.C. made history by winning the Chinese Super League, China's top division for men's soccer, for the first time.
Now just over 100 days later, the team has disbanded.
On Sunday, Jiangsu F.C., as the team was renamed in February, released a lengthy statement announcing it was "ceasing all operations" for its men's, women's, and youth teams.
The shock closure of one of China's top squads only weeks ahead of the new season reflects Chinese soccer's current state of disarray. Clubs were already facing financial pressure after years of unsustainable spending, and the COVID-19 pandemic has only exacerbated the situation.
The rise and sudden demise of Jiangsu F.C. have been directly linked to the fluctuating fortunes of its owner, Suning.com, a Chinese retail giant that also holds a majority stake in current Italian league leaders Inter Milan.
From 2015, Suning went on a soccer spending spree, buying Jiangsu F.C. in December 2015 for 523 million yuan (at the time $81 million), then securing control of Inter Milan for $307 million in 2016. The same year, it also acquired Chinese broadcast rights to the English Premier League through its video-streaming platform PPTV in a four-year, 564 million British pound (then $764 million) deal.
Backed by Suning's deep pockets, Jiangsu F.C. spent lavishly on foreign coaching and playing talent. In 2016, the club reportedly outbid English side Liverpool F.C. to sign the Brazilian forward Alex Teixeira, then hired Italian coaching legend Fabio Capello the following year. In 2019, it even made an audacious bid to pry Welsh star Gareth Bale away from Spanish powerhouse Real Madrid.
These investments helped Jiangsu F.C. secure second place in the Chinese Super League in 2016 and first place last year. But it has become increasingly evident in recent months that Suning's business is struggling.
In September, PPTV's broadcast deal with the Premier League collapsed after the Chinese platform delayed payments and attempted to renegotiate the contract. Now, Suning plans to refocus on its core businesses as it attempts to get its finances under control.
"Suning should firmly focus on the development of retail," Zhang Jindong, the company's chairman, said during a speech in February. "For anything that's not on the main track of retail, we must close what needs closing and cut what needs cutting."
According to Sunday's statement, Jiangsu F.C. has been trying to secure new investment for the past six months, but these efforts have failed. However, the club says it's still hopeful that a new owner will be willing to take over in the future.
"Owing to all kinds of uncontrollable factors, Jiangsu F.C. can't effectively guarantee that it will be competing in the Chinese Super League and the Asian Cup," read the statement.
The closure of one of the country's oldest and most successful clubs is "easily one of the biggest scandals" in recent memory, according to Cameron Wilson, the founding editor of Wild East Football, a digital outlet covering Chinese soccer.
Yet Jiangsu F.C. is just the latest in a series of Chinese soccer team closures over the past two years. In 2020, nine clubs were kicked out of China's second- and third-tier leagues due to their poor finances, with several more throwing in the towel soon after. 
In late January, a team previously based in the northern city of Shijiazhuang was acquired by a state-owned construction group, renamed, and relocated to the city of Cangzhou over 230 kilometers away after also running into financial trouble.
China's sports authorities have taken drastic measures to stem clubs' operating losses, introducing salary caps for local players and tighter restrictions on the number of foreign stars teams can field. To Wilson, however, the problems facing Chinese soccer ultimately come down to poor leadership, which consists mostly of politicians and businesspeople rather than soccer professionals.
"If the sport was run by football people, then this simply wouldn't happen," Wilson told Sixth Tone. "Football here isn't the big priority, as everyone thinks it is. The interests of politics and business completely dominate everything to an extreme degree."
In a statement released Monday, the Chinese Football Association said it was sorry to lose Jiangsu F.C. but "respects Suning's decision."
The news will likely cast a pall over the sport for some time, Wilson suggests, as fans may wonder whether it's worth investing in their local teams at all in the future.
"Even a team that wins the league … can cease to exist in the blink of an eye," Wilson said. "It's absolutely tragic, really."
Editor: Dominic Morgan.
(Header image: An exterior view of Suning F.C.'s training center in Nanjing, Jiangsu province, Feb. 27, 2021. People Visual)