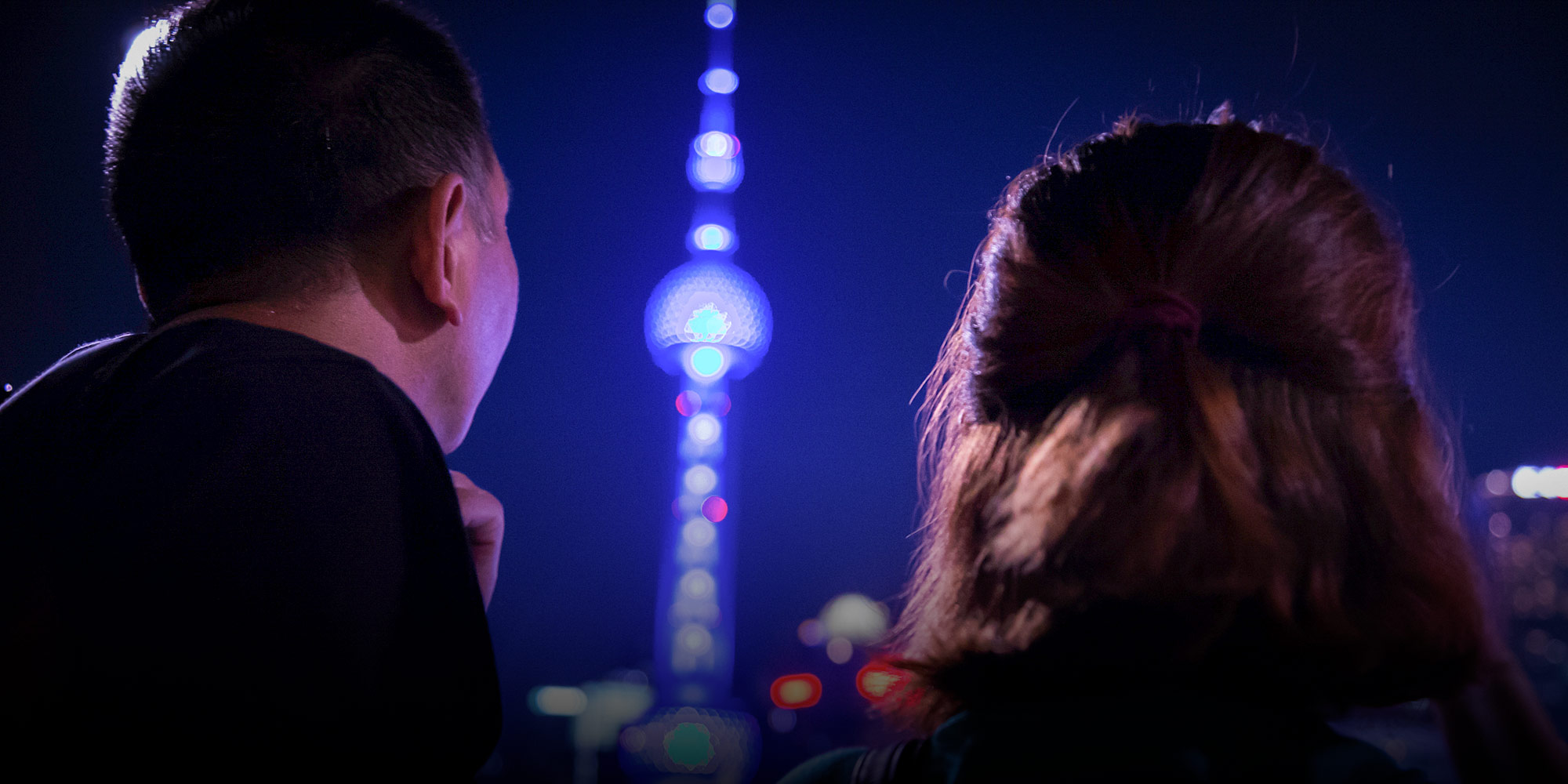 FEATURES
China Finds a Culprit for Runaway House Prices: Divorcing Couples
As Chinese cities try to cool red-hot property markets, many are targeting an unusual driver of demand: a surge in divorces.
Chinese couples traditionally try to pick an auspicious date to get married, believing a well-timed wedding is key to a long and happy relationship. Wu Xin, however, can't be bothered with all that.
"Any day there isn't a long line will work," she says.
For the 42-year-old and her partner, the upcoming nuptials aren't a cause for celebration. They're an admission of defeat.
The pair are one of many couples in China affected by a crackdown on "fake divorces" — part of the country's broader effort to rein in a resurgent property market.
Couples across the country have been temporarily separating to circumvent local property ownership restrictions and cash in on booming housing prices. But the spike in divorces has alarmed Chinese officials, who want to stamp out speculation in the country's notoriously bubble-prone real estate sector.
Wu and her husband are among those caught by the sudden clampdown. As in other major cities, their hometown of Shanghai only permits each household to buy two homes — one of many restrictions imposed over recent years to control property prices. But many families found it was possible to acquire a third home through a carefully planned divorce. 
Though Wu and her partner already owned two apartments, both were registered under the husband's name. As a result, Wu technically wouldn't own any property once she became single, meaning she'd be free to buy an apartment of her own.
Tactical divorces of this kind are frowned upon in China, but they've become a useful tool for households looking to exploit local policy loopholes. In one extreme case, a family in the eastern Zhejiang province was found to have separated and remarried 23 times in one month to claim higher compensation payments during a resettlement project.
And the potential gains from splitting up promised to be considerable. Housing prices have been rising rapidly as the Chinese economy bounces back from the COVID-19 crisis. In January alone, prices of secondhand properties in first-tier cities — including Beijing, Guangzhou, Shanghai, and Shenzhen — rose 1.3%.
So, last November, the couple merrily strolled down to the civil affairs office in downtown Shanghai to put their plan into action. They were far from alone. Demand for divorces was so high, it took Wu weeks to get an appointment.
"We're all very optimistic that property prices in this area will continue to grow," says Wu. "A divorce is the most efficient way to get to our (investment) goal."
The couple, however, moved too late. China's leaders have been warning of the risk of a property bubble since housing prices in several major cities surged by nearly 25% in 2016. The market's recent rally has only heightened these concerns.
Now, cities are taking action to suppress fake divorces, as they try to cool down the real estate market. Local governments in the cities of Nanjing and Shenzhen took the lead, implementing new property purchase restrictions targeting recently divorced couples during the second half of 2020. Then, on Jan. 21, the Shanghai authorities followed suit, issuing a series of measures to stabilize the housing market that came into effect the next day.
As well as making it harder to avoid paying value-added tax on home sales, the new rules stated that anyone trying to buy an apartment within three years of getting divorced must first have the deal approved by the authorities, who would assess their previous property ownership history before making a decision.
Wu's investment plans had effectively been outlawed overnight.
Though the policy change appeared abrupt, analysts say local officials had to act fast. Demand for real estate has been even higher in the past few months than during the property boom of 2016, says Lu Wenxi, chief analyst at Shanghai Centaline Property Agency.
"If the government hadn't intervened immediately, the market could have easily overheated," Lu says. "Anxiety is already widespread among potential buyers."
The number of secondhand homes sold in Shanghai hit 39,000 in December, up over 96% year-over-year, and the market appeared to be gathering steam. In the first three weeks of January, before the new rules were announced, there were 35,000 secondhand apartments sold, according to real estate agency data.
When property prices gain momentum in major Chinese cities, it can spark a frenzy among buyers, Lu suggests. Beijing, Shanghai, and Shenzhen are already among the world's most expensive real estate markets, with prices in Wu's hometown reaching 62,000 yuan ($9,500) per square meter this January — more than six times the city's average monthly income.
Local families, especially those seeking to purchase a home in a good school district, often feel they have to buy now, before prices become completely unaffordable. Others are simply attracted by the high returns they can earn, perceiving real estate as a relatively safe investment.
"Making a purchase could be impulsive," says Lu. "When everyone is saying the prices will continue to soar, you'll believe it's better to make the move now rather than later. … The new policies are very important for changing expectations in the market."
Early data indicates the Jan. 21 measures had an immediate impact on demand for housing in Shanghai, according to Yang Yulei, a senior property analyst at the Shanghai Lianjia Research Institute.
"The policies have injected a tranquilizer into the market," says Yang. "Based on data from (leading Chinese real estate firm) Lianjia, for the first week after the new measures took effect, the trade volume for secondhand apartments fell by 26% compared with the previous week."
"The recent policies have accurately targeted the non-rigid (speculative) demand," Lu agrees.
But it's still too early to tell exactly how effective the crackdown will be in preventing runaway price increases. A key barometer will be the National Bureau of Statistics' monthly property market data report for February, which will be released later this month.
Local authorities appear to have lingering concerns. On March 3, Shanghai announced further measures tightening restrictions on sales of some types of housing.
Couples across China, meanwhile, are trying to figure out what to do next, after seeing their plans thrown into disarray by the clampdown. 
It's unclear how many Chinese households have resorted to fake divorces to invest in property, but real estate agents say the phenomenon has become common in Shanghai, as well as other hot markets like Hangzhou, Nanjing, and Shenzhen.
"It's hard to tell what percentage of buyers (have divorced), but there have been a lot of such cases, especially since 2015," says Wang Caihong, an agent who has worked in Shanghai for 15 years. "Some tell me about it as we get to know each other, while others won't talk about it, but eventually it'll be revealed during the transaction process."
Xu Qingran is one of the lucky ones. The 39-year-old divorced her husband last September and managed to secure her family's third property ownership certificate in mid-January — just a week before the new rules were announced. She remarried her husband the next day.
"I can't express how thrilled I was," says Xu, who requested use of a pseudonym for privacy reasons. "If it weren't for my husband's decisiveness, we might have missed our chance."
Xu and her husband wanted to purchase a third apartment for both personal and financial reasons. "On the one hand, we have some savings and we believe it's safe to put it into real estate," says Xu. "On the other, an apartment in a good school district can secure a place at a relatively desirable middle school for my daughter, who's now in third grade."
But buying a home in Shanghai last fall was easier said than done. The couple originally selected a two-bed apartment priced at 6.2 million yuan in early November. When Xu went to bargain for a better price the following day, however, she was told it had already sold for 6.4 million yuan.
"There were so many potential buyers eager to make a purchase. That made owners confident they could hike prices further to make a bigger profit," says Xu. "And they were right."
After this experience, the couple resolved to act more decisively. "My husband said the next time we found an apartment within our budget that looked fine, we should pay the deposit and nail down the deal right away," says Xu.
Though she initially kept her divorce a secret, as she felt it was "somehow indecent," Xu says her relatives now acknowledge she made a smart decision. 
"Honestly, it's such a routine practice," she says. "We just happened to catch the last train."
Wu and her husband, however, weren't so fortunate.
The couple has been determined to increase their property portfolio since they gave birth to their second son in 2017, Wu says. In China, men are often expected to become property owners before getting engaged.
"There's a huge burden on any family raising two sons: We're supposed to prepare an apartment for each of them when they reach marrying age," says Wu. "As responsible parents, we have to plan ahead."
In hindsight, Wu's crucial mistake was trying to invest in new-builds — a type of property that offers much higher profits, but often takes longer to acquire.
"We did some math and decided to go for a new apartment … we figured we could always sell it for a much better price in two years or so," Wu explains.
In Shanghai, the prices of new homes are heavily controlled by the government, meaning they're much cheaper than secondhand homes. But they're also incredibly popular: New developments normally have long waiting lists, and potential buyers have to enter a lottery to determine who can buy an apartment. Entrants routinely pay deposits of millions of yuan just to take part in the lottery.
Wu and her partner had already gone through the process before, when they bought their second home in 2018. They initially failed in an attempt to buy a home in a new compound in Pudong New Area, which had over 3,000 lottery entrants applying to buy just over 400 apartments. 
Yet a few months later, their number came up in another complex, and they eventually bought the under-construction apartment at just under 80,000 yuan per square meter. By the time the home was completed, their new home was worth 120,000 yuan per square meter on the secondhand market. Wu calculates her family made a profit of 3.6 million yuan on the deal.
So, when the couple decided to invest in another new-build, they didn't hesitate about getting a divorce.
"I don't think it's unethical — I'd rather call it a tactic," Wu says. "I know quite a few other couples who have done the same thing. It's just down to families' different investment strategies. If you can't accept it, you can choose not to do it. You don't need to criticize others for doing it."
On a chilly weekend morning in December, just a few days after completing their divorce, the couple joined a long line of people waiting to enter a lottery at a new riverside construction site in Pudong. Nearly 2,600 people eventually signed up to buy the 200 apartments on offer, Wu says.
But the couple's luck had run out. They got a poor result in the draw, and then a few weeks later came the local government's policy shift. Wu was caught completely off guard.
"This has been working for years — we never expected it would just be banned overnight," she says.
Now, divorcees like Wu face a choice. Under the new rules, the couple will eventually qualify to purchase a new apartment, but only if they stay divorced for another two years and nine months.
Wu, however, has decided to cut her losses and remarry as soon as possible. "It's not worth it to remain divorced just to wait for a permit," she says. "We have no idea what the market prices will be like, or what other policies the regulators might have come up with by then."
Editor: Dominic Morgan.
(Header image: Artur Debat/Moment Open/People Visual)