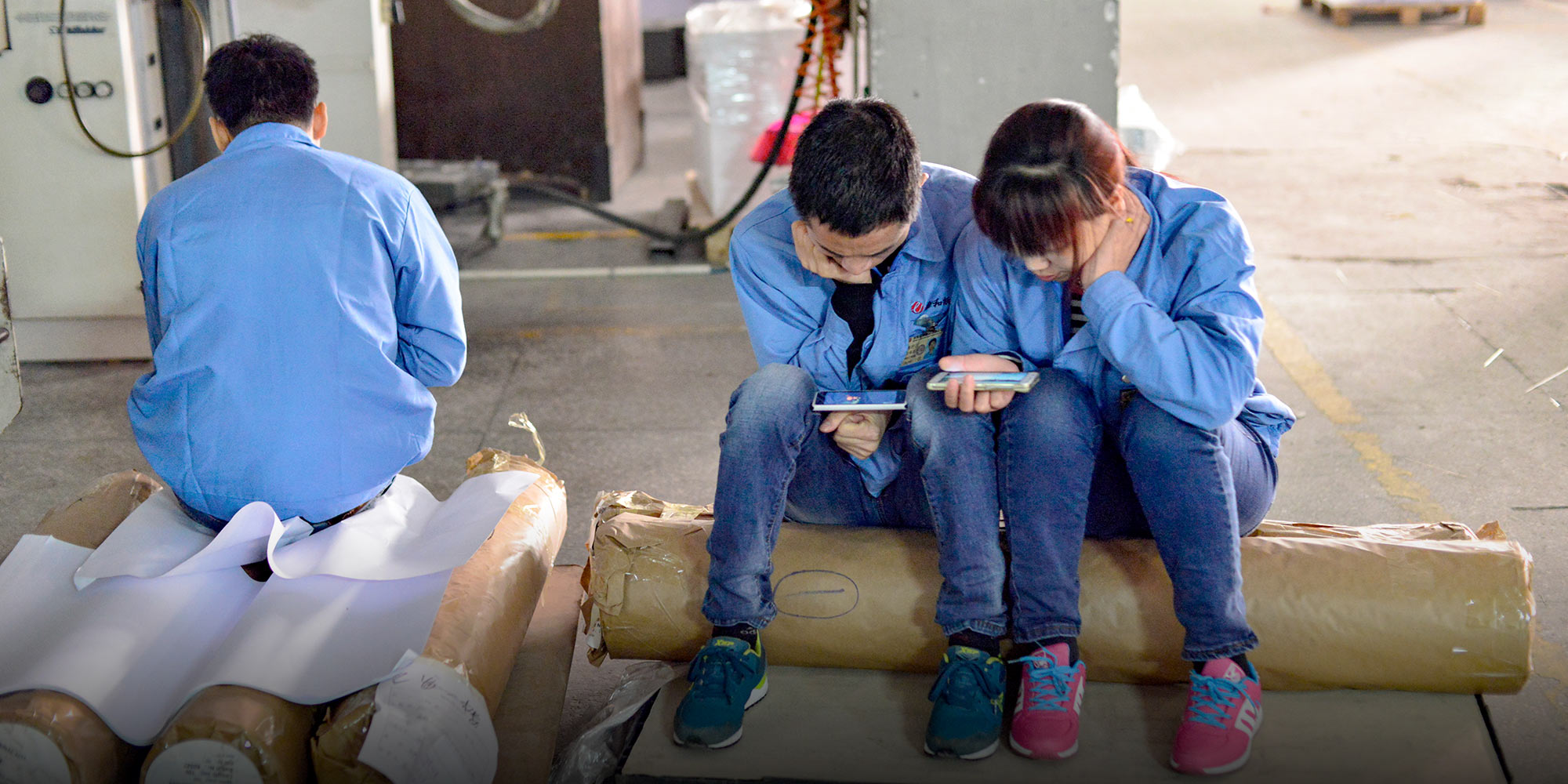 VOICES & OPINION
How Factory Workers Turn the Tables on China's Big Online Lenders
Online borrowers are often portrayed as desperate spendthrifts, but that's not the full picture.
"My Sesame Credit rating hasn't changed in three months," Jiwei bemoaned, in a voice betraying equal parts bewilderment and frustration.
Jiwei — to protect the identity of my research participants, I have given them all pseudonyms — is 22 years old. A migrant from the countryside, he works in a small factory on the periphery of the southern city of Shenzhen. He gazes at his smartphone screen as we talk, flicking between pages of China's ubiquitous payment app Alipay, one showing his credit score, another his detailed purchase history.
In his experience, paying for items through Alipay, either via direct transaction or through credit issued by the app's sister services Huabei or Jiebei, can help boost his Sesame Credit score. This score in turn governs his access to a wide variety of benefits offered by the Alipay financial ecosystem, ranging from higher credit limits and speedy cash loans to deposit-free bike rentals or hotel accommodations — any of which can be useful to young migrants trying to establish themselves in a massive city like Shenzhen.
It should come as no surprise, then, that Jiwei's fixation on his credit score was a common motif in the interviews of young Shenzhen migrant workers I conducted with a research partner in 2017 and 2018. Much of the coverage on China's booming financial technology industry has been focused on the service platforms themselves, reaching an apex leading up to Ant Group's aborted IPO last November, but who's actually using these services? And why? For many of China's blue-collar workers, the answer comes down not to consumerism, but a desire for financial autonomy and control, or at least the appearance of it.
The younger generation of migrant workers in Shenzhen was born mostly in the 1990s. Digital natives, they are well-versed in technology even before they migrate to China's prosperous coastal areas. That means they're used to placing an order or paying for lunch through their phones, and not averse to borrowing a small amount of money online, if they have the chance.
Most are unable to access consumer lending programs run by traditional card issuers, however, partly because of the difficulty in providing the required credit documentation. Some prefer online credit services, anyway. For instance, Jiwei rationalized not having a credit card with the assertion that "I am not a businessman," emphasizing that it was his prerogative not to pursue traditional lines of credit, which he saw as unnecessary.
The more interesting question is why borrowers are eschewing traditional forms of informal finance in favor of services like Huabei. China has a long history of informal borrowing and lending embedded in personal social networks, to say nothing of more usurious forms of credit such as loan sharks. The latter typically has low barriers to borrowing, but the associated collateral can be risky: a loan applicant's state-issued ID card, their parents' contact list, even a nude photo.
Among the previous generation of Shenzhen factory workers, it was far safer and more common to simply borrow money from their co-workers, many of whom would have come from the same town. That is changing, however, in part because many young workers appreciate the depersonalized nature of services like Huabei. Zhenghan, a 25-year-old who has been working in cities across China for the past eight years, said he preferred not to borrow from his family or fellow townsfolk. He saw it as shameful for an adult with the ability to earn money like himself to need financial assistance. "I have my dignity," he stressed.
Zhenghan first registered an Alipay account in late 2017. After learning about its online credit functions, he applied for a credit line of 350 yuan (then about $50). He was determined to keep a good Sesame Credit record, hoping he could one day use it to bankroll a business of his own.
As migrant workers embrace depersonalized online lending, they have found creative ways to integrate it into their lives, and even game the system. For example, Jiwei's initial motivation for managing his Sesame Credit score so intensively was to increase his lending limits, freeing him to lend more of his salary to friends who need it — something that could pay off for him later if he ever needed help.
This strategy of incorporating financial technology into existing social relations defies a common assumption made by both media outlets and the fintech platforms themselves: that easy access to credit can turn low-income workers into materialistic consumers and drive economic growth. The rising digital lending market is often associated with Chinese society's growing consumerism, a stereotype that has been reinforced by how companies like Ant market their online lending services. A billboard promoting Huabei featured a 37-year-old construction worker who had supposedly used the service to take his daughter out to a fancy restaurant for her birthday; a commercial for JD.com's lending service showed a migrant worker dressed in shabby clothes being mocked by other passengers on an airplane until a man in a business suit showed him how to pay for an upgrade on credit.
But the migrant workers I interviewed at the Shenzhen factory weren't taking out loans to pay for a fancy dinner or book a business class ticket. Rather, they were remarkably savvy about their borrowing, and sharp enough to identify online lending services' pitfalls. Zhongtian, a 22-year-old worker, was well aware that borrowing can become a problem if not managed carefully. "Once you start, you will create more and more desire till it is far beyond your control," he said. Similarly, Jiwei expressed his concern that borrowing on Alipay would make him "a slave to money." Instead of turning into profligate borrowers, these low-income workers primarily used the fintech apps on their phones to navigate their social relations and manipulate their financial standing in their communities, including by projecting an image of themselves as financially independent and generous.
Perhaps more eye-opening is how some migrant workers gamed the opaque algorithms to fool the credit scoring algorithms governing their lives. That's in contrast with what scholars have found in the United States, where low-income American borrowers feel obliged to "play the game," as the academic Mark Kear put it. Jiwei, for example, asserted that he had found the formula for improving a Sesame Credit score: "If you use it, it grows." He said he would pay for his colleagues' online shopping purchases with his own credit and occasionally help top up his parents' cellphone balance. This both enhanced his reputation as a caring individual, and also helped him establish a better credit history. In an even bolder move, he used his personal credit account for workplace expenses, which helped him establish good enough credit to increase his borrowing limits.
This doesn't mean we should romanticize migrant workers' relationship with online credit systems. At the end of the day, the game is asymmetric, and the apps' black-box-like algorithms can frustrate users from time to time. And many migrants still buy in to the myths of self-made wealth surrounding China's tech tycoons.
But we also shouldn't overlook migrants' agency. Already, blue-collar workers are punching well above their weight, as they engage with fintech along lines vastly different from what the tech giants envisioned by integrating it into their own offline worlds and communities. Ant is getting all the attention, but the ants matter too.
Editors: Cai Yineng and Kilian O'Donnell.
(Header image: Young migrant workers check their mobile phones at a factory in Dongguan, Guangdong province, Dec. 31, 2015. Zhan Youbing/People Visual)