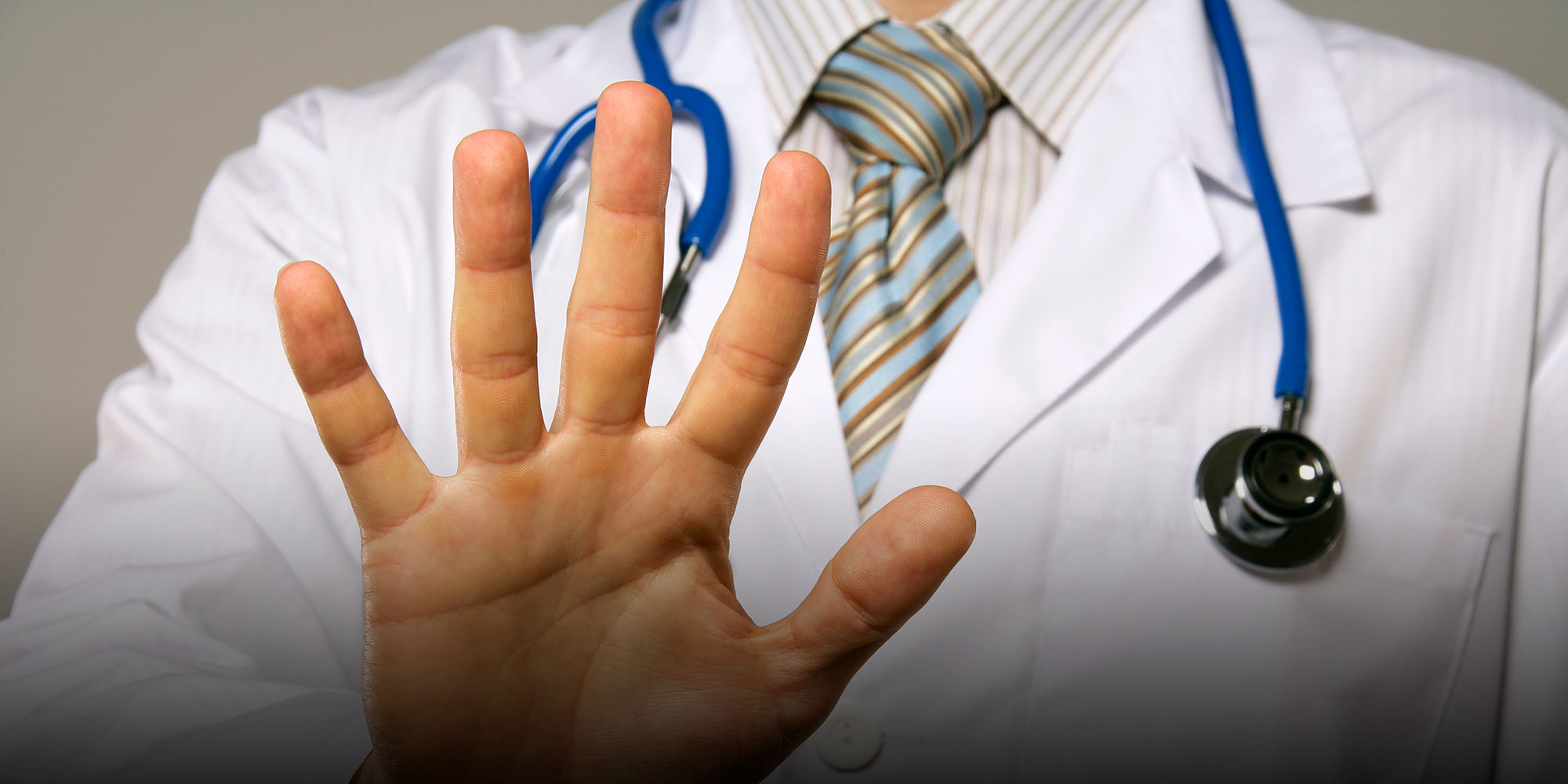 NEWS
Shanghai Denies Health Insurance to Doctor Abusers
A new regulation aimed at better protecting medical personnel, who frequently face abuse in China, also guarantees immunity for public health whistleblowers.
SHANGHAI — From Monday, people who threaten the safety of Shanghai's medical staff may be excluded from public health insurance and barred from working as civil servants.
The new measures for protecting the rights and interests of medical workers are the first provincial-level regulation of its kind in China, according to Luo Peixin, deputy director of Shanghai's justice bureau. Luo added that they would also help maintain "the harmonious relationship between doctors and patients."
The regulation emphasizes that medical workers deserve reasonable holidays and compulsory breaks during overtime work, and proposes a mechanism for supervising their mental health.
Apart from policies benefitting doctors and nurses, the measures also outline a reporting system for infectious disease outbreaks and clarify that public health whistleblowers shall be absolved of punishment even if they are deemed to have "misjudged the situation" and acted incorrectly.
To address the problem of yinao, or violence against medical workers, the new measures explicitly define such behaviors as physically attacking hospital staff, restricting their freedom, instigating others to commit crimes against them, or destroying public property.
If an act of yinao doesn't cause severe harm, the perpetrator may be excluded from public health insurance, meaning they would need to pay their medical bills out of pocket for a designated period. They would also be ineligible for online medical consultation services or VIP facilities at hospitals.
For more serious incidents, the perpetrator can be barred from the civil service or from serving as the legal representative of a government-affiliated organization, in addition to the aforementioned lesser punishments.
The measures state that doctors shall not be obligated to treat such problem patients until they are deemed to no longer pose a threat.
The police will be responsible for recording the personal details of people involved in yinao, and Shanghai's health commission will collect this information and share it with hospitals. If anyone on the de facto blacklist makes a medical appointment, security staff will be arranged ahead of time.
When reached by Sixth Tone, Shanghai public security and health authorities declined to comment on the new measures, saying it's too early to gauge their effectiveness. Some local doctors, however, are already voicing their support.
"There haven't been any really violent cases in Shanghai recently, but verbal attacks against medical staff and damage to hospital facilities are still quite common," a doctor from the Children's Hospital of Fudan University told Sixth Tone.
"If fully implemented, this regulation should deter such patients," said the doctor, who only agreed to speak on condition of anonymity. "In general, the medical environment in Shanghai is safe for doctors because other local policies for deterring yinao have been in place for years."
In 2011, the Shanghai government released a guideline on mediating doctor-patient conflicts. Then another document in 2014 listed and banned specific acts of yinao, as well as established a monitoring system involving the police and hospitals.
Shanghai isn't the first provincial-level region to propose blacklisting people who attack medical personnel. In 2015, health authorities in the neighboring Zhejiang province solicited public opinion on a similar regulation, though it ultimately wasn't approved. Shanghai's social credit system, launched in 2017, has now been expanded to flag people involved in yinao as "untrustworthy" and "unreliable."
The last local yinao case to make headlines was from February 2020, when a patient's family member attacked a nurse in Shanghai's suburban Songjiang District, scratching her on the face. Nationally, however, there have been a few disturbing cases recently, including an attack in January that left a doctor in the eastern Jiangxi province dead and, just days before, a patient's homemade bomb injuring several staff at a Hangzhou hospital.
Chen Ping, director of gastroenterology at the Affiliated Hospital of Inner Mongolia Medical University, told Sixth Tone she wishes similar anti-yinao policies would be implemented nationwide.
"The new regulation in Shanghai is very inspiring, and I strongly support it. This is useful for preventing potential cases of violence at hospitals," Chen said. "Suspending medical insurance will have a strong deterrent effect, and the early-warning system, along with security checks, can doubly guarantee medical workers' safety."
According to a national survey from 2018, two-thirds of more than 146,000 doctors polled said they had been involved in conflicts with patients, and over 30% reported being verbally or physically attacked.
With Chinese law enforcement taking a stronger stance against hospital violence, the number of such cases has been dropping since 2016. But experts are calling for still harsher punishments, and for classifying yinao as its own criminal offense, according to the 2020 Blue Book on Crime Governance, released by Chinese Society of Criminology.
Zou Heqiang, a lawyer specializing in medical affairs at Shanghai Yingdong Law Firm, believes many of the new measures, such as the early-warning system, will effectively protect medical workers. But he also said blacklisting yinao offenders should be handled cautiously, and suggested a more comprehensive review process for resolving conflicts and reducing the need to protect medial staff in the first place.
"The act of yinao, or obstructing order at a hospital because of a medical dispute, entails some objective factors other than the perpetrators having quarrelsome personalities," Zou told Sixth Tone. "The balance of protection — for the rights and interest of both doctors and patients — needs to be further explored for the overall healthy development of the industry."
As to leveraging health insurance as punishment, Zou isn't convinced this is the right approach. "The issue here is that medical insurance is a universal public service, not one of convenience. The penalties stipulated by the new regulation may be approaching the boundary of acceptable punishment."
Editor: David Paulk.
(Header image: Cimmerian/E+/People Visual)