This story is part of a weekend column featuring translations from respected Chinese media outlets, as selected and edited by Sixth Tone. All are reproduced with the outlets' permission. A version of this article was first published in NOW.
In the evening, when her husband and son are fast asleep and the house is enveloped in silence, Han Shimei goes to a place that is hers alone.
Lying sideways in bed and clutching her phone, the day's mundane affairs come flooding back to her. Han will transform these memories into words, adding a rhyme here and there. She'll spend hours like this in the soft glow of the screen.
You can listen to an audio version of this article via "China Stories," a SupChina-produced podcast sharing the best writing on China. Subscribe on Apple Podcasts, Spotify, or wherever you get your podcasts.
Han, 49, lives in a township in Xichuan, a county in central Henan province. Last April, she began writing poetry on Kuaishou, a video-sharing app similar to TikTok that is particularly popular in China's smaller cities and countryside. In the past year, writing poetry has essentially become Han's entire life outside of housework and her job in a factory canteen.
On Jan. 18, Han posted three poems, each with several phrases containing five characters. One, about a mountainside farmhouse; another, about an arched bridge on a drizzly day; and the third, about a galloping steed. "Wisps of fog wind 'round the mountains, while in my dreams, I see the climbing cacti blossoms." "Where the raindrops fall, the ripples appear, each and every time." "All over the Five Great Mountains he has roamed, his hooves leaving their mark on the most distant reaches of the earth."
To fit the format of a video-sharing app, Han attached the three poems to a photo; one written in red, the next in purple, and the last in green. She captioned the image: "I cook in the factory, and at noon I was so busy cooking that I accidentally left out a line. So I'm posting it again — the full version. No need to repost or comment this time. Thank you, my friends, for keeping me company all this time. Thank you, everyone."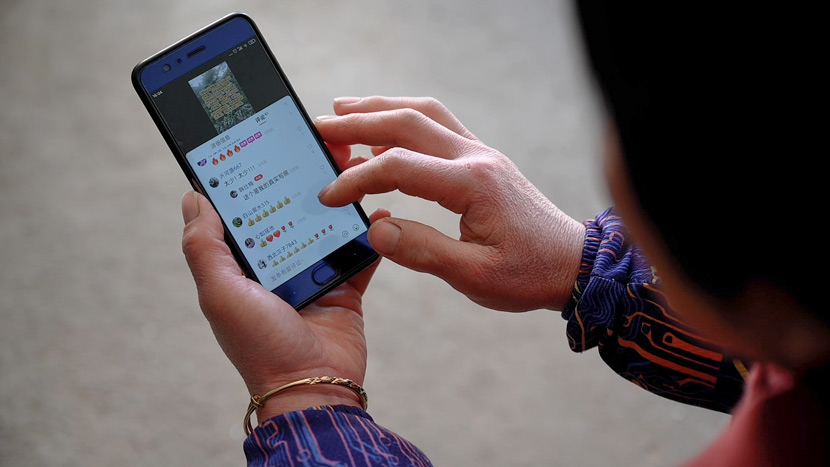 Han Shimei checks the comments on her Kuaishou post, in Xichuan County, Henan province, February 2021. Zeng Yinzi for Sixth Tone
No more than two hours after posting the poems, the comment section nevertheless brimmed with praise and poetic responses: "Riding under the hanging willows, the fragrant blossoms make one lament the tardy spring." "On the lake's surface, rings emanate outward, as fish weave and dart underneath the lily pads." Someone wrote the final line of their own work and added, "Sister, try to take your mind off things. You fret too much." Han replied: "Thank you, little brother. Your ink leaves a sweet fragrance," followed by five thumbs-up emojis. There are similar comments underneath all of her posts.
When Han wakes up in the morning, she usually doesn't quite remember what she wrote the night before. But the joy of finishing a poem and the pride of seeing the rolling wave of likes and praise are unforgettable — and much more satisfying than when she's complimented on her work in the factory. The pastime has allowed her to find "a little bit of self" outside the humdrum of daily life.
Han hasn't left the province since her family fled from famine in the neighboring Hubei province when she was a baby. The farthest place she has ever been was provincial capital Zhengzhou, where her son went to college, followed by a trip to the Xichuan county seat for her father-in-law to see a specialist in 2016. Apart from that, her life's events have all unfolded against the same backdrop: a little house nestled in a valley abounding with crops.
Han and her son both work in the village's bag factory, located only about four minutes away from their home by electric scooter. In the factory, she is responsible for cooking for the factory managers while her son is on the production line. In her free time, Han crochets shoes that she sells at the local market.
Last April, Han changed her cellphone. Previously, she had used a cheap smartphone and could only use messaging app WeChat. On the new phone, Han's son installed a simplified version of Kuaishou and helped her sign up for an account. When she first opened the app, a pop-up told her she could earn "golden coins" by watching videos, and trade in 10,000 coins for 1 yuan ($0.15). It sucked her in. Scrolling through many videos for a month, Han earned several dozen yuan.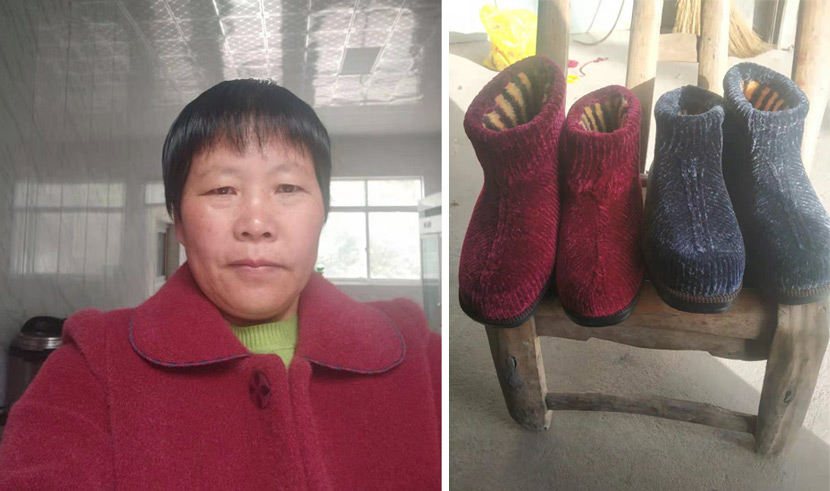 Left: A selfie taken by Han Shimei; right: A photograph of Han's shoes. Courtesy of Han Shimei
She'd only been using the app for a few days when she saw a poem someone had posted. She forgot whether it was five or seven characters to a line, but it was neatly arranged on the screen, with a scenic landscape background. Han only vaguely understood what the poem was trying to say, but when she read it out loud, the words rolled off her tongue. The poem created a doorway out of her monotonous life spent between the factory and her home. Already, she could see the light shining in. It was the first time Han had seen poetry since she'd dropped out of junior high school.
Han is the second-youngest of six siblings. On the day of her birth, Han was born with her back facing upward. Believing children born in this position would grow into disloyal and insensitive adults, her mother wanted to drown her in her bedpan. Her father wrestled Han out of her mother's arms, saving her life. Her mother only told her this story when she was on her deathbed, though it didn't make much of a difference, as Han had always loathed her mother, right up until she died.
To this day, Han still puts her woes down to her mother: "Being born to that woman sealed my fate." Her prospects in life had always been dire. A family in Communist China could almost have no worse background than hers, with one parent an officer in the Nationalist army — the losers of the civil war — and the other the daughter of a landlord.
Han was a studious child and always among the top three students in each exam. She made a neat pile of all her certificates and placed it under her thin padded mattress. There were so many, they formed a small mound she could feel against her back as she slept. But because her mother couldn't afford the 18 yuan tuition, she pulled Han out of school in her second year of junior high and sent her to work on the family farm.
At the age of 22, Han was sold to a man eight years her senior from another village. Han's three sisters all suffered a similar fate — each of them were sold to some of the village's least eligible bachelors for a betrothal price of only a few hundred to 1,000 yuan. At 3,000 yuan, Han's price was slightly higher, in part because her husband-to-be had an intellectual disability — though he was never diagnosed by a doctor. His vocabulary is limited. In Han's words, he expresses himself "like a little child."
Though Han had been picked for marriage at only 19, the wedding was put off for three years, because she was always an unwilling bride. "A face like yours, and you still want to kick up a fuss?" Han recalled her mother saying to her. On her wedding day, in 1992, her mother-in-law set up a two-table banquet and handed the 3,000 yuan fee to her mother. All Han ever saw from this money was four new outfits. Before that, she'd always worn hand-me-downs from her older brother and sisters. On colder days, she'd wear a cotton overcoat several sizes too big that ballooned the moment wind got in.
Before getting married, Han thought her husband was simply a bit slow-witted and her marriage would be more or less tolerable. But when she moved into her mother-in-law's house, she found the situation far worse than she had imagined. Both her father-in-law and husband have intellectual disabilities, and her mother-in-law never worked much, in part because of her small stature. Together, they lived in a tile-roofed house of no more than 30 square meters. For the wedding, her mother-in-law had borrowed 4,800 yuan from relatives and credit unions. The visits from creditors haven't stopped since.
Han soon became pregnant, but until the day before she gave birth, she was still responsible for fetching water from the well. When her three sisters came to visit, they discovered she didn't have any money to stay well-nourished, so they bought her a sizable supply of eggs. Though the tasks of raising children, making a home, and paying back creditors piled up one by one, Han didn't have the energy to complain. She simply remembered each one and silently shuffled back and forth between home and the factory.
Over time, Han's ties to this family grew tighter and tighter. After her husband kept repeating "I want a daughter," she gave birth to a girl in 2002. To pay for the ensuing fine for this breach with the one-child policy, the family had to borrow another 4,000 yuan.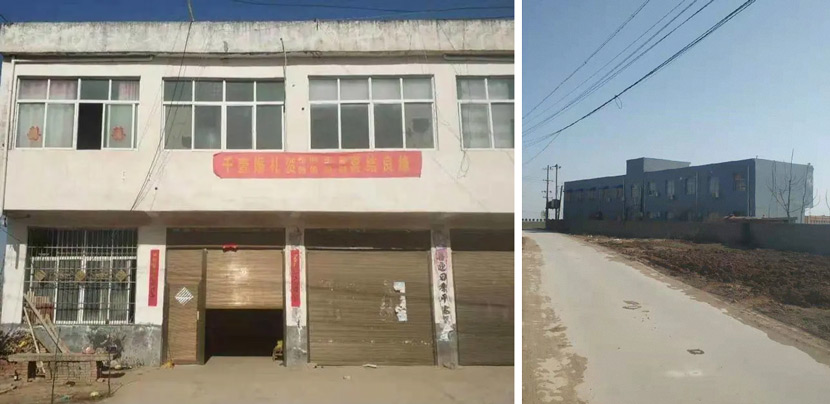 A view of Han Shimei's house (left) and the factory where she works in Xichuan County, Henan province. Courtesy of Han Shimei
She longed to interact with other people, but talking to her husband was like talking "to a tree or a wall" — all he could ever do was listen, without managing to form a complete sentence of his own. Han says eating and working — her husband recently quit a hairdressing job — are the only two things he can do. Sometimes, when they have a small kerfuffle, she tries her best to make him see reason. But after explaining all day and all night, he still looks at her with the same blank expression. While he doesn't shake his head, he doesn't nod, either. Gradually, she has lost the will to lose her temper, and speaks to him less and less.
But on Kuaishou, she has found a community. Han generally does not take the initiative to follow other people. If someone follows her, she follows them back the moment she sees the notification on her screen. Sometimes, Han appears online on Kuaishou until after 4 a.m.
Now, Han has 1,430 followers and is following 1,547 people on Kuaishou, most of whom use the app to share poetry, just like her. A simple search for "poems" on the home page won't bring up any of their profiles. It's only once visitors have already stumbled upon Han or another poet and followed their page that the community becomes visible.
On their profiles, there are mostly images and videos depicting crops growing in fields, scenery outside the windows of moving pickup trucks, personal travels, bunk beds in factory dormitories, and sights from around the village — an old tree, a flower, a head of garlic. They call each other "poet friends" and the number of their followers is often close to the number of those they follow. Their poems are usually positive and tend to project feelings onto landscapes. Some users have also formed poetry groups with a few hundred members each, where people share their latest works every day. Like Han, behind virtually every user's poems is an unremarkable yet rich life.
Han hasn't joined any of these groups as she doesn't have much confidence in her ability. "Does what I write even count as poetry?" she asks. More "professional" aspects such as meter were completely unknown to her until she joined Kuaishou. But she doesn't care about such things most of the time — she just takes inspiration from the works she likes.
Once, someone sent her a private message to say her poems were "excellent" and she showed talent, but "the meter was all wrong" and he was willing to teach her. Han wanted to improve and desired praise from more people, but wanted to know if he had a fee. He said no, that he too had been taught by someone else on Kuaishou for free.
His teachings ended up confusing Han more than helping her. Afterward, she found she couldn't write poetry like before — it was "too strenuous and not free." According to the rules sent by her "teacher," Han wrote a poem and posted it online. After reading it, he said the poem's meter was correct, but the rhyme scheme was all wrong. Although Han has a general concept of rhyme, she has no idea how to pronounce what she writes in Standard Mandarin, as she's spoken a Henan dialect her entire life.
Han sticks to her own theme, which is usually melancholic. The first poem Han ever posted to Kuaishou reads: "Who is it whose heart is so hollow and empty? Who is it whose heart is so cold? Down whose cheeks do teardrops roll? On whose shoulders are burdens borne? Who was it who made your blossom wilt?"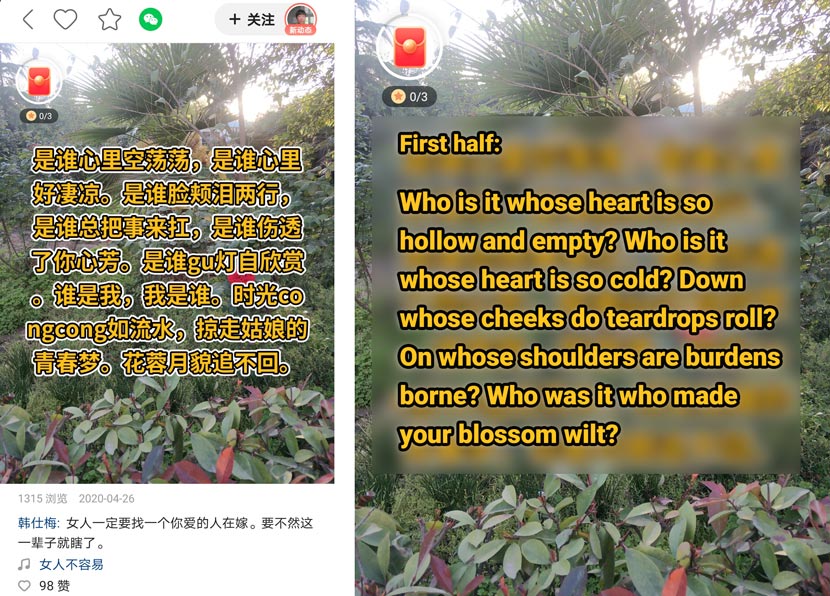 A post written by Han Shimei in 2020, translated by Sixth Tone.
Han describes this work as "miserable and melancholy." In the accompanying caption, she wrote: "Women, you must make sure the person you marry is someone you truly love. Otherwise, your whole life will go down the drain." She set a song called "Women don't have it easy" as the background music.
Over the course of her life, she has worked hard to become a screw to perfectly fit into a rusty machine. For her, there is little room for things like individuality or imagination. When they were at their poorest, her family didn't even have the money to buy salt. Han started to plant chili peppers on the farm and work in the local factory to supplement the family's income. People remarked on just how competent this 3,000 yuan bride was throughout the village.
She knows that no matter how many poems she writes, she will not be able to resolve the fundamental problems she faces in life — unless she could somehow be "reborn." Han often finds herself mulling over the same idea: that once her daughter — now in high school — graduates from university and can fend for herself, she'll drown herself in the river. "There's no meaning to living like this — only worry."
Han originally saw her son as her hope for the future. The boy was born in the fall of 1993. Before giving birth, she worried he would end up like his father and grandfather. Upon hearing his first cries, she felt a sense of relief. "Just looking at his face, I knew he wasn't stupid," she says. Han cherished the child and would never let him do any manual work. Later, when he started school in the county seat, she would drive over to give him his lunch whenever she had time. And when he was accepted into Zhengzhou University of Light Industry, she'd make the several-hour journey every few months to visit him.
After graduating, he found a job at a factory. During his physical examination,  however, they found an imperfection in a lung scan. According to the doctor, it was because of a childhood bout of pneumonia and wouldn't impact his health. But the factory refused to recruit him. He even tried a few different places, but they all turned him down for the same reason. He may have found employment elsewhere, but he went home to rest in bed, as if he'd been certified disabled. Later, Han found him his current job in her factory.
A view of the village where Han Shimei lives in Xichuan County, Henan province. Courtesy of Han Shimei
Han tasked the village matchmaker with finding her son a wife, who set him up with over a dozen women, costing Han more than 50,000 yuan over the course of a few years. They thought they'd found a successful match and Han had already handed over a deposit of 50,000 yuan to the woman's family, only to discover that her son didn't want to go through with it. Not wanting to force it, she told him: "It doesn't matter. Just keep looking."
Her son met his wife, a beautiful girl Han was very fond of, on the internet. To cover the costs of the wedding as well as betrothal gifts and red envelopes of money to give guests, Han virtually emptied the family's savings and borrowed 230,000 yuan. According to local tradition, when a man gets married, his parents must present their daughter-in-law with the "four golds": a golden ring, a golden bracelet, a golden necklace, and golden earrings.
Han didn't hesitate to spend this money, nor does she regret it. "For my son's wedding, I was willing to spend everything I had."
On Nov. 26, the day of her son's wedding, Han posted the only truly happy poem she's ever written on Kuaishou:
"From branches of gold and leaves of jade a single flower falls into the prince's home, a beacon of prosperity. The husband serenades his wife as the days go past; in the year to come, the phoenix and dragon will produce a child."
Not long after, however, the young couple divorced.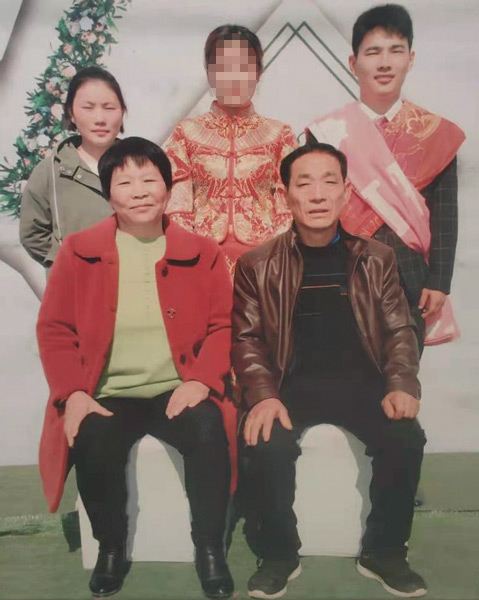 Han Shimei and her family pose for a photo during her son's wedding. Courtesy of Han Shimei
The worries and duties of being a wife, a mother, and — Han hopes soon — a grandmother, weigh on her. On Kuaishou, she has been able to socialize with people other than her family for the first time, and she can just be "a woman," someone she has wanted to be her whole life. On this platform, she is free to show her vulnerability by writing things like, "The slave doesn't dare ask about the outside world; those tears have long turned to frost at her temples." But she feels she'll never be able to truly find "someone to depend on, someone to care for me."
Han says in July last year, a man from Zhanjiang, over 1,000 kilometers away on China's southern coast, wanted to be with her and promised to "love her deeply."
At the time, Han had only just started to use Kuaishou and had only uploaded a few poems. This 38-year-old man sent her a private message, claiming to be a divorced business owner with an 8-year-old daughter. After reading Han's poems, he wanted to marry her.
Han replied she was old, dark-skinned, and ugly. The man told her people are not defined by their appearances. She had to explain that she had a husband with an intellectual deficiency and two children who couldn't live without her. He told her she could live between two homes.
Han still refused. "I didn't make mistakes when I was younger. How can I allow myself to make mistakes at this age?" she says. "I'll soon have grandchildren. I can't bring shame to them." She chased the man away, she says. Now, on her Kuaishou home page, all posts from July last year seem to be hidden.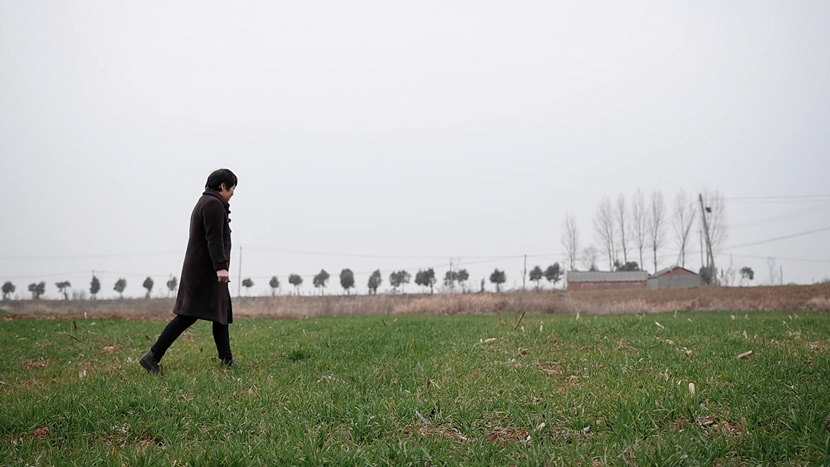 Han Shimei walks through a field in Xichuan County, Henan province, February 2021. Zeng Yinzi for Sixth Tone
Other than those she considers her "poet friends" on Kuaishou and her daughter, no one reads Han's work. She has tried reading them to her husband, but the few poems she's shared all received that same blank expression. She understood that, once more, her husband just couldn't comprehend. In a post on Jan. 3, she turned these feelings into a poem: "No one knows how hard it is to live with a tree, how painful it is to live with a wall. No one can truly understand what my life feels like. I want to cry, but there are no tears. I want to speak, but there are no words."
While Han takes to Kuaishou to share such intimate feelings, some things she keeps hidden, even from her poet friends. She tells them she raised a son who went to college, and who got married. But in truth the university graduate lives alone on the second floor of the rural family home she hoped he would escape. The decorative red banner from his wedding still hangs in the window.
Translator: Lewis Wright; editors: Du Xinyu and Kevin Schoenmakers.

In China, the Beijing Suicide Research and Prevention Center can be reached for free at 800-810-1117 or 010-82951332. In the United States, the National Suicide Prevention Lifeline can be reached for free at 1-800-273-8255. A fuller list of prevention services by country can be found here.

(Header image: Han Shimei takes in the view in a field in Xichuan County, Henan province, February 2021. Zeng Yinzi for Sixth Tone)