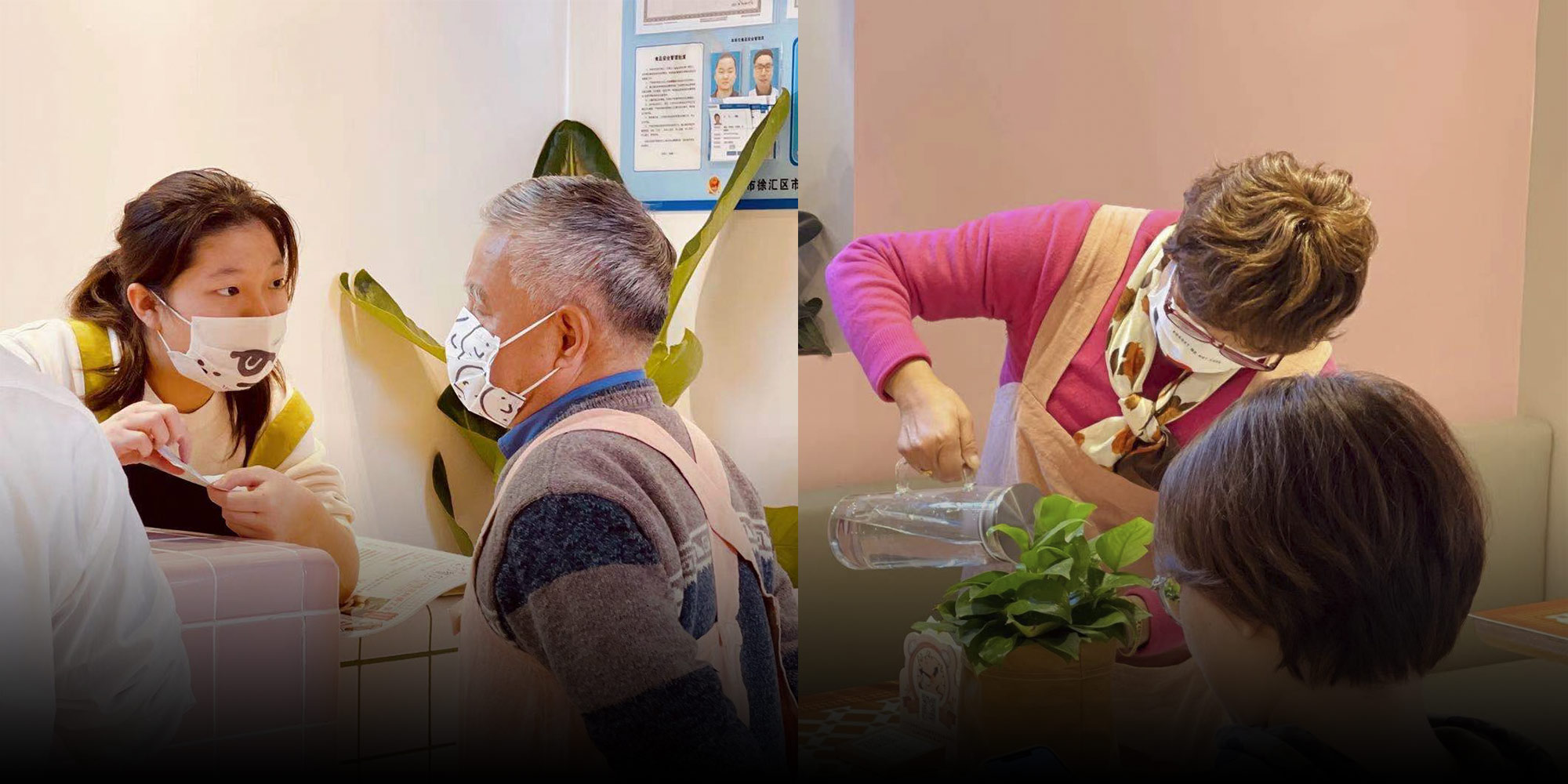 NEWS
From Reality TV to Real World, Café Employs Elderly, Educates Public
The set from "Forget-Me-Not Café" has opened its doors to the public, employing elderly people with dementia and other conditions to dispel the stigma surrounding cognitive disorders.
SHANGHAI — A Chinese café wants patrons to remember not just the place, but the people running it.
The Forget-Me-Not Café in Shanghai's downtown Xuhui District was the set for a reality TV show of the same name that grouped celebrities and elderly people with cognitive disorders together as co-workers. The venue, part of the show's second season, opened its doors in late January, and employs staff over 50 with cognitive disorders, according to the show's producers.
On a sunny Wednesday, 71-year-old Zhu Caiping greeted a customer with a smile and customary welcome note before leading her to a table. "Please use this hand sanitizer and scan the code to order," said Zhu, who is also part of the show's cast.
Zhu is one of the eight elderly staff members, including two from the show, who works at the Forget-Me-Not Café, hoping to dispel the stigma associated with dementia and spread awareness of the disorder. Among people in China aged over 60, more than 38.7 million have mild cognitive disorders, including over 9.8 million with Alzheimer's disease, the most common cause of dementia.
At the Shanghai café, just like on the show, the elderly staff are expected to work half-day shifts as servers, taking food orders and interacting with the guests.
During lunchtime, Zhu was on duty with an 80-year-old new recruit, Gao Shuxia, who has a mild cognitive disorder. Both women told Sixth Tone that working at the café isn't too stressful, and helps them stay in good spirits and remember things more easily.
The building's interior is all about good vibes. The entrance has cardboard miniatures of a cheery elderly man celebrating Spring Festival with a child. Then there's the Forget-Me-Not Telephone Booth, which allows diners to record their experiences at the restaurant.
The walls are dotted with photographs of the elderly staff members, while the halls and seating areas are lush with greenery and blooming flowers.
Lin Aixi, the show's producer, told Sixth Tone the team decided to keep the café after the finale aired so that elderly people, including some of the show's participants, could work and earn extra income while also maintaining social interactions. The café should be a place for helping people understand cognitive disorders, she said.
"We thought having elderly people participate in social activities as wait staff could be a very good non-pharmacological therapy, helping them realize their self-worth, do something they're capable of, and maintain communication with the outside world," Lin said, referring to the team's motivation for making the reality show.
Zhu, who earned the nickname "Grandma Dimple" on the show because of her signature smile, said working at the café has improved her mental well-being. Since she started in February, it has gradually changed how she perceives herself as a patient, she said.
"I've become more hopeful about my disorder, and I also encourage others to stay positive," Zhu said, adding that watching families dine together is always a heartwarming experience. "Life here is more fulfilling than at home, and I've handled affairs more responsibly here," she said. "My life here is packed with busy-work, but I'm happy."
Some employees like Gao, whose daughter accompanies her to work, say the job has helped them become more alert and more confident. "When I came here, I felt a great sense of achievement upon realizing that I could do so many things well," she said proudly.
Gao, Zhu, and the other staff have fans, too. While some patrons recognize them from the show, others have warmly embraced the café's ideals without even realizing it was part of a TV production.
A group of four retirees were among the guests visiting Wednesday. As they sipped their drinks and chatted, 68-year-old Xie Yuqing chimed in, saying she was the one who had invited her friends to the café after realizing it was from a show they'd watched.
"The food is delicious, and I feel at home here. I'll recommend it to my friends and neighbors," she said.
Zheng Bolun, a designer, works two floors above the café. He said coming there during his lunch breaks has made him more sympathetic toward and friendly with the elderly staff, and has furthered his understanding of cognitive disorders.
The show's aim of raising awareness about cognitive conditions and the people living with them has even rubbed off on those seeking to enter elder care, medicine, and related fields.
Xie Wujun, a sophomore at Shanghai University of Medicine and Health Sciences, told Sixth Tone that volunteering at the café has allowed her to work closely with the elderly, which she views as a stepping stone on her way into the health care management profession. Her daily interactions with the staff have shaped her views on a range of issues, she said.
"I had my own preconceived notions about them (elderly people with cognitive disorders), that they were incapable of taking care of themselves," she said. "But when I came here, I found that they are no different. Sometimes they forget things, but this happens to ordinary people, too."
Editor: Bibek Bhandari.

(Header image: Elderly staff work at the Forget-Me-Not Café in Shanghai, February 2021. From @忘不了餐厅上海店 on Weibo)