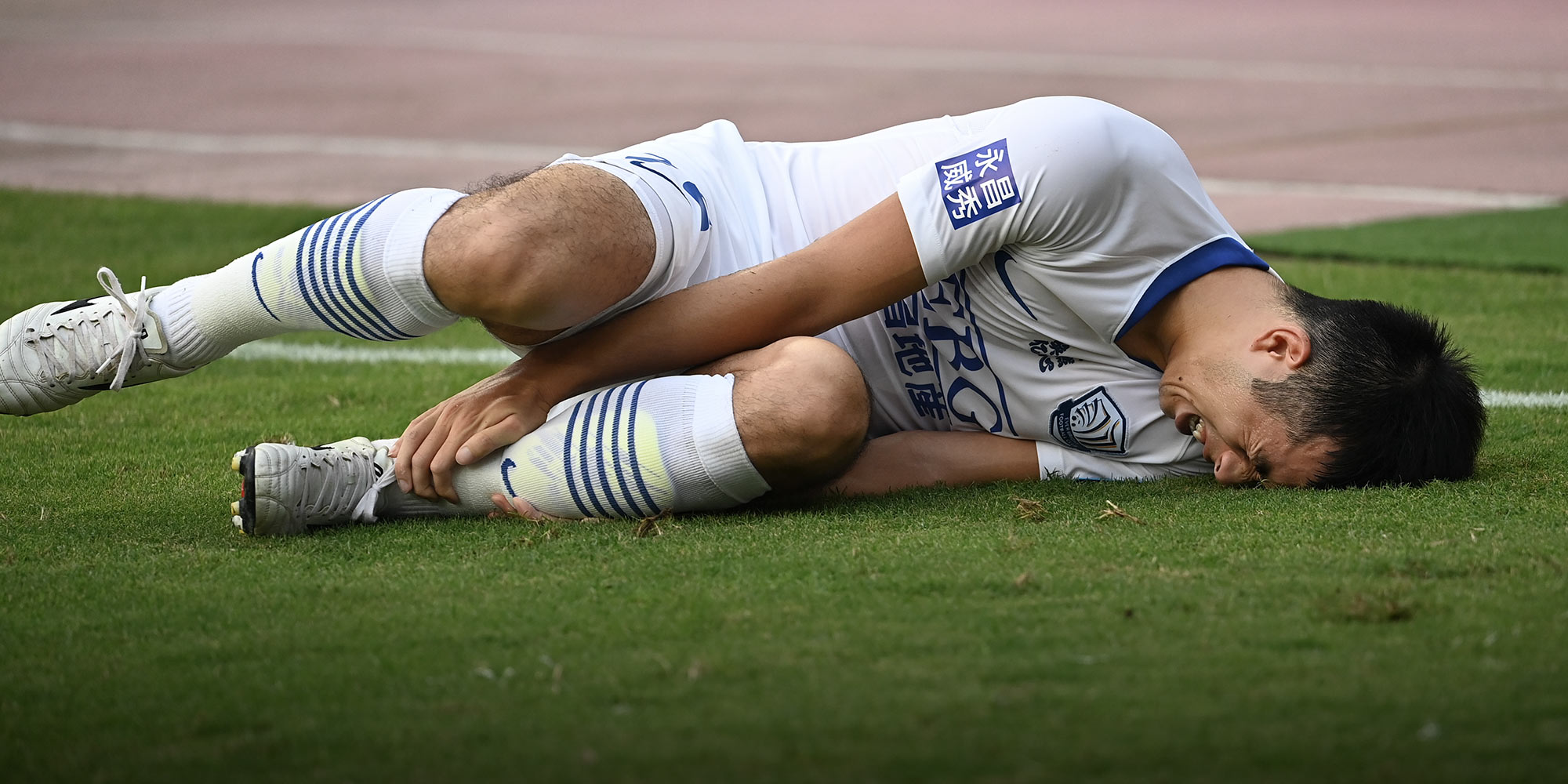 VOICES & OPINION
China's Cash-Strapped Soccer Clubs Bank on a State-Led Comeback
With many clubs struggling, local governments are stepping up — and that's changing the rules of the game.
Like in much of the rest of the world, the COVID-19 pandemic hit China's professional soccer clubs hard. After a postponed start to the 2020 season followed by a condensed schedule with mostly no fans allowed in the stadiums, the recently relegated Chinese Super League team based in the northern city of Shijiazhuang was among a number of clubs in serious financial trouble. In late January, the club's owner, real estate firm Ever Bright Group, held a press conference to present a new investor: the state-owned Cangzhou Construction Investment Group. The club, previously named Shijiazhuang Ever Bright FC, would be rebranded as Cangzhou Mighty Lions FC and moved 230 kilometers east, from the provincial capital to the much smaller regional hub of Cangzhou.
But the most striking thing about the conference wasn't the change in location or equity structure — phenomena fairly common among Chinese soccer clubs. Rather, it was the strong support the Cangzhou municipal government showed for the move. Several high-level Cangzhou officials attended the event and gave speeches there, including deputy mayor and municipal party committee member He Chunjun, who expressed his hope that the "Ever Bright Group will deepen its cooperation with the city of Cangzhou" and declared that "all departments at all levels in the city should provide their best services for the cooperative operation and the overall development of the two companies (Ever Bright and Cangzhou Construction)." Given the setting, He's words are yet another signal that the state is reinserting itself into Chinese soccer, as evidenced by similar moves by Shandong Taishan FC, Changchun Yatai FC, Henan Songshan Longmen FC, Chongqing Liangjiang, and Hebei FC.
This comes right when investments in soccer clubs — a loss-making business for many owners — are becoming even less attractive, thanks in part to new regulations requiring clubs to drop corporate branding from their club names and crests, the recently lowered salary cap, and new quotas on foreign players. Although intended to stabilize clubs' balance sheets and encourage local youth development, these rules have also made the Chinese leagues less enticing for global soccer stars, ultimately reducing public and commercial interest in the clubs and their brands.
It's an outcome of a series of reforms known as the "Chinese Soccer Dream," which kicked off in 2015 under the guidance of the central government seeking to transform China into a leading soccer nation by 2050. Despite minor achievements within Asia, on the global level China has only participated in one World Cup, in 2002, and over the last 30 years it's on average been ranked 73rd in the FIFA world ranking. Although the reforms are focused on building a strong national team, China's professional clubs are also expected to pitch in, becoming training grounds for local talent and a driving force in the commercialization and popularization of the sport domestically.
The reforms seemed to work, at least for a time, as investors took part in a veritable gold rush, flooding China's soccer industry with cash. Since 2015, China has seen more than 20 newly founded professional soccer clubs in its top-three divisions, not counting several new ownership groups.
Yet many of these investments were motivated not by a genuine interest in growing the sport or its business, but by the opportunity to curry favor with local governments — and they were undertaken with an eye on short-term results, at the costs of financial stability and long-term development. This, combined with their new ownership groups' lack of management experience, often left teams mired in financial difficulties, with many vanishing not long after they arrived in China's professional leagues. Before the 2020 season alone, 11 clubs in China's second and third division were unable to meet licensing standards, mostly due to financial difficulties, often dissolving altogether. With investment slowing down and the soccer market still underdeveloped, local governments are stepping back in, as in the case of Cangzhou Mighty Lions FC.
This state support can take various forms, ranging from indirect encouragement to more direct involvement by state-owned enterprises and state institutions like local sport bureaus or soccer associations, usually by way of subsidies. In some cases, local governments have even taken over soccer clubs entirely. The subsidy model is more common — only about 30% of Chinese clubs were publicly owned in 2019 — but prominent examples of state entities directly running a soccer club include Shanghai Port FC, which is owned by Shanghai's state port operator SIPG, and Kunshan FC, which is owned by the Kunshan municipal government.
Indirect support, meanwhile, typically involves rewarding investors who answer the state's call to promote soccer in China with favorable treatment. In China's highly politicized economic environment, clubs and their investors often go where they can find political support, a fact that may explain clubs' frequent relocations in recent years.
Real estate firms, in particular, have been drawn to the soccer industry because of their dependence on local governments, which in China play a dominant role in allocating land and financial capital — two key resources any real estate developer needs — as well as control access to lucrative public development projects. Consequently, there is a high concentration of real estate firms in the ranks of China's professional soccer leagues, earning the top-flight Chinese Super League its nickname, the "Real Estate League."
This direct and indirect steering of China's professional soccer clubs mirrors mechanisms seen widely in many industries in China's economic system. In this system, while the economy mostly runs on market principles, the government guides the economy through the use of various direct and indirect mechanisms, such as state-owned enterprises and control over crucial commodities, especially land and capital.
These incentivize entrepreneurs and their firms to try to please the government, which in turn favors companies who assist in meeting key state goals. Calls for support by the government are sometimes quite direct. Wanda CEO Wang Jianlin once bluntly attributed the company's decision to save the financially struggling Dalian Yifang FC prior to the 2018 season as fulfilling a "request of the municipal party committee and government."
This underlying system of support and punishment has led to the "domestication" of the private sector, as large numbers of private companies voluntarily, if not always enthusiastically, support projects like the Chinese Soccer Dream reforms. In exchange, firms and investors benefit from favorable treatment from the government, such as access to political capital, highly competitive land rights, financial loans, public projects, tax benefits, and also club-related support like financial subsidies or free use of sport facilities. In the case of Ever Bright Group and Cangzhou Mighty Lions FC, this extends not just to the free provision of a stadium and training ground, but also financial investment into the club by state-owned Cangzhou Construction Investment Group, and even the promise of "deeper cooperation" between the city and the club's controlling company, as Deputy Mayor He alluded to in his speech.
In some cases, these relationships evolve into long-term alliances between the two parties. Sporting success stories can put cities on the political map, and with soccer development a national goal, cadres' career prospects can be positively influenced by fostering successful projects. Similarly, cities with existing soccer clubs are eager to keep their teams alive, especially in times of economic upheaval, such as with the recent case of Wuhan FC getting a financial injection from the local government. Post-pandemic, with so many clubs unable to make a profit from their core business and often entirely reliant on cash injections from their ownership — itself no guarantee after the economic damage done by COVID-19 — we will probably see more indirect or direct support in the future.
In the meantime, Cangzhou Mighty Lions FC might return to the Chinese Super League earlier than expected. According to media reports, the club is preparing to replace one of the Super League teams currently struggling to meet the league's licensing requirements for the coming season — mostly due to unpaid salaries. If that happens, the losing team will surely envy the Hebei club's government support.
Editors: Cai Yineng and Kilian O'Donnell; portrait artist: Wang Zhenhao.
(Header image: A soccer player from Shijiazhuang Ever Bright clutches his ankle during a match in Suzhou, Jiangsu province, Sept. 19, 2020. The team has since been rebranded and moved to the smaller city of Cangzhou. People Visual)