Should devoting one's life to the study of seriously strong liquor be recognized with the loftiest of academic accolades? This is the question at the heart of a fierce debate in China.
On Wednesday, Kweichow Moutai — the world's largest liquor brand and the maker of China's national alcohol — announced on its public account on social app WeChat that its chief engineer and quality officer, Wang Li, is among four candidates from the southwestern Guizhou province nominated to be an academician with the Chinese Academy of Engineering, a prestigious title bestowed on the country's most accomplished scientists and researchers.
Wang was nominated by the state-affiliated Guizhou Association for Science and Technology. The three other candidates from Guizhou, where the famous sorghum liquor is manufactured, include a computer science professor who also serves as vice president of Guizhou University, a geologist at the Guizhou Geological Survey, and the chief engineer of Guizhou Highway Engineering Group.
Wang's candidacy has brewed heated discussion on social media, where netizens have already dubbed her the "maotai academician." On China's Twitter-like social platform Weibo, users are wondering how improving the quality of liquor could make someone eligible for such an exclusive academic honor.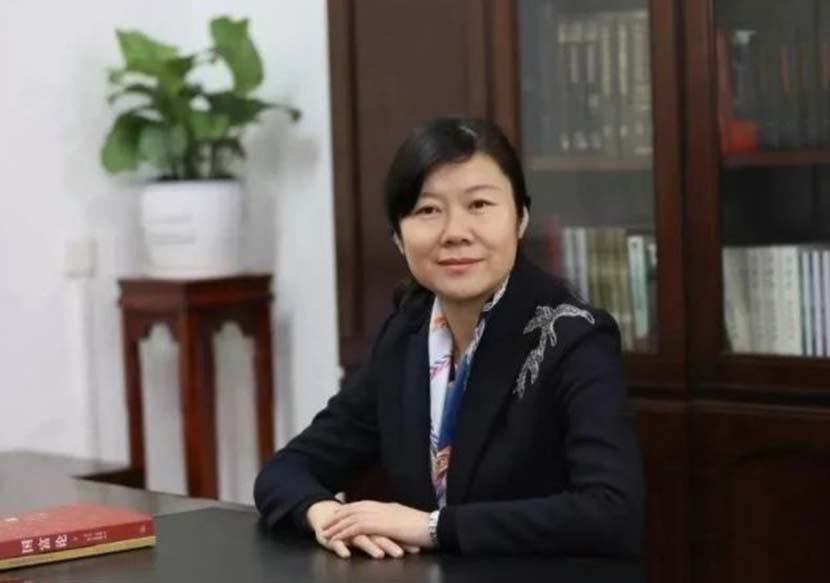 A portrait of Wang Li, chief engineer and quality officer at Kweichow Moutai. From Weibo
"What are the criteria for selecting an academician? If it's based on market value, then no doubt," one user wrote using a related hashtag that has garnered over 8 million views. As of January, Kweichow Moutai was valued at $421 billion, leading all global competitors.
Soon after the news broke, state-owned China National Radio published a commentary arguing that Wang's candidacy seemed at odds with China's goal of "rejuvenating the nation by relying on science and technology." The article cited scientific evidence of alcohol's risks to human health.
The ongoing discussion has rekindled memories from 2011, when the Chinese Academy of Engineering made tobacco expert Xie Jianping an academician for his research on low-tar cigarettes. The move prompted immediate backlash from the general public and health experts, including renowned pulmonologist Zhong Nanshan, China's top coronavirus adviser and a CAE academician himself. Shortly afterward, Zhong called for the academy to cancel Xie's title for the sake of China's millions of lung cancer patients. Though this plea went unanswered, the CAE has not admitted anyone from the tobacco industry since.
In China, "academician" refers to the most senior members of either the CAE or the Chinese Academy of Sciences. The lifetime title not only confers membership to an exclusive group, but also comes with a host of official and unofficial privileges, including more research funding and greater influence over policy. The academies name new academicians every two years. In Wang's case, she will join hundreds of other candidates for further vetting before the CAE announces its shortlist around the end of April.
Responding to netizens' concerns, the Guizhou Association for Science and Technology defended its nominee choice.
"Baijiu is an industry, too, and no industry should be discriminated against," a staff member from the association surnamed Zhao was quoted as saying, using a general term for a kind of liquor that includes maotai. "Wang is an expert in industrial fermentation with her own achievements."
Experts in academic circles, however, haven't been so quick to agree. Duan Weiwen, a professor of philosophy of science, told Sixth Tone it's hardly surprising for there to be debate over whether alcohol fermentation is a "high-tech" process deserving of top recondition.
"The debate reflects divided opinions among the public and experts on the basic nature of science and technology," said Duan, who is also the director of the Research Center for Science, Technology, and Society at the Chinese Academy of Social Sciences. While it may be too early to pass judgement, "at least the discussion is pushing for the academician selection process to be more transparent," Duan said.
In 2019, Robin Li, the CEO and co-founder of internet giant Baidu, was removed from the final selection round for CAE academicians after his candidacy sparked online backlash. That year, the academy selected just 75 out of 531 nominees who made it to the final round.
This year, the CAE will recognize no more than 88 new academicians, while the CAS will choose 73. According to the CAE's standards for academicians, only those who make "significant and creative achievements" in the engineering field, including major inventions or contributions to academic theory, or breakthroughs in important engineering projects, will be chosen.
Following the controversy surrounding Wang, the president of a state-owned gold mining company in the eastern Shandong province also drew online criticism over his academician candidacy. In his case, too, the provincial science and technology association said it stood by its nomination.
Editor: David Paulk.
(Header image: People Visual)