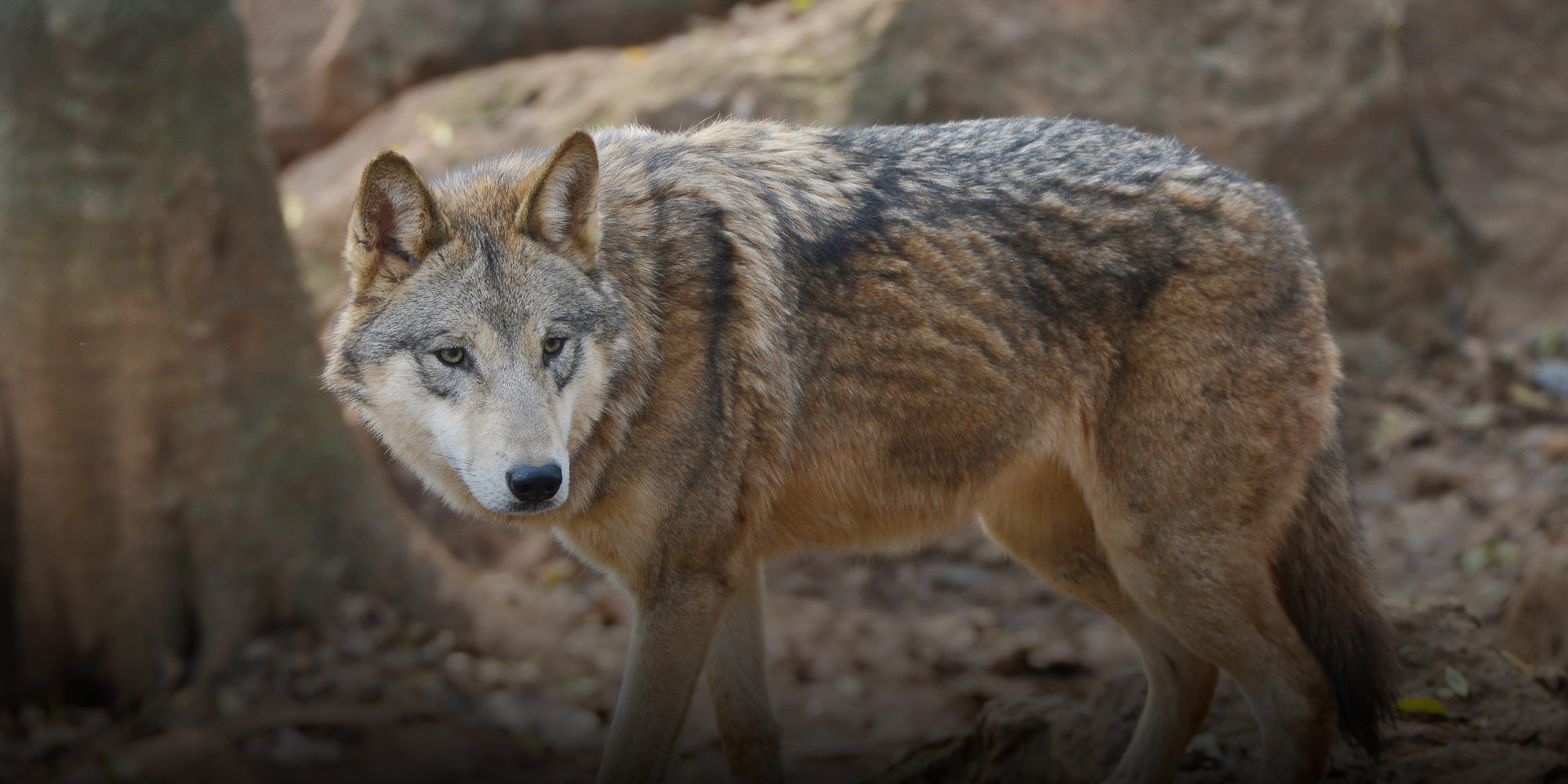 VOICES & OPINION
The Biggest Winners From China's Protected Species List? Wolves.
The predators, long viewed as dangerous and targeted for eradication, now enjoy protected status, a potential indication that China is rethinking its human-centric approach to conservation.
It took more than three decades, but Chinese environmental groups and advocates have finally gotten their wish: an updated protected wild animals list with more than 500 new species on it. Issued earlier this month, the new National List of Key Protected Wild Animals represents the first significant adjustment to the list since the initial version published in 1989.
Thirty-two years is a long time in the conservation world, and the updated document reflects how China's understanding of wildlife protection has shifted and evolved during that stretch. Arguably the most significant change is how the lists treat supposedly "harmful" animals, including upgraded protections for the dog-like dhole. Even more notable, wolves — whose population plummeted in China over the past several decades — were added to the list of second-class protected animals, the first time they have received such protection.
Getting to this point took decades of work by activists battling public misconceptions of wolves as threatening and destructive to humans and human lifestyles. Traditional Chinese depictions of wolves paint them as fiendish beasts stalking the night, just waiting for an opportunity to attack people's homes. Even lupine-related proverbs typically carry negative connotations: To say "ravenous wolves rule the road," for example, is to claim the world is a dangerous place, ruled by tyrants.
These depictions aren't entirely unfounded, of course, even if they are a bit one-sided. Wolves' adaptability helped them spread throughout China, but the sheer size of their range — and their tendency to prey on livestock — brought them into constant contact and conflict with the land's growing human population.
Following the founding of the People's Republic of China in 1949, the routine property damage wolves and other predators or pests caused to the country's newly collectivized agriculture and livestock industries became attacks on the entire nation. This, combined with utopian visions of man's final conquest over nature, led China to declare war on its wolf population. Armed with firearms, traps, poison, and anything else they could get their hands on, localities across China went all-out to protect their livestock. According to historical records, by September 1952, the remote Ningxia Hui Autonomous Region in Northwest China had organized over 1,000 people into wolf-hunting teams, which killed 942 wolves and another 59 leopards between them. These and other "wolf-fighting heroes" were rewarded with coveted goods like boots and towels.
Elsewhere, communities waged similar wars against pests such as rats and sparrows, as well as predators like bears, tigers, and leopards. Soon, excessive hunting, coupled with insufficient scientific management and ongoing environmental damage, left many wildlife species on the brink of extinction, if not extinct altogether. By 1987, there were only five or six South China tigers left in the southern province of Guangdong, for example. So it represented an important step forward when China finally published its first wildlife protection law in 1988. The country's first list of key protected animals, released the following year, made tigers and leopards first-class protected animals, with heavy penalties for poachers. But wolves were excluded, and the media continued to encourage wolf hunting, even as their packs all but disappeared from East China, surviving only in the country's less-developed western regions.
Things began to turn around in 2000, when China issued its "List of State-Protected Terrestrial Wildlife with Economic, Scientific Research, or Other Benefits." Colloquially known as the "List of Three Haves" — a reference to the three reasons given for protection — it encompassed more than 1,000 species excluded from the list of key protected animals, including wolves, who made the list for the important role they play as apex predators in controlling and regulating ecosystems. Yet the penalties for violators were far lower than for the key protected species list, and the measure fell far short of wolves' needs.
Moreover, some "harmful" species were left off both the List of Three Haves and the original key protected animals list, and these continued to be a target for state-backed eradication campaigns. For example, the plateau pika, a rodent native to the Tibetan Plateau, has long been vilified as a worthless and destructive pest whose burrows cause pastureland desertification. Working under that assumption, the northwestern province of Qinghai invested 800 million yuan (roughly $120 million) between 2005 and 2014 to wipe out its pika population. It took researchers years to convince the government that pikas are a consequence — not the cause — of degenerating pastures, and their burrows can have a positive impact on the hydrology and health of the grasslands ecosystem. Eventually, local officials agreed to scale back, though not halt, the campaign in 2014.
When the central government published a draft version of the new National List of Key Protected Wild Animals for public comment last June, the endangered Ili pikas and Helan Shan pikas — two close relatives of the plateau pika — were nominated for second-class protection, but the status of wolves and dholes remained unchanged. The updated list claimed to take into account criteria such as a species' endangered status, value, and notability. On this basis, conservationists made a final push for dholes, whose situation they say is more critical than giant pandas: Over the past 30 years, the dhole population has dwindled faster than any other large carnivore in China, according to researchers. Others argued wolves face much graver population and habitat problems than prominent protected animals like bharals and Sumatran serows.
Fortunately, their last-minute calls were heard, with wolves being added to the final list and dholes receiving upgraded protection. Not all supposedly harmful species were so lucky, however: Bats were shut out, despite pleas from experts to protect certain subspecies with rapidly falling populations.
The outbreak of COVID-19 has prompted people around the world to reflect on our relationship with wildlife, pushing us to rethink what constitutes a potential "threat." Conservationists have long called for people to keep their distance from wild animals and to avoid encroaching on their spaces, but that's becoming harder as wild animals are more entwined with our lives than ever before. The raccoon dog, recently designated as a second-class protected animal, has already adapted to life in densely populated areas. Now they roam the neighborhoods of Shanghai, sifting through trash cans in search of food.
Still, China's wildlife conservation efforts have come a long way. Starting from the idea that man can and should "conquer" nature, the country has inched closer to balancing human interests and the need to coexist with animals. The adjustments made to the country's most recent protected animals list reflect both this progress and the realities of species decline and the exigency of conservation. It's natural for humans to view some species as a threat, but ultimately, sharing this planet means abandoning our human-centered perspective.
Translator: Katherine Tse; editors: Cai Yiwen and Kilian O'Donnell; portrait artist: Zhang Zeqin.
(Header image: A wolf checks its surroundings at Nanjing Hongshan Forest Zoo in Nanjing, Jiangsu province, 2018. IC)