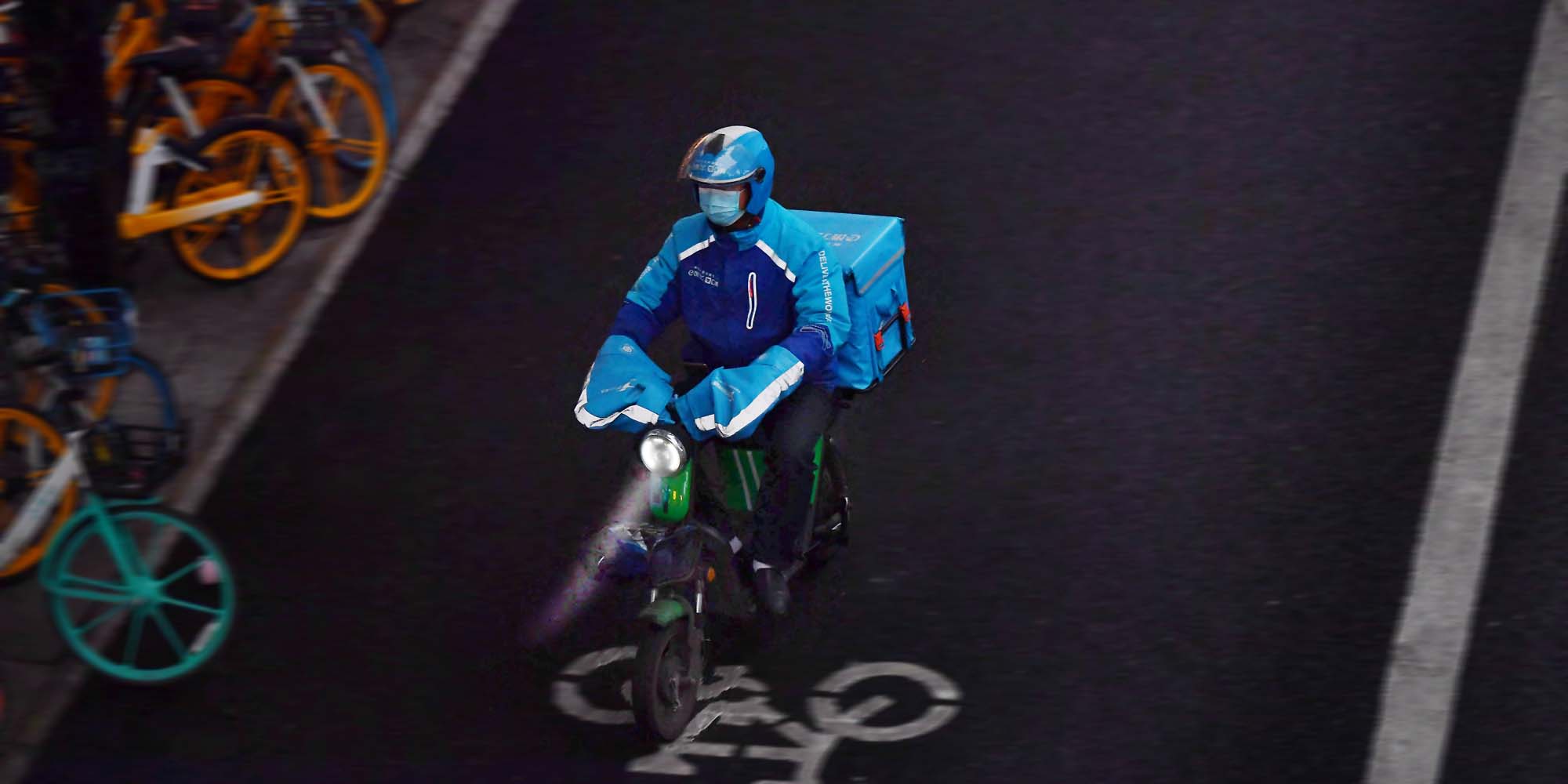 NEWS
Ele.me Delivery Drivers Decry Unreasonable Reward System
Labor conditions at one of China's biggest takeout apps are back in the spotlight.
Chinese food delivery company Ele.me, a leader in an industry criticized as exploitative, apologized Friday for a feature that promised to reward drivers who worked through the recent Spring Festival but suddenly set impossibly high delivery targets.
In line with the government's coronavirus-related directives to reduce travel during a holiday that is otherwise book-ended by urban workers moving to and from their hometowns, Ele.me had set up a rewards system to encourage delivery drivers to stay put and continue working, the company explained on microblogging platform Weibo.
Drivers could earn prizes by taking part in a 49-day "Free-Run Spring Festival Supreme Drivers Series" that began Jan. 11, the statement said. The competition is divided into seven weeklong "episodes," each with its own delivery target. The more successfully completed episodes, the bigger the potential bonus — though the company refuses to say how big.
According to Weibo users claiming to be Ele.me drivers, hitting six of seven goals means a 4,600 yuan ($710) reward. Completing all episodes is by far the biggest payday, they say, as it boosts the bonus to 8,200 yuan.
But a popular Weibo vlog post on Thursday by a delivery driver surnamed Chen pointed out how Ele.me made that goal impossible to reach.
Dressed in a blue Ele.me uniform, Chen says in the video that Beijing-based drivers were required to complete a doable 218 orders for the fourth episode. For the next one — which coincided with the start of the Lunar New Year holiday, usually a quieter time for takeout orders — the goal shot up to 380 deliveries, a figure drivers say is impossible to complete.
"Spring Festival is a holiday period. Lots of people living in the city haven't returned yet," Chen told Sixth Tone. "Plus, many businesses have not yet opened."
"We indeed made unrealistic estimates for the number of target orders in some cities and commercial areas, and we hereby sincerely apologize to our drivers," Ele.me said in its statement. "We are going to list all the regions where the order (targets) were off, add compensatory activities, and then announce them to drivers."
When reached for comment, an Ele.me spokesperson referred Sixth Tone to the company's previous statement.
Ele.me, as well as market leader Meituan, earlier faced criticism over their labor conditions after a widely read article in September laid out how the apps' algorithms create dangerous work environments, pressuring workers to drive recklessly in order to meet increasingly strict deadlines.
Last month, the death of an on-duty 43-year-old Ele.me driver incited another round of condemnation. As he was not a contracted employee, the man's family received just 2,000 yuan in compensation, which critics said underscored the precarious working conditions of the company's drivers.
But many takeout couriers say they have few other options, and that the sector has become a refuge for people who've lost other jobs. Despite his frustrations, Chen, too, said he will continue to deliver food.
"I have to live somehow — what else can I do?" he said.
Editor: Kevin Schoenmakers.
(Header image: An Ele.me courier rides his scooter through the streets of Chengdu, Sichuan province, Jan. 31, 2020. People Visual)