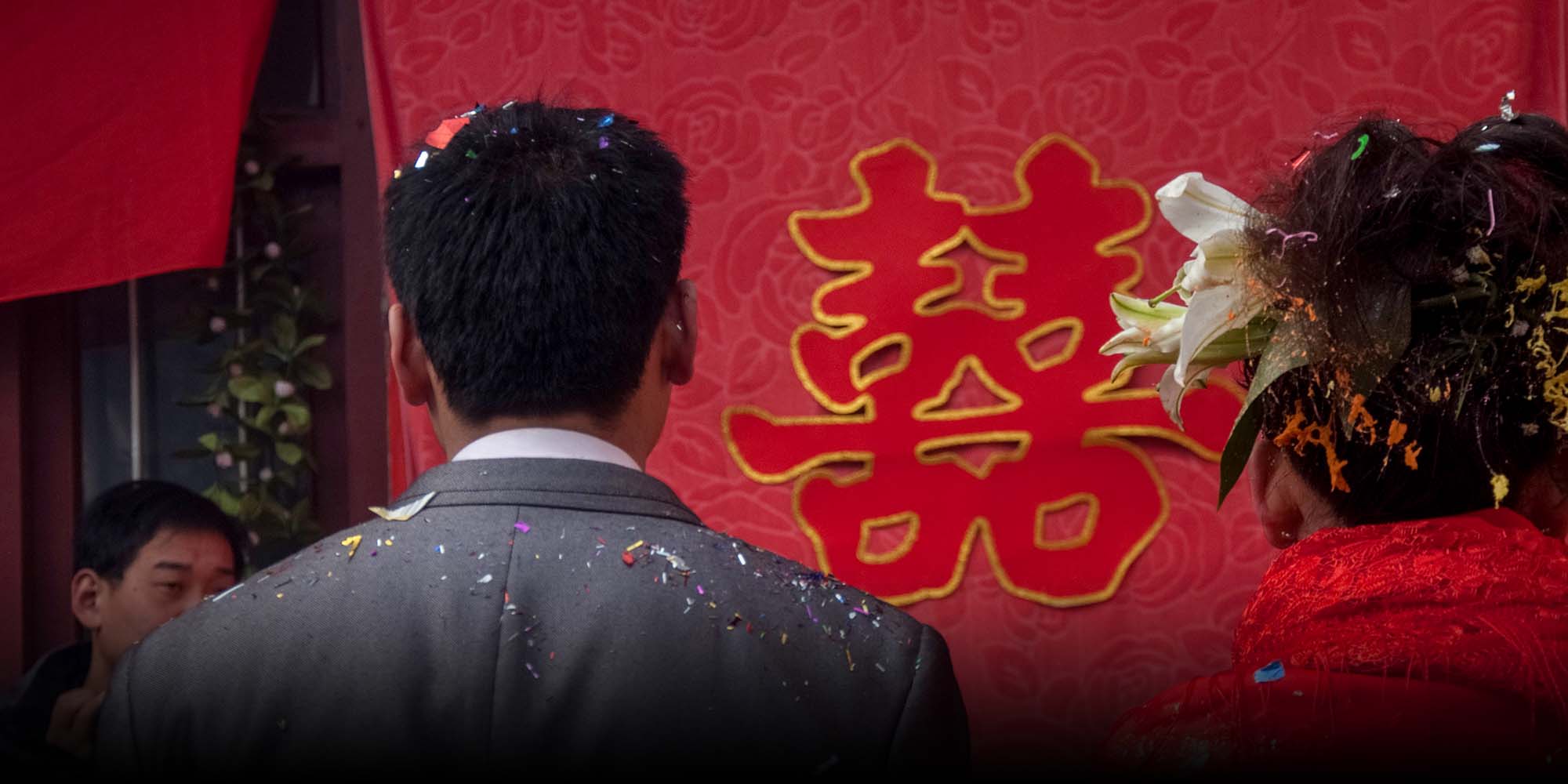 NEWS
China's Single Ladies Reject Call to Marry Rural Men
An expert's proposal to help more male villagers get hitched has been ridiculed as reductive and impractical.
Valentine's Day can be an ordeal for China's singles, many of whom face relentless pressure to marry from their families. This year, one expert has gone viral by playing an improbable Cupid, suggesting that the country's declining marriage rate could be mitigated if urban unmarried women would deign to wed rural single men.
In an article published Sunday by the state-run Xinhua News Agency, Wu Xiuming, deputy director of the Shanxi Think Tank Development Association, a nonprofit organization administered by the northern province's Academy of Social Sciences, said that because of the dual "problems" of villagers being disproportionately male and so-called leftover women living in China's big cities, urban-rural migration should be encouraged. Male villagers should receive vocational training and sent to cities, he said, while urban women shouldn't fear a more bucolic life in the countryside.
"In the long run, the most effective solution (to helping rural singles find partners) is to bridge the gap between cities and rural areas," Wu said.
The report pointed to familiar obstacles faced by single men living in the rural areas. Apart from China's decades-old problem of a skewed sex ratio, a remnant of the traditional preference for male offspring, rural men hoping to wed must be able to offer a potential spouse a home, a car, and a bride price. According to Xinhua's report, rural grooms typically shell out between 500,000 and 1 million yuan ($77,300 to $154,700) to woo a bride and her family, a custom that's leaving more cash-strapped men unmarried.
Such barriers to rural marriage haven't gone unnoticed by the authorities. In 2018, the central government vowed to set caps on bride prices in rural areas to curtail the practice, but enforcement has proved difficult.
Wu's proposal immediately incited spirited reactions online, with many netizens ridiculing its overly simplistic logic. On microblogging platform Weibo, a related hashtag had been viewed more than 320 million times by Thursday evening.
"The real root of the problem is patriarchal norms," wrote one user. "Please don't conflate marriage with breeding," she added, suggesting people shouldn't be reduced to tools for procreation.
China's growing ranks of singles — sometimes pejoratively referred to as "leftover" — have long been a source of concern among marriage-minded authorities looking to reverse the country's falling birth rate. Yet experts have said Wu's idea of yoking urban women with rural men isn't realistic.
Ban Tao, a lecturer at Anhui University's School of Sociology and Political Science, is one of them. "Marriage is inevitably competitive. When it comes to the 'love market,' the two groups in question aren't on equal ground," Ban, who has researched the transformation of China's rural families, told Sixth Tone. "We should also stop stigmatizing single people. Marriage isn't compulsory, after all."
Last week, state broadcaster CCTV's Lunar New Year gala — historically one of the most-watched television events of the year in China — drew criticism for a sketch that poked fun at unmarried women returning to their hometowns for the holidays without partners to introduce to their families, a tired but familiar trope to the country's young generation.
Editor: David Paulk.
(Header image: People Visual)