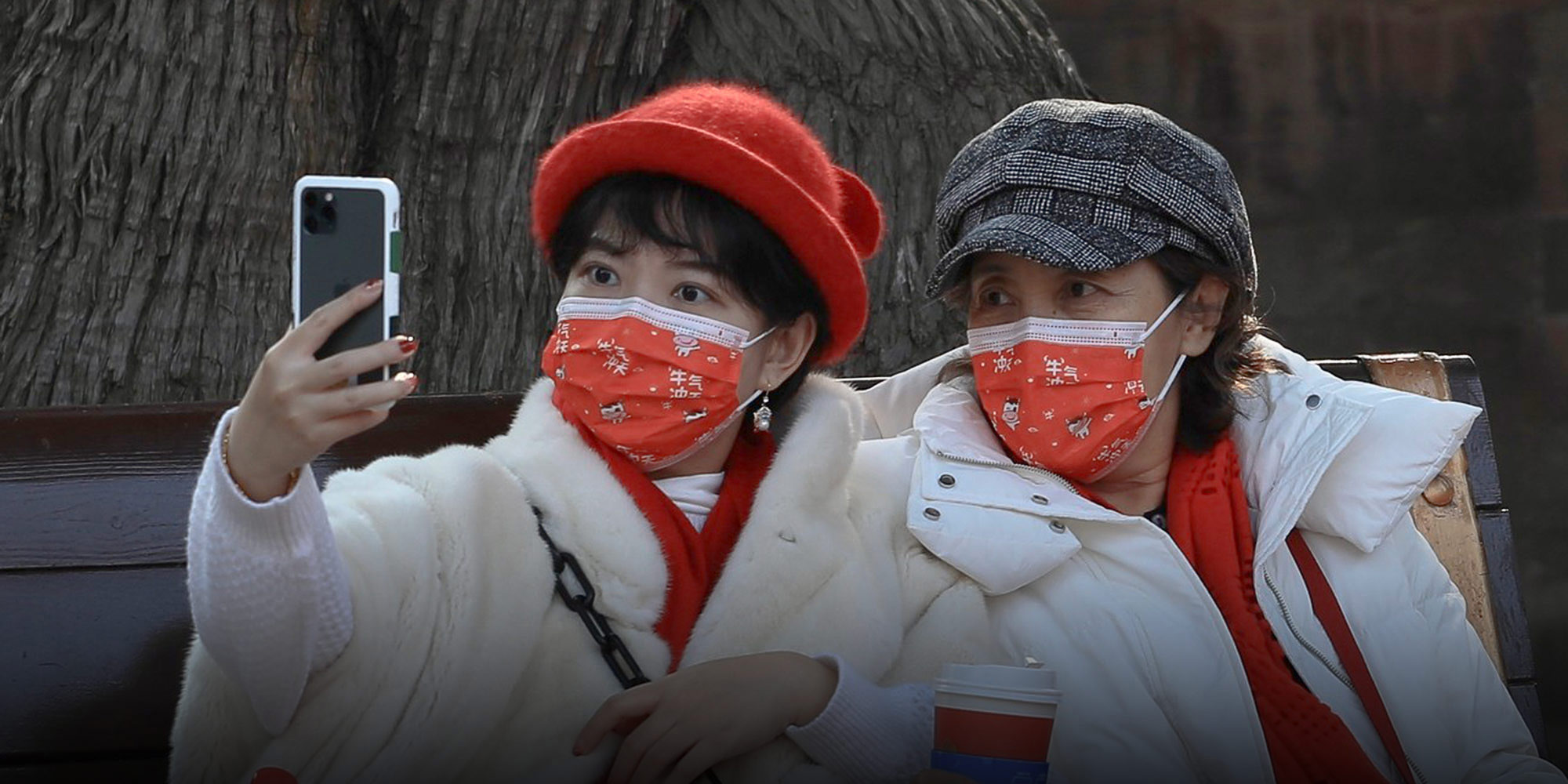 NEWS
China's Viral Holiday Face Masks Raise Health Concerns
Novelty face masks are all the rage in China this Lunar New Year holiday, but experts warn the coverings could pose a public health risk.
SHANGHAI — While watching the Spring Festival Gala — China's Lunar New Year TV variety show — last Thursday, Yang Xiaohui was captivated by one detail in particular: the colorful face masks worn by the studio audience.
"I was so tired of the plain blue masks I've been wearing for a year, so I ordered 100 of those masks with the ox pattern right away," the 27-year-old Shanghai resident told Sixth Tone.
The Gala's festive red and blue coverings — each decorated with a pair of oxen surrounded by clouds, symbolizing good fortune in the Year of the Ox — unexpectedly became the star of the show, which was watched by an estimated 1.14 billion people on Lunar New Year's Eve.
The program has fueled a nationwide fashion for brightly colored novelty masks this Lunar New Year holiday. On Chinese e-commerce platforms, stores offering "Spring Festival Gala" masks have sold tens of thousands of items. Staff at several pharmacies in Shanghai told Sixth Tone customers were visiting expressly to inquire about where they could buy similar masks.
But the trend is raising concerns among Chinese health professionals, who warn the viral face coverings often offer poor protection against COVID-19 and in some cases may even endanger the health of those wearing them.
Zhi Xiuyi, deputy head of the Beijing Health Education Assocation, said it was important for the relevant authorities to strictly supervise the quality of trendy new masks.
"We wear masks to protect ourselves against the disease," Zhi told local media Sunday. "Fashionable masks add to the atmosphere of the Spring Festival. But if they don't guarantee health, then these masks are no better than ornaments."
The same day, SAIC-GM-Wuling — a major Chinese automaker — issued a statement confirming that the masks worn by audience members during the Spring Festival Gala were manufactured by one of its subsidiaries, but the coverings aren't available for public sale. Any "Spring Festival Gala" masks sold online weren't produced by the company, it stressed.
On the e-commerce site Taobao, searches for "New Year masks" produce results for thousands of products. On promotional pages for the products, many merchants state the masks are "anti-virus" and "meet national standards."
Yet in the comments sections of several online stores, buyers had left complaints about masks being "not satisfactory" in quality and even becoming discolored.
An Yadong, a doctor at Xi'an No. 1 Hospital, said many holiday masks were too brightly colored and might fade. 
"Some people who are allergic (to the pigments used in the masks) will develop a reaction if they wear them for a long time," An told a local TV station in February. "In particular, some poor-quality dyes, if decolorized, may causes diseases is they pass into the digestive system or respiratory tract."
A customer service representative for Hunan Cofoe Medical Products — one of the companies selling Lunar New Year masks on Taobao — insisted its products were made of the same material as regular powder-blue surgical masks in a message sent to Sixth Tone Tuesday.
"The three layers of melt spray cloth can block droplets for pandemic protection and prevent blood and bodily fluids from passing through the mask to infect the wearer," the person wrote.
It remains to be seen whether the fashion for colorful face coverings continues after the national holiday comes to an end on Wednesday. Wang Ting, a 30-year-old from Shanghai, said she had purchased 100 red masks before the festival, giving away many of them to relatives as Lunar New Year gifts. But she admitted she wasn't confident about their quality, and would only wear them for the holiday celebrations.
"Masks have become necessities of life, and it's festive to wear red ones on holidays," she said.
Additional reporting: Rellie Liu; editor: Dominic Morgan.
(Header image: A mother and daughter wearing red masks take a selfie at the Palace Museum in Beijing, Feb. 21, 2021. Pu Feng/The Beijing News/IC)