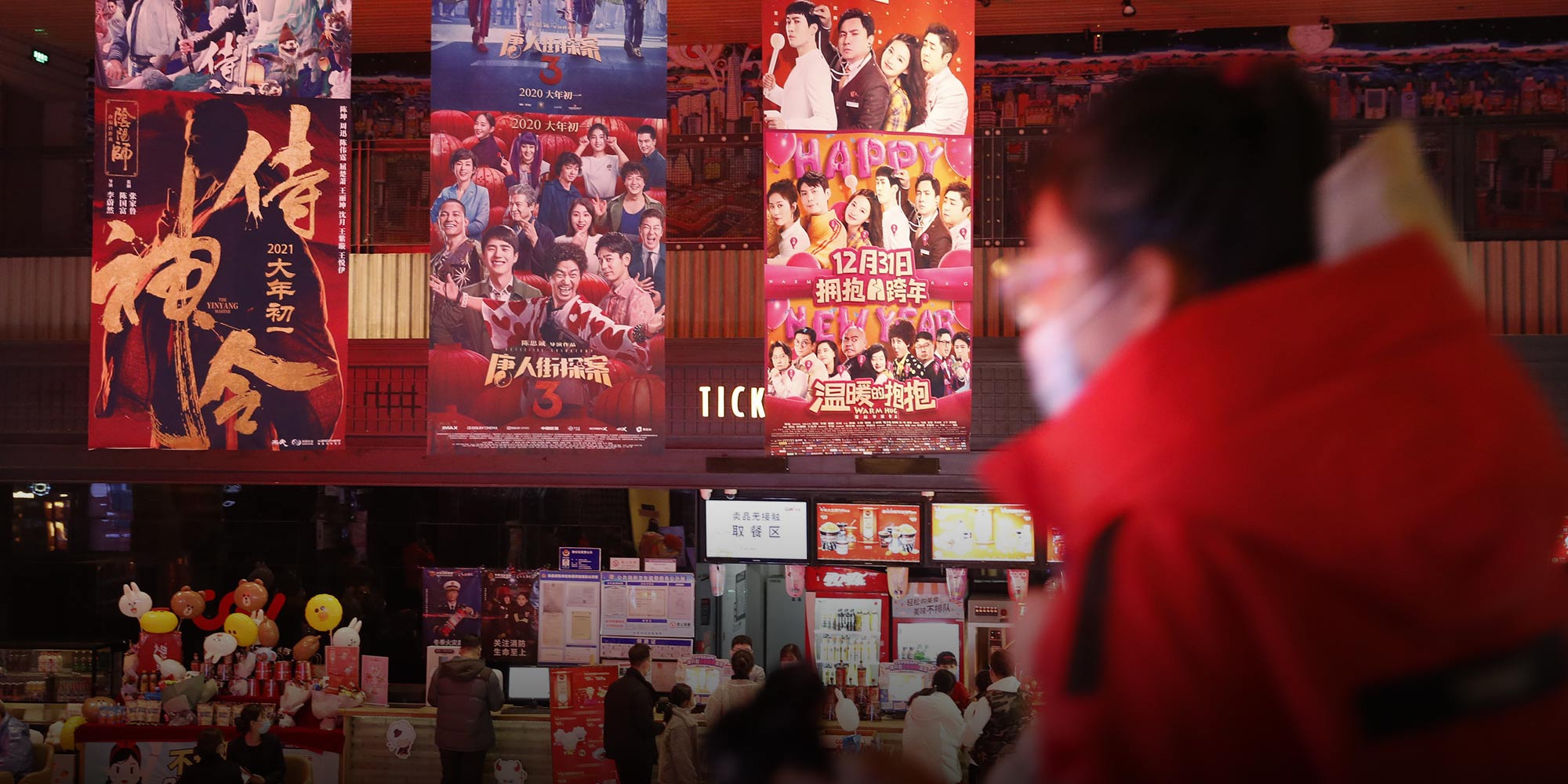 NEWS
China's Box Office Smashes Holiday Record as Crowds Pack Cinemas
With fewer Chinese traveling over the Lunar New Year due to COVID-19, the country's cinemas have raked in over 6 billion yuan in just five days.
SHANGHAI — At noon on Monday, long lines had already formed outside a movie theater in the downtown Jing'an District. Several staff stood ready to check visitors' tickets — as well as their temperatures and digital "health codes" — as they entered.
Going to the movies has become a Lunar New Year tradition in China over recent years, but the number of people visiting cinemas this holiday has been extraordinary.
China's box office for the 2021 Spring Festival has reached 6 billion yuan ($930 million) as of 9 p.m. on Monday, according to big data platform Beacon, smashing the record for a Lunar New Year holiday with two days of the festival still to go. 
The bumper revenues will provide a much-needed shot in the arm to China's ailing film industry, which saw box office revenues plunge by two-thirds last year amid lengthy movie theater shutdowns.
The Spring Festival is the most important week of the year for the industry, with studios often timing blockbuster releases to coincide with the holiday. In both 2018 and 2019, the Lunar New Year box office exceeded 5 billion yuan and accounted for nearly 10% of total takings for the whole year.
A number of factors are contributing to the record cinema attendances this year, but the most important appears to be the historically low number of people traveling over the holiday due to the COVID-19 crisis. Ahead of the Lunar New Year, Chinese authorities urged people to "celebrate in place" to prevent a surge in infections, with many local governments ordering new arrivals to provide negative nucleic acid tests and self-isolate.
The policies have left many people with more spare time than usual over the holidays, and some appear to be filling it by visiting the cinema multiple times. A Shanghai resident surnamed Ding told Sixth Tone she had already seen two of the seven new movies released this holiday and planned to see another over the next few days. 
But finding tickets at a reasonable price has become a challenge, according to Ding. Many cinemas in Shanghai have hiked prices significantly, forcing her to travel across town to find cheaper screenings.
"The theaters near me are selling tickets for around 150 yuan, but I got mine for only 60 yuan," Ding said.
An employee at the cinema in Jing'an District surnamed Lin told Sixth Tone the theater had been packed every day during the holiday. If Shanghai's virus-control measures didn't prevent movie theaters filling auditoria above 75% capacity, the number of visitors would "certainly be even higher," he added.
Another reason for the high number of visitors is that neighborhood committees in many housing complexes have been giving out cinema vouchers to non-locals who have chosen to stay in the city over Lunar New Year, according to Lin.
Real-time ticketing data showed most of the seats for all 50 screenings at Lin's theater on Monday had already sold out. Each ticket cost between 93 and 154 yuan, nearly double the usual price.
Cinemagoers have also been attracted by the release of movies that had been delayed for long periods due to the pandemic. On Friday, the opening day for several features, China's total box office exceeded 1.7 billion yuan — the highest one-day take ever recorded for a single market.
The most hotly anticipated blockbuster, action-comedy "Detective Chinatown 3," was originally scheduled to hit theaters during last year's Lunar New Year holiday. The film made over 1.5 billion yuan on Friday, its first day at the box office.
But the sequel has divided opinion, with many critics complaining about the movie's nonsensical plot. On Chinese review site Douban, "Detective Chinatown 3" currently has a rating of 5.8, far lower than its predecessors' scores of 7.7 and 6.6, respectively.
"I was able to guess the culprit from the very beginning," Ding told Sixth Tone. 
The breakout success of the holiday has been "Hi, Mom," a comedy-drama directed by the Chinese comedic actor Jia Ling that has earned over 1.7 billion yuan as of Monday evening, according to Beacon.
Telling the story of a woman struggling to cope with the loss of her mother who unexpectedly finds herself transported back in time, the movie is heavily based on Jia's own experience of grief. On Douban, "Hi, Mom" has an average rating of 8.3, with many users praising its warmth and sincerity.
"Moving, but not overly sensational," wrote one reviewer. "It's exactly the film we need this Spring Festival."
Additional reporting: Rellie Liu; editor: Dominic Morgan.
(Header image: A man walks past a row of movie posters at a cinema in Shenyang, Liaoning province, Feb. 12, 2021. Zhang Hong/IC)