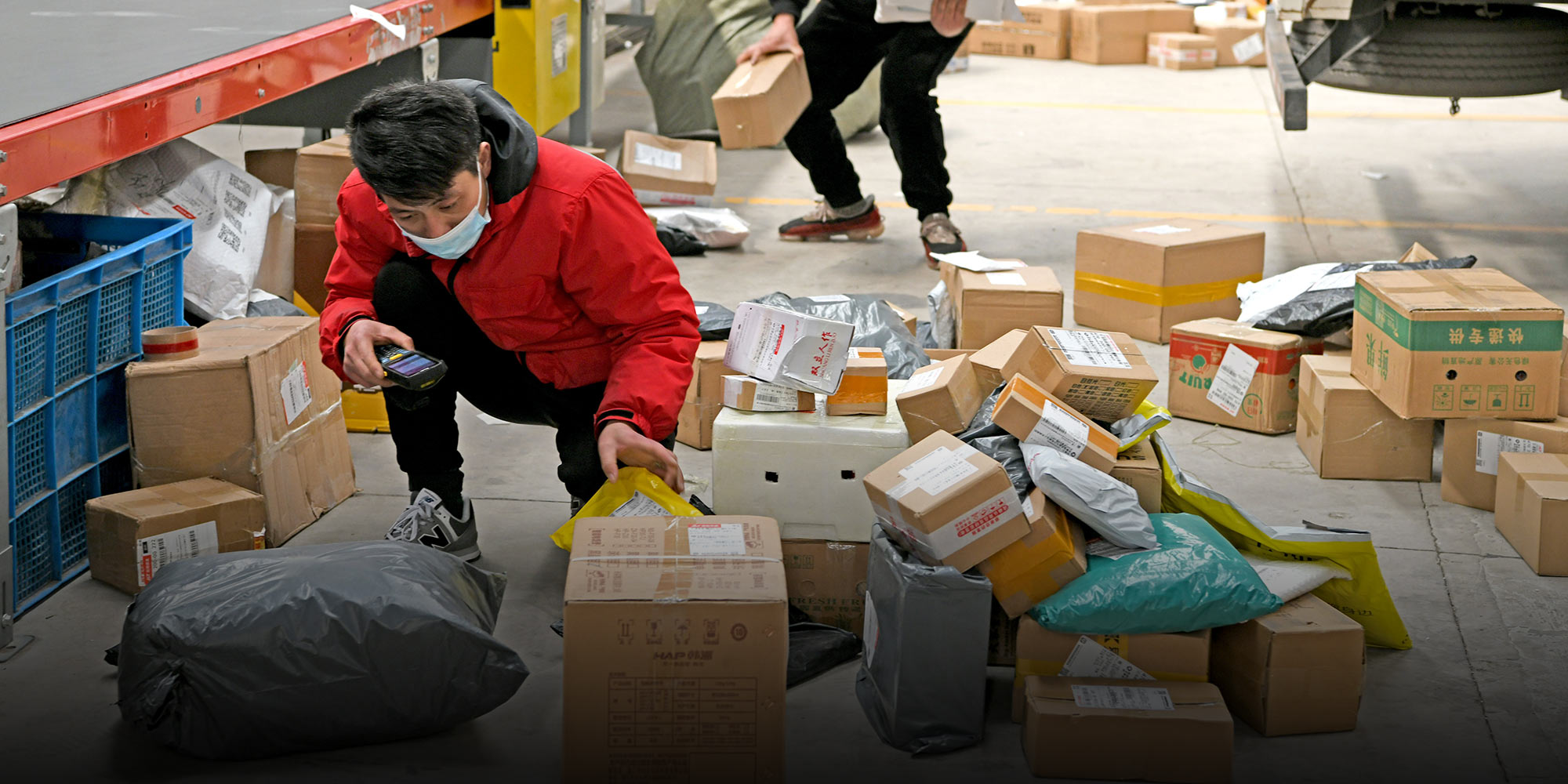 NEWS
China's Pandemic-Disrupted Holiday Has Couriers Working Overtime
With many Chinese spending the Lunar New Year at home this year, the number of holiday deliveries has shot up by over 200%.
SHANGHAI — At a sorting station in the central Jing'an District on Sunday morning, seven workers rapidly unload packages onto the concrete floor, sort them into piles, and then load the boxes into a fleet of waiting delivery vans.
The scene is an unusual sight for the Lunar New Year, when most of China's massive express delivery industry shuts down for the holiday. But this year, courier firms are not only continuing to operate in large numbers, they're also having to cope with a surge in orders from consumers spending the holidays at home due to the COVID-19 crisis.
With Chinese authorities urging people to "celebrate in place" this Spring Festival, large numbers of people have decided against going on vacation or visiting their hometowns. And many of them appear to be passing the time by shopping online.
On Thursday and Friday — Lunar New Year's Eve and the first day of the Year of the Ox — Chinese couriers delivered over 130 million items, up 223% year-over-year, according to China's State Post Bureau. The number of deliveries is expected to remain unusually high for several days, Bian Zuodong, deputy director of the bureau's market supervision department, said in a press conference Wednesday. 
"For the first week of the new year, the average daily volume is expected to be double (normal seasonal levels) at an average of around 70 million items per day," Bian said.
For Liu Tianqi, a 26-year-old accountant from Shanghai, receiving and opening packages every day has helped take her mind off the fact she's spending the holidays alone. Originally, she was hoping to visit her family in the northeastern province of Heilongjiang this week, but abandoned her plans after several northern Chinese cities experienced COVID-19 outbreaks in January.
"I've purchased a lot of goods for my parents, and they've sent me specialties from my hometown as well," she told Sixth Tone.
China has the largest e-commerce market in the world, with 83 billion packages delivered in 2020. Yet the surge in holiday demand has still placed the country's delivery workers under pressure. 
According to a survey by express delivery information platform Express 100, around 46% of China's roughly 4 million couriers have continued to work through the Spring Festival this year. Of those working overtime, nearly 80% said they'll work all seven days of the Lunar New Year holiday.
China's State Post Bureau has ordered delivery firms to reward employees working during the holiday with "red envelope" bonuses and New Year gift packages. Many couriers, however, aren't receiving higher salaries for their extra work.
In Express 100's survey, nearly 58% of couriers said their salaries would remain unchanged throughout the holiday, while just under 30% said they'd receive double or triple wages during certain periods.
Zhang Litian, a worker at a major Chinese express delivery company, said this year was the first time he'd ever stayed in Shanghai to work over the Lunar New Year rather than return to his hometown in the northern Shanxi province.
"I'm delivering about 70 packages every day, but my wage hasn't increased during the holiday," the 24-year-old told Sixth Tone Sunday.
Another challenge for couriers is that many people aren't around to sign for deliveries, because they're taking short trips during the holiday. On Saturday evening, Wang Yong, a 28-year-old courier, was making a second attempt to deliver packages to a number of residents in Baoshan, a district in northern Shanghai.
"The company has prepared a bonus and subsidies for us," said Wang, a father of two originally from the eastern Anhui province. "As the breadwinner of the family, I want to take this opportunity to earn more money."
Additional reporting: Rellie Liu; editor: Dominic Morgan.
(Header image: A delivery worker sorts packages in Huainan, Anhui province, Feb. 13, 2021. People Visual)