This story is part of a weekend column featuring translations from respected Chinese media outlets, as selected and edited by Sixth Tone. All are reproduced with the outlets' permission. A version of this article was first published in Guyu Lab.
JIANGSU, East China — Last year during the pandemic, when Nanjing's Hongshan Forest Zoo had to shut its doors, it often seemed to nevertheless have one guest: Shen Zhijun, the zoo's director. He often wandered the grounds on his own, cutting a solitary figure with his head bowed. Shen is familiar with all the sounds here — such as the calls of parrots, cranes, and pheasants on Fangniu Hill. In the afternoon, the wolves congregate to howl first, followed by the tigers roaring a few hours later. Throughout, the gibbons sing.
One of the zoo's orangutans knows Shen well. On a recent December day, the giant ape was sitting motionless on his platform 1 meter off the ground, as he often does, basking in the sun. Standing on the other side of the glass wall, Shen called his name: "Xiao Hei! Xiao Hei!" The ape turned his head, revealing a pair of symmetrical black cheek pouches, the hallmark of male orangutans. After spotting Shen, he thought for a few seconds, then slowly clambered down from his perch, walked over to the glass, and quietly sat down opposite him. Staff often see this scene as they pass by: The two of them sit opposite one another like old friends. Sometimes, Shen will make small talk with Xiao Hei, asking "Are you cold?"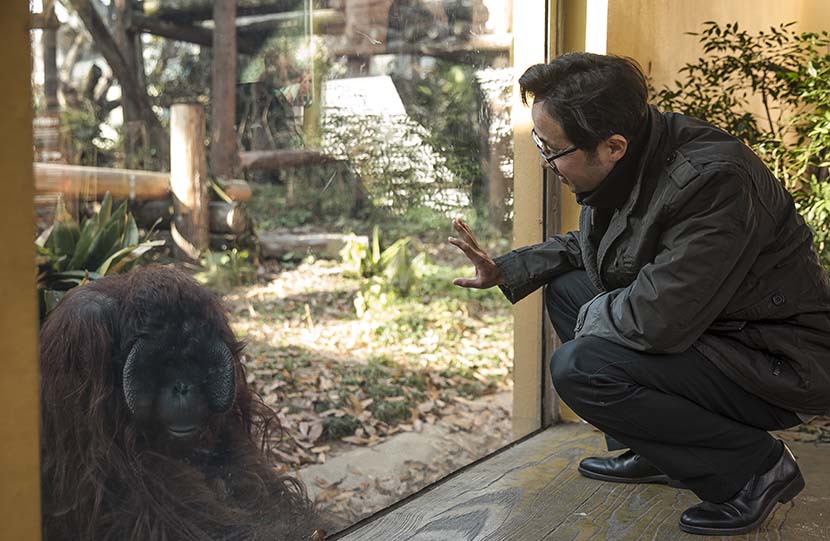 Shen Zhijun checks on an orangutan at Hongshan Forest Zoo in Nanjiang, Jiangsu province, Dec. 16, 2020. Courtesy of Guyu Lab
Hongshan covers an area of 65 hectares next to the railway station of Nanjing, the provincial capital of Jiangsu, and is home to more than 2,800 animals. Shen goes by the name "King of the Animals" on messaging app WeChat, and refers to the zoo's inhabitants — most of which he knows by name — as his "children." As if Shen were a full-time caretaker, he is sensitive to the animals' conditions. On one visit to the Elephant House, he watched for a while before pointing to one of the elephants and asking the keeper, "Hasn't she been a little grumpy lately?" According to the zookeeper, this female elephant was going through estrus at the time.
This is Shen's 13th year as the zoo's director. He is 49 years old, wears black-rimmed glasses, has gentle eyes and the air of an educated person, and doesn't put much stock in appearances. Over the past decade or so, Hongshan has transformed from relative obscurity into one of China's top zoos. In a sector where animals are still often housed in small and barren cages, Hongshan has transformed itself over the last decade with nature-like enclosures, something that was achieved in no small part due to Shen's conviction. In the words of Li Meirong, a deputy director of the zoo, Shen is a very driven person with a strong fighting spirit: "No matter how much pressure there is, he doesn't back down."
However, staff at the zoo have noticed that the past year has taken its toll on him. Liu Yuanyuan, a keeper at the Chinese Cat House, said that Shen always used to greet them with a cheerful smile. Now whenever they bump into him out and about, he doesn't much look at people. "I don't know what he's thinking, but he looks really tired," Liu says. Shen used to compose poems and post them on his WeChat Moments along with photos he took of the animals. Last year, however, he didn't post many.
When the pandemic hit in 2020 and people discovered how vulnerable the old ways of life were, the animals in big-city zoos became unsuspecting victims. A lack of visitors has meant that zoos worldwide have struggled to make ends meet. Neumünster Zoo in Germany lacked the money to buy feed and so put plans in place to euthanize some of its animals and feed them to those that remained. Meanwhile, an alpaca starved to death due to a lack of food at an indoor zoo in Changsha, a city in central China, and was discovered by staff with two arctic foxes gnawing on its body. That kind of situation is Shen's worst nightmare.
The year before, in 2019, Hongshan had gone through the traumatic experience of losing its beloved orangutan Leshen. A huge animal with thick orange hair who was born in the zoo in 1999, he was its star attraction. However, Leshen wasn't keen on big crowds. When there were lots of people, he would huddle in the corner of his enclosure, facing away from his many visitors. He knew Shen, though — the two of them were old friends. Every time Shen came by, he would climb down from his perch, saunter over to the glass and sit down. Shen never looked down at him, and would instead always crouch down. When Shen put his hand on the glass, Leshen would put his hand in the same place.
Leshen was highly intelligent and could brush his teeth, paint, and help his keepers tidy his enclosure. But after some time, he learned how to test the electric fencing with various insulating objects. On the afternoon of June 5, 2019, Leshen ripped open the electric fence using a bedsheet and escaped. After being discovered, he was anesthetized from a distance by a veterinarian. Leshen never woke up again, despite an hourslong attempt to save him.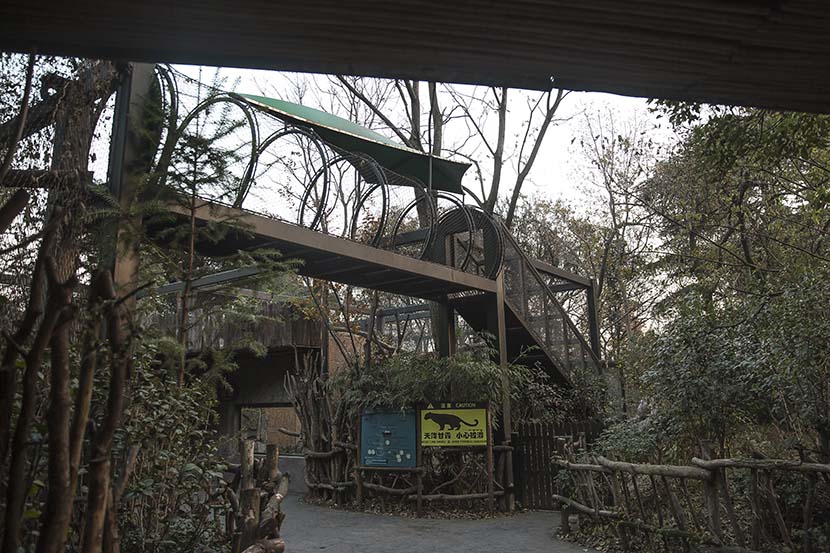 A view of Hongshan Forest Zoo on a day with few visitors, in Nanjiang, Jiangsu province, Dec. 16, 2020. Courtesy of Guyu Lab
A Trying Year
That crushing loss was soon to be eclipsed by even larger troubles. As 2020 wore on, the situation at Hongshan became evermore dire. The zoo is unique in that it is the only state-owned zoological institute in China to not also be state-funded, instead financing itself, with more than 80% of its revenue coming from entry tickets. In 2020, its income dropped by more than 30 million yuan ($4.7 million), or 40% of the previous year's income. At its lowest point, Hongshan had a little over half a million yuan in its account. Shen thought long and hard, before finally deducting employees' performance bonuses for half a year so the animals could be fed. It's a common order of priorities for him. Bai Yali, the zoo's publicity and education department head, says that most of the zoo staff's computers and office facilities haven't been updated for more than a decade.
Last year, more than 20 employees left the zoo. Near the end of 2020, some members of staff inquired via the company's WeChat group chat when they would receive the money they were owed. Shen couldn't give them an answer. At every meeting, the departments responsible for the animals, staff, and groundskeeping would talk about their funding shortfalls. Bai looked at Shen as he sat in the center of the conference room, feeling bad for him: "The thing was, no one could help him. Both the zoo's animals and its staff wanted feeding."
Shen had his hopes pinned on visitors returning in droves after the lockdown was lifted. On March 15, 2020, the day Hongshan reopened after its 51-day closure, he arrived early at one of the zoo entrances to welcome visitors, dressed formally in a brown shirt and a dark gray suit. To ensure social distancing, guardrails had been installed along the zoo's narrow paths and they had been turned into one-way streets. Security guards were also deployed at the narrow entrances to the various houses.
A red carpet was specially laid outside the gate, with local media invited to cover the event. A gale had just finished blowing in Nanjing that had cleared the air, and it was an ideal day for a day out, bright and sunny with the first cherry trees coming into blossom. The resulting scene, however, was somewhat dreary. The few visitors that trickled in that morning were senior citizens living nearby coming to do their morning exercises. Since they were over 60 years old, they didn't have to buy tickets. Hongshan had originally placed a limit of 20,000 entrants that day, but in the end only 2,247 people showed up.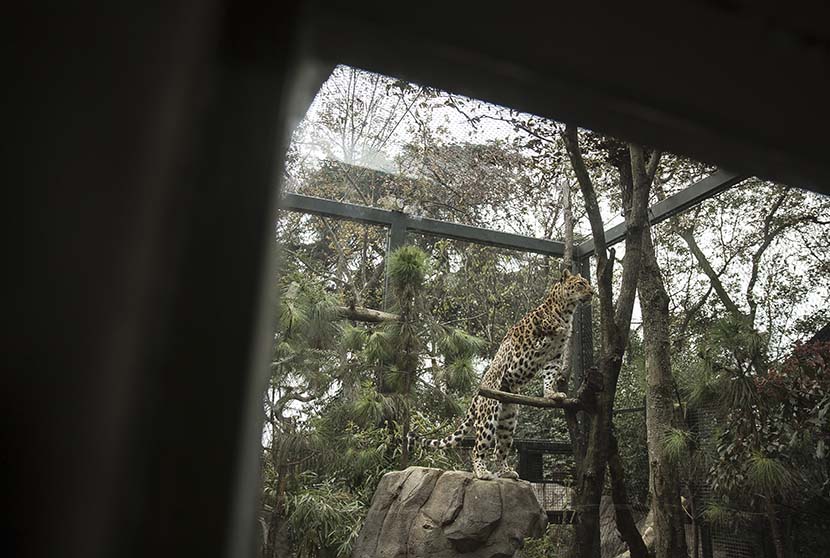 A leopard climbs onto a branch inside its enclosure at Hongshan Forest Zoo in Nanjing, Dec. 18, 2020. Courtesy of Guyu Lab
Growing the zoo's number of paying visitors had already been getting more difficult with every passing year. Over the past decade, the annual number of visitors to Hongshan increased from 870,000 to 5.6 million, but only 1.6 million of them bought tickets. The other three-quarters were admitted for free, including the elderly, children, people with disabilities, and members of the armed forces, as well as groups specially classified as vulnerable by the Nanjing government. With 8.8 million residents in Nanjing, Hongshan is already at nearly 70% saturation, with little room to grow. The entrance price of 40 yuan has also remained unchanged for 11 years, despite the exponential increase in labor costs and prices.
With disappointing visitor numbers, Shen spent the whole of 2020 visiting government departments and tourism groups which deal with Hongshan in the hope of securing bailout money. Bai says that Shen explained his fundraising progress during meetings at the zoo: "Where he'd been recently, where he'd be going next, and he'd give some materials (laying out the zoo's needs). That would then be passed on down the levels." Still, most of the time, nothing came of it.
In August, not knowing where else to turn, Shen wrote to Han Liming, the mayor of Nanjing. After initially composing his letter, he hesitated for a couple of weeks making revisions. But after hearing that Han had reposted two recent interviews Shen had done on his WeChat Moments, Shen decided to finally send his letter to the mayor. Another couple of weeks later, the city's financial leaders called him and said the zoo had been allocated 4 million yuan in emergency funds. The state-owned tourism group in charge of Hongshan later also lent an additional 3 million yuan to the zoo.
These two sums of money couldn't make up for the zoo's huge losses, but they did give Shen a little breathing space. All the back-and-forth exhausted him. "I used to have so much passion, so much leeway," he says. "Now I feel like I've run out of options." He takes off his black-rimmed glasses and dabs his eyes, looking as despairing as a soldier who had finally run out of ammunition.
It's rare for Shen to feel powerless. In 2010, local authorities presented plans to build a square to the north of the railway station on 60,000 square meters of land that was in use by Hongshan, on the promise that the zoo would be compensated with another piece of land at a later date. But when the time came to sign the paperwork regarding property ownership and usage rights, for various reasons, there was no explicit mention of any "return" in the minutes of the meeting. Shen thought long and hard before deciding not to sign — a decision he stuck to for more than three years. When his superiors came to talk to him, he wouldn't entertain what they had to say and stubbornly refused to sign.
The area under contention is a hill forest, containing a large 7,000-square-meter lake, home to more than 700 animals including golden snub-nosed monkeys, onagers, and red-crowned cranes. If, after signing away this area, the promised land didn't materialize, there would be no space for these animals. It was only in 2014, four years after the initial plans, that a city leader went to visit Hongshan. Shen explained his case as they walked along the paths together. After listening, the leader said that the land should remain part of the zoo. On hearing this, Shen shed tears.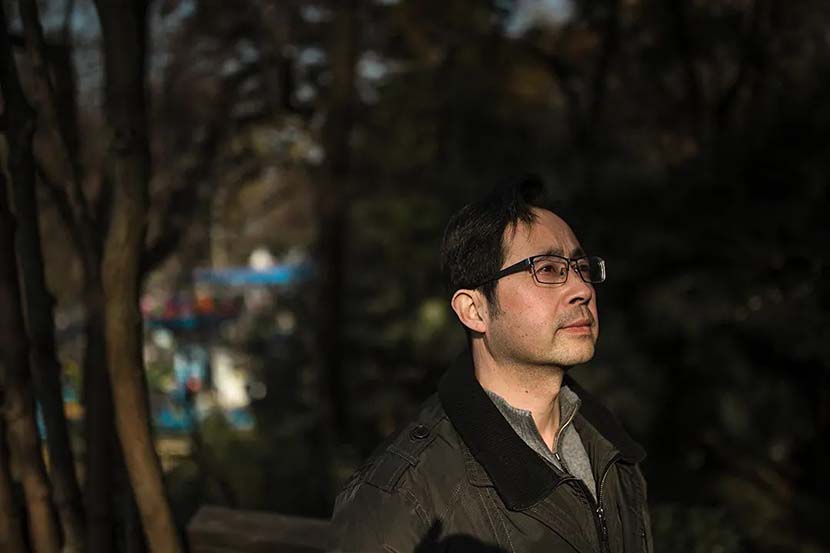 Shen Zhijun poses for a photo at Hongshan Forest Zoo in Nanjiang, Jiangsu province, 2020. Courtesy of Guyu Lab
In the past, Shen overcame difficulties with great determination, but he no longer has the confidence. Employees are also feeling the pinch. Zookeeper Liu recalls that some team managers started mentioning during meetings that they might not be able to pay salaries the following month, just so that everyone could be prepared. Shen tried to put on a brave face in front of his staff. During meetings, he told staff: "Don't worry about the money. I'm responsible for earning the money to support this family. You all just focus on taking care of the animals."
After speaking so confidently, Shen would be wracked by guilt: "They'd come to work, but couldn't get paid — that's really not fair. It's really the ideals that are keeping the staff going, allowing the animals to live healthy and dignified lives."
Beyond Concrete
In the book "Going to the Zoo is a Serious Matter," science writer and zoo-lover Hua Shi — a pen name, his real name being Chen Min — rates Hongshan as one of the best public zoos in the country. In 2018, he announced plans on social media site Weibo to spend four months visiting 56 zoos in 41 cities across China, for a forthcoming book reviewing the country's zoos. With 2 million followers on Weibo at the time, Hua's trip caught the attention of the entire industry.
In his book, Hua concludes: "Good zoos not only give visitors pleasure and knowledge, but ultimately translate those gains and insights into better behavior. These behavioral changes will reduce the pressure on the environment, making it possible for both humans and wildlife to live longer on the planet. For this reason, everyone is responsible for helping make zoos better. Going to the zoo is a serious matter!"
Most zoos in China, however, are primitive — putting animals in iron cages built on flat, concrete floors. Among this landscape, Hongshan is special, giving its animals the space and surroundings that allow them to retain their wild nature. Its wolves lie in wait at the water's edge for wild magpies to come down to drink, before leaping out and pinning them down. They dig their own dens for giving birth.
The animals in Hongshan are also afforded more privacy. Leopards are naturally timid cats, and their enclosure in Hongshan has multiple places for them to hide. In fact, visitors are sometimes only able to spot their large eyes looking out from the bushes. Hongshan also has its own ecology. In addition to housing the various animals, it has many indigenous residents, like the large gatherings of wild fireflies which appear in Bear Valley on summer nights. Occasionally, visitors can even encounter wild raccoon dogs and badgers walking around.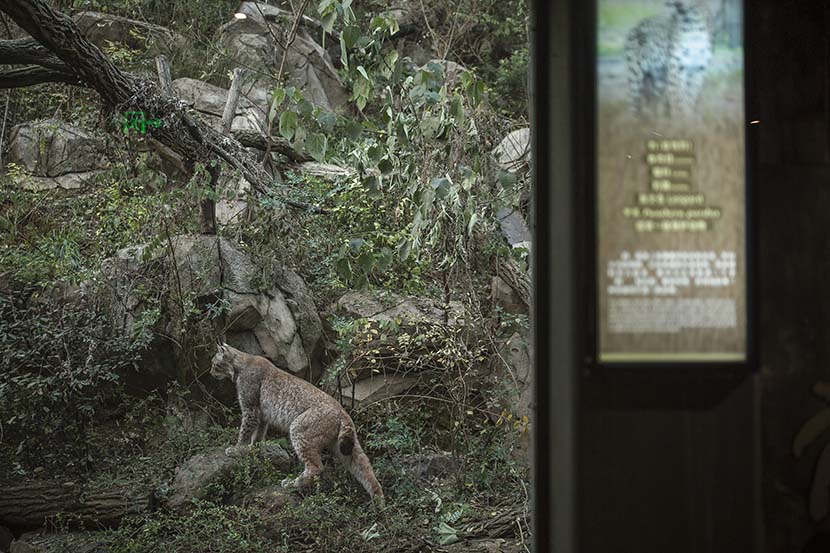 The big cat enclosures at Hongshan Forest Zoo contain hills and trees to provide the animals with a more natural environment. Courtesy of Guyu Lab
A dozen or so years ago, Hongshan was a less respectable place. Ju Li, a deputy zoo director, has been working here since it opened in 1998, and for her, Hongshan at the time was lagging behind its already unimpressive competition. When she'd go out to take part in industry exchanges, "other zoos didn't really want to have anything to do with us, since they couldn't learn anything."
When Shen arrived in 2008, many of the animals had been caged up for a long time, often pacing around sluggishly. Years later, Shen can still remember the look in the eyes of one of the wolves. It was locked up in a hexagonal cage — each of its six sides 2 meters long — and no longer looked like a predator. The wolf took one look at Shen and quickly moved away, not daring to meet his gaze.
Shen knows about the natural world's struggle for survival. Before coming to Hongshan, he was more used to working with plants, having studied horticulture at university and spending seven years planting trees on Qixia Mountain, a scenic spot in Nanjing. At first, the mountain was desolate and the soil was poor, so he and his colleagues planted colorful maples trees. They planted seeds at a site just off the mountain, then once the seedlings were the width of a finger, they carried them up the mountain and planted them one by one.
This period greatly shaped Shen's view of life. When he was working on the mountain, he tried his best not to cut down any trees, saving whatever he could. When his colleagues caught badgers and small hedgehogs, wanting to bring them back to the canteen to supplement their meals, he would persuade them to let the animals go. Another time, after stumbling across a pheasant nest while constructing a firebreak, he quietly went around it with his colleagues so as to avoid disturbing them.
Seeing the caged animals, Shen instinctively wanted to try and improve their lives. "The animals are living creatures, so we should treat them well," he says. "This was my most simple and basic idea at that time."
Su Yuan remembers first meeting Shen more than 10 years ago. Shen had travelled to Beijing to attend a national training program for zoo directors, and Su — who was already a well-known designer of zoo exhibits in China — was one of the trainers. His impression of Shen at that time was that he was young and passionate. He'd taken on a big position at a tender age and seemed raring to go.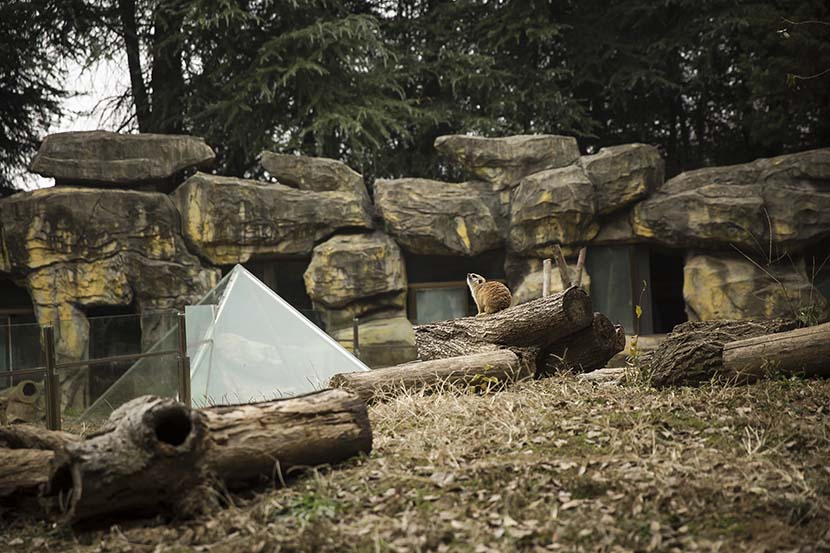 A meerkat stands on a log in Hongshan Forest Zoo in Nanjing, Dec. 18, 2020. Courtesy of Guyu Lab
During the training, Shen bombarded Su with questions about designing exhibits. Su remembers that Shen had a strong handshake: "It was a little too firm." He could sense that Shen was eager to do something.
Su, who requested a pseudonym because he works for another state-owned zoo, had visited Hongshan several times before Shen took over, and had been disappointed in almost every way. At that time, Hongshan had three hills, a topography no other Chinese zoo possessed. The exhibits could have been shaped according to the hills to provide a more natural living environment for the animals, but at the time, they were still of the concrete-and-iron variety.
Soon after arriving, Shen knew he had a challenge on his hands. He held an all-hands meeting on his first day. He could feel a certain amount of weight and distrust in the room, as they looked at this industry outsider with a range of expectations. He was an expert in planting trees and flowers, and could tell if a plant was healthy or not just by looking at the color of its leaves. But here, his old theories and methods were out of place.
Li, the deputy director, could sense Shen's urgency. Shortly after his arrival, he made a big move and initiated an enrichment competition among the keepers. Enrichment, a novel concept at that time in China, is a low-cost way of changing feeding methods for the animals, adding perches and toys to help the animals exhibit more natural behaviors.
Li had been working in Hongshan for many years, and advised Shen that it wasn't realistic for the whole zoo to carry out the test, suggesting he select a few venues first. However, Shen was insistent. "He was urgent, but also idealistic. His pursuit of perfection was pretty extreme, wanting to run in whichever direction he saw as the best," Li says.
At that time, most of the keepers at Hongshan had never undergone specialized training and relied on what their older colleagues had told them, so they couldn't complete the operations under this new concept. "First, they weren't able to accept it psychologically. Second, we didn't find the right methods. You can build climbing facilities for primates. But what about other animals? Like predators or birds? We didn't know. So, the work couldn't be implemented in the end," Li says.
Although Shen is no animal expert, he is serious and hardworking. His desk is covered with books and journals on animals. He spends much of his time visiting the zoo's enclosures, and enjoys chatting with the keepers and sharing things he has read about. Li, who has a background in animal studies, is often listening to one side. If he hears something he thinks isn't quite right but is too shy to say anything in Shen's presence, he tells the keeper what adjustments to make after Shen leaves.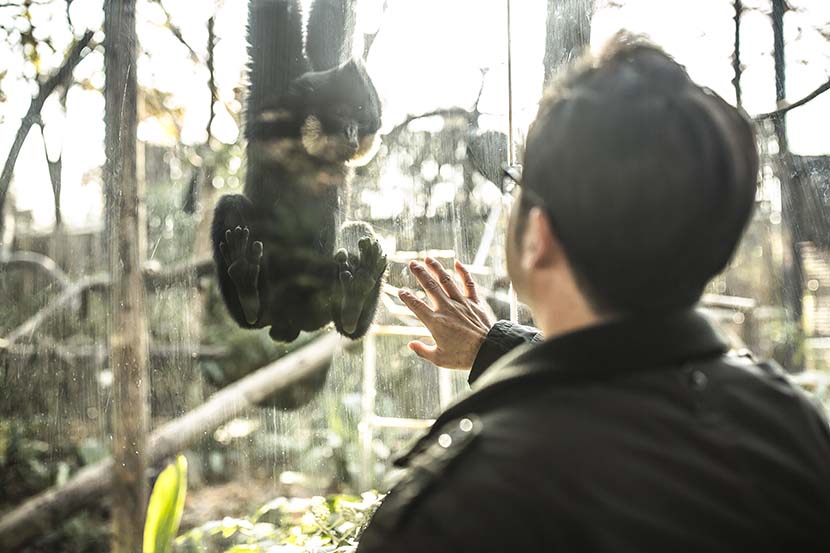 Shen Zhijun checks on the gibbons at Hongshan Forest Zoo in Nanjing, Dec. 16, 2020. Courtesy of Guyu Lab
Some Hongshan employees don't share Shen's enthusiasm for more modern zookeeping methods. Keepers complained to Shen personally, saying, "Why go to so much trouble? There's no need." One of the zoo's leaders even insinuated to Shen that he was asking the staff to do more work without upping their pay.
The enrichment drive ended in failure after 12 days. Li recalls that only a few of the venues managed to implement changes. With so few answering his call, Shen took it on himself to be the most enthusiastic. When Bai, the zoo's publicity and education department head, mentioned that orangutans like bedsheets, Shen brought his unused sheets and quilt covers from home, as well as some stuffed toys. Once, he even went to the supermarket and got a pile of carton rolls and other waste. He asked the keepers to make small holes in the rolls and put food inside them as a form of enrichment for the animals.
Once, Bai went to the old primate house and saw a small monkey locked up on its own. It was sick and sleeping in a cotton-padded jacket, but the jacket was so clean that it looked out-of-place in the old cage. When she asked the keeper who the jacket belonged to, she was told that Shen had brought it for the monkey.
Respecting Animals
From 2010 to 2012, Shen visited a lot of zoos in different countries. He was most impressed when he heard the story of the Przewalski's horses as part of the European Association of Zoos and Aquaria's Ex situ Programme (EEP). This endangered breed is the world's only remaining truly wild horse, and comes from the northwestern Chinese area where the regions Xinjiang, Gansu, and Inner Mongolia meet.
EEP workers had tried breeding the horses in captivity and releasing them onto the Xinjiang grasslands, but they all died in the first year. The staff was dismayed to discover that they had mostly starved to death. When snow covers the grassland, wild Przewalski's horses dig down to eat grass roots, but the artificially bred horses had lost this ability. In response, EEP staff set about training the horses, covering their grass feed with a layer of ice so that they could practice breaking through it with their hooves. After several years, they were reintroduced again and, thankfully, this time it was a success. At that moment, it dawned on Shen that the highest level of zoo should aspire to be like the EEP — respecting animals' true nature and protecting species. In the future, the ultimate value of a zoo should be to eventually provide animals for the wild if necessary.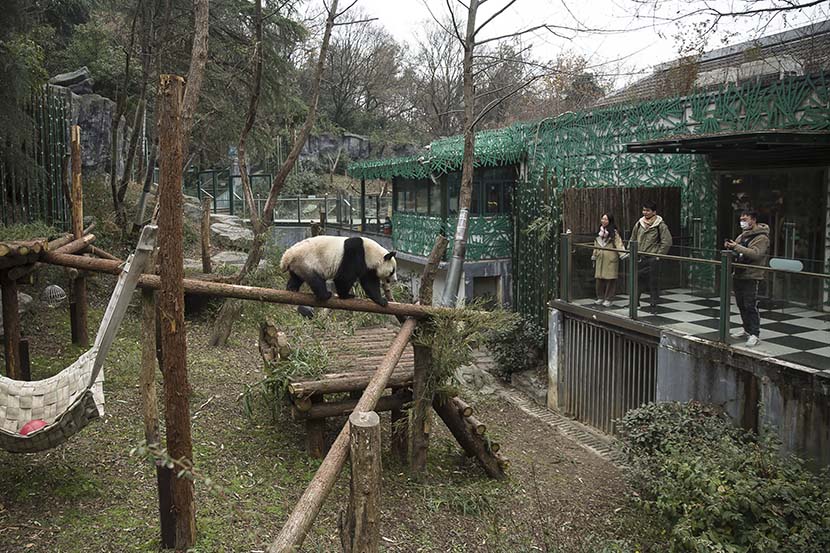 Visitors watch a panda walk around its enclosure at Hongshan Forest Zoo in Nanjing, Dec. 18, 2020. Courtesy of Guyu Lab
But in China at that time, there were two different voices. One was utilitarian, and believed that the aim of zoos should be to make money. The other took the moral high ground, arguing that zoos are inherently guilty of depriving animals of their freedom simply to provide enjoyment for humans.
Shen wanted a different kind of zoo, and so devoted all his energy to the matter. First, he canceled all animal shows. The impetus for this move came in 2011, when the Ministry of Housing and Urban Rural Development issued its "Document No. 172," which required the protection of animal welfare. For many zoos in China, however, animal shows were an important source of income, and so most places decided to wait and see how strictly the authorities would enforce the new rules.
Shen, in contrast, was eager to move forward. Some members of Hongshan's team objected to the change, arguing that the zoo would struggle to make ends meet. Li, the deputy director, recalls many meetings and a lot of resistance. No matter the opposition, Shen's attitude was clear: "Our zoo should guide the public, not simply pander to them."
Six months after the animal shows were canceled, the number of visitors did indeed fall. When tour operators heard there were no more shows, many responded by asking, "What's the point of going, then?" Shen came up with a range of ideas to try and boost income. For example, after the contract expired on one of the zoo's parking lots, he reorganized the tender, with the new tenant winning the bid for 760,000 yuan. After the old tenant lost out, he began making trouble at the bidding site, threatening Shen by saying: "Just you wait. I know where your child goes to school and where you live. I'll drop by your house for dinner."
Shen often finds himself facing skepticism over new developments in the zoo. At Hongshan, keeper Liu explains that whenever there's a conflict between the interests of humans and animals, the animals come first. Since it's cold in winter, the keepers applied for an oil-filled heater, but it took a while to get approval. "If it's something for the animals though, the process is very quick," Liu says. Some employees complain: "The animals are taken care of, but the humans aren't."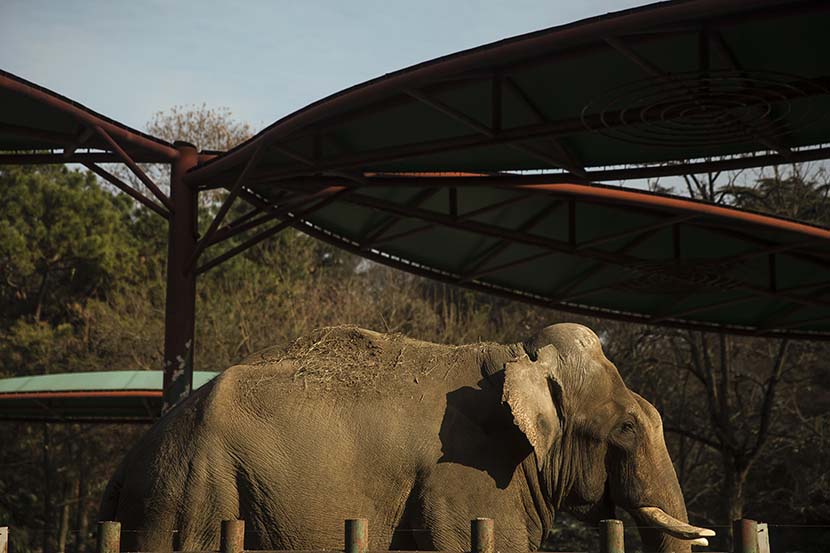 An elephant stands in its enclosure at Hongshan Forest Zoo in Nanjing, Dec. 17, 2020. Courtesy of Guyu Lab
Even Li has argued with Shen over this point. The cause was the keepers' lounge in the Asian Primate House. When the venue was first designed in 2017, it had a spacious, separate area for the keepers. But during construction, Li found that the lounge was missing: Shen had turned it into an area for gibbons and golden snub-nosed monkeys. The new lounge had been relocated to what was originally supposed to be a corridor, less than 8 square meters in size, and rather shabby. He argued with Shen, asking, "Why can't you give the staff somewhere nice? You take the animals seriously, so why not the people?"
In the cat house, too, the keepers have to make do with an area of less than 10 square meters in which to prepare the animals' food, and house their desks and computers for monitoring the animals. Shen explained to the keepers, "I only have a limited amount of money I can spend. When push comes to shove, I have to spend it on the animals."
Points of Pride
The new wolf enclosure, which opened last year, covers more than 1,000 square meters on the slopes of one of the zoo's hills. Ma Ke, one of the zoo's staff members, designed the area over three levels for the wolves. The environment is both complex and diverse, scattered with rocks, groves and circulating waterfalls and pools. Photographs taken here really give the impression that they were taken in the wild. Each viewing platform only provides visitors with a view of part of the enclosure, meaning the wolves are able to hide from the prying eyes of visitors. According to Li, zoo afficionados have praised the new wolf exhibit. However, some visitors have complained: "This wolf enclosure isn't good. Before, the wolves would run about inside and you could see them all easily. Now, when you go around a corner, you struggle to spot them."
According to Chen Yuelong, a wildlife rescue expert at Hongshan, zoo directors have to be idealists, because when a zoo truly serves and protects wildlife, they need to lead from the front, sometimes going against what casual visitors might want. Shen is just such a figure. "Someone has to go first, and then he has to deal with the pressure," Chen says. "The industry will only start creating better zoos when people realize that this is what a zoo should look like."
Shen's mission is to create a zoo that better reflects animals' true nature. In designing the Asian Primate Pavilion, Ma's aim was to create channels that would allow the gibbons and golden snub-nosed monkeys to move easily between different venues. He wondered if soft netting could be used to make the passageways lighter, with several connected in parallel allowing the monkeys to travel between each pavilion.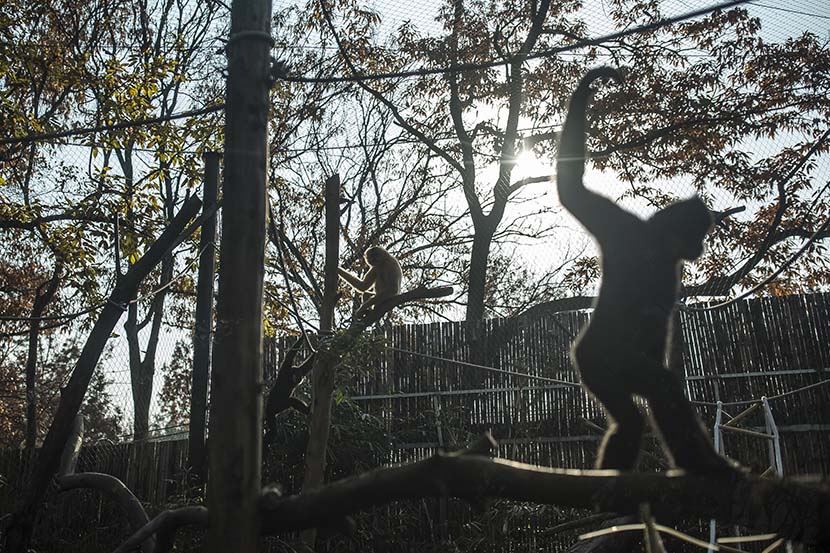 Gibbons clamber on the trees inside their enclosure at Hongshan Forest Zoo in Nanjing, Jiangsu province, Dec. 16, 2020. Courtesy of Guyu Lab
The proposal was opposed by almost everyone — only Shen supported it. When it came time to check and sign off the completed tunnels, the golden snub-nosed monkeys were the first to be released. The first monkey stuck its head inside, grasped hold of the soft netting, and then immediately rushed through it. Ma likes to think of himself as a rational person, but he confessed that at that moment, his eyes filled with tears. "It's in their nature to enjoy swinging around like this."
Li has also seen some changes. After the new cat enclosure was constructed, three Amur leopards moved in. The concrete floors and iron cages had been replaced by a hillside dotted with trees. The leopards leapt around on the hill, clearly excited that they now had trees they could climb. After watching for a long time, an old keeper who had worked with the animals for many years confided in Li: "I've been in the job for decades, but I never knew leopards could climb trees."
Shen says his personal highlight of 2020 came when he visited Shanghai Zoo in December and saw Xiao Hei's daughter, an orangutan a little over 1 year old, as small as a human baby. Within five minutes of meeting Shen, the baby orangutan was hugging him.
Translator: David Ball; editors: Ye Ruolin and Kevin Schoenmakers.
(Header image: Shen Zhijun poses for a photo at Hongshan Forest Zoo in Nanjiang, Jiangsu province, 2020. Courtesy of Guyu Lab)