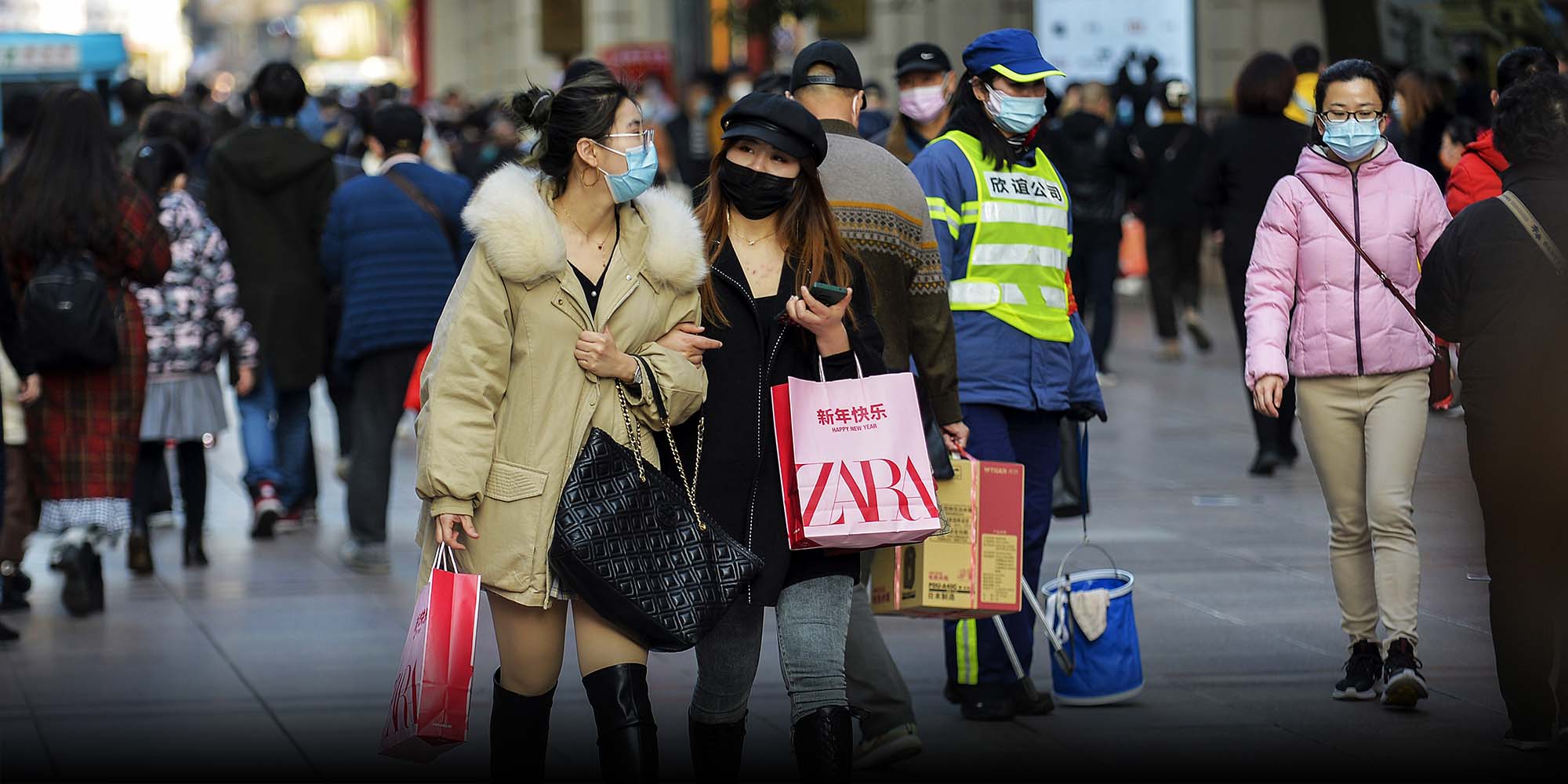 NEWS
Shanghai Normally Empties for Spring Festival. But Not This Year.
As the Lunar New Year holiday begins, the Chinese city remains surprisingly busy, with COVID-19 concerns causing many to cancel their travel plans.
SHANGHAI — On Tuesday afternoon, Zhuang Junfei's hair salon was packed with customers rushing to get their hair done ahead of the Lunar New Year on Friday.
On the surface, it was a typical festive scene: Getting a haircut is a Lunar New Year tradition in China. Zhuang and his assistant were working on three customers' hair simultaneously, to make sure everyone would get trimmed in time.
But this year, the holiday has a very different feel. Zhuang would normally be jumping on a train the next morning to head back to his home village in Xuzhou, around 600 kilometers north of Shanghai. Instead, however, he's decided to spend the Spring Festival away from his family.
"I won't go back home," the 34-year-old told Sixth Tone. "It's too much trouble for the rural areas."
Many others have made the same call. The Lunar New Year often turns China's major cities into ghost towns, as millions of non-local residents leave to visit relatives over the seven-day national holiday. But an ill-timed flare-up of COVID-19 infections has caused record numbers of people to cancel their travel plans this year.
Chinese authorities, wary of the potential for large outbreaks during the annual travel rush, have called on people to "celebrate in place." Migrants wishing to return to their hometowns have generally been ordered to obtain negative nucleic acid tests before leaving the cities and observe a health-monitoring period lasting up to 14 days after their return, during which they should avoid large gatherings.
As a result, China's Ministry of Transport expects the number of trips taken during this year's chunyun — the peak period for Spring Festival travel — to plunge to just 1.15 billion, the lowest figure since such data began being released in 2003. Rail and flight ticket prices have plunged due to low demand.
Zhuang, whose wife and 6-year-old son had already returned to the countryside before the measures came into place, said he'd spend his days off in Shanghai's southern Minhang District. Around half of his colleagues planned to do the same, he added.
"Most of the ones going back (to their hometowns) live within an hour's drive," said Zhuang. "Those whose families are in the countryside aren't going back."
The hairdressers who have stayed behind have arranged to meet up for a pot luck New Year's Eve dinner on Thursday evening, according to Zhuang. Though the situation isn't ideal, it's much better than this time last year, when Chinese cities were mostly locked down to contain the epidemic, he said.
"No matter where you celebrate the New Year, everything's OK," said Zhuang. "At least the hair salon isn't closed and not earning any income like last year."
Fifteen kilometers away in the central Changning District, convenience store owner Wang Fei also said she had no regrets about choosing to remain in the city over Lunar New Year.
"It's great that everyone is staying in Shanghai and coming to my store for their daily supplies," said Wang.
The 46-year-old, who is originally from the eastern Jiangxi province, has decided to keep her business open for the holiday, and has got her husband, son, and daughter-in-law to help serve customers. "We'll go back home when it won't cause trouble for the locals," she said.
Normally, business is very slow during Lunar New Year, but Wang said the flow of customers hadn't changed much this year. "Everyone used to go away during the Spring Festival, but this year everyone's staying in Shanghai," she said. "It's still crowded in my neighborhood."
Yet some people have decided to go ahead with their travel plans. Li Rui, a senior at a college in Shanghai, flew back to her home city of Daqing in northeastern China on Feb. 5.
Li had originally planned to fly home after her final exam on Jan. 24, but delayed her journey multiple times due to a COVID-19 outbreak in Daqing. Arriving into Daqing airport, she said she felt a little ashamed as she underwent a series of checks.
"I felt like I hadn't responded to the national call to spend the Spring Festival locally, and caused trouble for other people," Li said.
When she got home, however, Li decided it was all worth it. She's currently midway through a seven-day quarantine at home, waiting to see in the Year of the Ox with her parents, grandmother, and family cat.
"Spring Festival is all about coming home for a reunion," she said.
Editor: Dominic Morgan.
Correction: The sixth paragraph of this article has been updated to reflect the fact that some local authorities relaxed restrictions on returning migrants in the days ahead of the Spring Festival.
(Header image: Shoppers stroll along a street in Shanghai, Feb. 5, 2021. People Visual)