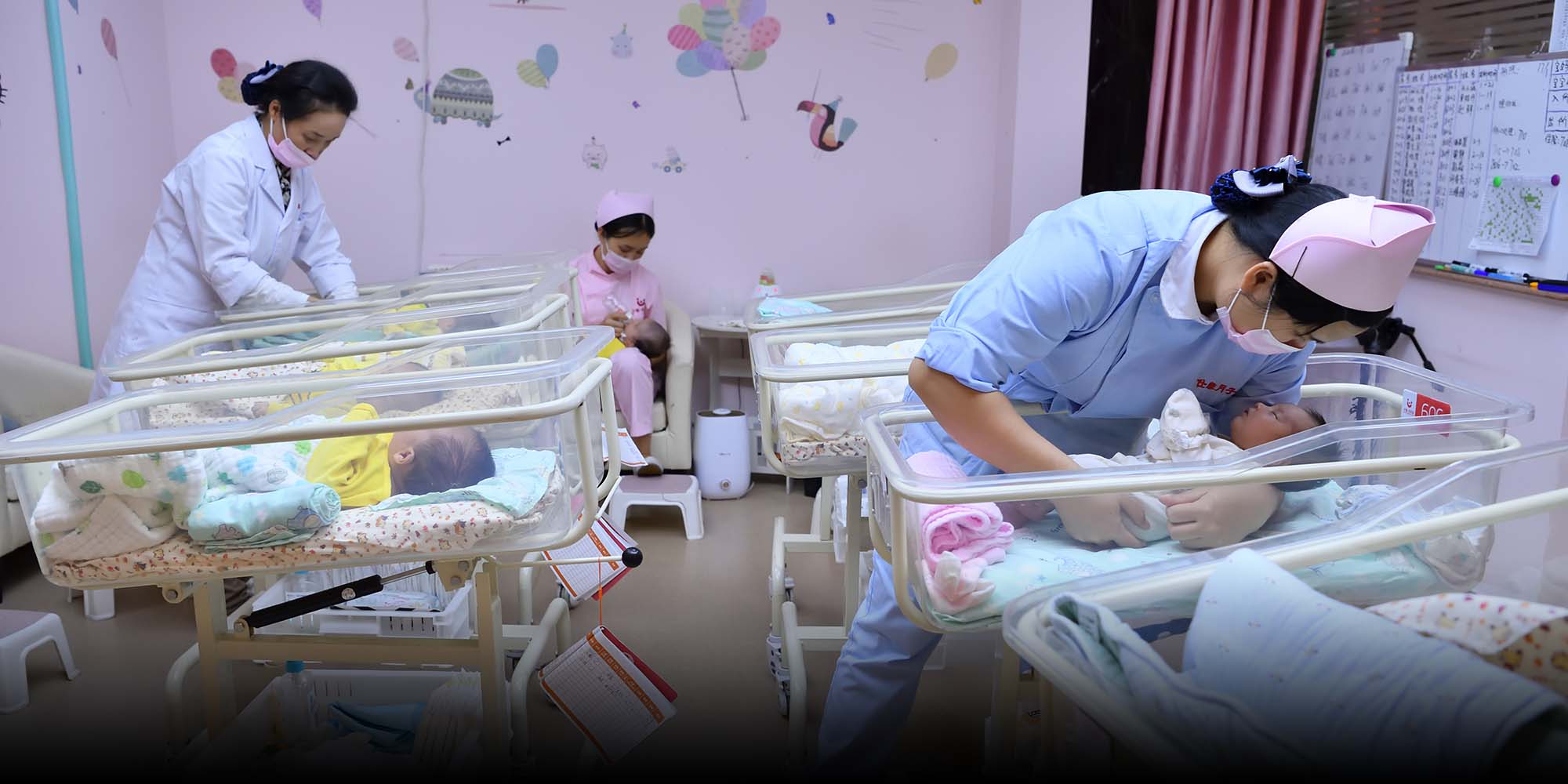 NEWS
China Didn't Get a Post-Quarantine Baby Boom, Data Suggests
Last year the country saw 15% fewer registered births than in 2019, according to the Ministry of Public Security.
Chinese authorities may have been hoping for a baby boom after last year's stay-at-home orders during the COVID-19 pandemic, but it seems they're not getting one.
According to statistics released Monday by the Ministry of Public Security, China's number of registered births in 2020 was 15% lower than the previous year, adding to fears that the country's rapidly aging population could stall the domestic economy.
Some 10.03 million newborns were registered last year, compared with 11.79 million in 2019, the ministry said. However, these figures are lower than the actual number of births, as they don't include children born in violation of China's family planning policies, who aren't eligible for hukou — the household registration system that makes them eligible for public education, social security, health care, government employment, and other social benefits.
Complete population data from the National Bureau of Statistics will be released in April, together with the results of last year's census. In the past month, several cities across China — including Guangzhou in the south, Yinchuan in the northwest, and Wenzhou and Weifang in the east — have released their own data showing birth rate drops ranging from 9% to 26%.
The new data adds fuel to population experts' concerns about an impending demographic crisis. Birth rates have been declining in China since 2016, with the country in 2019 recording its lowest birth rate — 10.5 newborns per 1,000 people — since the founding of the People's Republic over 70 years ago.
Earlier this year, the China Population and Development Research Center, a state-affiliated institute under the National Health Commission, said that beginning in 2021, the country will enter a period of negative population growth, meaning it will experience more deaths than births.
"China has fallen into a low-fertility trap," Liang Jianzhang, an economics professor at Peking University's Guanghua School of Management, wrote in an article last week. "Although the number of births in 2020 was the lowest in recent decades, it seems likely to be the highest figure for the next few decades."
The falling birth rate can be attributed to China's high housing and education costs, said Liang, who researches demographic trends. According to a 2019 report on housing prices in 50 Chinese cities, families in the southern metropolis of Shenzhen had to save for 35.2 years on average before buying a home, while the equivalent figures in Beijing and Shanghai were 25.1 years and 23.9 years, respectively.
Liang said additional measures should be taken to encourage Chinese couples to have more children, including reducing child-rearing costs, cutting taxes for and awarding subsidies to families with children, and ensuring that new fathers have equal maternity leave.
Wang Guangzhou, a researcher at the Institute of Population and Labor Economics at the Chinese Academy of Social Sciences, echoed these sentiments, telling Sixth Tone that the country must continue to eliminate obstacles to higher birth rates, such as limited access to child care and the high cost of education and child-rearing.
Editor: David Paulk.
(Header image: Nurses look after newborns in a maternity ward in Zhuhai, Guangdong province, Jan. 17, 2020. People Visual)