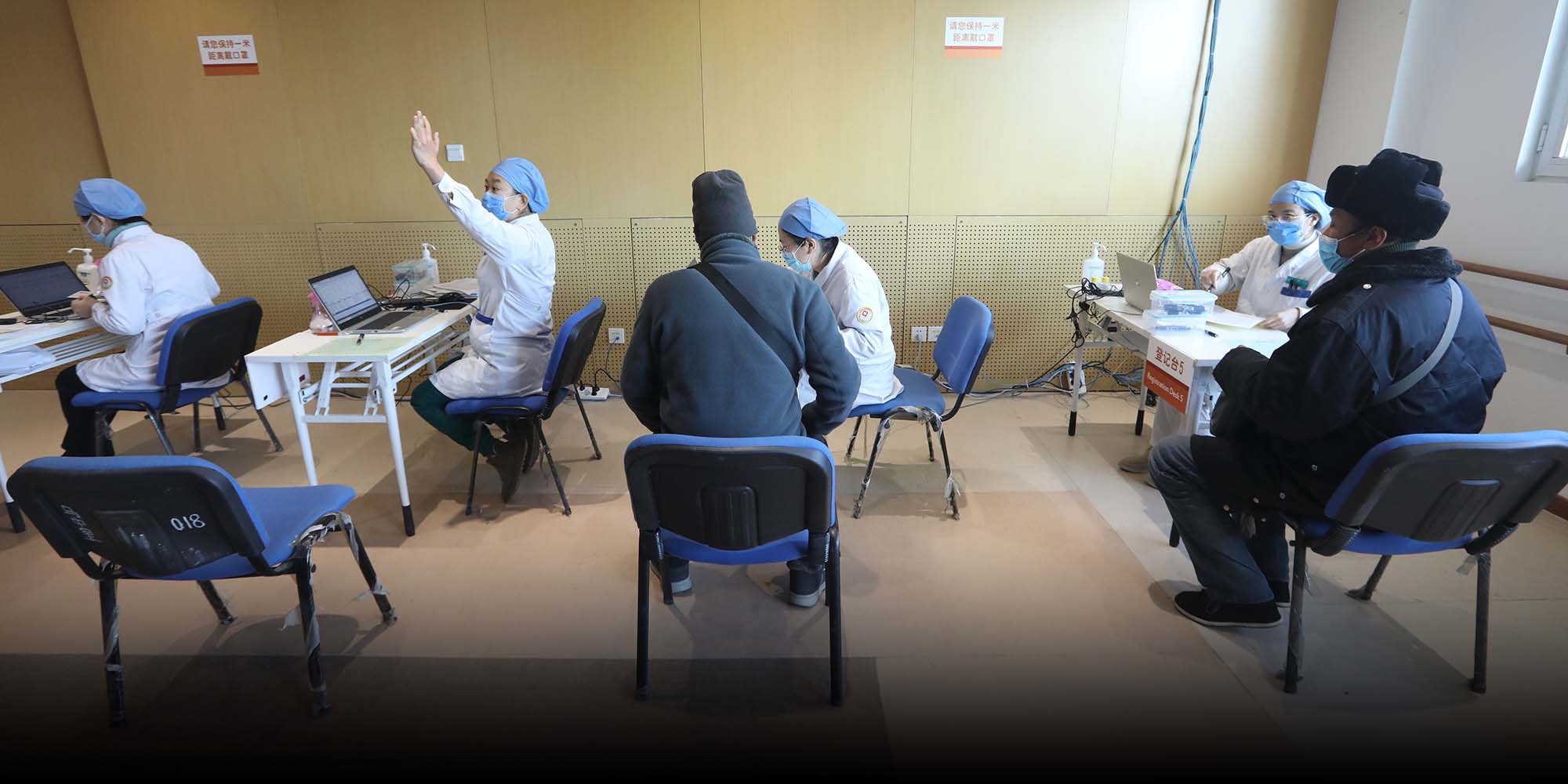 NEWS
Why China's Elderly Are Still Waiting to Get Vaccinated
Even with two domestically developed COVID-19 vaccines approved for public use, only adults under 60 are currently eligible for inoculation.
With 40 million injections administered as of Tuesday, China is in the midst of its largest-ever vaccination drive.
But the guidelines for the two domestically developed vaccines the country's drug authority approved in recent months state that only people 18 to 59 years old can sign up to be inoculated, meaning the country's elderly — the demographic most at risk of developing dangerous COVID-19 symptoms — are left in limbo.
"If there was a vaccine for me, I would sign up without hesitation," said Zhang Yiping, a 67-year-old living in the southwestern city of Kunming. "But I don't know when my turn will come."
Zhang had been enjoying her life as a retiree, traveling the world, including frequent trips to Austria, where her only daughter and two grandchildren live. But the pandemic has shaken up her retirement plans. "Without the vaccine, I have no immunity against the virus and could get sick at any time. I'm stuck," she told Sixth Tone.
Globally, COVID-19 has taken a much greater toll on the health of seniors. Data on coronavirus patients shows that the older a person is, the more likely they are to develop a severe illness and die of the complications.
"Elderly people tend to have weaker immune responses when facing an infection," Shen Yinzhong, an infectious disease expert at Shanghai Public Health Clinical Center, told Sixth Tone. "Once they fall sick from the coronavirus, (the disease) hits them hard."
This was once again borne out during the latest coronavirus flare-up in northern China, which started in mid-December and, with zero new local infections reported in recent days, appears to be nearly over. The outbreak began among people mostly over the age of 60, who also made up the bulk of cases classified as "severe" or worse. The two people who died from COVID-19 during this stretch were 68 and 87 years old.
So far, however, China has prioritized vaccinations for people in occupations that put them at higher risk of exposure to the virus, such as health care workers and customs officials. This decision makes sense, experts told Sixth Tone, given that China's outbreaks have been few, and have proved manageable in recent months — unlike many Western countries that started inoculating seniors amid high daily infection figures.
Another reason is that neither Chinese vaccine has been shown to be effective in people over 59 years old yet.
China's first COVID-19 vaccine, greenlighted by regulators on Dec. 31, is developed by state-owned company Sinopharm. With the virus mostly gone in China, the company has been testing its product in other countries including the United Arab Emirates and Morocco. However, only people between the ages of 18 and 59 were enrolled in these large-scale, or phase 3, clinical trials. Sinopharm said its vaccine is around 79% effective in preventing COVID-19 in the tested population.
"When we develop a product that's completely new, it's normal to test it on the healthiest people instead of the most vulnerable, like kids and seniors," said Shen. "Once we have a firmer grasp of how well the vaccine works, we will definitely expand it to seniors." Sinopharm did not respond to Sixth Tone's interview request by time of publication.
However, with the world facing a virus that disproportionately affects seniors, other experts say it's only reasonable to consider the most vulnerable when designing the clinical trials.
"The whole point of a vaccine is to give it to the population that bears the highest risk of infection and death," Wang Jun, a pharmacologist at the University of Arizona in the U.S., told Sixth Tone. Not including such groups means a vaccine will offer lower protection to the population as a whole, he said.
On Saturday, China approved the country's second COVID-19 vaccine for use by the general public, a shot dubbed CoronaVac that is developed by Beijing-based company Sinovac. CoronaVac was shown to be around 50% effective in preventing COVID-19 during a large-scale trial in Brazil involving some 12,000 participants. Among those, just 600 people were over 59 years old, with an average age of 65.3.
From this limited sample size, the number of inoculated participants aged 60 or older who fell ill with COVID-19 was not significantly lower than the number of sick seniors who, as part of the control group, had received a placebo: just two and three people, respectively.
In an evaluation report on CoronaVac, Brazilian health authorities said it was "not possible to determine the effectiveness" of the vaccine in people aged 60 or older.
For comparison, 42% of participants in the phase 3 trial of the Pfizer-BioNTech COVID-19 vaccine, which was the first to win approval in the U.S., were between the ages of 55 and 91. Around one-quarter of the participants in the trials of another vaccine authorized in the U.S., made by Moderna, were aged 65 or older.
Despite insufficient data, health authorities in Indonesia announced Sunday that the country would start giving CoronaVac to people over the age of 59, saying their decision was based on the trial in Brazil, as well as a smaller trial in China. The latter trial involved some 420 participants, and the result — peer-reviewed and published in the medical journal The Lancet — showed the vaccine to be safe for seniors.
In a statement sent to Sixth Tone, Sinovac said that because there is limited data on CoronaVac's effectiveness in people over 59, institutions should "take into account the recipients' health status and exposure risk when analyzing the necessity of administering the product" to the elderly.
Chinese authorities haven't said when they plan to begin vaccinating seniors. During a press conference last month, Wang Bin, an official at the National Health Commission, said the vaccine is being rolled out in an orderly way. With more data and an increased supply of vaccines, "we will expand the target group to include seniors aged 60 or over," he said.
"I hope to get the vaccine because the virus is very dangerous to us elderly. But I also have some doubts, because the virus is so new and the vaccine even more so," said Yang, a 61-year-old retiree living in southwestern city of Deyang. She told Sixth Tone that, because she had read in domestic media that vaccines developed in the West — which Yang reckons are more reliable and technologically advanced — have "many cases of side effects," she's less sure how to feel about the Chinese shots.
"I think people around my age are the most eager," Yang said. "We just retired and finally have some free time to enjoy life and take care of our grandchildren. But all of the fun stuff relies on good health."
Wang Jun, from the University of Arizona, cautioned that if China's vaccination drive doesn't start including seniors, a situation may arise where other countries are ready to lift travel bans but China still has its most vulnerable population unprotected. "We don't know if the vaccines can stop the transmission of the virus, so opening up would put them in danger," he said. "But if you keep the borders shut, it will seriously hurt the economy."
Zhang, the Kunming resident, said once she gets the vaccine and global travel is more feasible again, she plans to go to Antarctica, a dream trip that had to be canceled last year due to the pandemic.
"I have, what, 13 years until I'm 80. That'll pass in the blink of an eye," she said. "I just want to fulfill my dream and go to all the places I want to before I can't anymore."
Editor: Kevin Schoenmakers.
(Header image: Elderly people register for the COVID-19 vaccine at a medical center in Beijing, Jan. 1, 2021. People Visual)