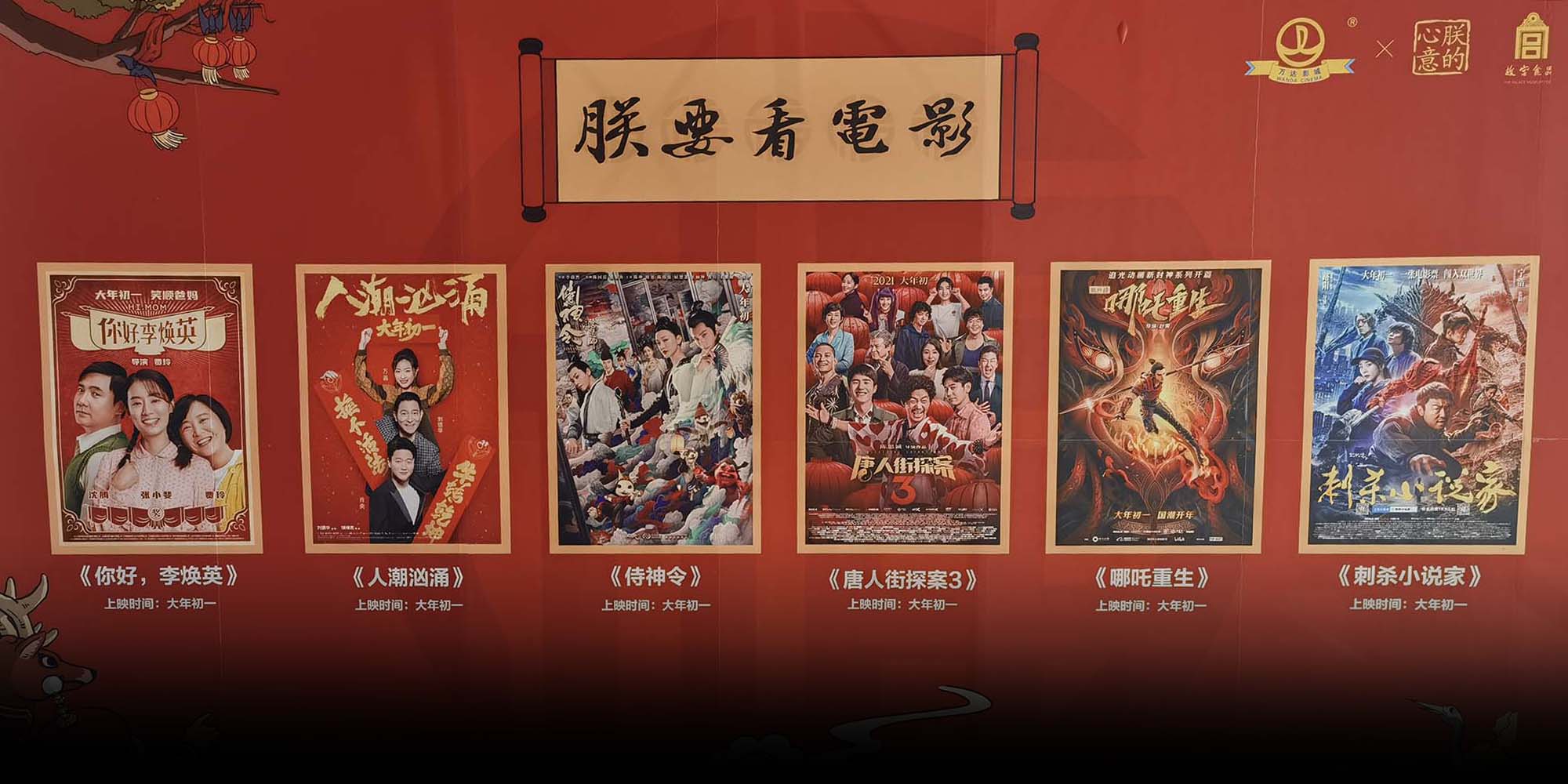 NEWS
China's Long-Suffering Film Industry Eyes Big Holiday Box Office
While urban cinemas may see booming business, those in small cities are likely to get less traffic, as fewer people are returning to their rural hometowns for the Lunar New Year because of ongoing coronavirus control measures.
China's film industry faced a devastating blow last year when all releases scheduled for the Lunar New Year holiday were postponed and theaters closed their doors to cope with the coronavirus outbreak. But business is gradually bouncing back, and forecasts for what could draw in the most box office bucks appear optimistic this year, even with some ongoing restrictions.
More than half a dozen movies from various genres are being released during the weeklong holiday that starts Thursday, with millions of moviegoers expected to crowd theaters in the coming days. As of Tuesday, movie ticket presales for the Spring Festival holiday had eclipsed 600 million yuan ($93 million), reportedly exceeding advanced bookings in 2019, before the pandemic, according to ticketing platform Maoyan.
One of the major holiday releases this year is the comedy flick "Detective Chinatown 3," which has topped advanced ticket sales and already raked in more than 400 million yuan. Originally scheduled for release during last year's holiday, the movie will now premiere Friday.
Other movies being released during the holiday include the dramedy "Hi, Mom," the action-packed dark comedy "Endgame," fantasies "A Writer's Odyssey" and "The Yin-Yang Master: Dream of Eternity," as well as animated features such as "New Gods: Nezha Reborn" and "Boonie Bears: The Wild Life."
Qian Zhijun, a marketing manager for a movie theater in Shanghai's downtown Xuhui District, told Sixth Tone that business would certainly be "much better" than last year, or even 2019, as domestic productions are getting more recognition from audiences. He said advanced bookings for many of the upcoming films indicate that business will bounce back.
"We are optimistic about the overall box office for this year's Spring Festival season," he said. "In the past, many people would return home for the holidays or go travel, so there would be a lot of reduced traffic. As many cannot make travel plans this year, movie viewing may be a good outlet for leisure and entertainment."
With authorities introducing stricter travel measures to prevent the possible spread of COVID-19 this year, many people have changed their plans to go home for annual family reunions, and will instead stay put in the cities where they're based. This could mean more interest in seeing movies, bringing in bumper box office revenues in first-tier cities.
However, although the coronavirus outbreak has been largely contained in China, both authorities and film distributors — especially in big cities — are unlikely to take any chances with massive crowds, whatever the rosy business prospects. Theaters in Shanghai will be operating at 75% capacity over the holiday period, according to Qian, while those in Beijing will reduce their capacity to 50%.
Meanwhile, industry insiders say box office revenues in some third- and fourth-tier cities, considered "sinking markets," may see dwindling business with fewer people traveling for the holidays. According to Maoyan, between 2017 and 2019, some 13% of the total box office revenue during the Spring Festival period was from holiday travelers to such cities, as young people returning to their hometowns would often go to the cinema with their families.
Li Ting, a theater manager in the eastern city of Shaoxing, told domestic media that she doesn't have high expectations for this year's box office takings, though she hopes business "won't be too far off" compared with 2019. She said the recent coronavirus clusters may deter some moviegoers from visiting theaters, and the theaters' restricted seating capacity should also reduce revenues.
Still, several people Sixth Tone spoke with said they are planning to go to the movies with family and friends as usual during the Lunar New Year holiday.
Wang Yujie, a student based in the southwestern Sichuan province, said she has been waiting to go watch "A Writer's Odyssey" with her friends. The fantasy film involves the post-production team behind the 2019 blockbuster "The Wandering Earth."
"The movie's publicity has really drawn me in," she said. "The director has a strong track record, and the casting looks good."
Cao Dandan, a graduate student in the northern city of Shijiazhuang, which recently brought its COVID-19 flare-up under control, told Sixth Tone she is most looking forward to watching "Detective Chinatown 3" and "Hi, Mom." But that may be difficult, as the city's movie theaters have yet to reopen.
"These two films are introduced as comedies, which is more suitable for the Lunar New Year vibe," the 24-year-old said. "Especially since Shijiazhuang has just endured an outbreak, we need joy to drive away the lingering haze."
Additional reporting: Chen Qi'an; editor: Bibek Bhandari.
(Header image: A billboard showing the latest releases at a movie theater in Changzhou, Jiangsu province, Feb. 7, 2021. People Visual)