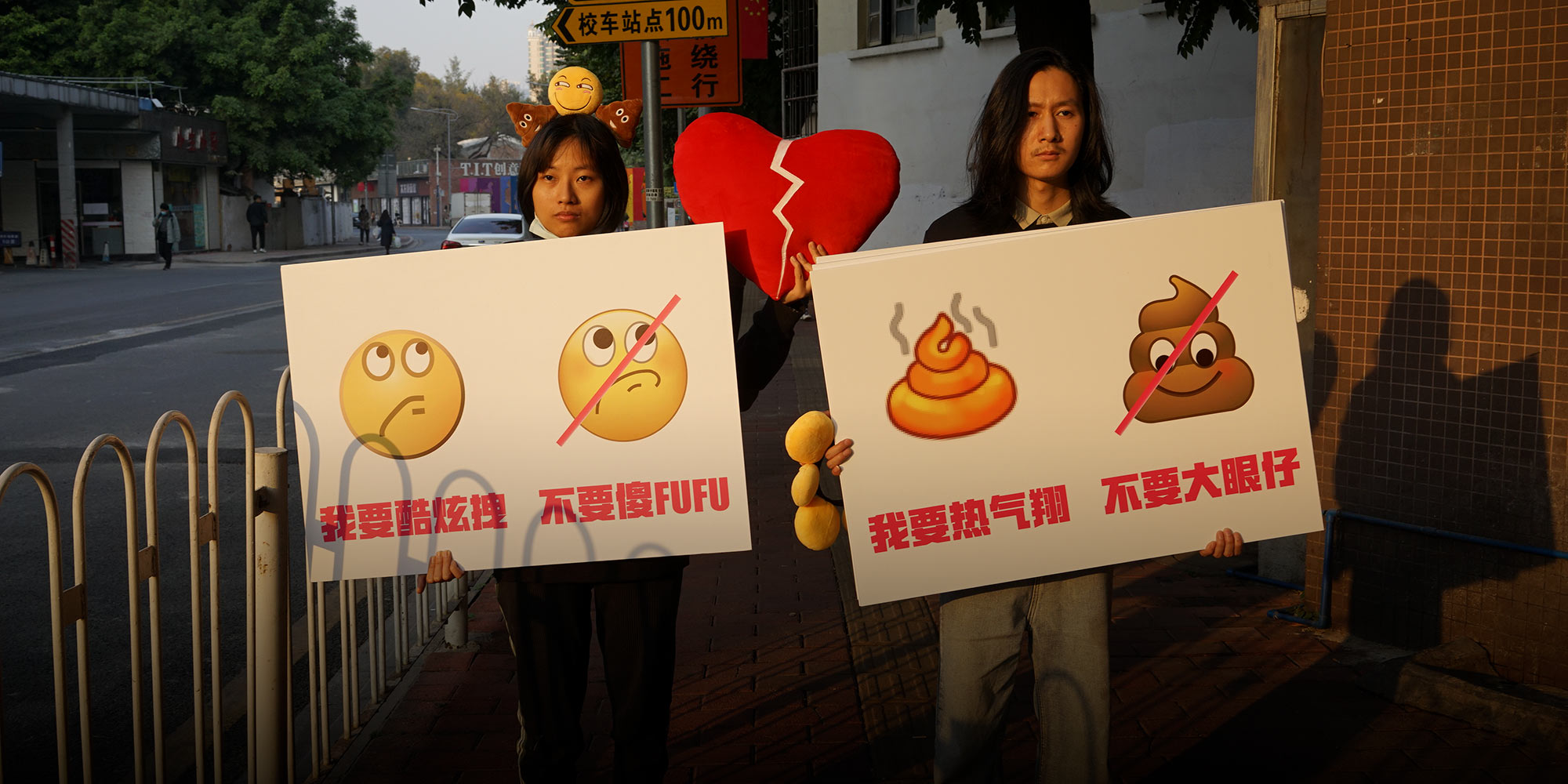 NEWS
Guangzhou Artists Protest WeChat's Emoji Makeover
They argue that users should be consulted about changes to such "communication symbols," as they're the ones determining their meaning.
WeChat, China's most widely used messaging app, has been praised for its selection of original, uniquely expressive emojis. But some once-appreciative users have been frowning recently.
For its latest software update, WeChat deviated from its usual move of adding and deleting emojis without making changes to existing ones, and gave the entire collection a makeover, prompting a wave of complaints from users — some of whom even took to the streets.
Just over a week after WeChat Version 8.0.0 was released on Jan. 21, three artists in the southern Chinese city of Guangzhou gathered outside WeChat's corporate headquarters to protest the social media platform imposing aesthetic changes on its users without consulting them.
They toted signs bearing side-by-side, old-versus-new images of select emojis, along with colorful slogans encapsulating the grievances voiced by other disappointed users of the new version.
"I want red hearts, not cement hearts," read one sign showing a broken red heart next to a dull gray one. "I want 'praying hands,' not 'give me five,'" read another.
Wang Huadong, the 36-year-old artist and writer who initiated the protest, told Sixth Tone that, after the WeChat app on his phone auto-updated on Jan. 28, he noticed some of his friends were similarly disappointed with the new emojis and decided to take action.
"Some familiar emojis had disappeared, and it had this cutesy, clumsy new design," Wang said. "But there didn't seem to be much discussion about these changes."
Holding their signs high, Wang and two others marched around the plaza in front of WeChat's office, striking up conversations with curious bystanders.
"For a large proportion of Chinese society today, WeChat is as essential as a city's foundational infrastructure, similar to city signs and traffic signals," he said. "The set of default emojis had already established a solid base among the app's users."
For Wang and his friends, physical protests are a means of breaking free from the online environments that major platforms — including WeChat — exercise considerable control over, and are thus a more effective way of starting a dialogue. "I believe conversations about these changes must happen in real life before they're propagated online," he said.
Upon approaching the entrance to WeChat's headquarters, however, the artists were told that the company's emoji designer was not in.
As someone who has paid close attention to the developments and shifts in public symbols, Wang in early February wrote an article published on the WeChat arts and culture account Dominoart, arguing that, for "large-scale communication tools such as WeChat, the meaning of expressive symbols is defined by both the developer and the long-term user" — more so by the latter, actually. In light of this, the developer should not wield complete control over how these symbols are modified, he said.
Wang invokes WeChat's "hands touching" emoji to illustrate his point. Commonly used as an expression of prayer or thanks, in the latest version, the icon looks more like two people high-fiving due to the flatter position of the hands. According to Wang, this is but one example of the developers forcing their beliefs on users, irrespective of the users' own interpretations.
"They don't believe the public, the users, have the right to determine things for themselves," Wang said. "For them, this is just another iteration of a product. But for the users, it's a deprivation of their rights."
WeChat did not immediately respond to Sixth Tone's request for comment.
Referencing another article published on his own WeChat account, Wang siad the new emoji scheme was akin to China's transition to online grocery shopping, whereby consumers lose the chance to hand-select their produce. "Whether something is chosen for me or by me is of critical significance," he said. "It directly affects my sense of control over my own life."
Wang says he's not concerned about the design of the new emojis, but rather the lack of effective discourse around the issue.
"When every little change at the societal level is able to spark controversial discussions, that's a sign that the public is mature and sensitive enough to exercise control," he said. "Otherwise, no matter how great our economy is, there's still constant anxiety about the 'wheel of progress' some day running us over."
In hopes that his actions can serve as springboards for further discussions, Wang says he plans to continue his "protest" through other artistic means, such as building statues of some of the disappeared emojis.
Editor: David Paulk.
(Header image: Artists pose for a photo with posters showing the changed emojis in Guangzhou, Guangdong province, Jan. 30, 2021. Courtesy of Wang Huadong)