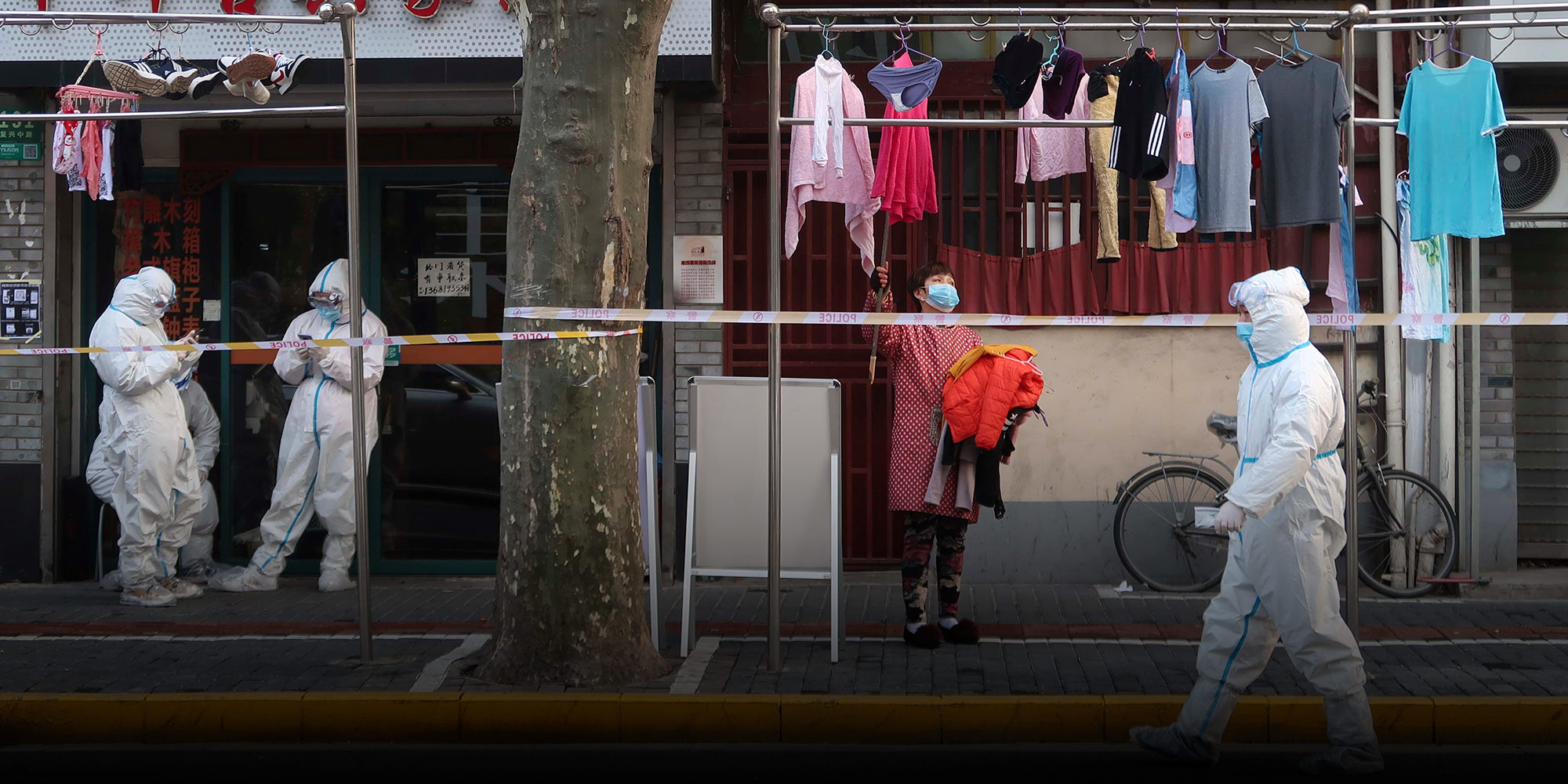 VOICES & OPINION
On the Trail of COVID-19 in Shanghai
The author, one of Shanghai's top contact tracers, gives an inside look at what it's like to chase after the coronavirus in China's largest city.
It was a fine Wednesday afternoon in mid-January when I got the call: A worker at a hospital in downtown Shanghai had tested positive for COVID-19. So much for the workshop I was supposed to lead. I quickly shoved my stuff back into my bag, hopped on a shared bike, and raced back to my office.
Prior to Jan. 20, it had been two months since Shanghai reported a locally transmitted case of the coronavirus disease. The last cluster, in November, was brought under control after just seven infections. But past performance is no guarantee of future results. This new case meant a whole new battle, even if the opponent was the same.
My name is Pan Hao, and I've been a communicable disease investigator for more than two decades, first in the eastern province of Jiangsu, then, since 2008, in Shanghai. For most of the first 22 of those years, it was pretty anonymous work. Before the pandemic, most people had no idea my profession even existed. But that doesn't mean my team and I weren't busy: We conducted routine contact tracing and epidemiologic investigative work on a wide variety of outbreaks over the years, from influenza and hand, foot, and mouth disease to shigellosis and E. coli infections.
Now, everyone knows about the "contact tracers": the hazmat suit-clad men and women tasked with tracking down the source of each outbreak around the country, even if it means prying into residents' private lives. The truth is, however, our work really hasn't changed much from before the pandemic. We just shifted our focus to a new pathogen — and the public shifted its focus to us.
Detective Work
I like to think of my job as similar to a police detective's — they solve crimes, we solve outbreaks. Both of us need to identify and locate everyone who might be involved in an event, reconstruct what happened in detail, and protect the public by getting a killer off the streets. Maybe I'm biased, but if anything, I'd say contact tracing is even harder than cracking a murder case. In the latter, you're only after a handful of people, at most. We need to track down dozens, if not hundreds of people for each confirmed case.
That requires a lot of patience. Early last spring, when China's COVID-19 epidemic was at its peak, my colleagues and I were assigned to find the source of two community clusters in separate districts on opposite ends of the city. Although we quickly worked out how the virus was spread within each community, we spent weeks — a long time in a crisis — trying and failing to figure out how the first patient in each cluster got sick. In both clusters, our tentative patient zero was elderly, and neither could give a clear account of their activities in the days leading up to their diagnosis.
It was agony. We had no leads, and our bosses were pressuring us every day to wrap up the investigations. Finally, we caught a break at a routine conference that brought all the city's investigators together. Putting the two clusters side-by-side for the first time, we realized that both patients had been in the same place. It turns out that, although they lived in completely different areas, they knew each other, and one had given the virus to the other.
But that still didn't answer the question of how the first patient contracted the disease.
It would take another week, and countless phone calls to him, his family, and over 100 other people, before one of my colleagues was able to follow up on a clue that the man enjoyed swimming. We quickly discovered that the pool he frequented had been visited by another person who later tested positive for COVID-19. This patient's disease was traced to a friend, and that case was traced to another cluster in a neighboring province.
Only then could we declare the case closed.
Like 'Trapping Rats in a Porcelain Shop'
So far, 21 COVID-19 cases have been confirmed in Shanghai during this latest outbreak — three times as many as in November. This time, the cases have been concentrated in the city center, just a few blocks away from one of the city's most popular shopping and dining districts. And the residential area where the cluster was identified was an older neighborhood, sliced through by many narrow and twisted alleyways, making contact tracing efforts that much more difficult.
But the real challenge facing contact tracers isn't whether or not we can trace the source of the outbreak — we can. It's whether we can do it without putting a city of more than 24 million under lockdown. As Zhang Wenhong, an infectious disease expert at Shanghai's Huashan Hospital and one of the public faces of China's anti-epidemic work, put it: It's like trying to trap rats in a porcelain shop. We can't let the rats run wild, but breaking everything while trying to catch them is hardly a solution, either.
In this sense, Shanghai's COVID-19 control efforts are actually quite relaxed compared with most of the rest of China. The typical COVID-19 playbook used in much of the country has been to immediately order citywide testing and shut down entire neighborhoods, districts, or even cities for outbreaks of just a few cases. For example, it's almost a standard practice in many cities to lock down any building a confirmed patient has visited in the past 14 days and to quarantine everyone in the vicinity. That strategy can be effective, in its own blunt sort of way, but applying it to China's largest city and financial center is not ideal. Our goal is to instead try gathering as much reliable information as we can about a patient's movements, then use that to target quarantines precisely, so they only affect the people who are actually at risk.
That means it's not enough to know that a patient may have visited a particular building: We need to know exactly when they entered, which floor they went to, and who they met before we can identify who needs to be quarantined. The rest of the building's visitors, who likely had no contact with the carrier, can go on with their lives.
So, every time we identify a new patient, we need to ask them to recount precisely where they went every day, how long they spent there, what they touched, who they met, whether they were wearing a face mask, and whether they practiced social distancing. We use that information to identify which of their close contacts may be at risk of getting infected, then repeat the process for these individuals, their contacts, and so on.
Of course, not many people can remember precisely what they did 14 days ago off the top of their heads. For younger people, who do everything through their phones, my colleagues and I can ask them to check their digital receipts and other info. Older people are harder. Some have poor memories, so we have to talk to their family members, and we have to follow up with them repeatedly.
In general, most of the people we deal with are fundamentally decent. But even some who wouldn't normally lie might refuse to reveal their contact and activity history, especially if they think what they would say could break apart a family or get them into legal trouble. In these cases, I can't push them too far. All we can do is try alternative approaches, such as asking the police department for surveillance videos. Sometimes we'll stare at those videos for hours, looking for clues until our eyes turn red.
Every Move You Make
When China's coronavirus outbreak first began to spin out of control early last year, I wasn't surprised. During my 30-year career in infectious disease control, I've witnessed more outbreaks than I can count, some involving diseases even deadlier than COVID-19. I'm used to them.
But I do hope that, in light of the damage done by COVID-19, the authorities will recognize the vital role public health workers play in protecting and shielding our cities from disease. All too often, we're trapped in a kind of Catch-22: The better we do our jobs, the more it looks like we're not doing anything at all.
That low profile typically doesn't spell big budgets. Over the years, low pay and lack of recognition has cost the public health sector a lot of talented workers. Many of my own former colleagues have gone to work at higher-paying private hospitals, for example.

Still, in a way I miss our anonymity. Now, when we knock on people's doors, we come covered from head to toe in protective equipment. No one wants to see that. I would much rather be an invisible man, guarding the city quietly. In an ideal world, residents wouldn't need to know anything about us, only that there are people out there watching over them, keeping them safe.
As told to Sixth Tone's Ye Ruolin.
Editors: Wu Haiyun and Kilian O'Donnell; portrait artist: Zhang Zeqin.
(Header image: Workers outside a Shanghai neighborhood with one confirmed case, Jan. 27, 2021. Wang Rongjiang/People Visual)