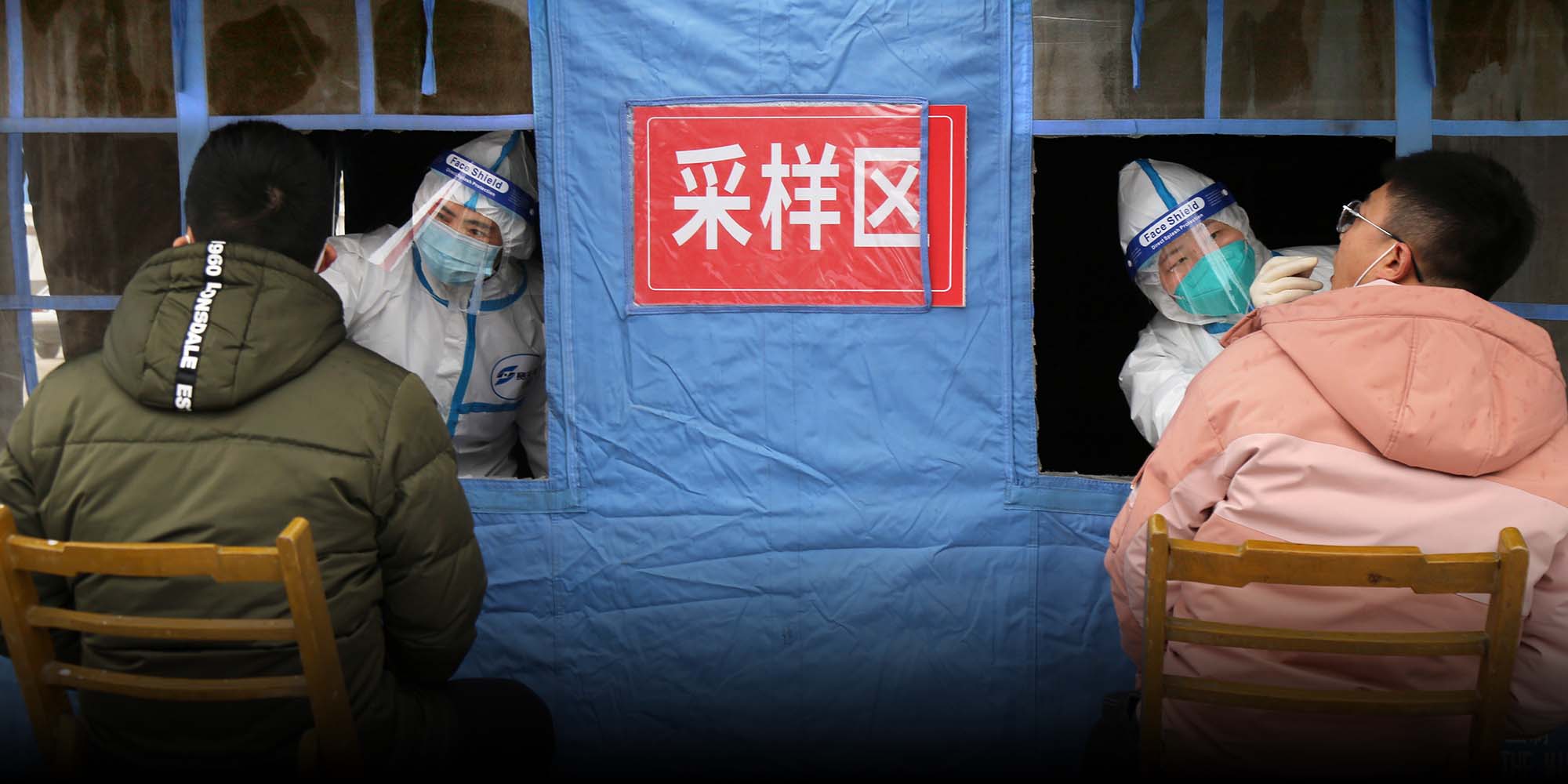 NEWS
Spring Festival Travel Is Tricky. For Many, It's Still Worth It.
Trains and planes have fewer passengers, and people hoping to go that extra mile for the holidays will have to fulfill a laundry list of COVID-19 control requirements.
SHANGHAI — To go, or not to go? That is the question facing millions of Chinese people for the Lunar New Year travel season.
This year, it's not the excruciating conversations about one's personal or professional life — a much-dreaded topic during family reunion dinners — that are deterring many from making the journey home, but rather the stringent travel rules authorities have imposed to prevent the possible spread of COVID-19. For those taking the plunge, their trip will begin with a test swab uncomfortably making its way into nostrils, throats, or even nether regions.
At Shanghai Hongqiao Railway Station, a middle-aged woman who only gave her surname, Tang, told Sixth Tone that she had to wait more than three hours to get a test, even though she had lined up at 5 a.m. Tang, who works at a local restaurant, said she hasn't seen her son and husband in the central city of Changsha in almost a year, so she's determined to go home for the Spring Festival travel period, also known as chunyun.
"How else would I spend the Lunar New Year? It's not like I would stay here by myself. Family ought to be together," Tang said while waiting for her train. "The long line at the hospital doesn't matter to me. It's for epidemic control, after all."
The rush to get tested before traveling — in many areas, required within seven days before arrival — has drawn more crowds at medical facilities than at transport hubs, with the latter relatively quiet on the first day of chunyun.
Roughly 20 minutes' drive from the city's busiest railway station, dozens of people stood in three separate lines underneath a blue tent at Hongqiao Community Health Service Center, waiting to get tested for the virus. Several security guards were on duty to maintain order, with some seen comforting people worried about whether their turn would come before the doors closed for the day.
Shen Aiyue, the center's deputy director, told Sixth Tone that they're administering some 700 tests daily, over four times more than before the holidays. Since the beginning of January, the center has tested 8,231 people — more than during the first six months of 2020, when testing was rampant.
Testing demand has surged so much in recent days that a search term translating to "nucleic acid testing appointment for Spring Festival return" was the second-most-queried phrase on mobile payment platform Alipay, which can be used to book such tests. According to a forecast by Hua'an Securities, the country is likely to conduct 1.2 billion tests during the 40-day mass migration through March 8, costing between 60 billion and 120 billion yuan ($9.3 billion to $18.5 billion).
"The number of tests we're doing is reaching record highs every day," Shen said. "We encourage people to book online before coming here, but most people still don't know how to do that."
While many determined travelers are rushing to get the tests before heading home, many more are likely to stay put in the cities where they work or live. Airports and train stations devoid of shoulder-to-shoulder traffic suggest this holiday travel season will be unlike any other.
During the first three days of chunyun, which started Jan. 28, China's national railway operator only transported about 8.87 million passengers, around 75% fewer than last year, when people were already avoiding trips due to the coronavirus outbreak.
On Monday, the normally bustling Hongqiao Railway Station looked empty. The screen displaying departures had red alerts, with seven out of 11 trains scheduled to leave around noon canceled — almost unheard-of during this time of year. The cancellations were mostly due to insufficient passengers.
Yang Junhua, a station manager, told Sixth Tone that foot traffic this year is not only incomparable with last year, but also smaller before chunyun. He described the lull in footfalls as hitting "rock bottom."
"During non-peak seasons, our daily traffic average is 200,000 people," Yang said. "During this year's chunyun, it's now about 40,000 travelers per day."
The testing, medical observation, and quarantine requirements set by provinces, cities, and even districts have also deterred many from traveling this year, with some areas imposing extra restrictions on people returning to rural areas. Provinces including Shanxi and Hubei, as well as the capital Beijing, initially required all inbound travelers to present a negative virus test, as well as undergo a 14-day health observation period and two additional tests during that time, though some areas have since relaxed these measures.
"I rescheduled my flight to March," said Wang Sida, who is currently in Beijing and will miss another Lunar New Year with family after he was unable to travel to Huanggang, a city near Wuhan, last year. "There are just too many rules, plus my company said it would be better if we stayed put."
Others, however, are willing to bear the inconveniences, considering them minor discomforts compared to the joy of spending the holidays with family and friends, a once-in-a-year affair for millions who work far from their homes.
Fan Qingrui, a 36-year-old office worker in Shanghai, said the nucleic acid test experience was unpleasant, but he went through with it anyway. To him, it was worth it to spend Lunar New Year's Eve with his family in the eastern city of Lianyungang, eating, chatting, and laughing. The very thought of this brings a smile and warms his heart, he says.
"I don't know what exactly the policy is in my neighborhood," Fan told Sixth Tone. "I'll just have to get there and see."
Correction: A previous version of this story included a figure for estimated coronavirus tests administered during the 40-day Spring Festival travel period that was off by a decimal place.
Editor: Bibek Bhandari.
(Header image: Migrant workers get coronavirus tests at a state-owned farm in Susong County, Anhui province, Jan. 28, 2021. People Visual)