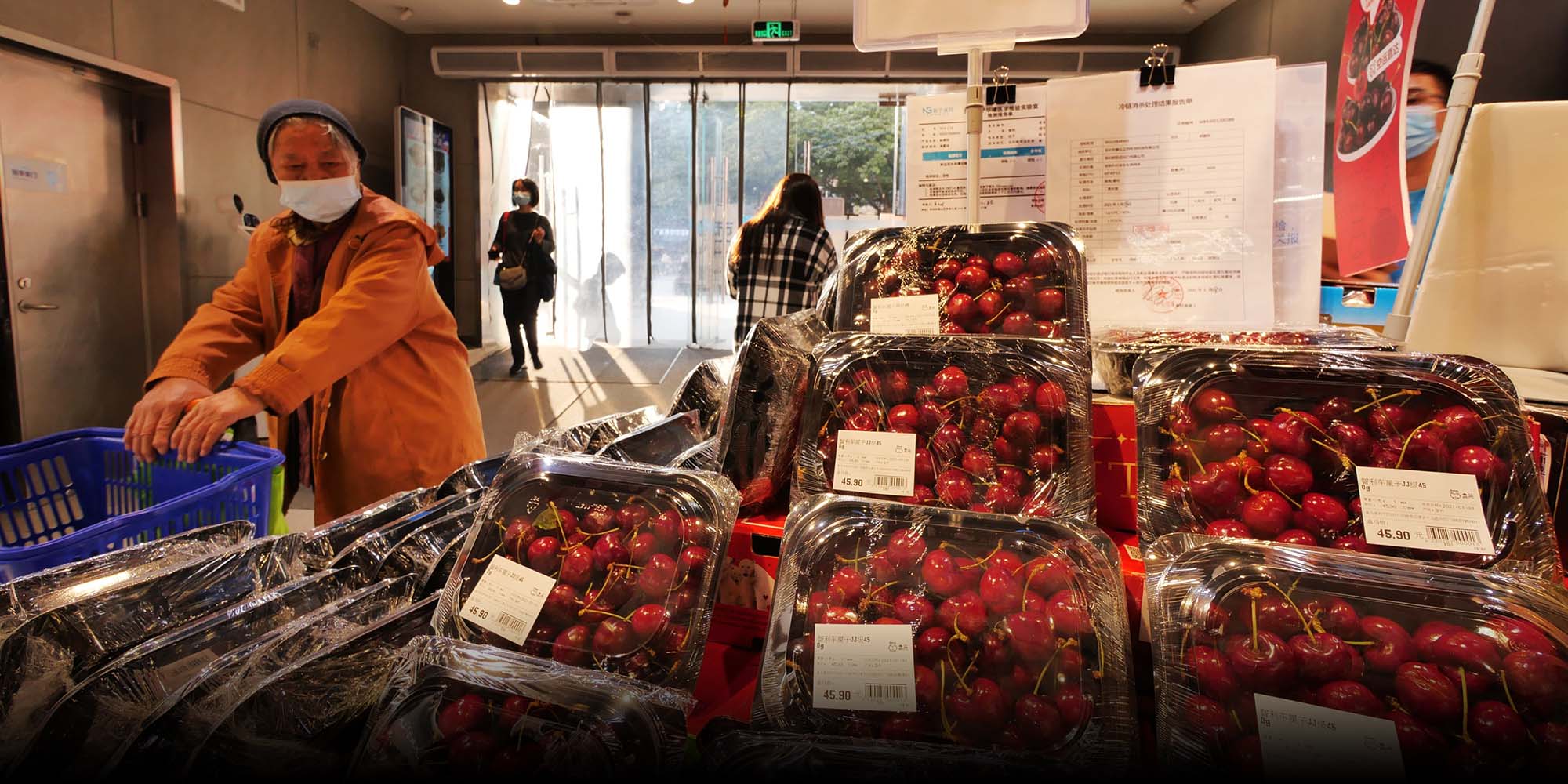 NEWS
Time Not Ripe for Cherries, Say Virus-Fearing Chinese
Sales of cherries, a Spring Festival favorite, have plummeted after some imported items' packaging tested positive for the coronavirus.
This Lunar New Year, Chinese cherry sellers are losing their holiday cheer thanks to — what else — the coronavirus.
Prices and sales of imported cherries have dropped significantly after some package surfaces tested positive for the virus in cities including Wuxi, Shijiazhuang, and Jiaxing in late January. Although experts have clarified that a positive test result doesn't necessarily mean the product is infectious, fruit businesses have still found themselves caught in the crosshairs.
A Spring Festival favorite, cherries have long been beloved by Chinese consumers, though they're often considered expensive: The term "cherry freedom index" was even coined to gauge people's disposable income for small luxuries. In recent years, the production and export of cherries from Chile have steadily increased, with China accounting for 85% of the country's exports, according to financial news outlet Yicai.
Ahead of this year's holiday season, China has imported more than 130 million kilograms of cherries, Yicai reported Sunday, citing a statement from the association of Chilean fruit exporters. However, wholesale sales in China are just 4% of what they were during the same period in previous years, while retail sales have plummeted by 63% from the week before.
Wu Shen, who runs a fruit supply business in Shanghai, told Sixth Tone that there would normally be high demand for imported cherries at this time of year, with nearly all fruit traders placing advance orders. Lower demand due to virus concerns in recent weeks has dampened sales, though they're gradually recovering, Wu said. He added that smaller businesses like his would not be as heavily impacted as larger traders with vast stockpiles needing to be sold.
"This week, the trading volume has been OK, but the prices are relatively lower," Wu said. "Currently, it's a little over 50% of what it used to be."
Still, many fruit sellers seem to be feeling the squeeze.
A fruit vendor in the eastern city of Nanjing told local media that daily sales of their cherry products were only about 10 to 20 catties (a Chinese unit of weight equal to a little over 1 pound), while prices were about 50% lower than the previous year. The salesperson said consumers' concerns over packaging testing positive for the virus have deterred them from buying the fruit, though the shop has put up signs saying its products have been tested.
Zhang Lisi, a resident of Kunming in the southwestern Yunnan province, told Sixth Tone that cherry prices in the city's markets change almost every week. She said they had dropped from 75 to 30 yuan ($11 to $4.50) per kilogram within a week at the fruit shop she frequents.
However, Zhang said she's not too concerned about contracting the virus from cherries.
"If the cherries weren't safe to consume, the authorities would have told us a long time ago, and there would be a sales ban," she said. "What are we worrying about?"
Before cherries, several food items including frozen meat and seafood also tested positive for the virus in China, which subsequently tightened rules on those imports. According to the World Health Organization, there is currently no evidence of people contracting COVID-19 from food items or packaging.
Editor: Bibek Bhandari.
(Header image: Chilean cherris are sold at a supermarket in Guangzhou, Guangdong province, Feb. 1, 2021. People Visual)