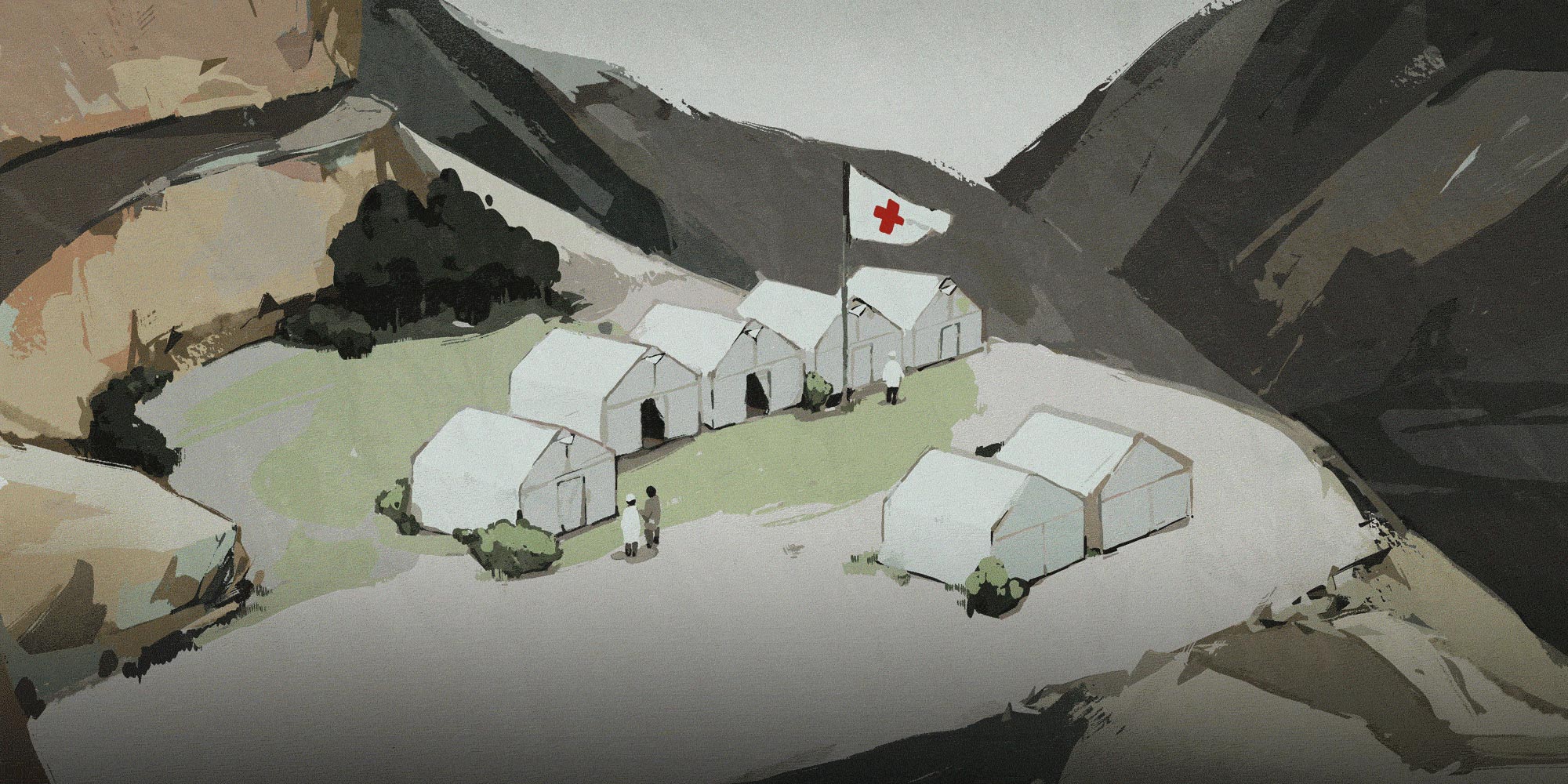 VOICES & OPINION
Inches From Heaven, Splattered in Blood
In the second of a two-part series on the top secret Karakoram Highway, a former nurse shares her experiences treating the soldiers tasked with this monumental project.
This story is part of a weekend column featuring translations from respected Chinese media outlets, as selected and edited by Sixth Tone. All are reproduced with the outlets' permission. A version of this article was first published in podcast form by StoryFM. Another story from the Karakoram Highway construction team can be found here.
Editor's note: When Zhang Jingdu was 19 years old, the People's Liberation Army nurse was assigned to work in a hospital in remote northern Pakistan. She would spend the next five years providing medical care to soldiers tasked with building the Karakoram Highway, a strategic road designed to connect China and its ally, Pakistan. In that time, she would witness firsthand the carnage caused by landslides and other disasters, but also the little acts of kindness binding the workers, doctors, and locals together into a team capable of conquering mountains.
This is her story.
I was sent to the far northwestern Xinjiang Uyghur Autonomous Region in 1973 during the Cultural Revolution to help set up a military hospital there. After completing its construction, we held a party to celebrate. It was a festive atmosphere, and we all played tug-of-war and sang together. But that evening, a fire broke out. It raged all night, and our newly finished hospital burned to the ground.
We didn't know it at the time, but that night sealed our fates. Instead of serving at a hospital in Xinjiang, we would spend the next five years in Pakistan, helping to construct the Karakoram Highway.
In the immediate aftermath of the fire, though, we were at a loss. Then, one day in February 1974, shortly after Lunar New Year, our commanders informed us we had a new job: a foreign aid mission. Of course, everyone was ecstatic. We would finally have something to do. Back then, everyone in the army wanted to be assigned to remote areas. Because of the cap on the number of female soldiers, some female nurses even wrote letters in their own blood to prove their ability to handle the hardships of such a post.
On our way to Pakistan, I sat with seven others in an ambulance. I was a member of the first-aid rescue team. We were talking, laughing, and having a good time. But when we arrived at the border and saw the marker, everyone fell silent.
It was just another step, but crossing that line meant putting an unspeakable distance between yourself and home. There was no guarantee we would ever return.
As we crossed the border, I turned and saw one of my colleagues' eyes rolling back in her head.
"Don't fool around!" I yelled. "Who are you trying to scare?" I thought she was pulling a prank.
She didn't respond. Panicked, I called out to our team's deputy chief.
"It's altitude sickness!" he shouted back.
We quickly laid our comrade on her back and administered oxygen. Finally, she revived.
When we arrived at the camp in Passu — the lowest point of which is 1,200 meters above sea level — there were already a dozen or so people lying down. As I stepped off the ambulance, I did the same. I felt like I couldn't move.
That evening, I opened my eyes and noticed the director and instructors had come to visit us. At once, I felt grateful. I didn't know why, but I began to cry.
That was my first night in Pakistan.
Lords of the Flies
It was a tough living environment over there. We couldn't get anything fresh. Everything we ate came from cans. The only other living things around were the flies.
There were so many of them that they completely covered the sides of the kitchen tent. When the cooks lit their fires, steam and smoke would rise up, and flies would drop. I remember picking 17 of them out of my food the first time I ate. It was disgusting. The veteran soldiers were calm: "That's just the way it is here; we're used to it. You have to make do."
The three months I spent working in the hospital laundry was my most painful and difficult time. Patients would come from the construction site, their clothes torn and stained with blood and dirt. Every morning I'd go down the mountain to fetch water. Not having any detergent, we instead had to cut slivers of soap and then use boiling water to make suds. The bedsheets had pus, blood, excrement, and urine on them, so cleaning them was hard work.
I was the only person at the laundry. From Monday to Thursday, I washed bedsheets. On Friday afternoons, I'd do the patients' clothes, and then on Saturday it was the workers' uniforms. My hands were covered in blisters.
But I was afraid to say anything. If I spoke up, what would other people think? That I couldn't handle a little hardship? We were soldiers: Hardship was part of the job.
On the Job
After my nursing training, I was reassigned to be a surgical assistant.
My first patient had a severe head injury. It was Lunar New Year's Eve 1975, and there had been a banquet that evening in celebration. He came in afterward, his head swollen, his face, arms, and legs covered with wounds.
In truth, I hadn't fully finished my training yet, but the head nurse recommended I try to look after him on my own. I was so scared that I bolted to the next ward right after giving him an injection. I only learned later that we needed to stay and observe patients with head injuries to make sure there weren't any changes in their condition. Early on, a lot of my work wasn't up to standards.
Eventually, other nurses took over his care. I didn't even recognize him when I saw him in the general ward a week later. His head was actually quite small, maybe half what it had been when I first saw him.
In addition to treating those injured building the highway, we also volunteered to treat locals.
One night — I remember there was no moon; it was totally dark — a man burst into the hospital to say his wife was dying. She was in labor, and there were complications.
We quickly found a translator, grabbed a flashlight, and ran over to their home. Inside was pitch-black. Their house didn't have electricity, so we could only hear his pregnant wife; we couldn't see anyone. Shining the flashlight around the house, we saw three or four children get up from the floor, their eyes wide open. There were a few mounds of dirt on the ground. These were their pillows.
Eventually we spotted a woman squatting in the corner in a lot of pain, with sand spread out on the ground beneath her. This was where she was supposed to give birth. After a few basic checks, we rushed her to the hospital.
Usually, the hospital's generator was switched off at midnight, but we made an exception for her. All of a sudden, the hospital's lights lit up, and there were wrenching cries from the tent where she was giving birth.
At last, dawn came, and with it a child's wails. The mother and daughter were both safe. But the mother didn't want a girl. The baby was such a pretty little thing, but the woman refused to look at her.
Blood and Soda Pop
Given its remote location, the hospital had almost no blood supply. Each of us was a blood bank. The laboratory tested us to learn our blood types. Then, whenever blood was needed, they would send out an announcement for a specific type. Any time someone needed a transfusion, everyone felt duty-bound to help.
At the time, I was very slim. One of the doctors joked that I had "less blood than a cat has piss." I just felt bad that he didn't want my blood. Eventually, though, supplies were so tight that he gave in.
Once, the morning after giving blood, I woke up and went to the ward to find that the floor had been cleaned and all my work had been done. It turned out that some of the patients had heard my name called on the radio and knew I'd just donated blood, so they all volunteered to help me.
Looking back, it seems a simpler world. No one had any selfish thoughts. We were united in one purpose: to serve our patients.
It wasn't all work, though. The staff in the pharmacy all knew chemistry, and they would whip up sodas from time to time. They couldn't make enough for everyone, so you had to be sure to stay on good terms with them to get some.
One day, one of these workers, a young man everyone called Xiao Xu, asked me if I wanted some soda. Obviously, my answer was yes. So, he started to make some every day for me and two of my friends.
Later, one of his colleagues came to me and said that Xiao Xu was interested in me and wanted me to be his girlfriend. I was stunned. I had no idea he saw me that way.
I talked it over with a couple of my good friends. I said I didn't want to, but if I turned him down, that would mean an end to the free soda. So the three of us came up with an idea. I told him: "This is a big thing. I need to ask my parents for their advice. If my parents agree, then OK. But I need some time."
And so Xiao Xu went on making soda for me and my friends every day, just like before. Thinking back on it, that wasn't very nice of us.
Nightmares
In 1976, as construction work moved south, our command hospital was moved from the northern to the southern section, where there was steeper terrain. Not long afterward, there was a major accident.
That February, a landslide hit a convoy of vehicles, with boulders sending one vehicle off the road down into a canyon, killing two drivers. There was blood everywhere: next to the river, by the rocks, next to the road. Body parts were strewn all over the place. It was a horrifying sight. Some soldiers eventually tied ropes around their waists and lowered themselves more than 180 meters down the cliff to the Indus River below to recover as much as they could. In the end, they brought up two sacks full of remains.
To bury these martyrs somewhat intact, as many doctors as could be spared were sent to clean their mutilated bodies and piece them back together. The stifling stench of blood filled the laundry tent. I washed a leg first, then a hand. The doctors stitched in silence; the nurses sobbed as they worked. The washwater, mixed with blood, flesh, and bits of bone, made its way down the sewers and flowed off the mountain. Attracted by the smell of blood, wild dogs started barking and howling all night long. Inside the hospital, an amalgam of fear and sorrow permeated the air.
In the end, the bodies of the two martyrs were put together as best as we could manage, but each was only about 1 meter long. They'd been assembled into rough approximations of the human figure. That was all we could do.
But the casualties didn't stop there. It was just one wave after another.
Around October 1976, the Chinese government announced it would send a delegation to check on us and our progress for the first time. We'd been abroad for several years at that point. Each unit was expected to have good news to report. Everyone was tense and working hard, when some dynamite that had failed to explode two days previously suddenly went off. Half the mountain collapsed.
A rescue team was immediately dispatched. The road conditions were really bad, and there was no road at all near the cliff: just a small footpath barely wide enough to inch along. At one section, the soldiers held rescue team members' hands to lower them down. One of my friends, Gao Lirong, nearly fell off the cliff into the valley.
Only when the team arrived did they discover just how many people had died. The remains of 25 martyrs — not their bodies, just some body parts — were lying in six piles. They were washed, pieced together, and sewn up. After seven or eight hours, the team had managed to repair 22 bodies. The final three victims couldn't be put back together, and were just wrapped up as best as possible.
Three others were severely injured. The rescue team operated on them in the field, then brought them back to the hospital. I was charged with caring for one of them, a young man with a head injury. He came out of his coma, and that same night he wet the bed. I quickly changed and washed everything. When I was done, he slept for a while and then suddenly awoke, having soiled the sheets again.
I didn't understand. "You're not in a coma anymore, why did you soil the bed?" I asked.
"I was dreaming about the boulder that knocked the head off our squad leader," he replied.
The Road Back
Starting in August 1978, our team gradually began returning home. I was one of the last to leave. The day before, news came that a section of the road had collapsed in China, so I would have to stay another month. It was frustrating. After almost five years abroad, we'd built nearly an entire road in another country. But those in our own country were still a mess.
Finally, the road was cleared, and we all celebrated. The driver, too, was eager to get home and tore along the road. From a distance, I could see the Chinese flag flying over the border checkpoint. It was as if it was waving just for me. I felt a cry well up in my chest: "Motherland, I'm finally home!"
I looked back toward Pakistan one last time. That part of the country is snowed in year-round. The land was white as far as the eye could see.
Because this was a top-secret project, there hadn't been a single piece of news about it anywhere in China. We couldn't breathe a word of what we did to anyone. Eventually life returned to normal. Everyone started getting married, having children, busying themselves with ordinary things. People didn't think back much to their experiences in Pakistan, and it slowly faded from memory.
In fact, we only found out it had been declassified in 2010, when the hospital suddenly informed us that a documentary about the construction of the China-Pakistan Highway was going to be broadcast. That day, we excitedly gathered around the TV to see images of our past life.
In 2018, I decided to revisit the highway with my old comrade, Gao Lirong.
On the bus, she started singing an old Pakistani folk song. All these years later, she still remembered every word. Soon, several young Pakistani guys sitting nearby joined in.
I felt like I was dreaming. Was I really back?
Northern Pakistan had changed beyond all recognition. The highway is smooth and safe, nothing like what it used to be. Where there once was nothing but barren land, there is now lush vegetation and rich colors.
When residents of the village where our hospital was based heard we were visiting, men, women, and children all rushed down to see us. Some, we'd never seen before. Others were old friends. The children in the photos I took back then were now all in their 50s. They insisted on giving us a tour of our old quarters: "This is where the doctors lived, this was your kitchen…"
Back in Gilgit, the regional hub, we still had one more thing to do: pay a visit to the Chinese Memorial Cemetery. A total of 88 martyrs were laid to rest there, half of them mutilated beyond recognition. Those whose remains were never found were given empty graves.
The cemetery's original keeper had worked alongside the Chinese workers building the road and had looked after the graves ever since the cemetery was built in 1978. Just before he died, in 2010, he asked his youngest son to return home and continue guarding the martyrs' resting place.
This son greeted us when we showed up. "These Chinese children will never return to their hometowns," he said. "Their relatives are not here to look after them, but we'll care for them generation after generation. We won't let them be lonely."
This article was originally published as a podcast by StoryFM. It has been edited for length and clarity and republished with permission. The original can be found here and here.
Translator: David Ball; editors: Cai Yiwen and Kilian O'Donnell.
(Header image: Wang Zhenhao for Sixth Tone)