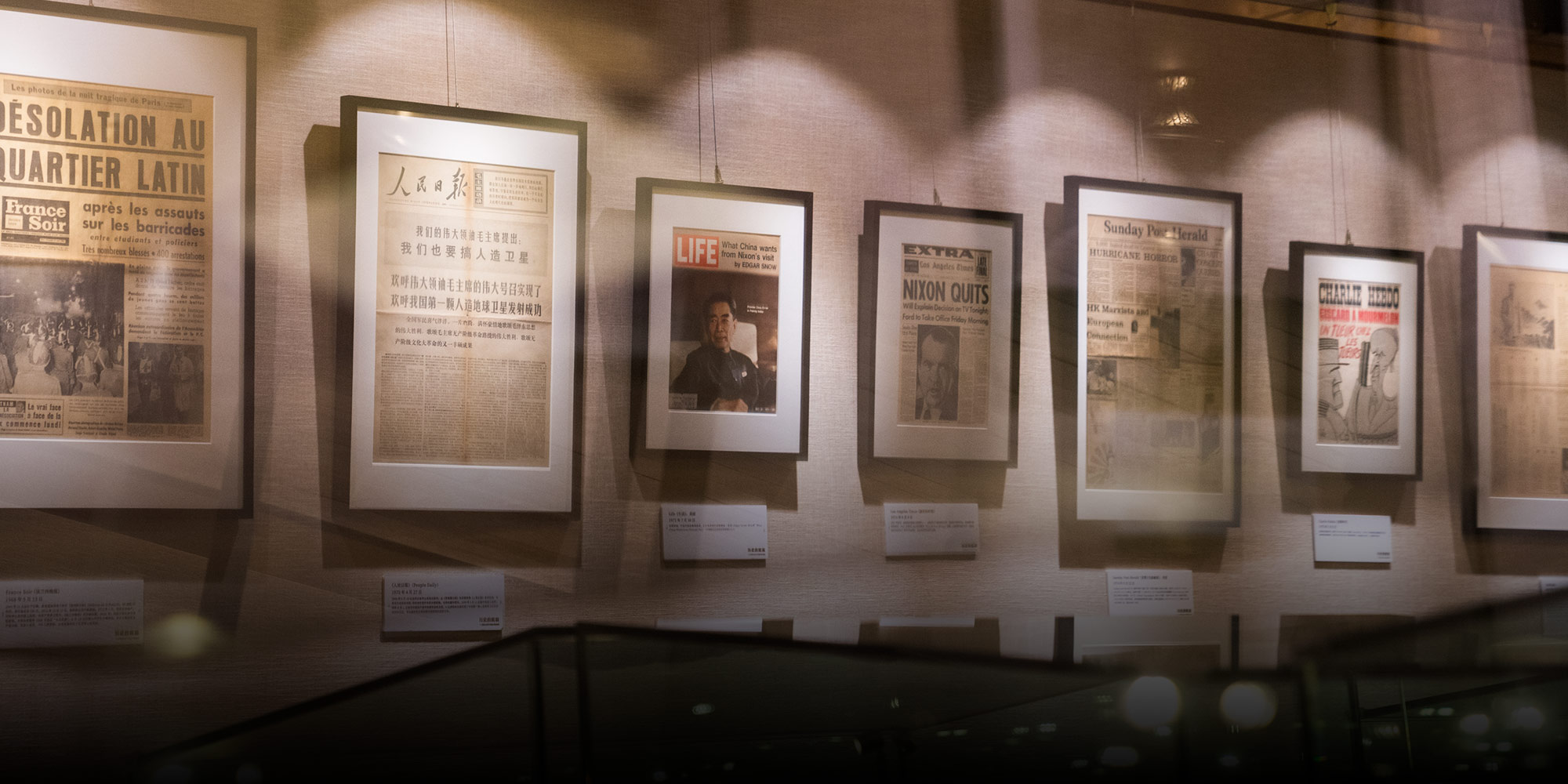 VOICES & OPINION
Turning Old News Into New History
The author, a well-known journalist, shares notes from half a lifetime of collecting historic newspapers.
When I was studying journalism in the early 1980s at Shanghai's Fudan University, reading the newspaper each day was part of our homework. "Today's newspapers are tomorrow's history," our professors always told us.
I took that lesson with me when I went to the United Kingdom for graduate school in 1988. The U.K. is the cradle of modern journalism, where the ideals of freedom of the press first took root. Whenever a big news story broke, I usually bought copies of all the major newspapers, both to read and to keep as mementos. How to treasure history is one of the qualities I learned from the British, and they preserve almost everything.

Over time, my work as an international journalist took me around the world, and I was able to expand my collection in unexpected ways. Whenever I visited a foreign city, whether Paris, Jerusalem, or Athens, I would always make time to stop by at least one local antique book dealer. Most of the time, I left disappointed: Very few of them kept or sold newspapers. But many dealers were excited to work with me, and sometimes I got lucky. When that happened, it was a feeling unlike any other. There's something about holding a piece of dusty, yellowed paper that no one else has touched in a century and breathing in all that history.
Some of the results of my three decades of work are on display this month, part of "The Draft of History" exhibition at the Shanghai Library Bibliotheca Zi-Ka-Wei. Much of the exhibition focuses on major historical events: the assassination of American president Abraham Lincoln in 1865, the Japanese invasion of Shanghai in 1937, the Soviet capture of Berlin in 1945, the first moon landing in 1969, Mao's death in 1976, or the 9/11 terror attacks in 2001. Where I could, I tried to tell a story. At one point in the exhibit, visitors are presented with four German newspapers in a row, showing in black and white how that nation descended into Nazism over the course of the 1930s.

But not all of the exhibits are so serious. Many of the more unique items were given to me by friends and colleagues who collected them on visits to smaller countries. There is a Chinese-language newspaper from Cuba, for example. Published in the 1960s, it had a print run of only a few hundred copies and was circulated among the island's small Chinese population. Another is a North Korean party newspaper from May 2016 about Kim Jong-un's rise to the title of Supreme Leader. I obtained this from a Chinese journalist who went to Pyongyang to cover their Party Congress. It came wrapped in special gift paper, covered in propaganda slogans.
And, of course, there are some old Chinese newspapers on display as well. One of my favorites is a copy of the Shanghai-based Liberation Daily from 1979. At the bottom of its otherwise unremarkable front page sits a small, apparently innocuous item about a traffic accident in the city. It may not seem like much, but it marked the first time in decades that a Chinese newspaper had printed the word "accident" on its front page. During the country's early socialist period, social woes or human interest stories were considered inappropriate topics for coverage, something that only began to change after Deng Xiaoping instituted his "reform and opening-up" program in the late 1970s. That Liberation Daily story, just 300 words long, went on to win the top prize at China's National Press Awards in 1980.
Today, the era of traditional print journalism seems to be drawing to a close, and one of my main goals in curating this exhibit is to remind the rising generation of digital natives just how much printing technology and print journalism have contributed to the emancipation of knowledge around the world. All too often, the closest they've ever gotten to this history is printed photocopies of historic documents. That's regrettable. Take Lincoln's assassination, for example. It's one thing to see a photocopy of the story, another thing entirely to see it firsthand in a weathered copy of the New York Post. Only the latter can really convey how an American family in 1860s New York would have experienced the shock of their president's death.

In 2017, the British Library curated a massive special exhibition for the 100th anniversary of the October Revolution in Russia. It was a stunning achievement, but I couldn't help but wonder: If, 100 years in the future, we wanted to do something similar for the current COVID-19 pandemic, how would we go about it? What would we collect or display? Tweets? Instant messages? TikToks? Likely all of the above. Yet there are few more powerful encapsulations of the current crisis than when The New York Times gave over the front page of its print edition to obituaries for hundreds of victims of COVID-19 on the day the United States crossed the threshold of 100,000 deaths from the disease.
Still, despite my fondness for print, I'm not a technological determinist. News and journalism will find a way to survive in the future, and it's worth noting that the most successful digital news outlets were founded by world-renowned print outlets with long histories: The New York Times, Financial Times, and The Times. Ultimately it's not the medium that matters, but how we preserve our memories, whether as a nation or as individuals.
As told to Sixth Tone's Cai Xuejiao.
Contributions: Chen Qi'an; editors: Wu Haiyun and Kilian O'Donnell; portrait artist: Wang Zhenhao.
(Header image: A view of the "The Draft of History" exhibition in Shanghai, Jan. 21, 2021. Shi Yangkun/Sixth Tone)