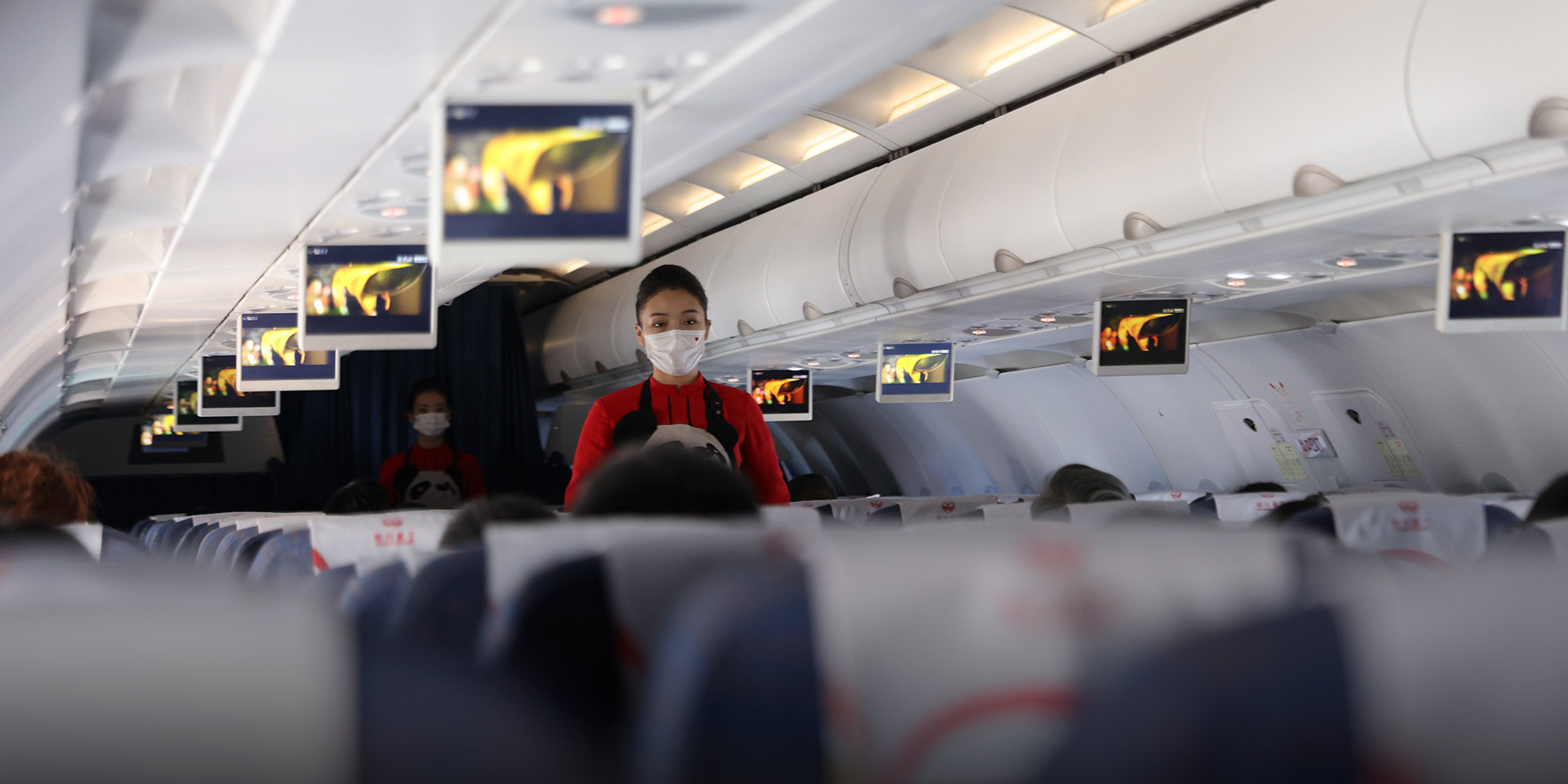 NEWS
China's Flight Prices Plummet After Holiday Travel Discouraged
Amid ongoing COVID-19 outbreaks, authorities are urging people to refrain from traveling over the Lunar New Year holiday unless absolutely necessary.
Flight ticket prices in China are usually sky-high during the peak Lunar New Year travel season — but not this year.
Air travel prices for the Spring Festival holiday rush, also known as chunyun, have dropped significantly from previous years as authorities try to limit travel amid surging coronavirus cases in parts of the country.
As of Monday, the average price for airline tickets fell to 651.36 yuan ($100), the lowest pre-booking price for Spring Festival flights in at least five years, domestic media reported, citing data from leading online travel and ticketing platform Qunar.
In response to dipping demand, several airlines have slashed prices for popular routes. Flights from Beijing to the northeastern city of Harbin on Feb. 10 — the day before Lunar New Year's Eve — are under 1,000 yuan, roughly half of their previous price, while flying from the capital to the beach resort town of Sanya costs 610 yuan, about 80% off the full price, according to reports.
Yu Hai, a 29-year-old employee at a private company in the southern city of Shenzhen, told Sixth Tone he canceled his original ticket to his hometown in the eastern city of Nanjing after noticing the drop in prices. He said the new ticket he bought Tuesday was almost half the price, and he didn't need to pay a cancellation fee for his previous booking.
The Lunar New Year, which this year falls on Feb. 12, is China's most important holiday, with hundreds of millions of people returning to their hometowns for large family gatherings. However, increasing numbers of COVID-19 infections in the past few weeks have scuttled countless people's travel plans.
To curb the spread of the virus, authorities in several cities have encouraged residents to stay put for the festival, with some also offering monetary rewards as incentives. People traveling between Jan. 28 and March 8, especially to the countryside, are required to get a nucleic acid test within seven days of their departure, as well as submit to 14 days' health monitoring upon arrival, during which time they'll have to take two additional tests.
"My travel plan was slightly affected, as there's now the need for nucleic acid testing, but it doesn't bother me much since my company has arranged medical personnel to come and do the testing," Yu said.
Some domestic airports have also introduced stricter measures for passengers coming from middle- or high-risk areas during the travel period. For example, Zhuhai and Chongqing in the south of China have set up separate channels and registration requirements for people arriving from at-risk areas.
Following the stricter measures, some have opted to cancel their holiday travels and stay put.
Fang Yuan, a Shanghai-based communications manager, has decided not to visit her hometown in the eastern Jiangxi province over this Spring Festival. She said she arrived at this decision after Shanghai confirmed local COVID-19 infections last week and her home province introduced self-quarantine measures for incoming travelers.
"I had initially brought a flight ticket, but when I saw in the news that I could refund the ticket for free, I decided to cancel it," the 32-year-old told Sixth Tone, adding that air travel prices to her hometown haven't changed much due to limited flights. "The ticket price wasn't the main reason for my decision," she said.
Additional reporting: Chen Qi'an; editor: Bibek Bhandari.
(Header image: A flight attendant walks down the aisle of a commercial jet before takeoff in Nanning, Guangxi Zhuang Autonomous Region, Jan. 5, 2021. Hu Yuanjia/People Visual)