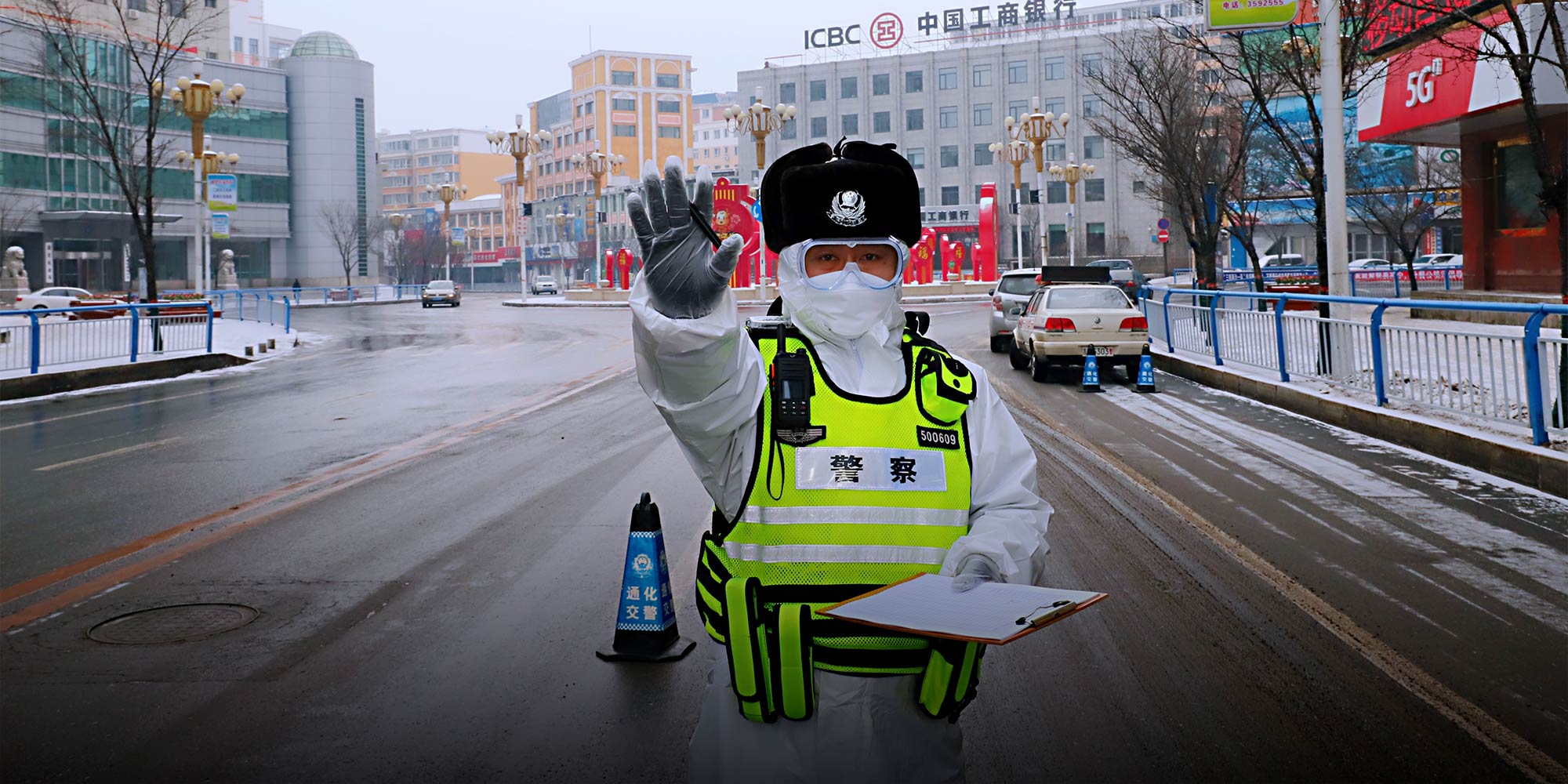 NEWS
Running Out of Food in Lockdown, Jilin Residents Give Viral Plea
With several Chinese cities experiencing their first coronavirus outbreaks in months, local logistics are encountering some speed bumps.
Government officials in Tonghua, a city in China's northeastern Jilin province, apologized Sunday for the "delayed delivery of living necessities" after residents who had been forced to shelter in their homes since Jan. 21 because of a local coronavirus outbreak launched an online campaign to alert authorities that they were running out of food.
With a permanent population of just 400,000, the small city of Tonghua made big waves over the weekend as hungry residents took to microblogging platform Weibo to complain about their cooped-up conditions. As of Monday, 196 "confirmed cases" of COVID-19 — people showing symptoms — had been reported in Tonghua, according to the city's health committee.
Chen Shutong, a resident of rural Tonghua County, just west of the eponymous city, told Sixth Tone that her housing community had been sealed off, and only one person from each household was allowed out to go grocery shopping every three days.
"Dongchang District (where the city of Tonghua is located) has been severely hit with supply shortages. Residents there can't go out at all, and their front doors are taped (so authorities can tell if anyone is violating the stay-at-home order)," Chen said. "Many of us Tonghua locals were posting on Weibo, trying to make our situation become a trending topic to get the public's attention."
As of Monday afternoon, a related hashtag on Weibo had been viewed nearly 300 million times. Ultimately, it appeared to elicit the government response the residents had been hoping for.
Starting this week, Tonghua residents will be supplied with half-price "vegetable packages" to sustain them for five days, local authorities said in an official announcement. Over 7,000 cadres and volunteers will be assembled to distribute the foodstuffs to residents, and citywide nucleic acid testing will begin Monday.
However, not everyone in Dongchang District — which local authorities designated a "high-risk" area last week — has seen these vows bear fruit. A Dongchang local surnamed Chen, who is not related to Chen Shutong, told Sixth Tone that while the vegetable packages were being delivered as promised to large residential complexes, some smaller communities, including the one where his family lives, are still waiting.
"We called the community office repeatedly, trying to figure out when our vegetable packages would arrive, but all the calls went unanswered," Chen said. "The food we have now might last us less than a month."
In the winter of late 2019 and early 2020, when COVID-19 was first detected in China, keeping residents safely indoors was among the most obvious measures for containing the virus. Yet the militaristic rigor with which shelter-in-place orders were enforced in many jurisdictions left some aggrieved residents second-guessing such policies. Now, amid surging infections in parts of the north and northeast, virus-plagued cities and communities are seeing rushed or poorly conceived plans lead to exasperation among locals.
Residents of Beijing's Daxing District, where three new confirmed cases were found Sunday, were transferred for compulsory quarantine at designated hotels. When local authorities refused to allow residents to take their pets with them, simmering indignation boiled to the surface on Weibo and other social media platforms.
Finally, the district's mayor on Sunday conceded that families with pets would be allowed to send one member home to care for any animals, subject to an in-house quarantine supervised by medical staff and community volunteers.
Even Shanghai, which has thus far managed to keep the coronavirus at bay without imposing strict or otherwise oppressive disease control measures, has hit a few hurdles since 13 confirmed cases were reported in the last week. A Weibo user who said she was under quarantine at Fudan University Shanghai Cancer Center complained about the poor conditions there.
In a statement Sunday to Sixth Tone's sister publication The Paper, Fudan University Shanghai Cancer Center said it had assembled a team to assist with nucleic acid testing, personnel placement, and the distribution of daily essentials during lockdown. The hospital has been sealed off to incoming patients since one of the first cases in Shanghai's new outbreak was traced there last week.
Editor: David Paulk.
(Header image: A traffic police officer on duty in Tonghua, Jilin province, Jan. 23, 2021. IC)