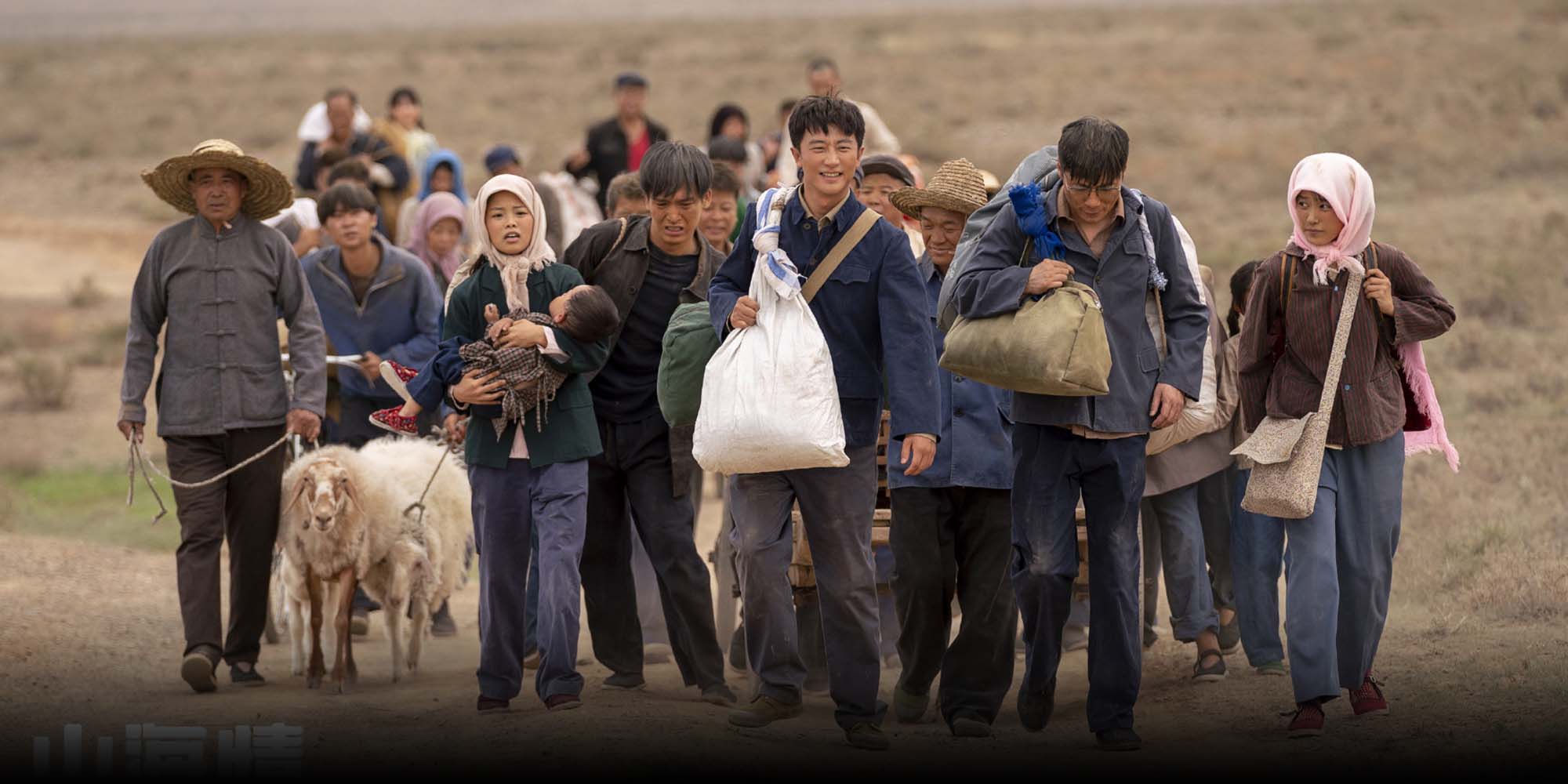 NEWS
A Show About Poverty Alleviation Is Getting Historically High Reviews
Critics and casual viewers alike appreciate how "Minning Town" doesn't shy away from some of the common missteps associated with government relocation projects.
A Chinese television drama about a real-life poverty alleviation project from the 1990s has proved an unlikely hit with viewers, garnering the highest rating of any live-action show in the last five years on China's equivalent to IMDb.
Concluding with its 23rd episode Saturday, "Shanhai Qing" has been lauded for its vivid storytelling, fast pacing, savvy acting, and high production quality. The usually picky users of ratings site Douban have scored the show — also known by the English title "Minning Town" — a superlative 9.4 out of 10 based on over 100,000 reviews. Critics are on board, too, having described the show as "a new standard for Chinese dramas" and an instant classic.
"Minning Town" follows the trials and tribulations of villagers in the northwestern Ningxia Hui Autonomous Region who were relocated from the countryside in the 1990s as part of a local poverty alleviation initiative.
At the time, an entire village in Xihaigu — a region in the south of Ningxia that the United Nations in 1972 called "one of the least suitable areas for human habitation in the world" — was moved several hundred kilometers north to a new location on the edge of the Gobi Desert, not far from Ningxia's provincial capital of Yinchuan. Afterward, experts from Fujian, a relatively wealthier coastal province, visited and helped the villagers establish businesses as part of a cross-provincial assistance scheme in 1996.
The new settlement was dubbed "Minning," a portmanteau comprising two Chinese characters associated with Fujian and Ningxia, respectively.
In the show, Ma Defu is a fresh college graduate and low-level party cadre who is dispatched to his home village in Xihaigu to help the authorities there persuade the locals to agree to the planned move. Despite living in abject poverty, however, the villagers are loath to leave their ancestral home — and it doesn't help that the land of milk and honey they are promised is still a virgin tract of land plagued by mosquitos and sandstorms.
The series goes on to chronicle the move and subsequent resettlement — which, it turns out, is not a one-time commitment for the official overseeing it. Instead, Ma and his colleagues spend the following decade working with the displaced villagers who, after putting down roots in their new locales, must overcome myriad hurdles before their burgeoning businesses begin to blossom.
"Minning Town" is just one example of a new genre called fupinju, or poverty-alleviation dramas. In March of last year, the central government's National Radio and Television Administration mandated that such shows should be developed to coincide with the end of President Xi Jinping's five-year campaign to eradicate poverty. This call was heeded with the release of 22 such dramas in 2020 alone.
"Minning Town" was also timed to coincide with this year's centennial anniversary of the Communist Party of China.
The show has managed to stand out among its more pedestrian peers due in large part to the clout of its production company, Daylight Entertainment. In 2016, the same studio brought Chinese viewers "Ode to Joy" — an all-star production hailed as China's "Sex and the City," without the sex. Still, despite the backing of the big-name studio, expectations for "Minning Town" were tempered ahead of its release due to the genre itself being regarded as dry, politically correct, and, above all, state-sanctioned.
That changed after the show premiered in mid-January on TV stations and online streaming platforms, winning over critics and casual viewers alike with its visceral depiction of rural poverty.
In the series' first episode, Ma meets three brothers in his home village who together own just one pair of pants: Whoever ventures forth from their mud-walled home gets to wear them. The local children, meanwhile, are caught trying to escape from the village, where they feel doomed to endure a lifetime of poverty, and Ma's childhood sweetheart runs away from an arranged marriage. In one exchange, Ma laments how the local women are being sold into marriage for dowries as meager as a single donkey.
Indeed, it is dialogue that lends credibility to the dramatic adaptation, as the characters speak not in standard Mandarin, but in northwestern dialects, with simplified Chinese subtitles below. The flowery fluency typical of period dramas is notably absent.
But the way "Minning Town" most distinguishes itself from its peers is by faithfully depicting the difficulty of the poverty alleviation drive, including each misstep along the way, through a story-first approach.
In other poverty alleviation dramas, conciliatory villagers enthusiastically agree to officials' proposed resettlement terms. In "Minning Town," however, they're angry and resistant. When they arrive at the new settlement, they find that their homes remain unfinished, with no electricity. They number 59 families, but the local electricity bureau refuses to power fewer than 60 homes.
"Minning Town doesn't appear to sugar-coat the innumerable challenges faced during the process of poverty alleviation," wrote one TV and film blogger. "It doesn't shy away from addressing the bureaucratism, dogmatism, and formalism of lower-level officials as they implement policies."
Later on in the series, the villagers must cope with water shortages and a lack of educational facilities in Minning. When the Fujian experts help them set up a local mushroom-growing business, they discover that the market is saturated, and there's little demand for their artisanal fungi. Some government leaders, meanwhile, seem to see the relocation more as a career-boosting vanity project than an honest welfare initiative.
Unusually for a modern Chinese drama, "Minning Town" does not feature a central love story. Another blog, Meng Talks Entertainment, marvels at how Ma doesn't end up with his childhood sweetheart, and how the courtship of and marriage to his eventual partner is skipped completely in one yearslong chronological jump forward.
When the series ended Sunday, its main actors sent farewell messages from their Weibo microblog accounts, including Yao Chen, who has 84 million followers on the platform. By Tuesday afternoon, the trending hashtag "Minning Town season finale" had been viewed over 320 million times.
The few critiques of the show have had to do with length and languages. Some online have claimed the dialect spoken sounds more like that of neighboring Shaanxi province than Ningxia. Meanwhile, viewers used to binge-watching 40- to 60-episode historical dramas — the customary length for historical dramas — have found the 23 episodes of "Minning Town" far too brief.
"By being so short, 'Minning Town' may have set a new record," wrote entertainment industry blogger Xixi. "It's the first series that people dread having to part with when they're still just on the first episode."
Editor: David Paulk.
(Header image: A still frame from the hit poverty alleviation drama "Minning Town." From Douban)