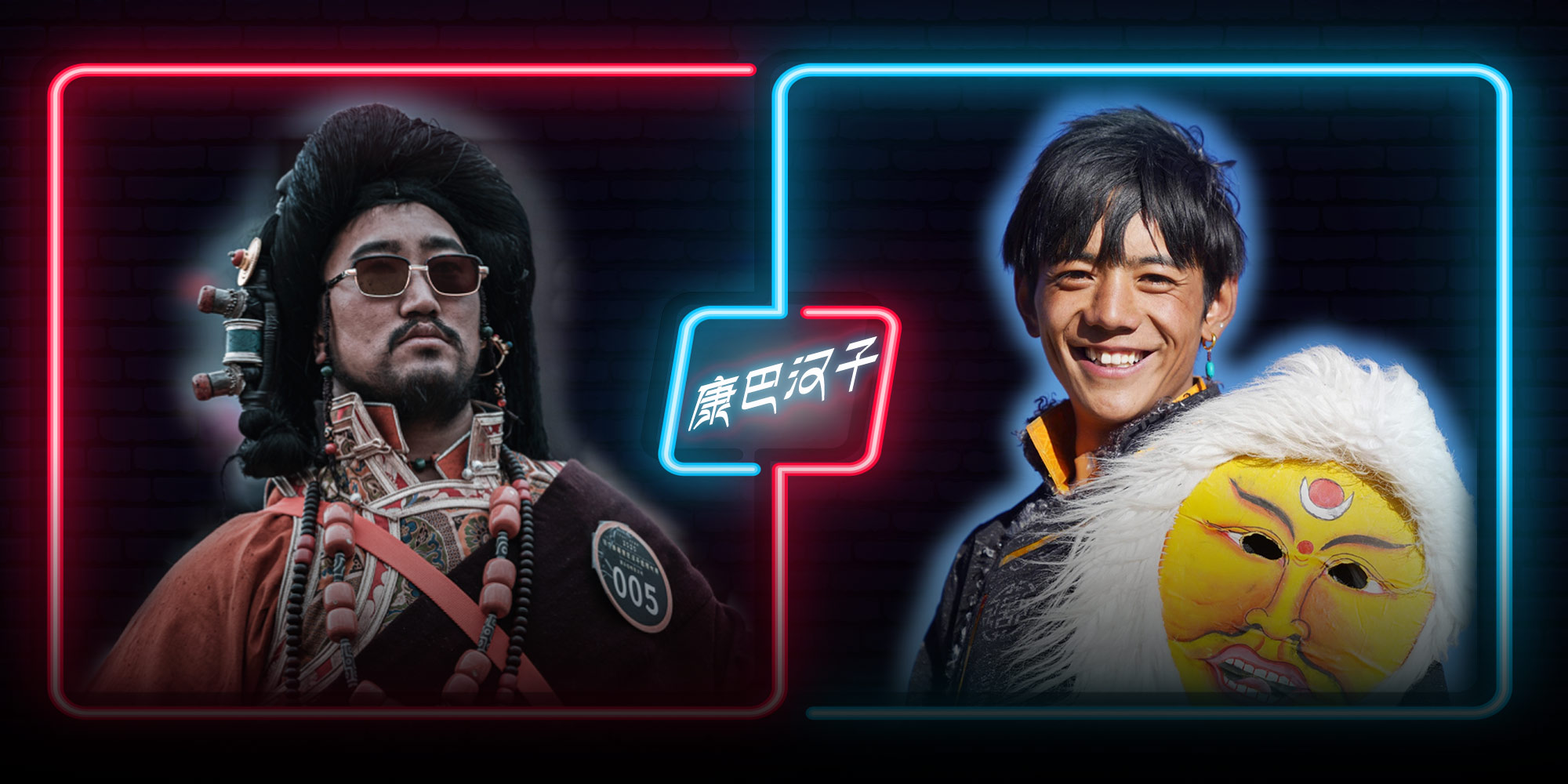 VOICES & OPINION
Ding Zhen and the Myth of the True Khampa Man
The young viral video star looks nothing like the burly, red-blooded men his home region is famous for producing. But who set those standards in the first place?
Tenzing Tsondu's rise to fame happened seemingly by accident. One day, he was an ordinary teenager and herder in his native Garzê Tibetan Autonomous Prefecture, part of the southwestern province of Sichuan; the next, a short video of him went viral and he was the "horse prince," a little fresh-meat idol to be salivated over on social media. Better known by his Mandarin name, "Ding Zhen," Tenzing Tsondu's Chinese fans invented all kinds of secondary nicknames for him, from the above-mentioned horse prince to tianye nanhai: the "sweet-wild boy." Of course the monikers, meant to capture the boy's unique mixture of youthful innocence and plateau-ruggedness, say just as much about the tastes of Tenzing Tsondu's admirers as they do the man himself.
Not everyone was quite so taken with China's newest idol. While some of the critiques were juvenile, such as the men who dismissed Tenzing Tsondu's attractiveness altogether, others pointed out that Tenzing Tsondu, good-looking though he was, had a lot to live up to. After all, the region he hails from, Kham, is famous in China for its macho men: the Khampa hanzi — translated officially as the "True Khampa Man." By the burly standards of Khampa hanzi, Tenzing Tsondu is little more than a boy, and to prove this point, some social media users started circulating images from last year's Most Beautiful Khampa Hanzi Competition, held in Tenzing Tsondu's own Litang County. Sure enough, the shots were brimming with testosterone: Every contestant exuded a warrior-like machismo that contrasted strongly with Tenzing Tsondu's softer features.
But whether users realized it or not, the images of Khampa hanzi they were propagating are as much an external creation as Tenzing Tsondu's "sweet-wild boy" label, and they impose a cross-cultural gaze every bit as othering.
To understand why, it's helpful to know a bit about the origins of the Khampa hanzi aesthetic. Due to differences in language and geographical environment, Tibetans living on the Qinghai-Tibet Plateau have, over time, diverged into three subregions: Ü-Tsang, Amdo, and Kham. Ü-Tsang mainly refers to the regions of Lhasa and Xigazê, which together constitute the traditional core of Tibet. Amdo comprises the region from the Amne Machen mountain ranges to Qinghai Lake, and its inhabitants are mostly nomadic. Kham encompasses the Hengduan Mountains in the southeastern Qinghai-Tibet Plateau, as well as the area to their east. Among Tibetans, the three regions are each known for certain unique characteristics: Ü-Tsang is famous for its deeply entrenched religious culture, while Amdo is known for the quality of its horse stock. Kham, meanwhile, is renowned for the beauty of its inhabitants.
Having grown up in the most complex and harshest of the three Tibetan subregions, Khampa men developed a reputation for sturdiness, bravery, and perseverance. They're also noted for their unique, warrior-like style: The classic Khampa hanzi has bronze skin, broad shoulders, and a noble stride. His eyes are dark and he wears a red silk tassel (trazhuk marpo), also known as a "hero knot" (skra gzhug dmar po).
But if the Khampa hanzi is a well-worn archetype, it's not a wholly indigenous one. To start, hanzi is not a Tibetan word, but a Mandarin term for a man with an indomitable spirit and commanding presence. Indeed, its use in Khampa hanzi, however apropos, immediately implies an external, cross-cultural gaze.
That's not to say it isn't used locally. In the 1990s, at a time of economic dislocation, China's western regions began to mine the patrimony and history of their various ethnic communities in order to forge cultural icons that could act as tourism draws. In 1995, this trend came to Kham, as the region's four prefectures banded together to found the Khampa Art Festival. Five years later, as China launched its "Great Western Development" scheme to level some of the economic imbalances between the coast and interior, the Yajiang County Tourism Bureau of Garzê Prefecture selected 10 local men, all from Gyatsuk Village, to walk the runway at the Third Khampa Art Festival, where they would compete for the title of "Khampa hanzi."
Local tourism officials seized on the publicity generated by the event to not only rename the village of Gyatsuk "Khampa Hanzi Village," but also to register "Khampa hanzi" as a trademark with the central government in 2005. From then on, Khampa hanzi was no longer a general descriptor, but a specific, official title. More recently, as National Highway 318 connected the region to the rest of the country, Khampa Hanzi Village has gradually earned a spot on the Tibetan tourist trail, becoming a popular destination for social media influencers.
Yajiang is not alone in trying to come up with new and original ways to capitalize on the Khampa hanzi brand. Arguably the most successful of these efforts is the Most Beautiful Khampa Hanzi Competition in neighboring Litang. Interestingly, although the event was originally conceived as a way to showcase the traditional garments of Tibet, it has increasingly absorbed elements from the international fashion world, including denim and Western formalwear. Organizers even plan to develop ties with leading international fashion channels so that the Khampa hanzi brand can expand its global reach.
The most recent Most Beautiful Khampa Hanzi Competition was held in July 2020 and consisted of an in-person catwalk combined with an online lookbook where netizens could vote for their favorites in real time. But the competition was also notable for outlining four new beauty criteria by which the ideal Khampa hanzi would be judged: body, face, character, and emotional intelligence. The since-promoted director of the Yajiang County Tourism Bureau, Liu Hong, told me that these new criteria are the products of repeated appeals and reflection on the part of prominent cultural figures and local elites from the Kham region.
Prior to that, the competition's criteria placed a greater emphasis on contestants' outward performance of masculinity. This included the famed "180 requirement," which mandated contestants be 180 centimeters tall and weigh at least 180 jin, or about 200 pounds. Now, with the introduction of a new set of criteria, the competition has begun to take inner temperament and spirit into account, emphasizing that Khampa hanzi, as cultural symbols, should represent and convey "positive energy."
Just months later, Tenzing Tsondu further upended the Khampa hanzi archetype and became one of Tibet's newest cultural symbols, virtually overnight. When a male Khampa doctoral student of mine, Gonpo Topgye, brought up Tenzing Tsondu with me in a conversation, the excitement in his voice was palpable. "Being a Khampa hanzi is not about looking fierce and warrior-like, and even less about being good-looking," he said. "It's about having a certain spirit! A spirit of untiring determination in the face of an unforgiving natural environment — a spirit of love and compassion!"
The Tibetan author Bapa Lozang Gonpo has also argued for deemphasizing the physical aspects of the Khampa hanzi identity. He's written that a Khampa hanzi should be a man who lives in the Kham region and speaks fluent Khampa dialect; who is unafraid to act and speak his mind; who has sharp wits and an open heart; who protects the environment and yearns for knowledge; and who has an upstanding character, broad horizons, and a sense of generosity. In short, being a Khampa hanzi has nothing to do with appearance.
Of course, how many people outside of Tibet truly care about how the locals feel about this subject? There's another way to look at Tenzing Tsondu's popularity, one that explains both his appeal and that of Khampa hanzi. That is, while "sweet-wild boy" Tenzing Tsondu's rise to online fame may seem completely random, it was in a sense inevitable. His appeal is in keeping with urban China's emerging appetite for "cottagecore" fantasies of an exoticized rural life, like those sold by Li Ziqi and Dianxi Xiaoge.

These fantasies will ultimately play themselves out in the lives of Tibetan people. In their pursuit of the development of tourism and the economy, various regions of Tibet may be swayed by, or intentionally cater to, urban Chinese tourists' perceptions of their culture, as an earlier generation did with the Khampa hanzi image. But whereas Khampa hanzi were a largely regional phenomenon, the growing power of social media and tourism mean Tenzing Tsondu has come to be identified with Tibet as a whole. As a result, unique regional characteristics that have persisted for hundreds and even thousands of years on the Tibet-Qinghai Plateau, whether in Amdo, Ü-Tsang, or Kham, are at risk of becoming homogenized. This form of cultural imperialism poses a real threat to the retention and protection of Tibetan traditions and cultures.
Translator: Lewis Wright: editors: Wu Haiyun and Kilian O'Donnell; portrait artist: Zhang Zeqin.
(Header image: Tenzing Tsondu, better known as Ding Zhen, (left) and a participant of Most Beautiful Khampa Hanzi Competition in 2020. Visual elements from @成都商报 and @时差岛 on Weibo, Greens87/VectorStoc/People Visual, re-edited by Ding Yining/Sixth Tone)