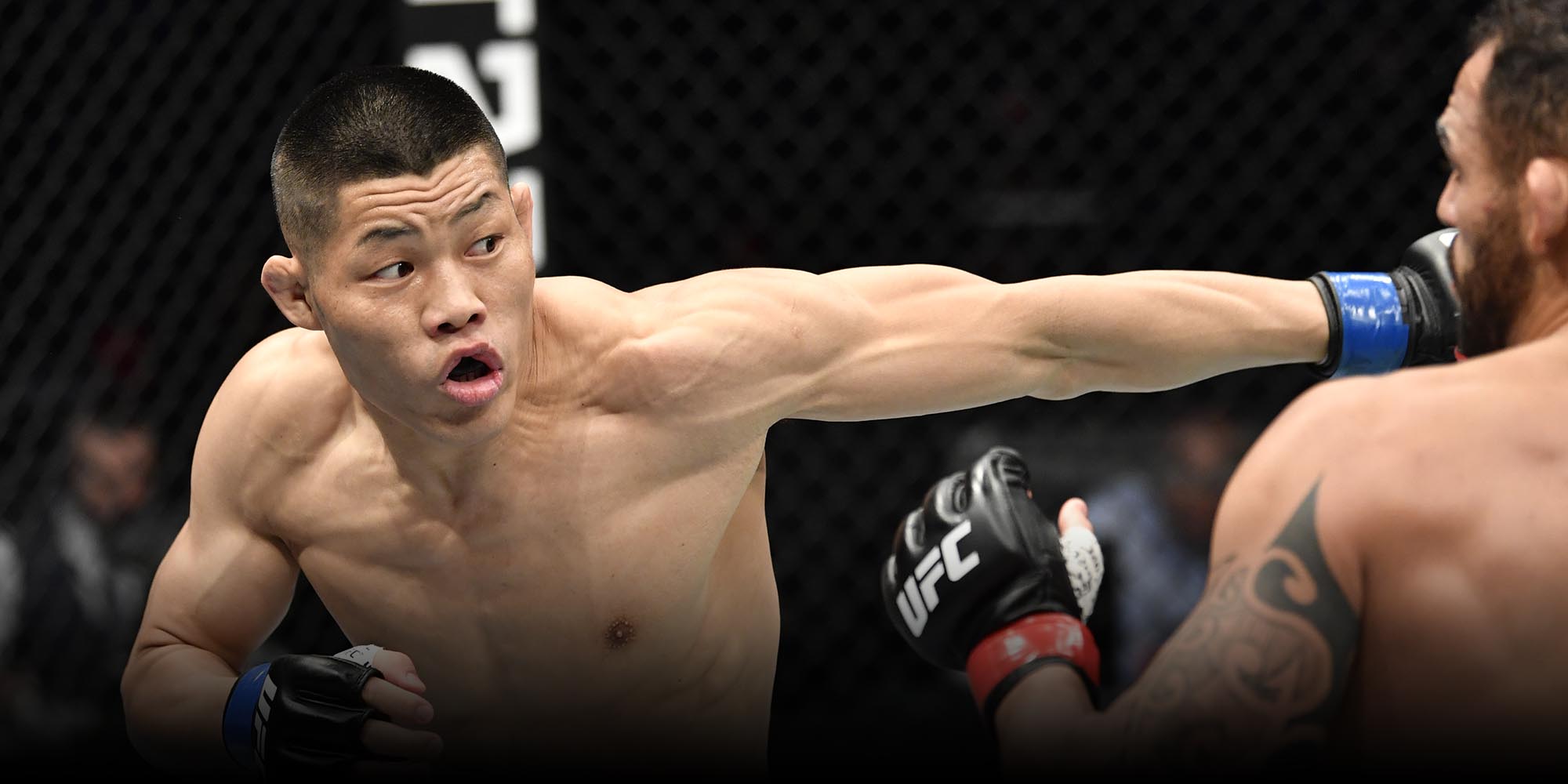 NEWS
China Revels in MMA Wins by Fighters Not Named Zhang Weili
The success of a growing crop of Chinese fighters is helping to promote the sport domestically and shape local perceptions.
Reigning UFC strawweight champ Zhang Weili is China's best-known MMA star, and it's not even close. But in the past week, two more Chinese MMA athletes have gained ground in their respective divisions and won over fans with convincing victories.
On Sunday, Xinjiang-born welterweight Li Jingliang knocked out his Argentine opponent Santiago Ponzinibbio in the first round at UFC Fight Island 7, a fight event series hosted on an island in Abu Dhabi to minimize the risk of exposure to COVID-19.
A deft right-left combination from Li — nicknamed "the Leech" after his penchant for subduing opponents with choke holds — won him a $50,000 bonus as well as a long-awaited 12th place ranking among UFC welterweights.
The recent fight's dramatic ending has made waves online. After knocking Ponzinibbio to the mat, Li appears genuinely concerned, crouching to check on his opponent along with the referee. His half-hug of the dazed Ponzinibbio captured some viewers' hearts.
"Li Jingliang is adorable and I love him," one popular MMA-focused Twitter account posted in response to the touching moment.
Three days later, Chinese featherweight Su "the Tibetan Eagle" Mudaerji marked his 25th birthday with a victory against Zarrukh Adashev of Uzbekistan at Fight Island 8, with the judges unanimously siding with Su after three rounds.
At a previous bout in November, Su had turned heads by knocking out his opponent, Canada's Malcolm Gordon, with a "laser beam" left hook in just 44 seconds.
Both men hope to match the success of Zhang Weili, China's reigning queen of the ring and first UFC champion. Zhang successfully defended her title in a memorable slugfest against Joanna Jedrzejczyk of Poland last March.
Following the match — which later won "fight of the year"' honors during a televised awards program — Chinese media lauded Zhang as a national hero at a time when the country was waging an all-out battle against COVID-19. Two months later, she was named a brand ambassador for cosmetics company Estée Lauder.
MMA was virtually unknown in China as recently as three years ago. Weng Yajun, a trainer and member of the same Beijing fighting gym as Zhang, recalled having to explain the sport almost every time it would come up in conversation. But now, thanks to China's rising stars, and particularly Zhang, domestic awareness of the sport has grown massively, he said.
"Now everyone has a basic understanding of this sport. They're like, oh yeah, that woman pummeled that foreigner until she looked like an alien," Weng told Sixth Tone, referring to the title bout that left Jedrzejczyk with a gruesome-looking head injury. "That's their first impression," he added.
The success of local fighters has also led to a greater appreciation of MMA's core appeal and values — thrilling and intense competition between top athletes — as well as greater visibility on the trending topics lists of online platforms such as Toutiao and Weibo, Weng said.
UFC's investment in China, which includes a huge, state-of-the-art MMA training facility in Shanghai, has helped develop the sport locally. And numerous other domestic and international promotions, such as Singapore's ONE Championship, are spreading the word by broadcasting local events.
China's female UFC athletes, meanwhile, have used their newfound platforms to encourage women to become whatever they want, and break tired stereotypes that paint female fighters as violent, unfeminine, and unattractive.
Despite the still-raging pandemic, there will be many more fights to look forward to in 2021. Speculation abounds as to who Zhang's next opponent will be, and Song "Kung Fu Monkey" Yadong of China's northeastern Heilongjiang province is already slated to fight American Kyler Phillips in March.
On Sunday, Li the Leech said Chinese fighters should excel in 2021 because the Year of the Ox will imbue them with "strong bull energy."
For now, China's MMA fans are training their attention on this weekend's blockbuster fight, a rematch between American Dustin Poirier and the colorful Irishman Conor McGregor, even if they don't have a homegrown hero to root for.
Editor: David Paulk.
(Header image: China's Li Jingliang tries to connect with a punch during a welterweight bout against Santiago Ponzinibbio of Argentina during UFC Fight Night 7 at Etihad Arena in Abu Dhabi, United Arab Emirates, Jan. 17, 2021. Jeff Bottari/Zuffa LLC/People Visual)