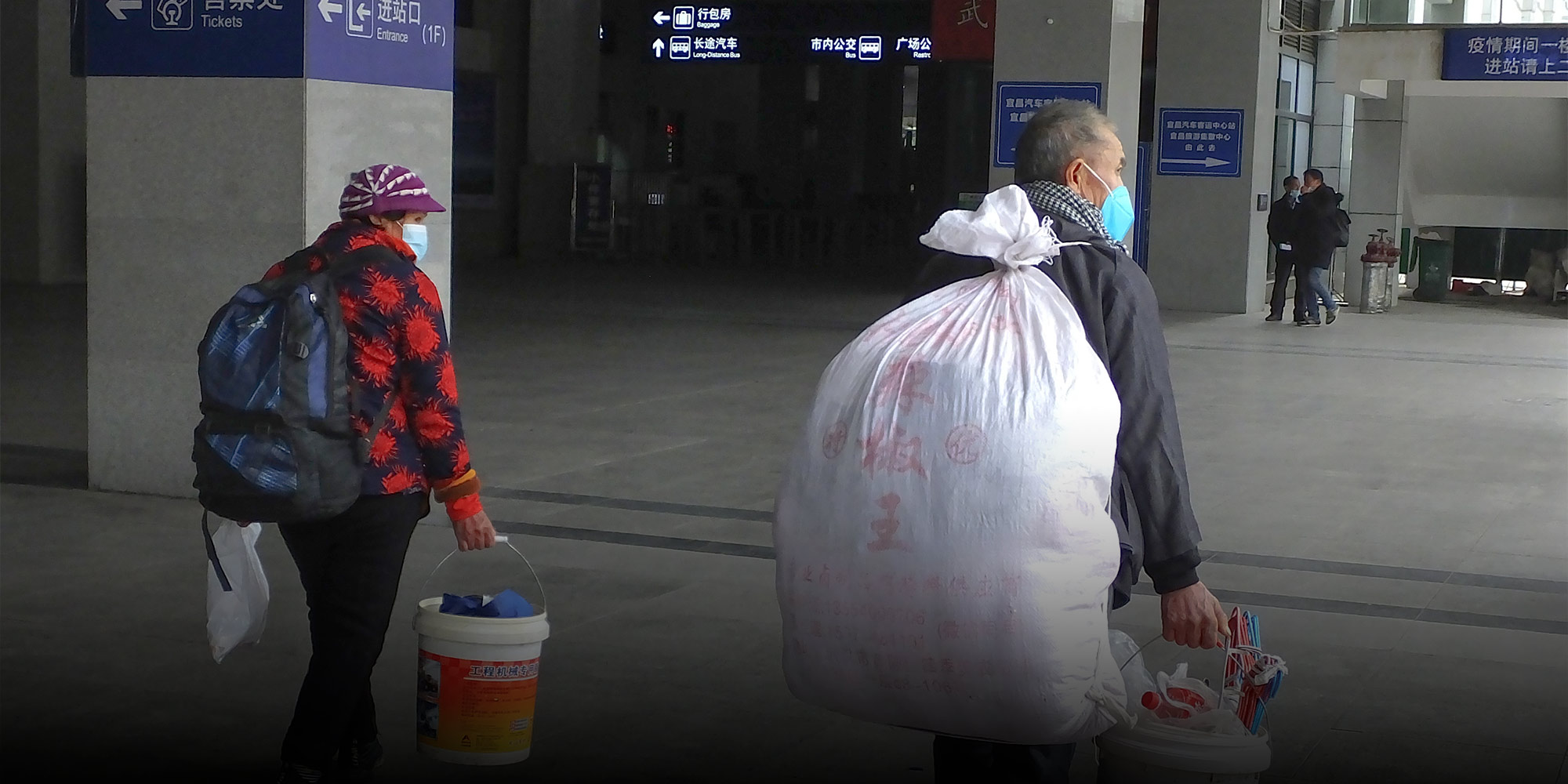 NEWS
COVID-19 Test Rule Gets Cold Reception Among Migrant Workers
Authorities say new rules for holiday travel have been introduced to lower the risk of coronavirus outbreaks in rural areas where public health infrastructure is less developed, but not everyone is convinced they're fair.
Chinese health authorities' mandate that migrant workers should get tested for the coronavirus before returning to their rural hometowns for the upcoming Lunar New Year holiday is facing criticism for singling out the country's working class.
On Wednesday, the Chinese Center for Disease Control and Prevention said workers returning home for holiday reunions between Jan. 28 and March 8 should get a nucleic acid test within seven days of their journey. Then upon arrival in their hometowns, they must submit to 14 days' health monitoring, during which time they will need to take two more tests and avoid mass gatherings.
The move comes amid rising coronavirus infections domestically that have led authorities to implement various measures to curb the spread of the virus.
However, the plan to test homeward bound people is only mandatory for those hailing from the countryside — the same requirements don't explicitly apply to people traveling to cities. The disparity has raised discussion online, with many questioning whether it's fair to migrant workers, many of whom aren't afforded the chance to return home except over national holidays. 
One such worker, surnamed Wan, hails from a village in the eastern Jiangxi province and works more than 600 kilometers away, in the southern megacity of Shenzhen. The 29-year-old told Sixth Tone that the precautionary measures are "unfriendly" to people like him from rural areas.
"I wish the measures could be more comprehensive, and take an individual's living condition and needs into consideration," Wan said. "The policy affects the group at the bottom of society. To Chinese people, the Lunar New Year isn't just a vacation or a gathering, but a symbol of hope after a year of hard work."
Despite the additional hurdles, Wan said he is committed to going home for the holidays, though he wishes the tests were less expensive, or better yet free. Nucleic acid tests cost around 100 yuan ($15), though the price varies by location, and only a few cities currently experiencing outbreaks are providing them for free.
A woman working in Beijing who spoke to Sixth Tone on condition of anonymity said she is worried she may not be able to return to her hometown in the northern Inner Mongolia Autonomous Region. The 28-year-old is an only child and had been looking forward to seeing her parents again.
"My train ticket got canceled, so I booked a flight," she said. "If that gets canceled too, I might have to spend the Lunar New Year alone in Beijing."
While the testing requirement will pose an inconvenience to many, the Chinese CDC said it has strengthened coronavirus-related measures in rural areas amid ongoing outbreaks mainly concentrated outside cities. In recent weeks, millions of people in Heilongjiang, Hebei, and Jilin provinces have faced stay-at-home orders or other movement restrictions because of local clusters.
"The prevention and control in rural areas is difficult, as the precautionary capacity in such places is weak," the Chinese CDC said. "Especially during the Spring Festival travel period, the number of people returning home and the increasing flow of people will further raise the risk of virus transmission."
The center's assurances have found a smattering of support online. "There's no discrimination against rural people at all," wrote one user on microblogging platform Weibo. "When it comes to outbreak control, rural areas have many weak points. … If there's another outbreak (over the Lunar New Year), it will definitely be hard to track to its source."
However, Wan views the measures as a "one-size-fits-all" solution that doesn't allow for flexibility. "It's only normal for people to be unsatisfied with this policy," he said.
As of Thursday, there were 1,674 active COVID-19 cases on the Chinese mainland, according to the country's top health authority. Last week, China reported its first COVID-19 death since May, in Hebei, a province bordering Beijing that is currently dealing with an outbreak.
Contributions: Chen Qi'an; editor: Bibek Bhandari.
(Header image: Migrant workers preparing to make the journey back to their hometowns at a railway station in Yichang, Hubei province, Jan. 16, 2021. Liu Junfeng/People Visual)